These Whiskey Butterscotch Pecan Sticky Buns are filled with cinnamon sugar and are topped with a gooey Whiskey Butterscotch Pecan Sauce.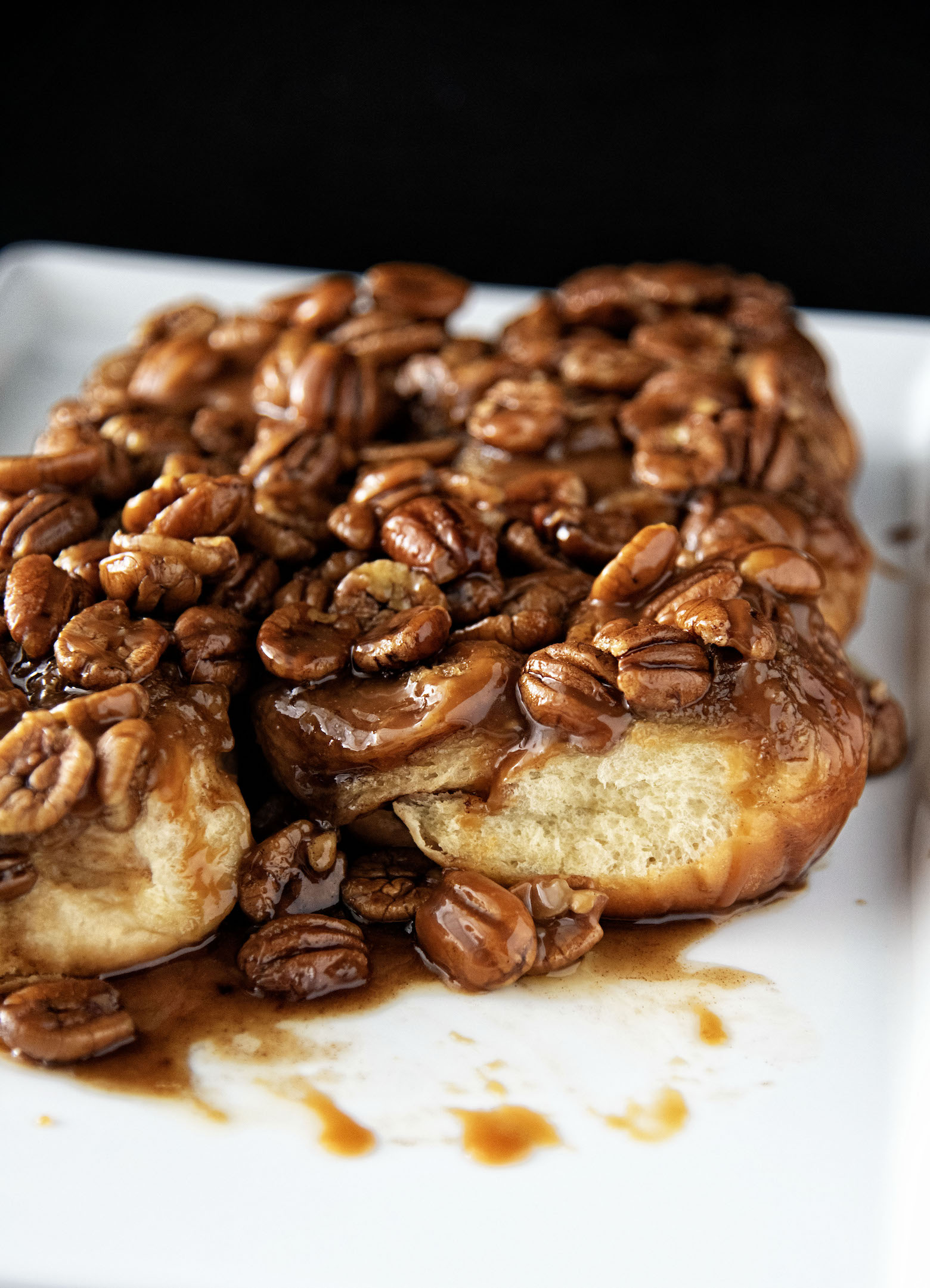 The first thing you will notice with this recipe is the pecans.
I can't call something Whiskey Butterscotch Pecan Sticky Buns and not have a ton of pecans.
Because I believe that pecan sticky buns should have pecans.
Lots of pecans.
I hate ordering a pecan roll or sticky bun only to have it arrive and there is like two pecans on it.
I get it.
It's a cost thing.
But sometimes it's worth the splurge.
You can find pecans at Costco or Trader Joes for pretty good prices.
I however mine are from a place called Sunnyland Farms in Georgia.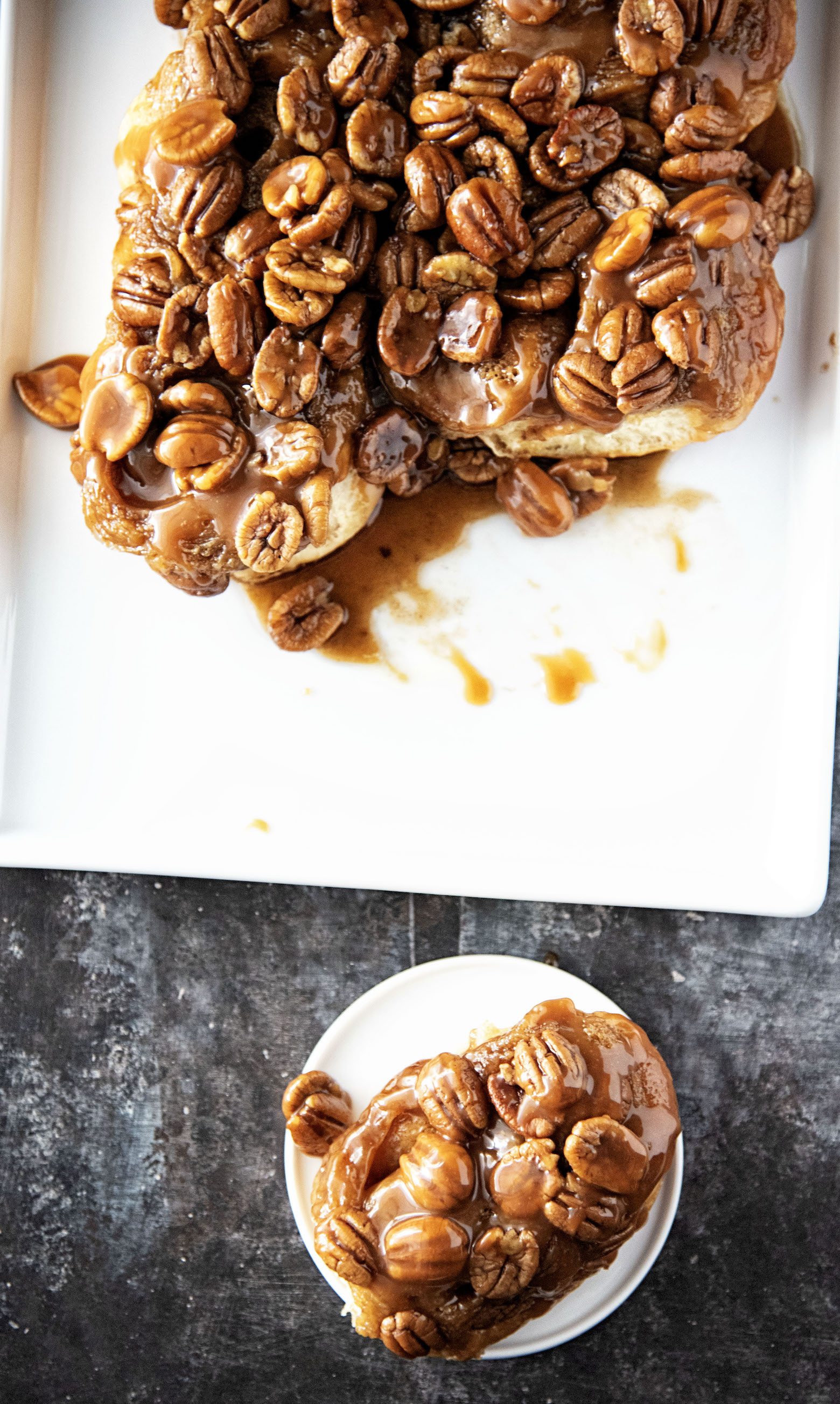 My former Mother In Law who I am still close to (shocking I know since I'm still close with my ex-husband) sends me pecans for Christmas/Holiday baking.
They are the best pecans I have ever tasted and I look forward to getting them each year.
These sticky buns came about because of all the snow we got.
I love baking with yeast when it snows.
My mother always baked with yeast when it would snow and I have kept that tradition.
If you don't want the whiskey you can just omit it.
You also don't need to have as many pecans as I do…but that is up to you.
Also, if you can't find Lyle's Golden Syrup you can use light corn syrup but I will admit they won't taste as awesome.
Last but not least…it's a great time to order my cookbook. 😀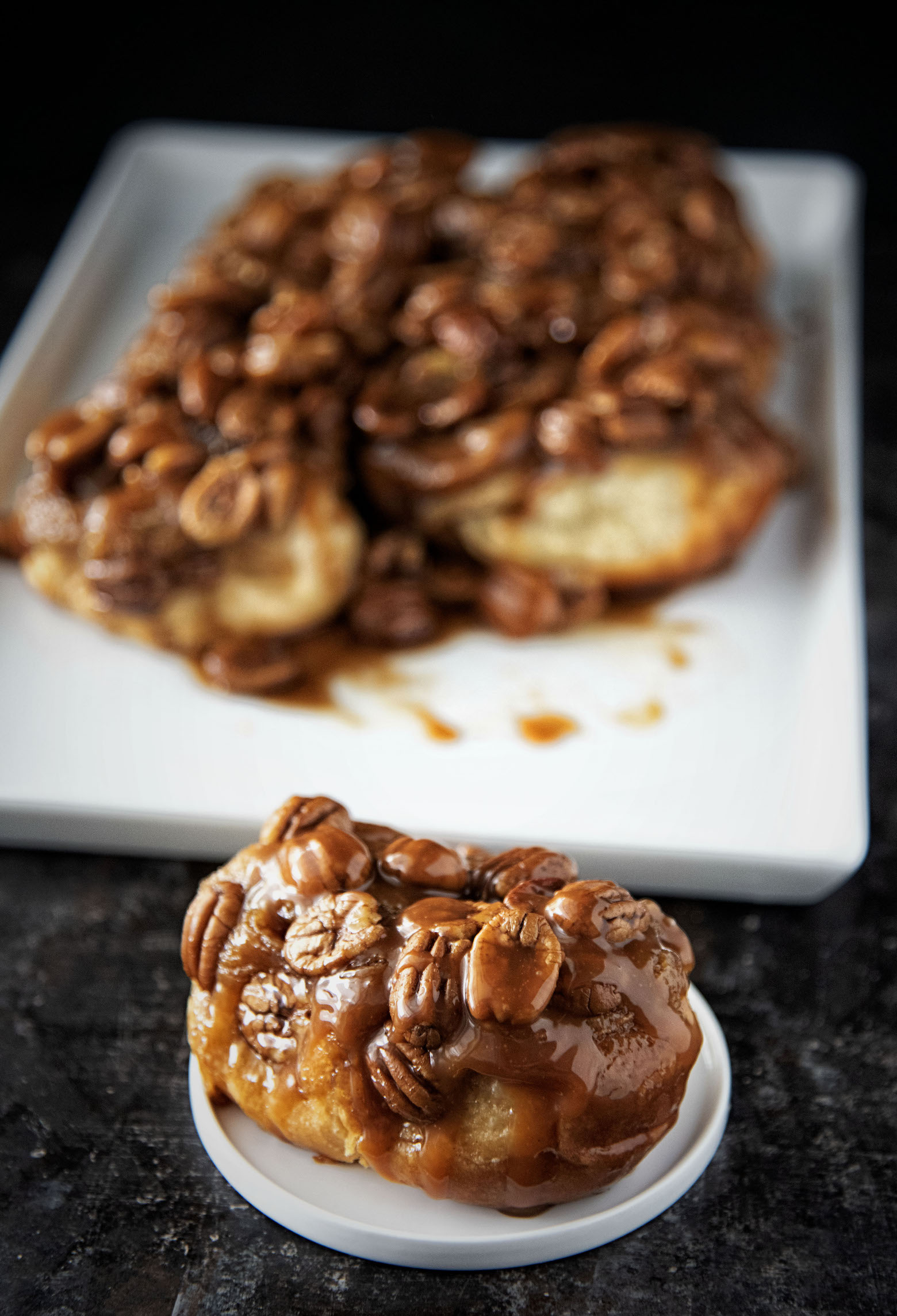 Want More Sticky Bun Recipes? Try these:
Cinnamon Toast Crunch Sticky Buns
Sticky Toffee Pudding Sticky Buns
Pumpkin Pie Whiskey Sticky Buns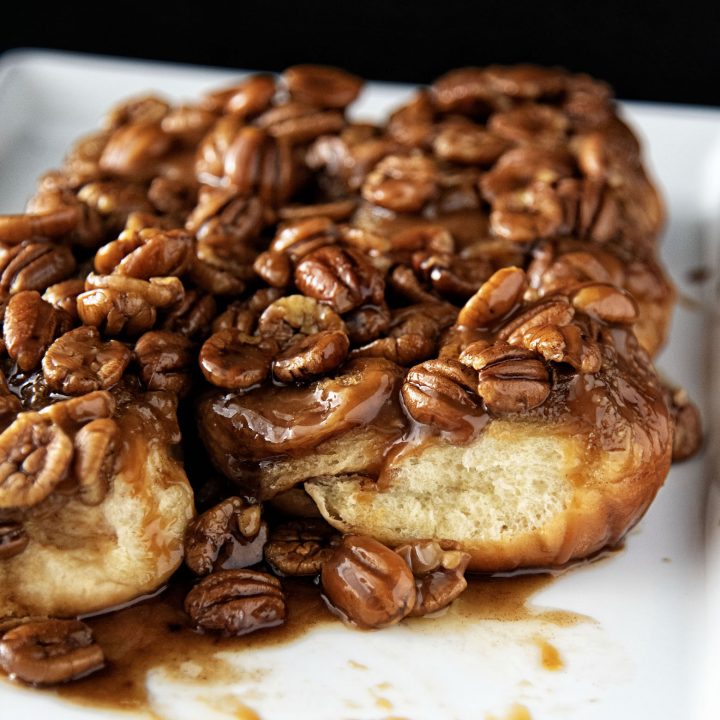 Whiskey Butterscotch Pecan Sticky Buns
Ingredients
For the rolls:
1/2 cup warm water, 110 – 115F
1 TBSP active dry yeast (I used Red Star Yeast Platinum)
1/2 cup whole fat buttermilk, at room temperature
2 large eggs
1/2 cup plus 1/2 tsp granulated sugar, divided
1 tsp. salt
1 tsp. vanilla extract
6 Tbsp unsalted butter, melted and slightly cooled
3 1/2 – 4 cups bread flour
For the filling:
6 TBSP unsalted butter, super soft but not quite melted
1 cup packed brown sugar
2 TBSP cinnamon
Whiskey Butterscotch Sticky Bun Sauce:
1 1/2 cups (3 sticks) unsalted butter
2 1/2 cups brown sugar, tightly packed
1/4 cup whiskey
Pinch of salt
3 cups pecan halves
Instructions
Using a stand mixer with the paddle attachment add the yeast, warm water, and 1/2 tsp. granulated sugar.
Let rest for 5-10 minutes to proof…the batter will puff up. If it does not then your yeast is bad and rolls won't rise so best to throw out and start again with different yeast.
Add in buttermilk, eggs, 1/2 cup granulated sugar, salt, vanilla, and melted butter and mix until fully combined.
Add in 2 1/2 cups of the flour and mix until fully combined.
Switch to a hook attachment then add another 1 cup flour.
Knead mixture until combined.
Continue to knead on low speed about 5 - 6 minutes while adding a little more flour as needed to reach a soft and moist dough (Dough shouldn't stick to the sides of the bowl but does stick to the bottom).
Transfer dough to an oiled bowl, cover with plastic wrap (I find press and seal works best) and let rise in a warm place until doubled in volume, about 1 1/2 hours.
I suggest dividing the mixture up between two greased 9-x-13-inch pans. You might not get your rolls sticking together as much but will have much more sauce ratio…which is the way to go.
With 20 minutes left in the rise start to make the sticky bun sauce.
In a large saucepan melt the butter.
Add the brown sugar, Lyle's Golden Syrup, and salt and bring to a low boil.
Remove from stove top and add the whiskey and fold in pecans.
Divide the sauce evenly among the two pans.
You can let sit. It will start to get hard but that is fine as once baked it will get gooey again.
Punch dough down.
Dust a working surface lightly with flour and turn dough out onto surface.
Sprinkle top of dough with a little flour then roll dough out into an 20 by 18-inch rectangle.
Spread the softened butter evenly over entire surface (hands work best).
In a small mixing bowl whisk together brown sugar and cinnamon.
Sprinkle and spread brown sugar mixture evenly over butter layer (try to leave about 1/2-inch border uncovered along all edges).
Beginning on an 18-inch side tightly roll dough into a cylinder.
Pinch the seam to seal (brushing a little egg white underneath helps if needed or I just use a toothpick).
Cut into 12 equal portions using a large sharp knife (they should be 1 1/2-inch each).
Arrange rolls, spacing evenly apart on top of the Sticky Bun Sauce and divide among the two pans.
Cover with plastic wrap loosely.
Let rise in a warm place until doubled in volume, about 1 1/2 hours. Preheat oven to 350F near the last 20 minutes of rolls rising.
Bake rolls in preheated oven until centers are no longer doughy, about 25-30 minutes.
Rolls and sauce will be hot but you need to flip your rolls out onto a platter or you can be on the safer side and remove with a spatula and then spoon the sauce on top.
Serve immediately.
If you have leftovers the sauce will harden a little just pop on a plate in the microwave for about 20-30 seconds and you will be good to go.