This Easy Italian Broccoli Cheese Soup is made with Italian cheeses and has lots of garlic and Italian seasoning for a twist on the classic.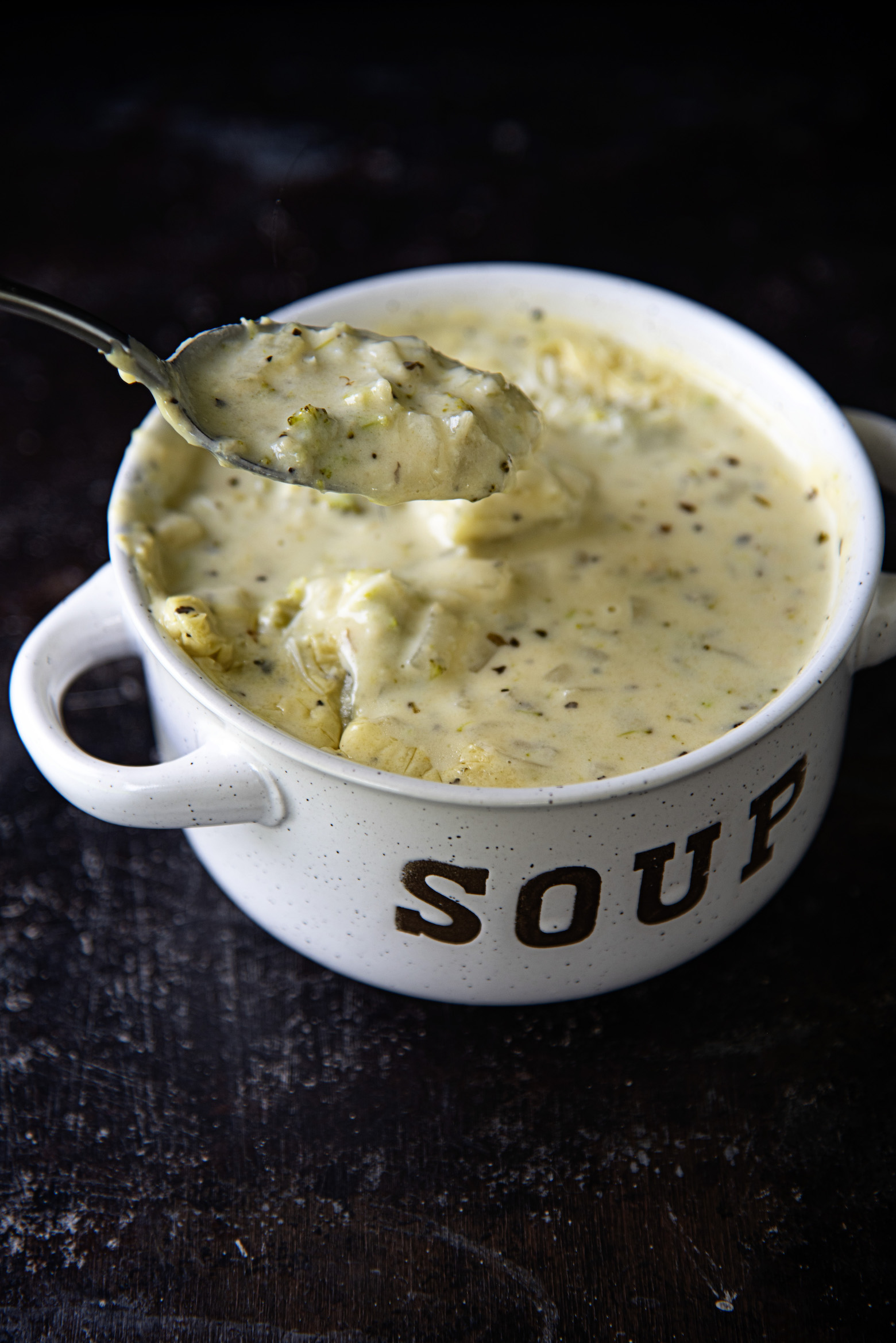 So it's officially soup weather.
I realize depending on where you live that means something different.
Here in the PNW that means a dark and damp day with chill in the air.
It's the kind of weather people think we have in Seattle year round.
When actually our rain is kind of misty, then we have sun for like 30 minutes (called sun breaks here), then maybe it rains again, maybe not, then more sun.
Then maybe some hail.
Then sun.
That's more of a typical day in the fall around here.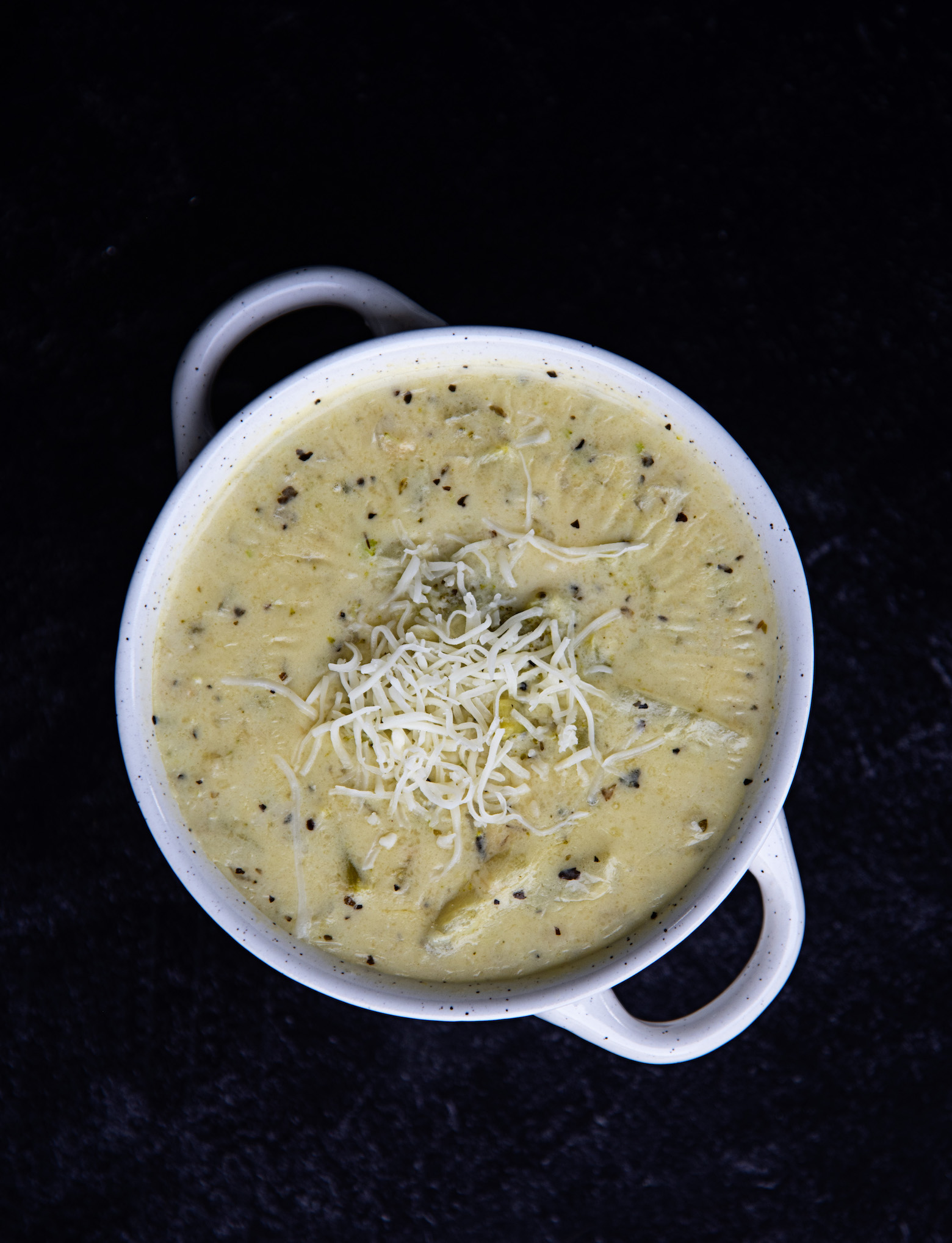 But we do get our dark days.
All dark days.
A few months back my media team for my publisher asked me if I wanted to teach a class to help promote the book.
It was for a very refined publication.
I turned it down not only because I have never done video (we tried to see if we could…it did not go well) but because my kitchen is dark in the fall and winter.
So dark that the ENTIRE cookbook was photographed outside.
Because I wrote and photographed it during the winter.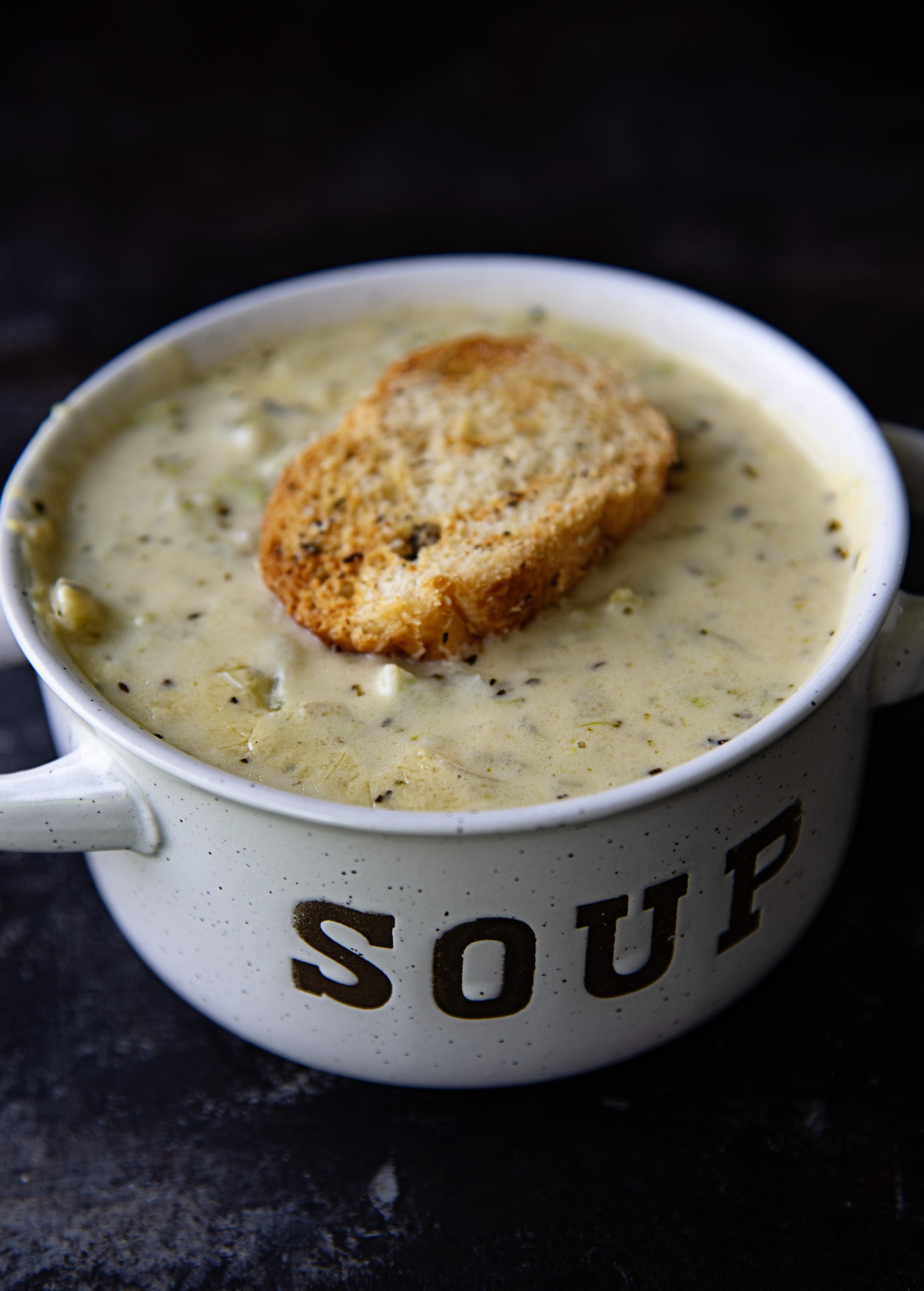 Which can make things interesting at times.
One of the first things I photographed for my cookbook, Holy Sweet! 60 Indulgent Recipes for Bigger, Better Desserts was eggnog creme caramel.
And while I was photographing it the wind was so strong that it kept moving it across the wooden board it was on.
Not in a super quick way but in a I can't get a clear photo because the food is moving kind of way.
I had wet leaves stick to the side of the camera, food, and even my face. 🙂
And I've had to stand in snow to photograph things.
This soup was photographed outside on a fun leaf blowing day.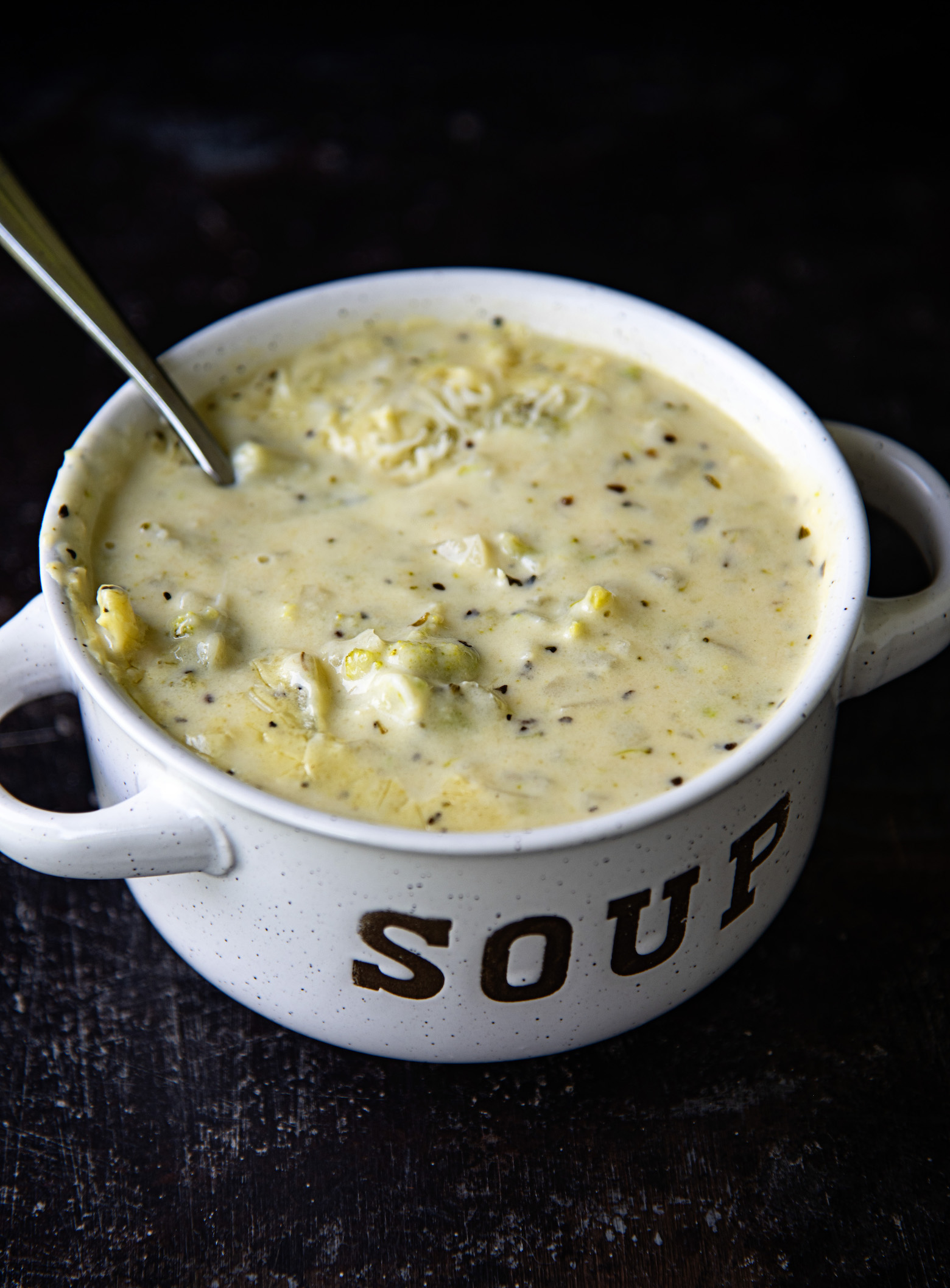 Speaking of this Easy Italian Broccoli Cheese Soup, it's my twist on your classic broccoli and cheddar.
I'm always looking for something to make a soup a little bit different.
This soup gets rid of the cheddar and adds Italian cheeses as well as Italian spices.
You can use fresh broccoli if you like but I find frozen just to be so much easier.
And I save fresh broccoli for things where it's not cooked for forever.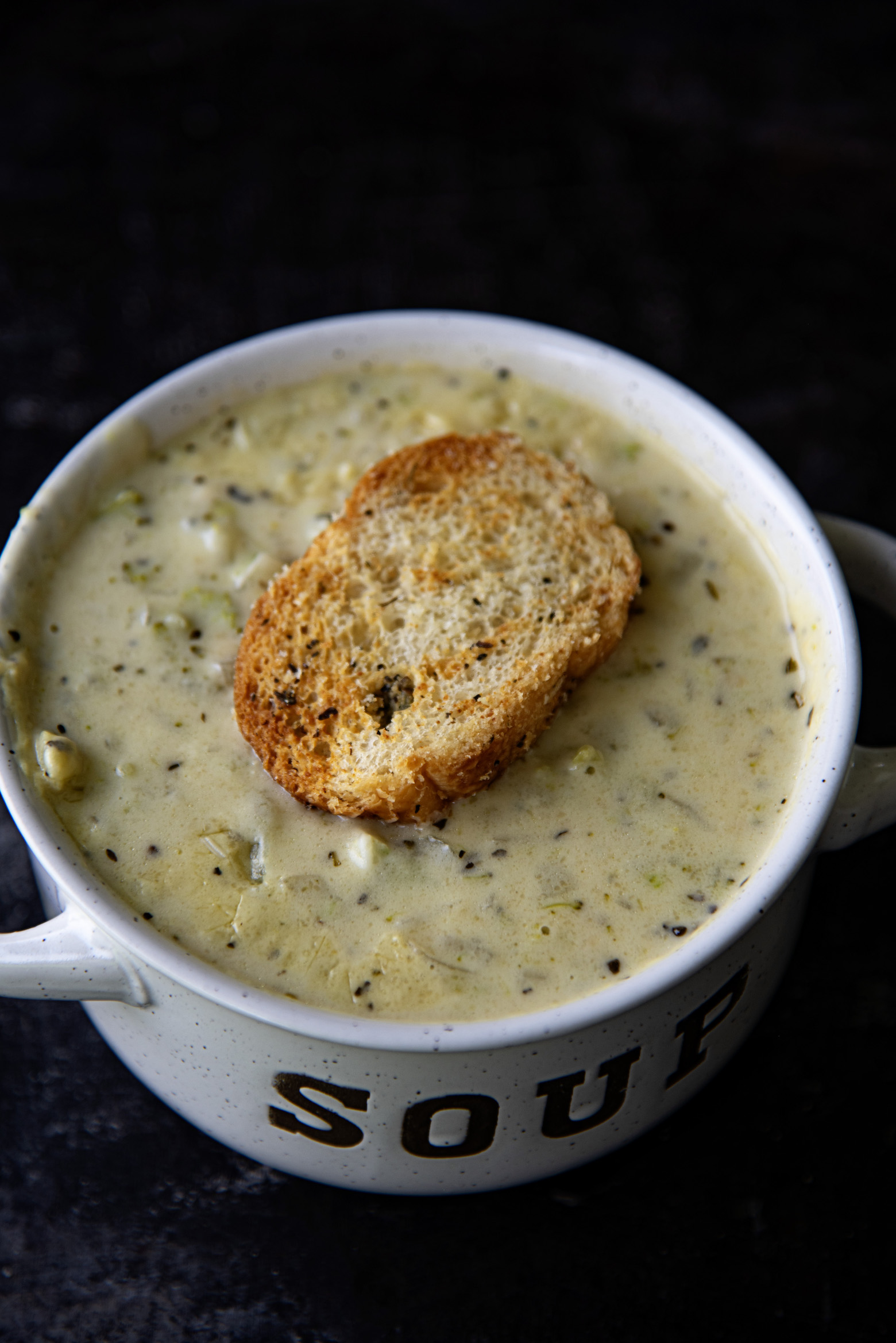 Want More Soup Recipes?
Roasted Garlic Chili White Bean Soup
Dill Pickle Cheddar Cheese Soup
Caramelized Onion Potato Ale Soup
Vegetarian Vegetable No-Beef Soup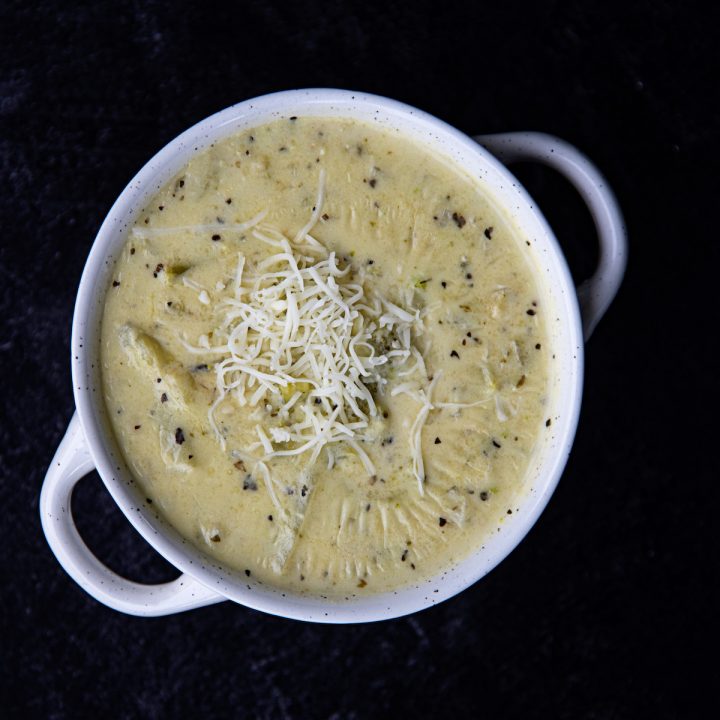 Easy Italian Broccoli Cheese Soup
Ingredients
1/2 cup diced onion
1/2 cup diced celery
1/2 cup diced carrot
2 TBSP minced fresh garlic
1 TBSP dried Italian seasoning
1/4 cup olive oil
1/3 cup all-purpose flour
4 cups low-sodium vegetable broth
16 oz frozen chopped broccoli
6 oz. cream cheese, cubed
1/2 cup grated Parmesan
1 cup Italian cheese blend (I used Tillamook)
salt and pepper to taste
Instructions
Add the onions, celery, carrot, garlic, and Italian seasoning in oil in a large pot over medium-low heat and sweat the veggies until beginning to soften, 5 minutes.
Stir in flour to coat vegetables and cook 1 minute.
Gradually stir in broth and add broccoli.
Increase heat to medium-high.
If the broccoli pieces seem to big I like to use a meat chopper to chop up the broccoli once it's no longer frozen.
Simmer soup until it thickens slightly, about 5–8 minutes.
Reduce heat to medium.
Stir in cream cheese until it melts.
Add Parmesan and the Italian Cheese mix and stir until it melts.
Season soup with salt and pepper.
Top with more cheese if you like. Add a crouton or something if desired as well.
Notes
Recipe adapted from Cuisine at Home Magazine October 2013 Issue