Vegetarian Creamy Cabbage Potato Soup is filled with tons of cabbage, potatoes, carrots, and caraway seeds all in a creamy veggie broth.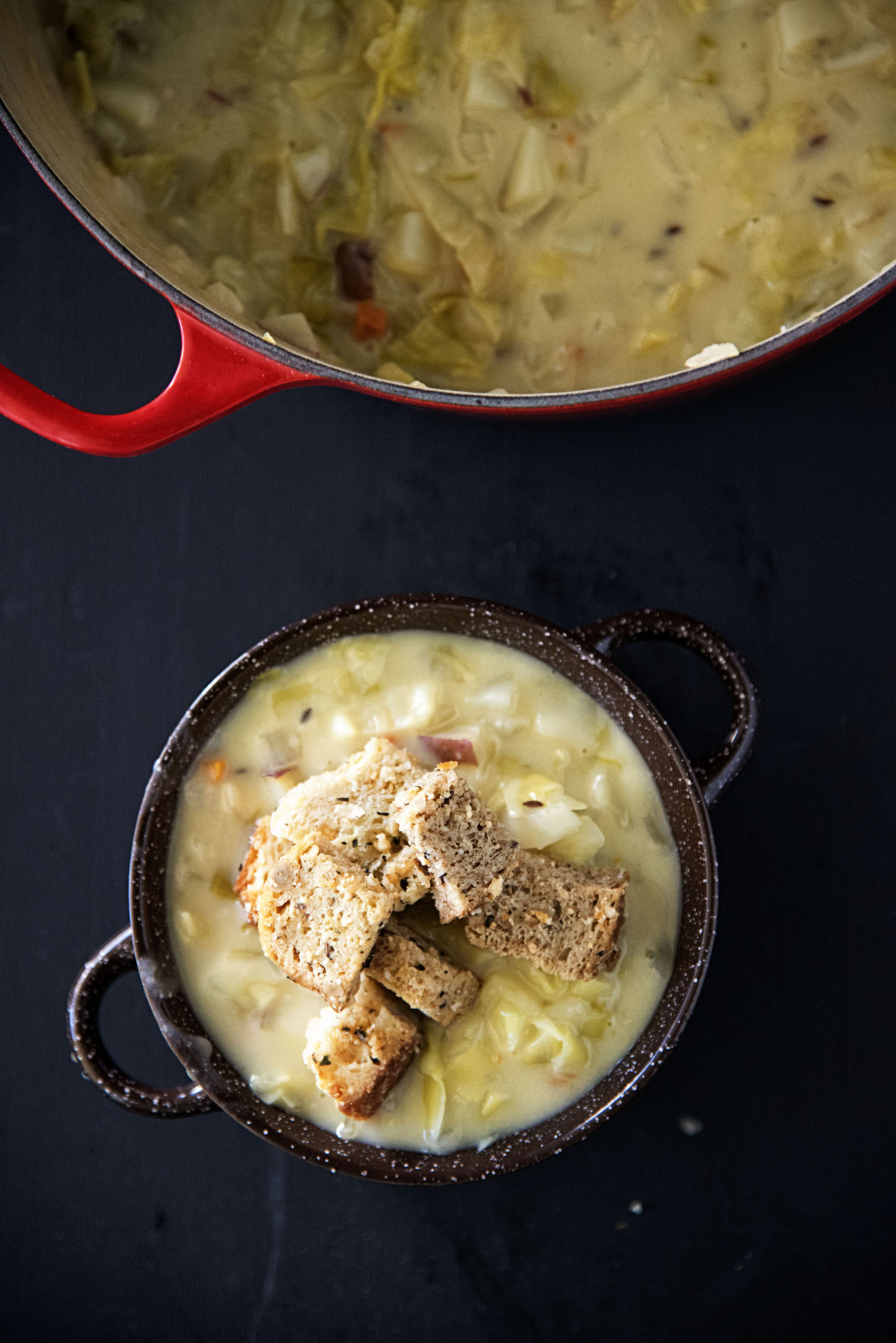 So in case you didn't know the Mega Millions lottery is now up to 1.6 billion.
Billion.
At hockey on Friday night we talked about what we would want to do with the money if we won.
Since it's a mostly guys locker room there was a lot of cars wanting to be bought.
Sports teams wanting to be bought.
Then there was me.
I want to have a rescue for senior and special needs spaniels…with our own cardiologist and ER veterinarian on site.
And a facility that provides foster care for service men and women to bring their animals to while they are deployed.
So they never worry about not getting them back.
Give a ton of money to Old Dog Haven because they are already doing it right.
And I just want to have them keep doing what they are doing on even a larger scale.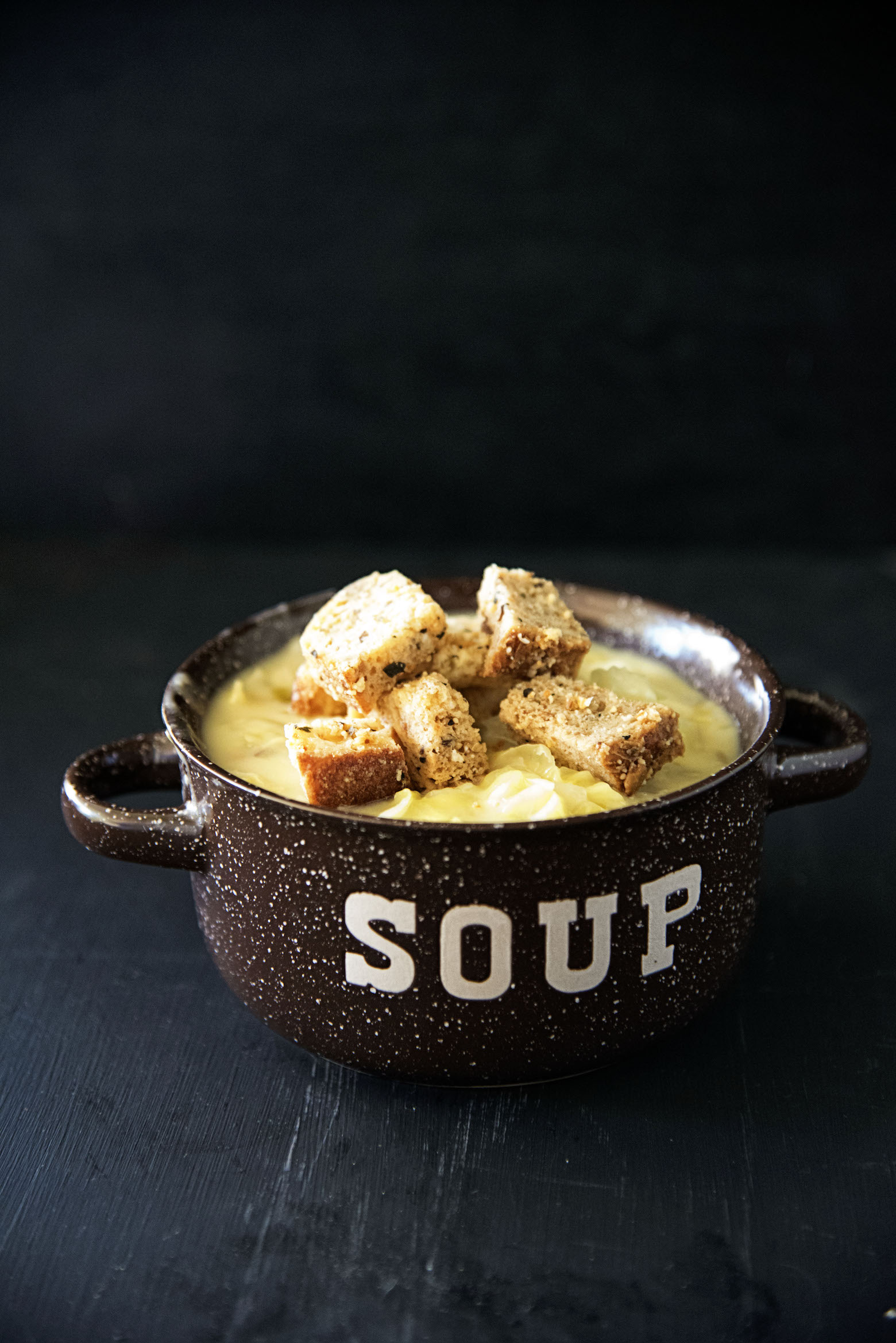 The good news is that if any of them win the lottery they were basically guilted into agreeing to give me some money to do some good for dogs. 😛
But I was not guilted into feeling bad that they wouldn't get to buy the New York Rangers. 😀
This Vegetarian Creamy Cabbage Potato Soup has nothing to do with the lottery. 🙂
I try to make as much as I can with cabbage as my husband is a super cabbage fan.
So making this soup was a no brainer.
He loved it.
I loved it.
If you are a cabbage fan…you will love it.
P.S. It's a great day to buy my cookbook Holy Sweet!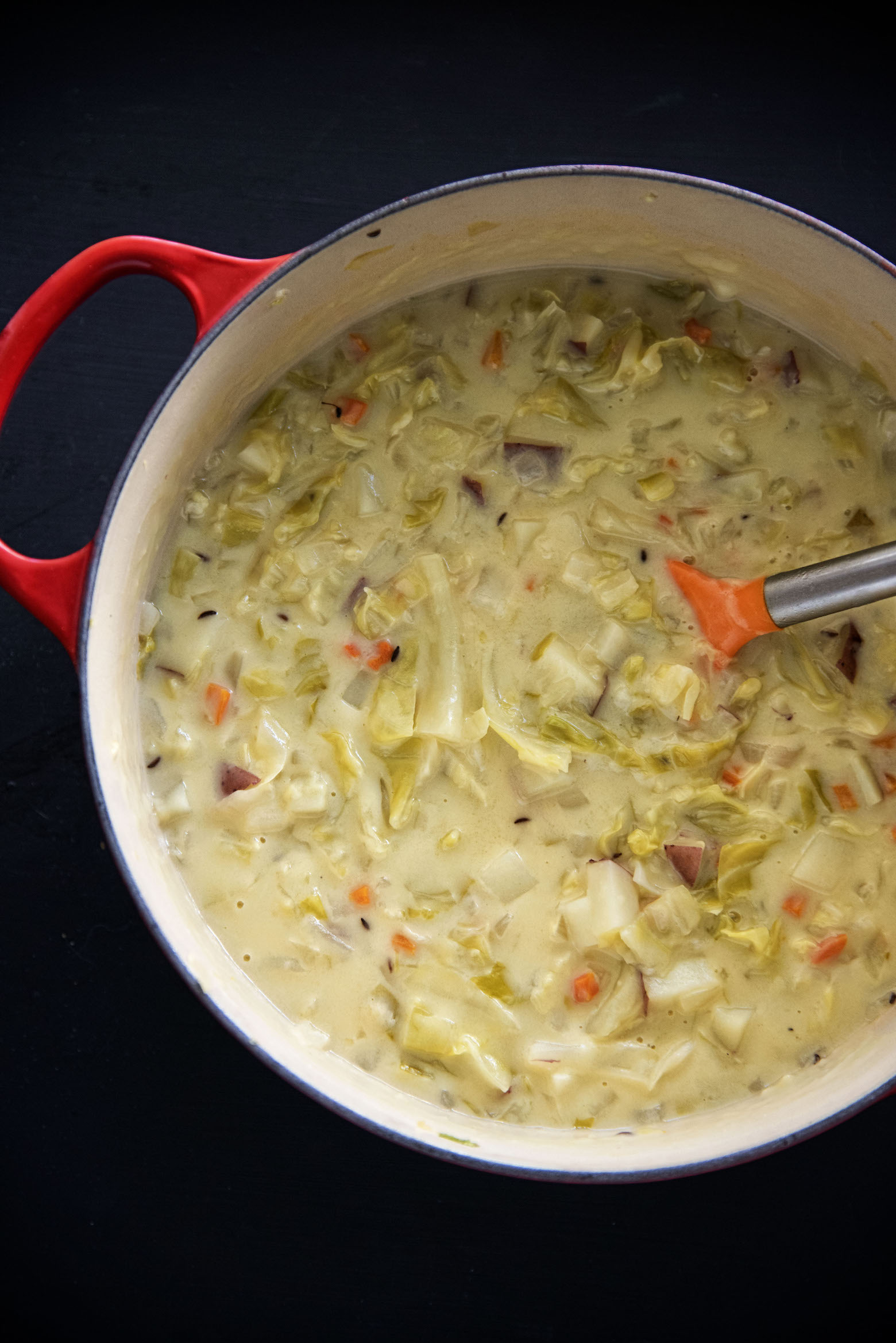 Want More Soup Recipes?
Roasted Garlic Chili White Bean Soup
Dill Pickle Cheddar Cheese Soup
Caramelized Onion Potato Ale Soup
Vegetarian Vegetable No-Beef Soup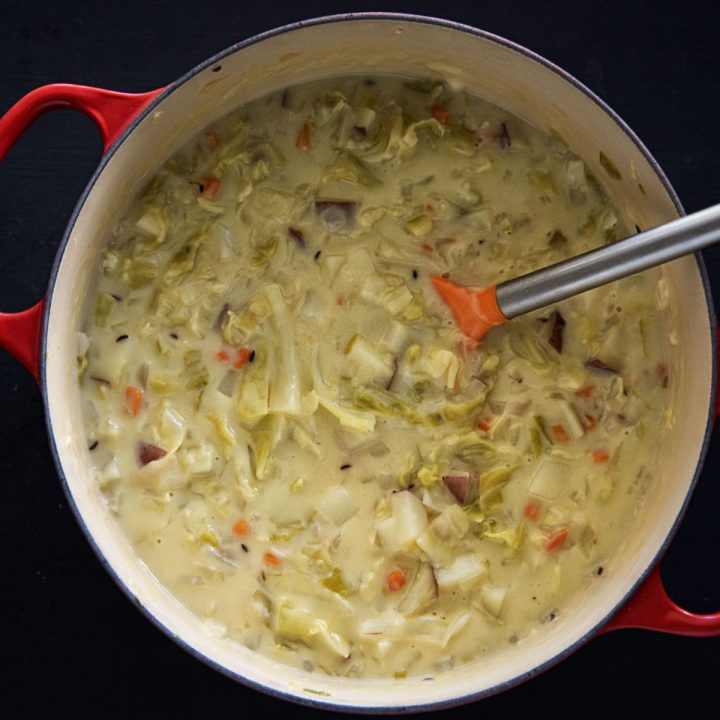 Vegetarian Creamy Cabbage Potato Soup
Ingredients
Soup Base:
1 cup sweet onion, diced
1/2 tsp. caraway seeds
4 TBSP unsalted butter, divided
8 cups chopped green cabbage
1/2 cup dry white wine
1/4 cup fresh lemon juice
5 1/2 cups low sodium vegetable broth
2 cups diced red skinned potatoes
1/4 cup peeled, shredded carrot
To thicken Soup:
6 TBSP unsalted butter
1/2 cup all- purpose flour
2 cups milk, warmed
To top Soup:
1/2 cup of sour cream
1/4 cup prepared horseradish
1 TBSP chopped fresh chives
Pinch of salt
Instructions
1. Cook onions and caraway seeds in 2 tablespoons butter in a large pot over medium heat until soft, about 5 minutes.
2. Add 2 tablespoons butter and cabbage, cover and sweat cabbage until slightly browned, 10 to 15 minutes.
3. Deglaze pot with wine and lemon juice over medium high heat.
4. Add broth, potatoes, and carrot: season with salt and black pepper. How much depends on your person taste.
5. Bring soup to a boil, then reduce heat to medium, and simmer 15 minutes.
6. Melt 6 tablespoons butter in a small sauce pan over medium heat.
7. Whisk in flour and cook, stirring constantly, about two minutes.
8. Gradually add milk and cook, whisking constantly about three minutes.
9. Increase soup heat to medium-high; stir in milk mixture, then stir until soup begins to thicken, 2 to 3 minutes. If soup is too thick add more milk.
10. Combine sour cream, horseradish, salt, and chives and dollop onto each serving of soup.