This Coke and Salted Peanut No Churn Ice Cream has a cola syrup and is studded with salted peanuts for this Southern salty sweet treat.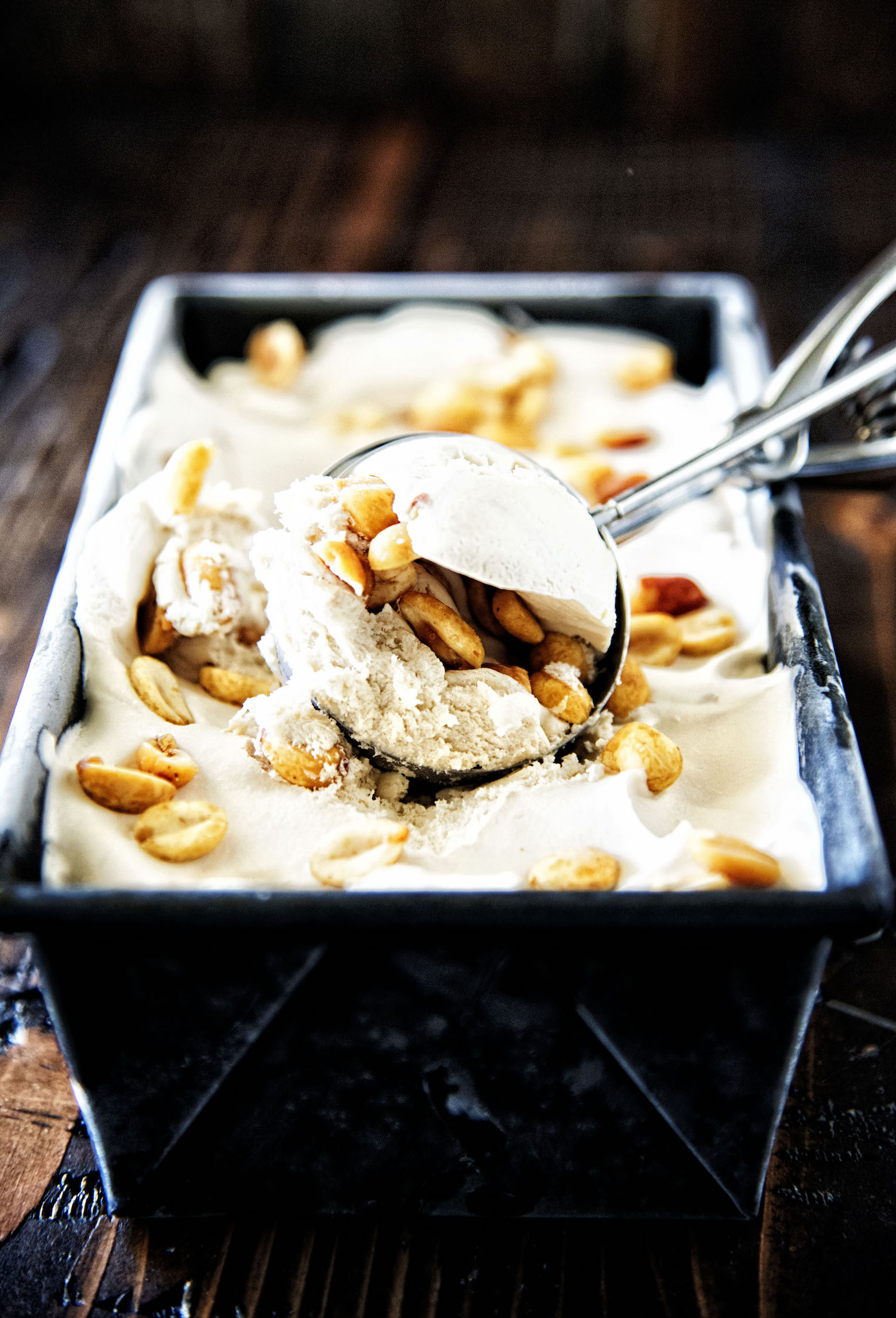 I'm not a very good housekeeper.
This got magnified when we moved into our house last year.
Because we went from 2190 sq. ft. to 1246 sq. ft.
Our house, while cute, is not laid out particularly all the well and storage is minimal.
Having chronic illnesses means that I have to be careful where I put my energy at or I won't have energy for other things.
And I admit, I don't want to put my energy into cleaning. 🙂
My husband helps when he can but ever since the heart attack our free time is even less due to all the daily cardio the doctors want him to do.
So he gets home from work.
We eat something light.
Then we go to the gym.
Come back home and eat.
And then he is spent.
As am I.
He goes to bed…because he gets up at 4am.
Because my house is never at an Instagram ready level I never really like having people come over.
You can't see our dining room table as it is filled with books, mail, magazines, dogs stuff, random tools, etc.
We have half done projects pretty much everywhere.
Our floors in our bathrooms and kitchen always look dirty because the dirt is literally stained on to the linoleum and no matter how much you scrub it does not come up.
But then something just snapped this weekend and I decided I don't care.
That if these people were really my friends and I provided them with a clean toilet ( 😛 ) then I should not worry so much about the state of my house.
With that, I had people over for outdoor movie night.
We made pizzas in our wood burning pizza oven, gotten eaten alive by mosquitos, watched two movies, and had fun.
Just like I'm trying not to worry about what others think of my housekeeping or lack there of…I'm working on not worrying about what I chose to go on the blog.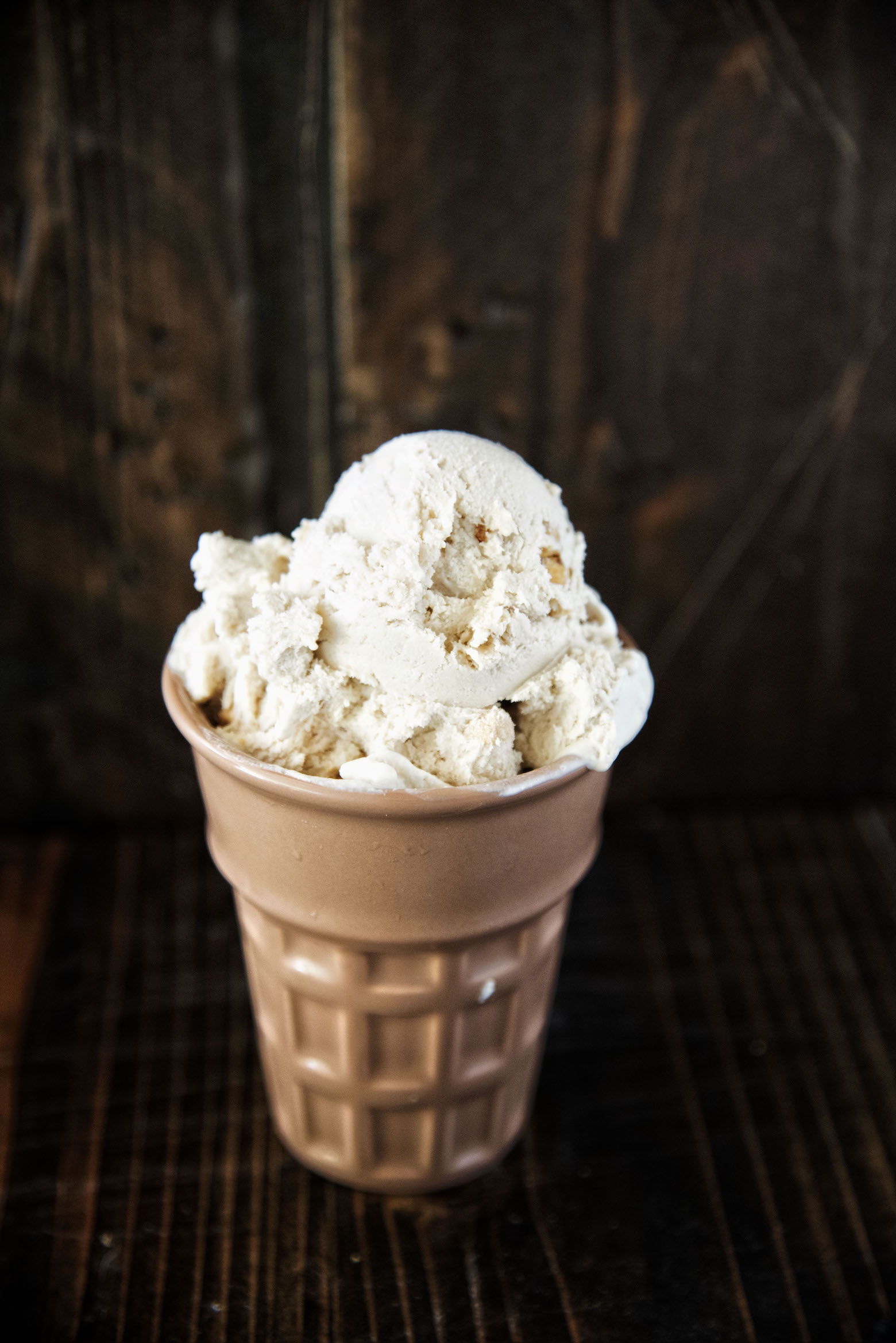 Many times I make something and then don't put it on the blog.
Not because it didn't taste good but because its as a little too out there. Or so I think.
When I was in college I had a handful of girls on my floor (of the dorm) who all came together from Georgia.
They did the oddest thing….they drank Coke with salted peanuts in it.
I tried it and decided that was pretty good.
Forgot about it for quite some time until I saw Sprinkle Bakes make cupcakes years ago.
Lately on Twitter people have been weighing in on the Coke and Salted People phenomenon.
Some loving it. Some not.
In honor of it's revival I made Coke and Salted Peanut No Churn Ice Cream.
Far too hot to turn on any oven this was the perfect choice to make.
I encourage you to make what you want. To invite people over to your dirty house. Point out how high your laundry pile is. 🙂
Real friends don't care.
And as always it's a great day to buy my cookbook.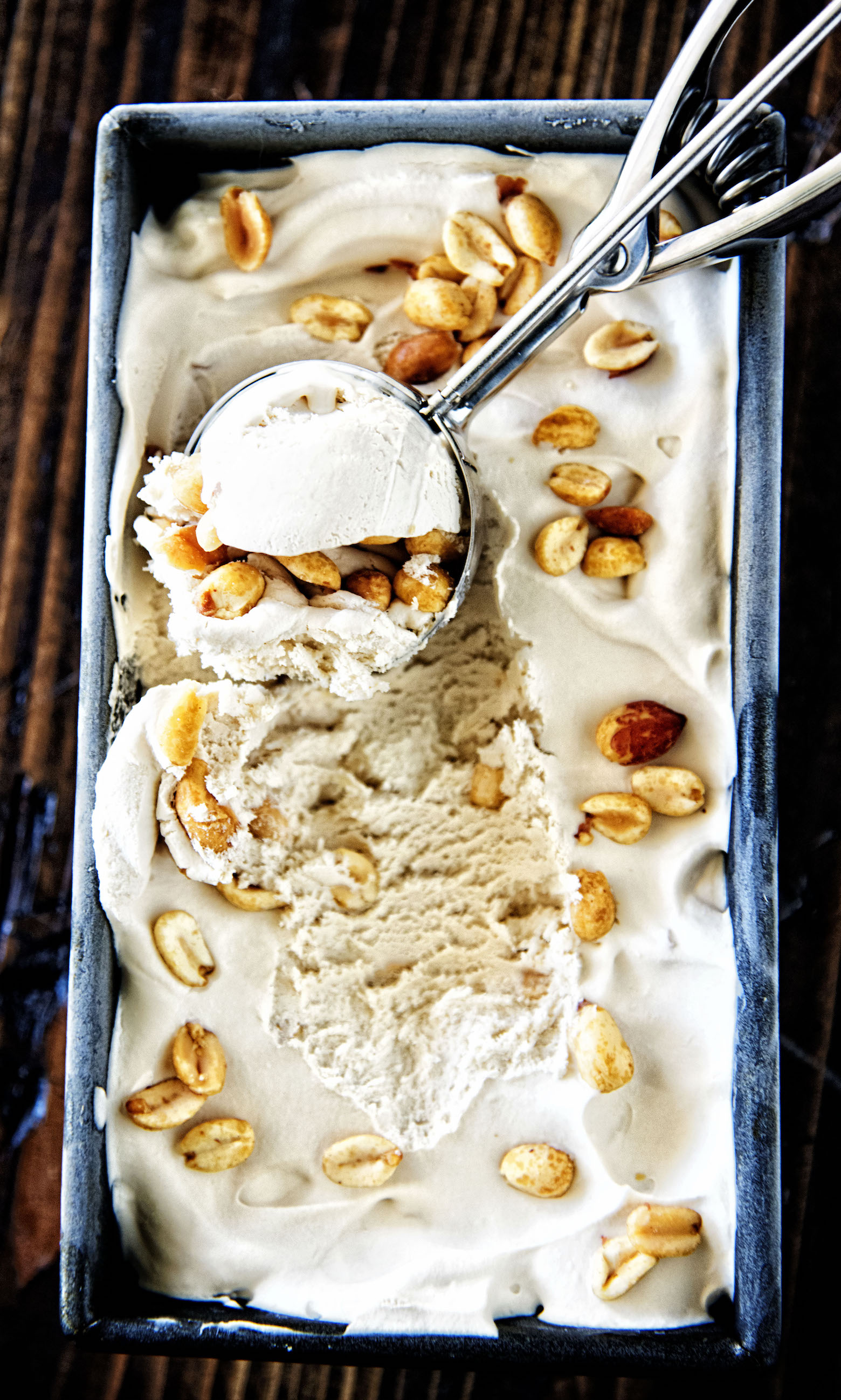 Want More Ice Cream Recipes?
Pineapple Upside Down Cake Ice Cream
Peanut Butter and Pretzel No-Churn Ice Cream
Circus Animal Cookie Ice Cream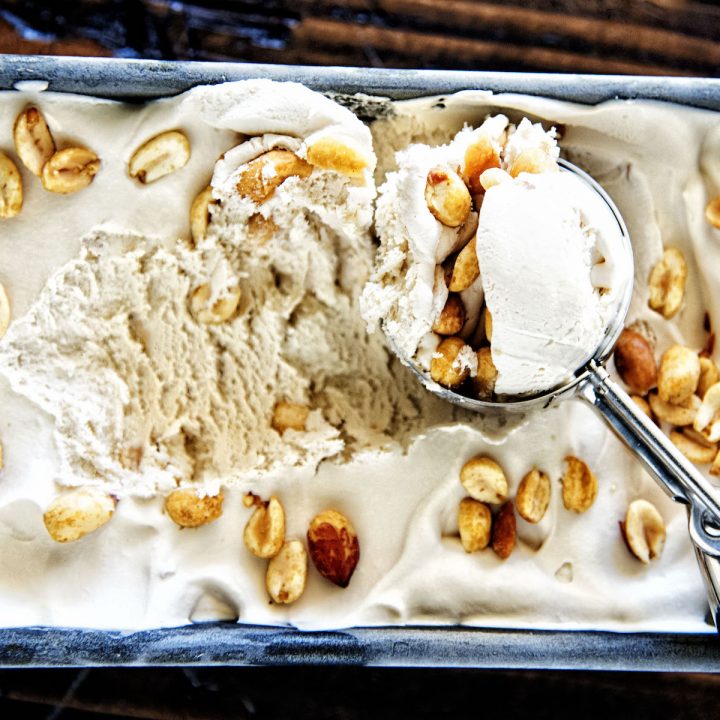 Coke and Salted Peanut No Churn Ice Cream
Ingredients
One 14-ounce can sweetened condensed milk
1 teaspoon vanilla extract
Pinch fine salt
2 cups heavy cream, cold
One 12-ounce can Coke
1 cup salted peanuts
Instructions
Place Coke in a saucepan over medium-high heat and reduce to a little more than 1/3 cup, about 25-30 minutes.
Watch carefully because it can start to burn.
Set aside to cool.
Whisk together the condensed milk, reduced cola syrup, vanilla and salt in a large bowl; set aside.Whip the cream with a mixer on medium-high speed until firm peaks form, about 2 minutes.
Fold about 1 cup of the whipped cream into the condensed milk mixture with a rubber spatula until combined, then fold the lightened mixture into the whipped cream until well blended.
Fold in the salted peanuts.
Pour into a chilled 9-by-5-by-3-inch metal loaf pan, and freeze, covered for 4 hours.