This Gingerbread Crumb Cake with Orange Glaze is gingerbread cake topped with crumb topping and covered with an orange glaze.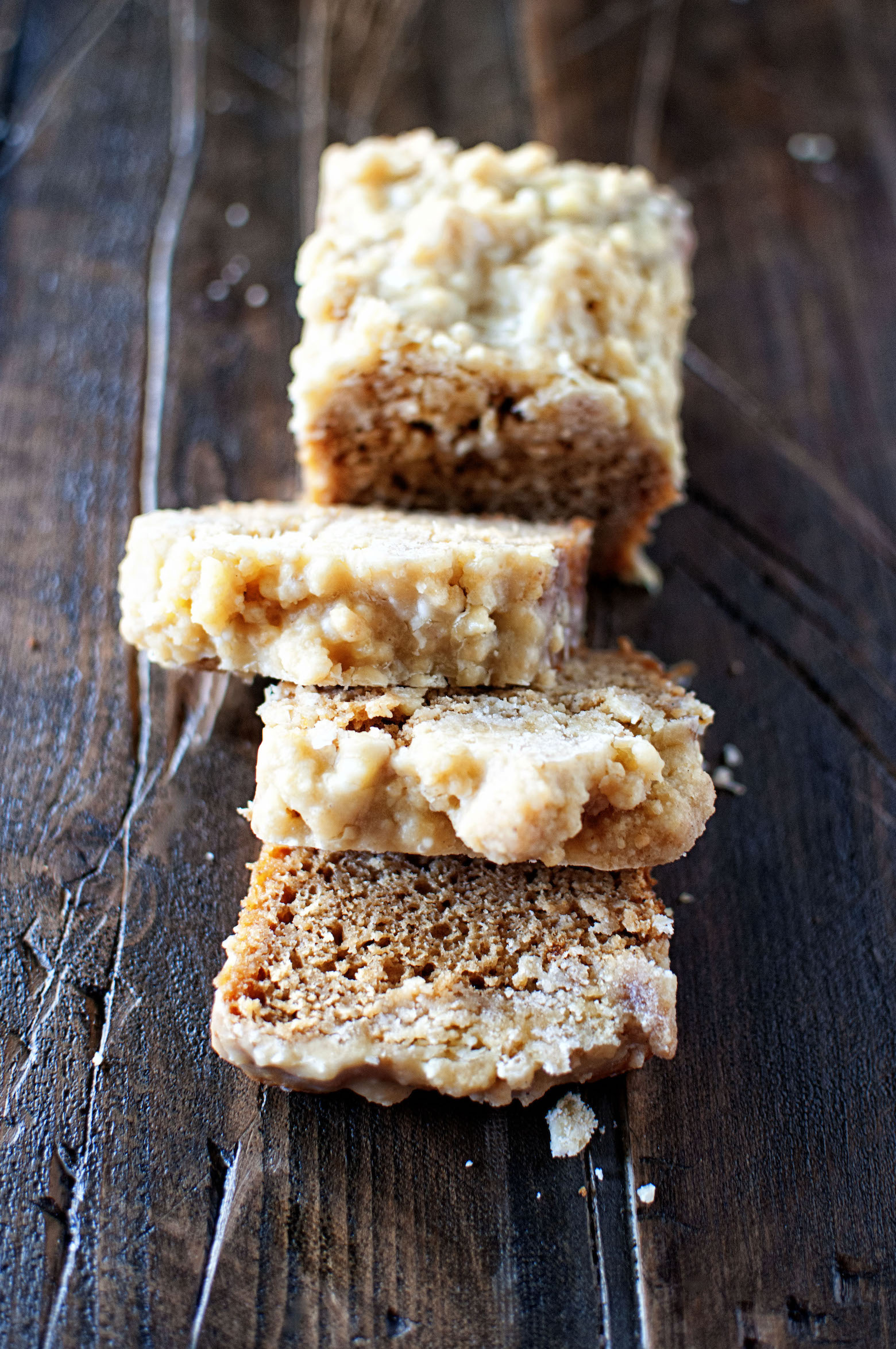 Dear Santa,
Let's review all the ways I was good this year.
I was really good at spending money at the veterinarian…especially the cardiologist and internist.
Excelled at being good at going into Target or Costco to get one thing and coming out with forty items not on my list.
Super good at swearing.
Did good at keeping all the attack dust bunnies in the house out and about by not cleaning as much as I should.
Getting emails, reading them, and thinking I responded…really good at that.
Good at procrastinating.
I've gone through 23 pounds of butter so far this month so I'm good at supporting dairy farmers.
Watching hockey on tv…good at that.
Buying cookbooks? Sooooo good at that.
Staring at my phone more than I should…good at that.
Snuggling with the pups when I should be doing other things…I could win a gold medal I'm so good at that.
With all that goodness going on surely Santa you can find something for me, right?
If you do leave me a nice gift I will leave out this yummy Gingerbread Crumb Cake with Orange Glaze for you.
It's glazed with an orange glaze because I love orange and gingerbread together.
If you are not a fan you can always leave it out or just replace with milk instead of orange juice.
Just 11 more baking days until Christmas!
P.S. It's a great day to buy my cookbook Holy Sweet!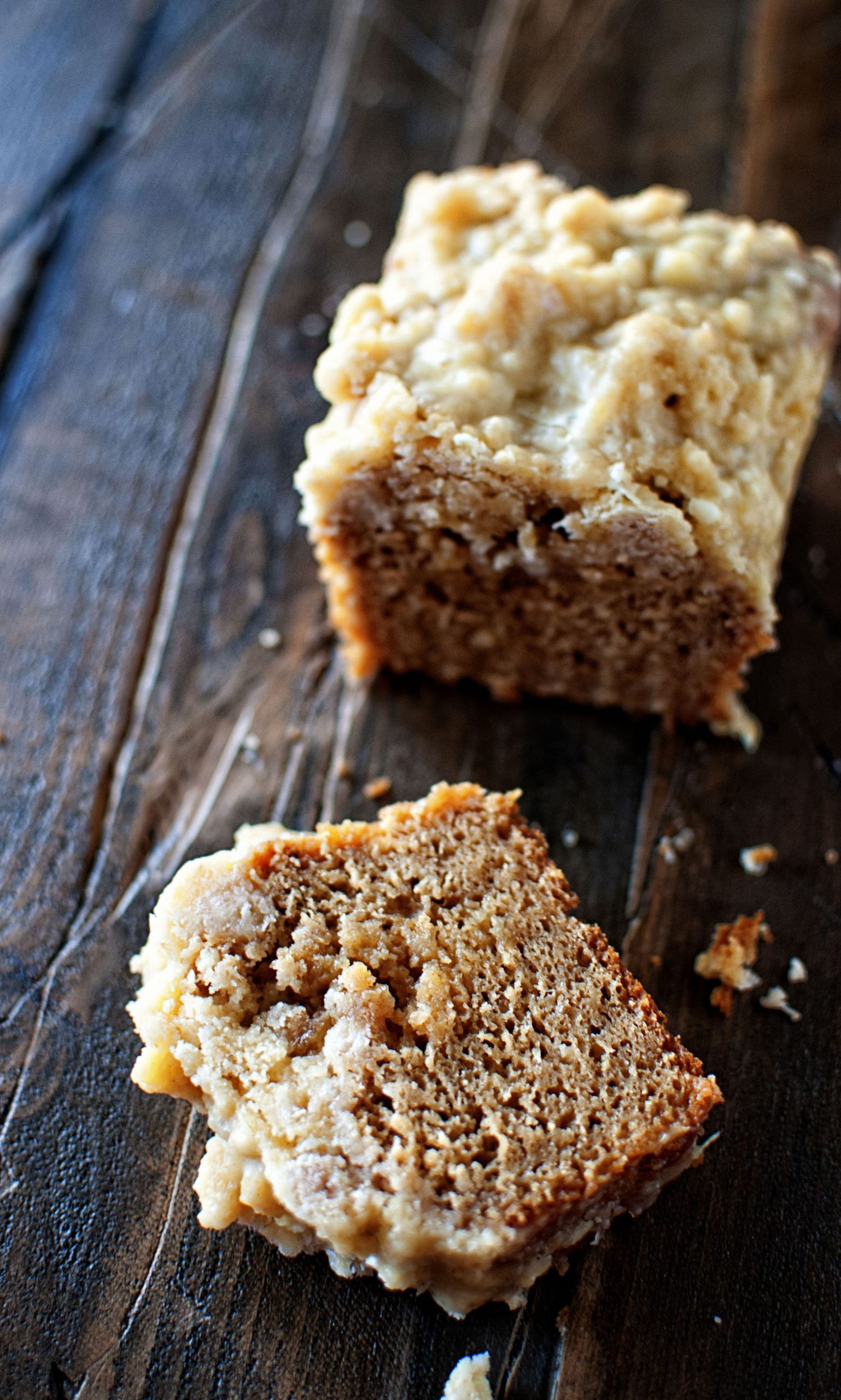 Want More Gingerbread Recipes?
Gingerbread Cheesecake Cheeseball
Clementine Upside Down Gingerbread Cake
Chocolate Gingerbread Layer Cake
Cream Cheese Frosted Gingerbread Sweet Rolls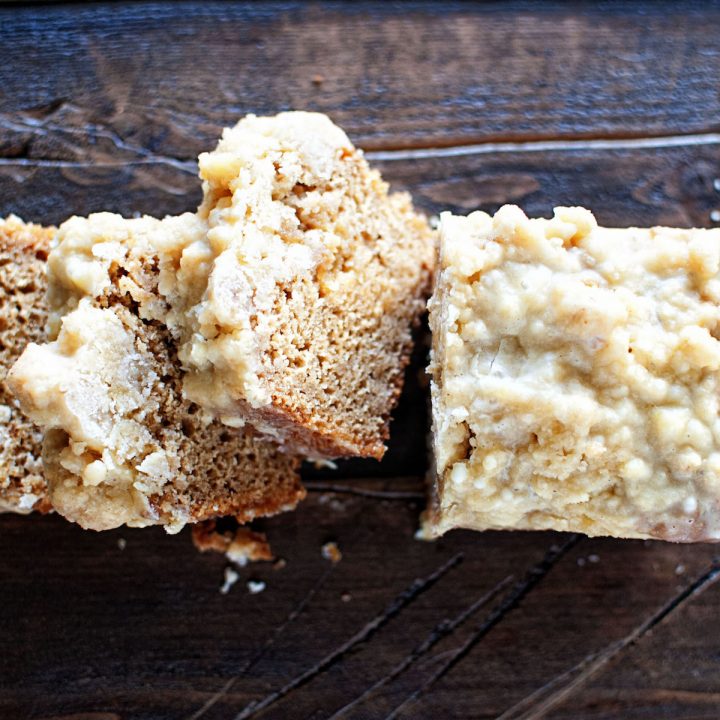 Gingerbread Crumb Cake with Orange Glaze
Ingredients
Crumb Topping:
1/3 cup granulated sugar
1/3 cup brown sugar, packed
¼ tsp. salt
1 tsp. gingerbread spice
8 TBSP unsalted butter, melted and then slightly cooled
1 ¾ cup cake flour
Cake:
½ cup unsalted butter, at room temperature
1 cup granulated sugar
2 large eggs
1/3 cup molasses
1 cup whole milk
1 cup sour cream
½ tsp. vanilla extract
zest of one orange
2 ½ cups cake flour
2 tsp. gingerbread spice
2 tsp. baking powder
½ tsp. baking soda
Pinch of salt
Icing:
6 TBSP orange juice
2 TBSP melted butter
1 ½ cups powdered sugar
Instructions
For the Crumb Topping:
In a medium sized bowl, put sugars, salt, and gingerbread spice and stir until combined.
Add the melted butter and then cake flour and mix (hands work best for this). Set aside.
For the Cake:
Preheat oven to 325F.
Spray baking spray 4 mini loaf pans and set them aside.
In a stand mixer with a paddle attachment cream together the butter and sugar until light and fluffy, about 3 minutes.
In a separate bowl add the milk, sour cream, molasses, orange zest, vanilla extract, and eggs and whisk until fully combined.
In another bowl add flour, gingerbread spice, baking powder, baking soda, and salt.
Alternate adding dry ingredients, then wet, then dry, then wet, and finish with dry.
Mix on low until fully combined. Be careful to not over-mix.
Using a regular size ice cream scoop, scoop three large scoops per pan. Even out with a spatula.
Evenly divide crumb topping (as evenly as you can) into pieces over top of the batter.
Bake for 30-35 minutes depending on your oven.
Check by using a wooden skewer or knife to see if it comes out clean.
Let cool on wire rack.
While cooling make glaze.
Simply whisk together the orange juice, butter, and powdered sugar in a medium bowl.
When cakes are cool pour glaze over the top of them.
Let glaze firm up.