These Grinch Buttermint Cupcakes are vanilla cupcakes frosted with buttermint buttercream and dipped in white chocolate.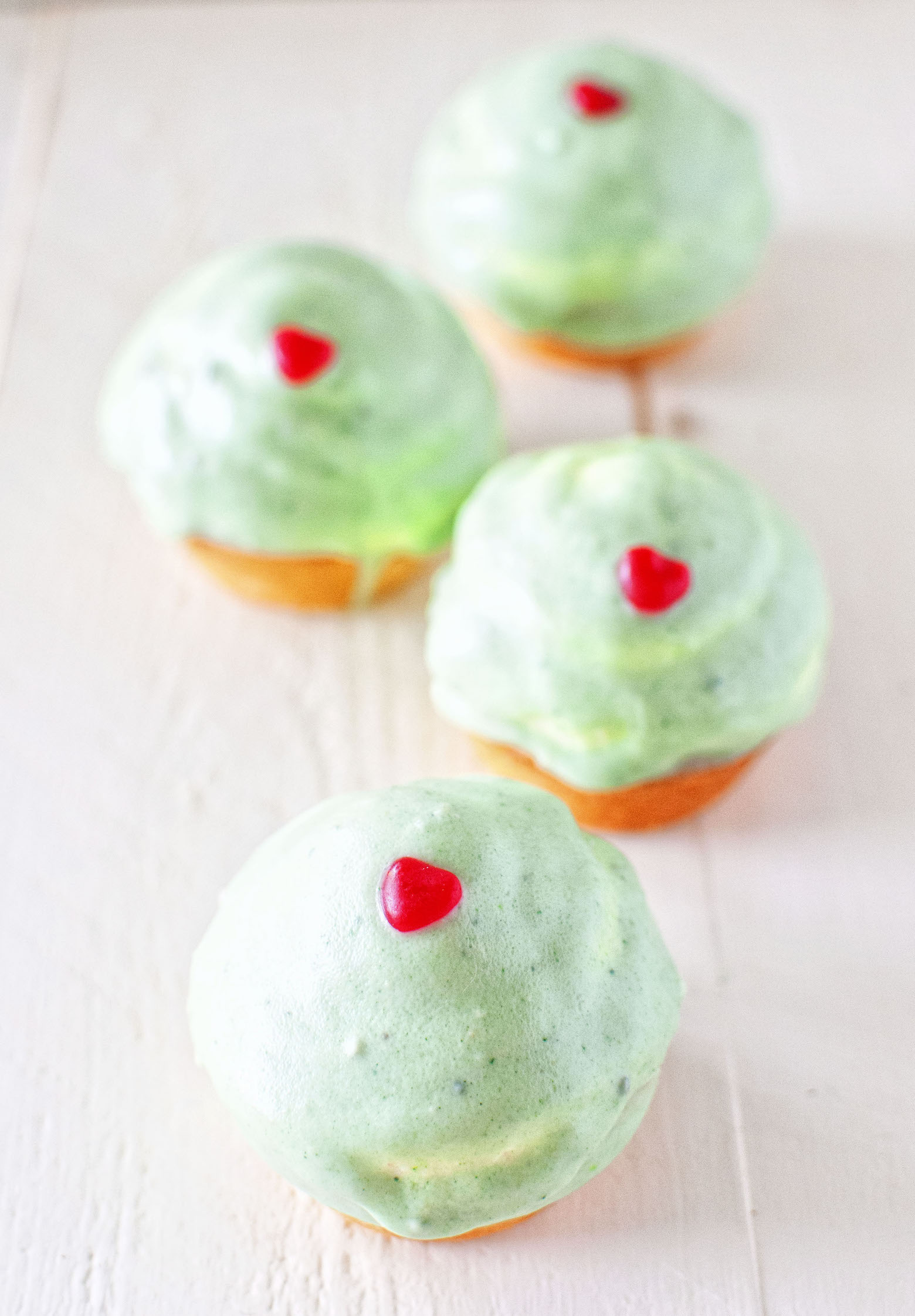 I don't think the Grinch disliked Christmas.
The Grinch hated people…or the Who's in this case.
And can we really blame him?
I just think he had been to Costco on a Saturday one to many times. 🙂
But like the Grinch right now I really would like to stop Christmas from coming.
Not ever.
Just delayed like a week.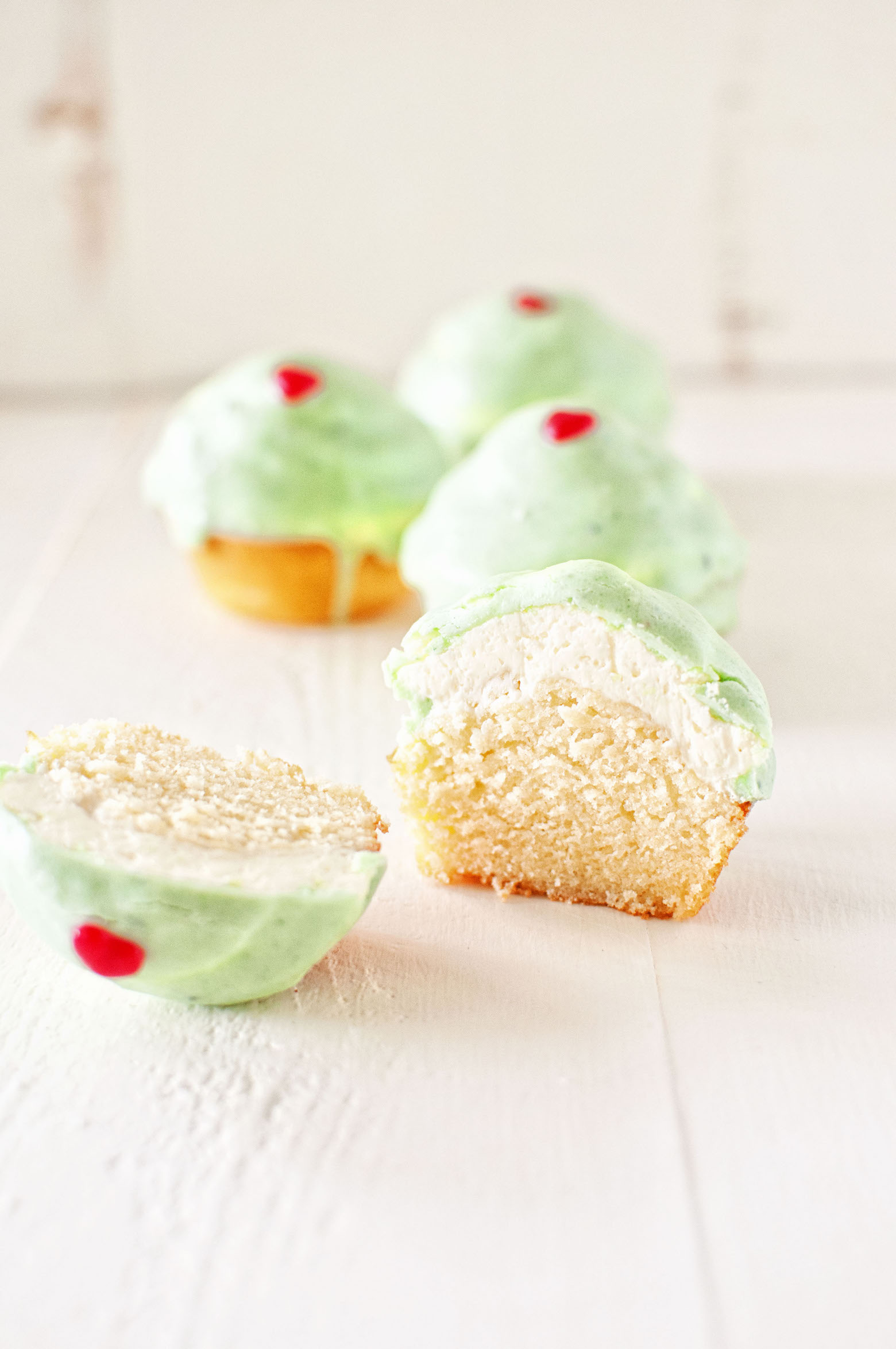 The kidney stones have thrown off getting somethings done that I had planned on already being done.
I want to be sitting around sipping cocoa and watching Love Actually or Hallmark Christmas movies.
But no.
I'm in frantic oh my goodness is there really only 9 days left mode.
In honor of the Grinch I made these cupcakes.
Which actually made me Grinchy.
I didn't plan on making another dipped cupcake this holiday season but I had several people ask me to show them how to dip the cupcakes.
So I have an example on Instagram, you can see it here.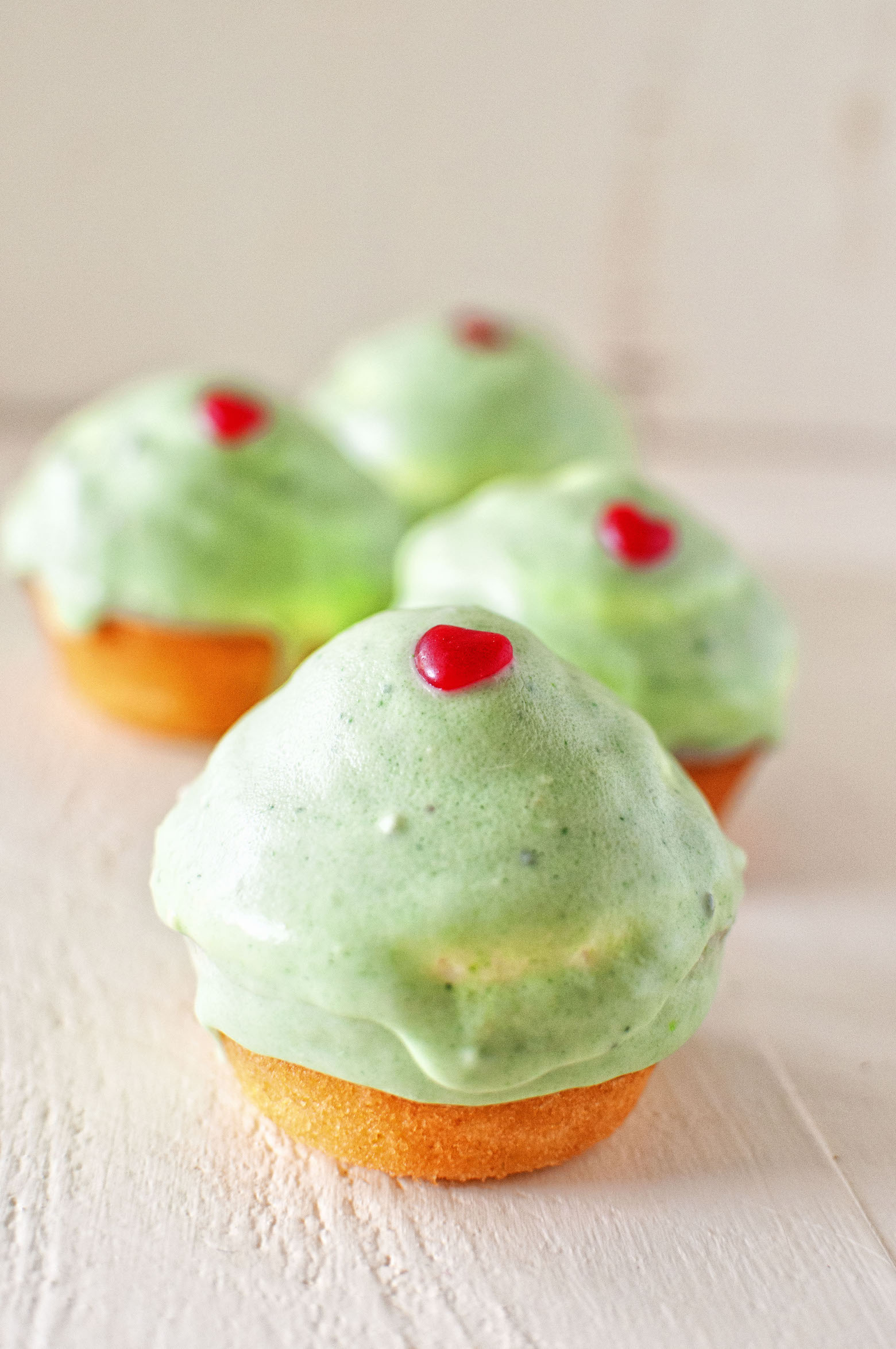 I tried mint chips first but the color was almost an green blue algae.
So I switched to white chocolate coating and just adding food coloring.
I still didn't get them the color I wanted but oh well.
Because they are white chocolate and food coloring you will have to double dip to get a deeper color.
I added a cinnamon heart which were leftover from Valentine's Day but you can buy here.
Or use heart sprinkles.
These are just a fun cupcake to make and kids like them…adults too.
P.S. It's a great day to buy my cookbook.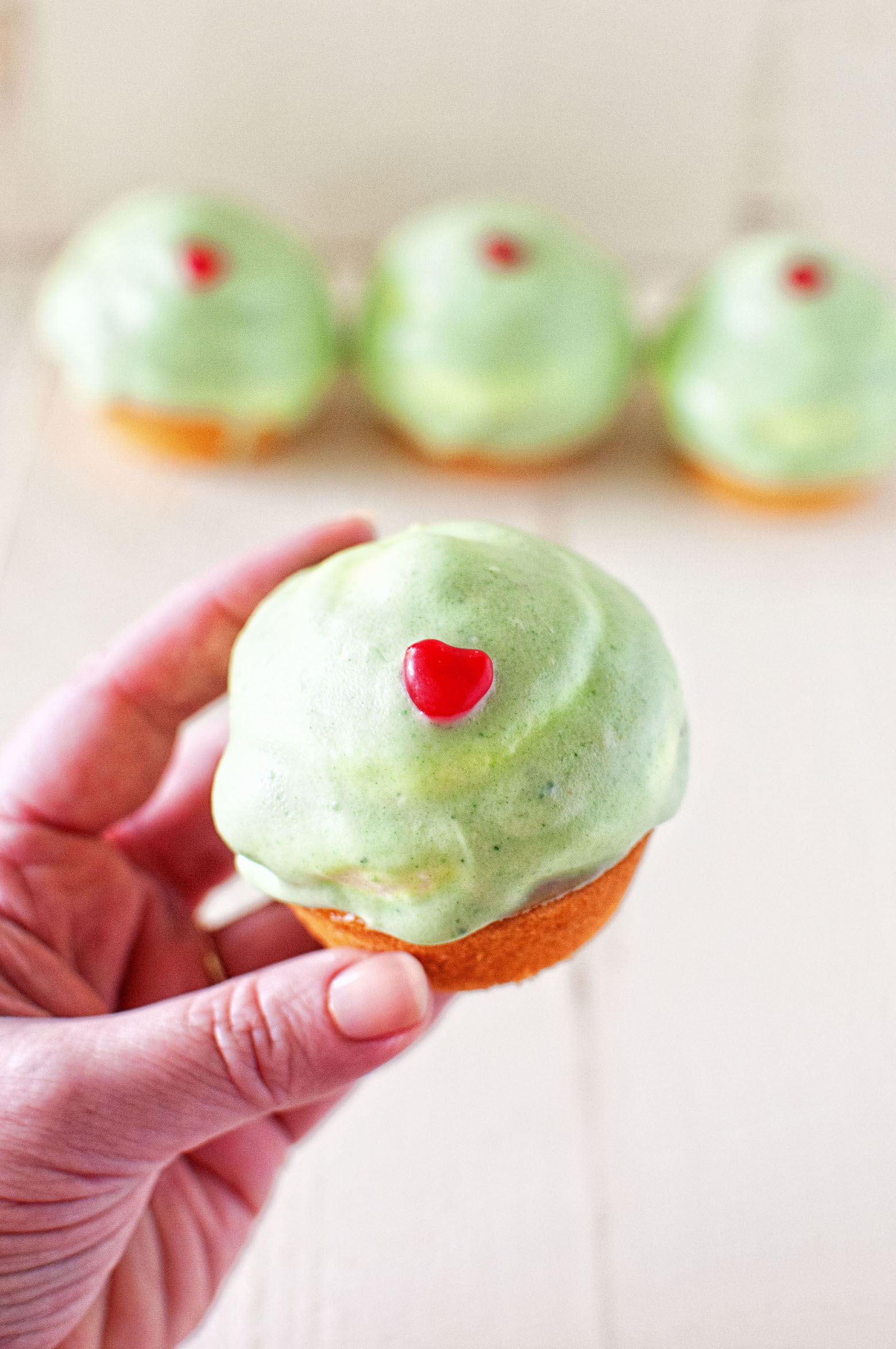 Want more Grinch recipes?
Grinch White Chocolate Mint Fudge
The Grinch Cranberry Cinnamon Rolls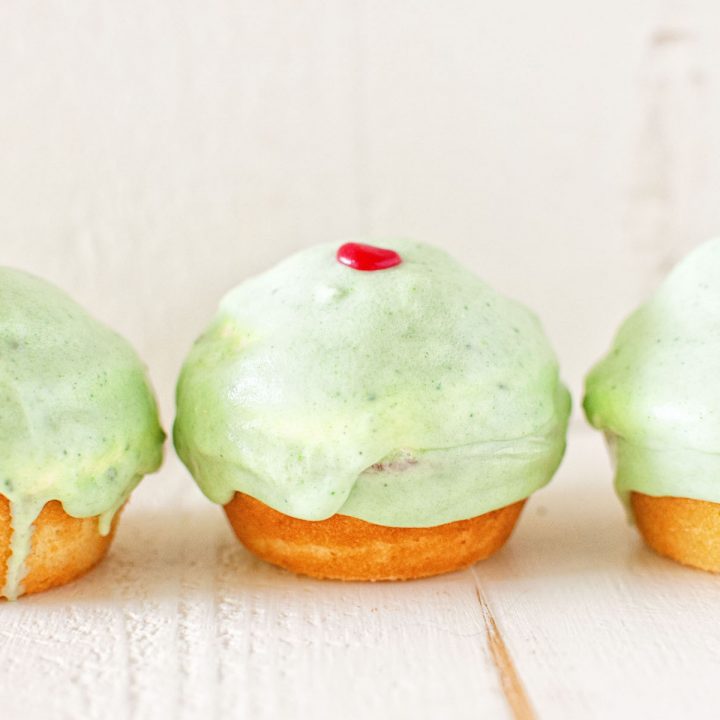 Grinch Buttermint Cupcakes
Ingredients
For the cupcakes:
2 3/4 cups all-purpose flour
1 1/2 tsp. baking powder
1/2 tsp. salt
1 cup unsalted butter, at room temperature
2 cups granulated sugar
4 large eggs, at room temperature
1 cup whole milk
1 tsp. vanilla extract
For the frosting:
9 egg whites
2 cups granulated sugar
3 cups (6 sticks) unsalted butter, cubed and at room temperature
1 tsp. vanilla extract
1 tsp. peppermint extract
1/4 tsp. salt
4 oz. white chocolate melted and cooled slightly
For the white chocolate coating:
24 oz white chocolate, finely chopped
6 TBSP vegetable oil
a couple of tsp. green food coloring
Instructions
For the Cupcakes:
Preheat oven to 350 degrees.
Spray two muffin pans with baking spray.
In a large bowl, on the medium speed of an electric mixer, cream the butter until smooth.
Add the sugar gradually and beat until fluffy, about 3 minutes.
Add the eggs, one at a time, beating well after each addition.
Add the dry ingredients in three parts, alternating with the milk and vanilla.
With each addition, beat until the ingredients are incorporated but do not over beat.
Using a rubber spatula, scrape down the batter in the bowl to make sure the ingredients are well blended.
Carefully spoon the batter into the muffin pan, filling them about three-quarters full.
Bake for 20-25 minutes, or until a cake tester inserted into the center of the cupcake comes out clean.
Cool the cupcakes in the tins for 15 minutes.
Remove from the tins and cool completely on a wire rack before icing.
For the frosting:
Place the egg whites and sugar in the metal bowl of a stand mixer and set over a small pot of simmering water (the bowl should not touch the water).
Heat, stirring occasionally, until mixture is 160F or hot to the touch.
Transfer bowl to stand mixer and beat on high speed with a whisk attachment to medium stiff peaks, about 8 minutes.
Reduce mixer speed to medium low and add butter a tablespoon at a time, letting it incorporate into the meringue for few moments before adding more.
Add peppermint extract, vanilla extract, melted white chocolate, and salt and beat on high for 1-2 minutes until smooth and creamy.
Frost the cupcakes.
Prepare the white chocolate coating:
Combine white chocolate and oil in a medium heat-proof bowl set over a medium saucepan of barely simmering water; stir until melted and smooth.
Add food coloring and mix until fully incorporated.
Transfer to a small bowl, and let cool about 15 minutes.
Holding each cupcake by its bottom, dip cupcake in the chocolate to coat frosting, allowing excess to drip off.
Transfer to a baking sheet fitted with a wire rack.
Spoon more coating around edge of cupcake.
Add cinnamon heart.
Place in fridge or let set up on the counter (will take longer).