This Hummingbird Cake Fudge is classic Southern cake in fudge form. White chocolate based fudge with all the flavors of the cake.
It's almost here.
No, not Christmas.
Star Wars.
In case you haven't guessed the girl who had an inflatable remote control operated R2-D2 at her wedding is rather excited about this.
It's a little sad to watch knowing that Carrie Fisher is dead but I'm sure I will survive. 🙂
But since right after Star Wars there is Christmas here are a few ideas if you are still searching for gift ideas.
#1. Unicorn lovers unite!
Our food blogger buddy and long lost sugar loving sister Jessie aka Cakespy has come out with a book for all the unicorn lovers out there.
It's seriously cute.
If you have a kiddo or adult for that matter who loves unicorns you should get this.
And as luck would have it…it released today. You probably need this as well.
#2 Toilet paper. Paper towels. Laundry soap.
Yes, if you have a kiddo who has gotten their first apartment these are the type of things that cost way more than they ever expected and somehow have to have. 🙂
Just as boring as socks but much needed.
#3 Speaking of socks…I kind of need them all.
#4 If you have a pet owner on your list these ornaments are a great and thoughtful gift and something that person will treasure after their pet has passed.
#5 I love all things Pusheen the Cat….I even get the subscription box. This Christmas version of him is adorable.
#6 For you baker friends how about this Gingerbread Man Pan. You can give it with a recipe.
#7 This because it's awesome.
#8 My favorite cookbook all year…shocking it's for bakers.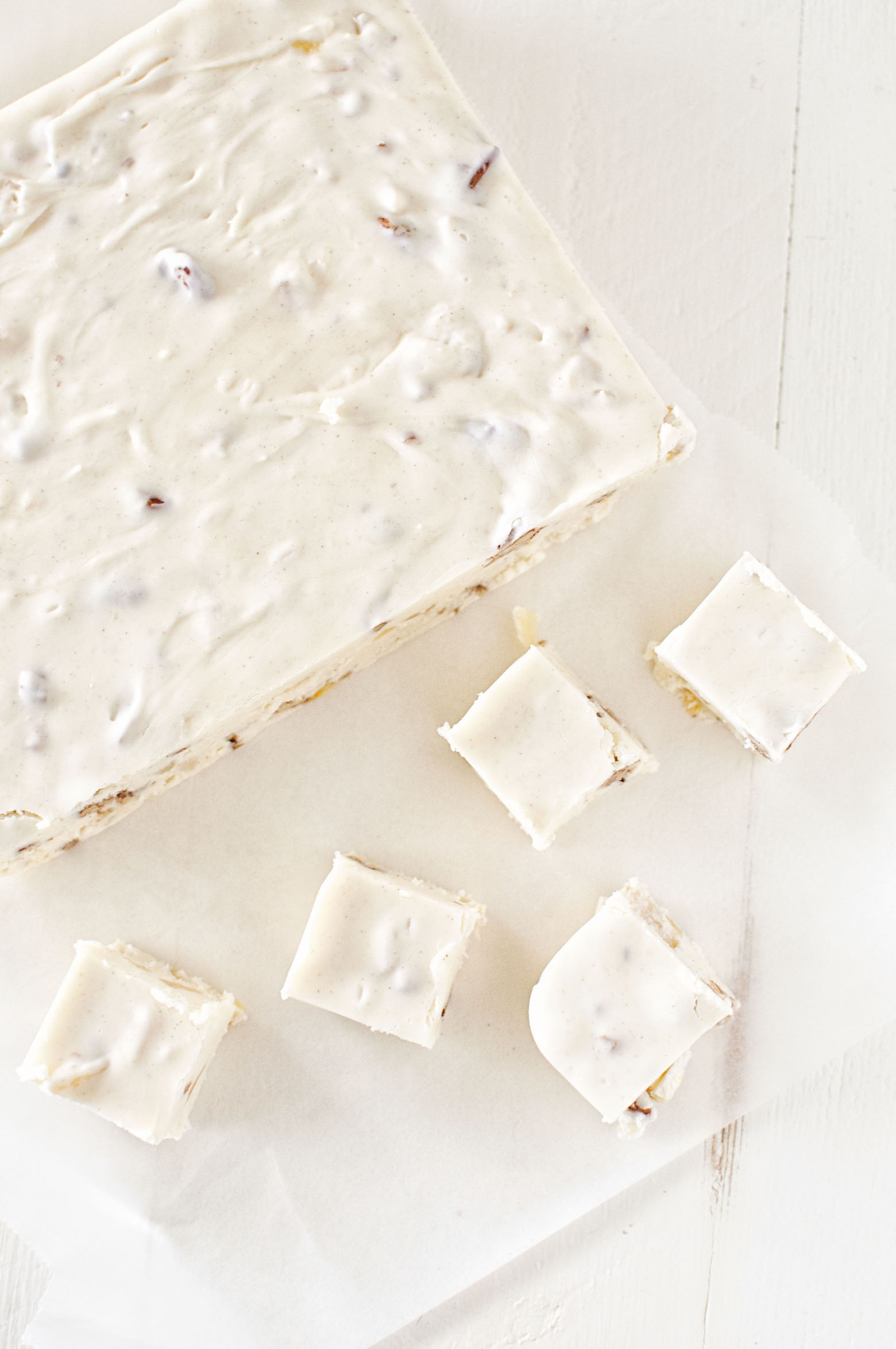 Anyway, those are just some fun ideas.
Yes, some of those are affiliate links so I'll make like thirteen cents if you purchase something. 🙂
Now let's talk Hummingbird Cake Fudge.
I love Hummingbird Cake. I think it gets looked over a lot.
If you are not familiar with it the cake is a Southern cake that is a banana-pineapple spice cake that has pecans and is topped with cream cheese frosting.
The fudge is white chocolate based with some cinnamon and cake mix.
Then mixed in are some banana chips, dried pineapple, and pecans.
To achieve the cream cheese frosting flavor I used flavoring from my favorite place for flavors, Wizard Labs.
There is a link where to buy it in the recipe.
P.S. It's a great day to buy my cookbook Holy Sweet!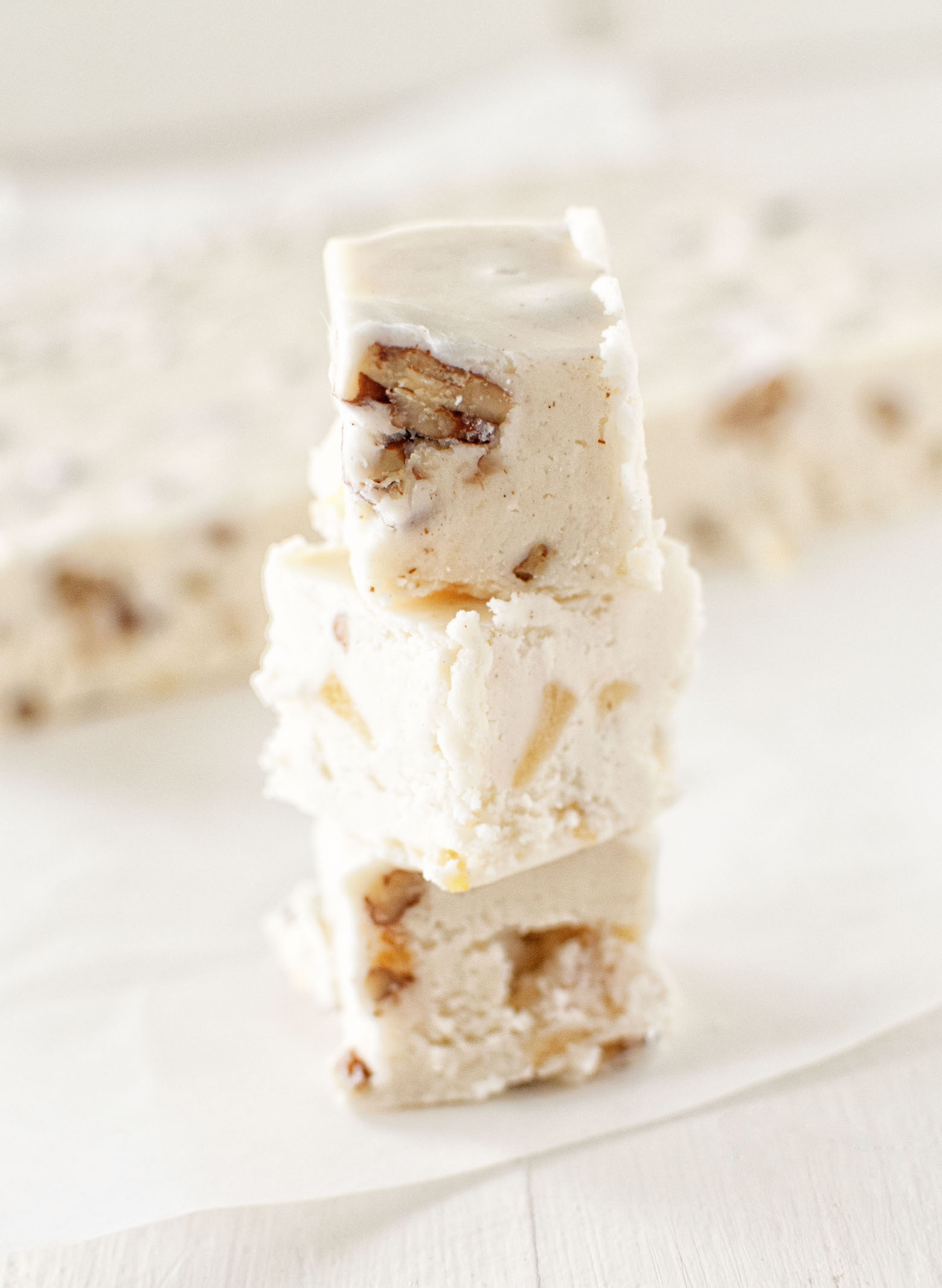 Want More Fudge Recipes?
Lemon Blueberry Mascarpone Fudge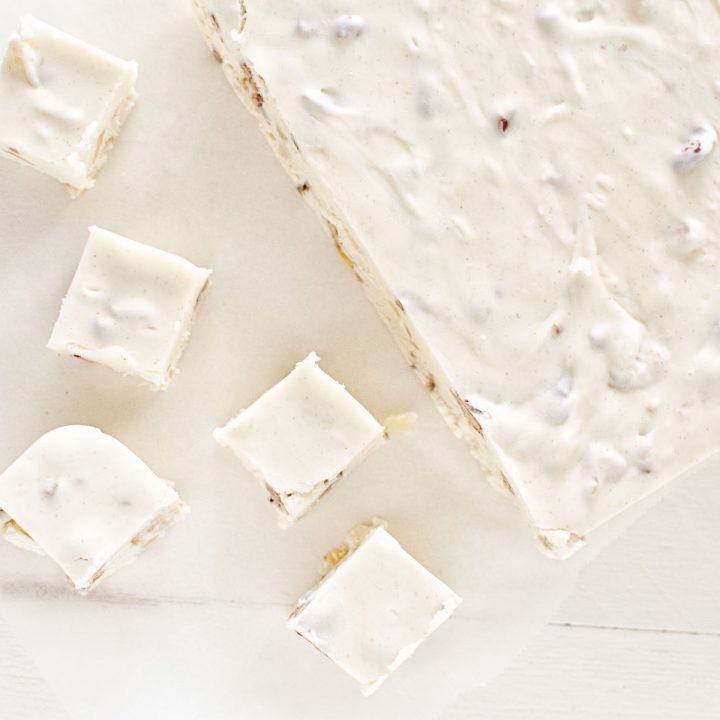 Hummingbird Cake Fudge
Ingredients
2 cups granulated sugar
4 oz. unsalted butter
¾ cup heavy cream
2 cups white chocolate chips
1/8 cup powdered white cake mix
1 tsp. ground cinnamon
7-ounce jar marshmallow crème
1/4 cup dried pineapple, small dice
1/4 cup dried banana chips, small dice
1/4 cup toasted pecans, chopped
Instructions
Line an 8×8 inch pan with parchment with an overhang so you can lift the fudge out later and coat with baking spray.
Combine sugar, butter, and heavy cream into a large heavy-bottomed saucepan and bring to a boil over medium heat.
Once boiling, attach a candy thermometer (if you have a digital most you cannot attach to the side…just keep reading it every 30 seconds with an instant read) and reduce the heat to a hair above medium low and cook for 7-10 minutes until your thermometer reads 234°F (soft-ball stage), stirring constantly.
Once you reach 234F remove from heat and add the white chocolate chips stirring vigorously with a wooden spoon until all has melted and the mixture is smooth.
Add the cake mix, cream cheese flavoring, cinnamon, and marshmallow crème and mix until well blended.
Fold in the pineapple, banana, and pecans.
Pour into prepared pan.
Let cool to room temperature.
Then lift out of the pan and onto a cutting board.
Cut into whatever amount you want.
I think I got about 20 pieces.