These Butterscotch Walnut Meringue Bars have a cookie bar base with walnuts and bourbon all topped with a crunchy brown sugar meringue.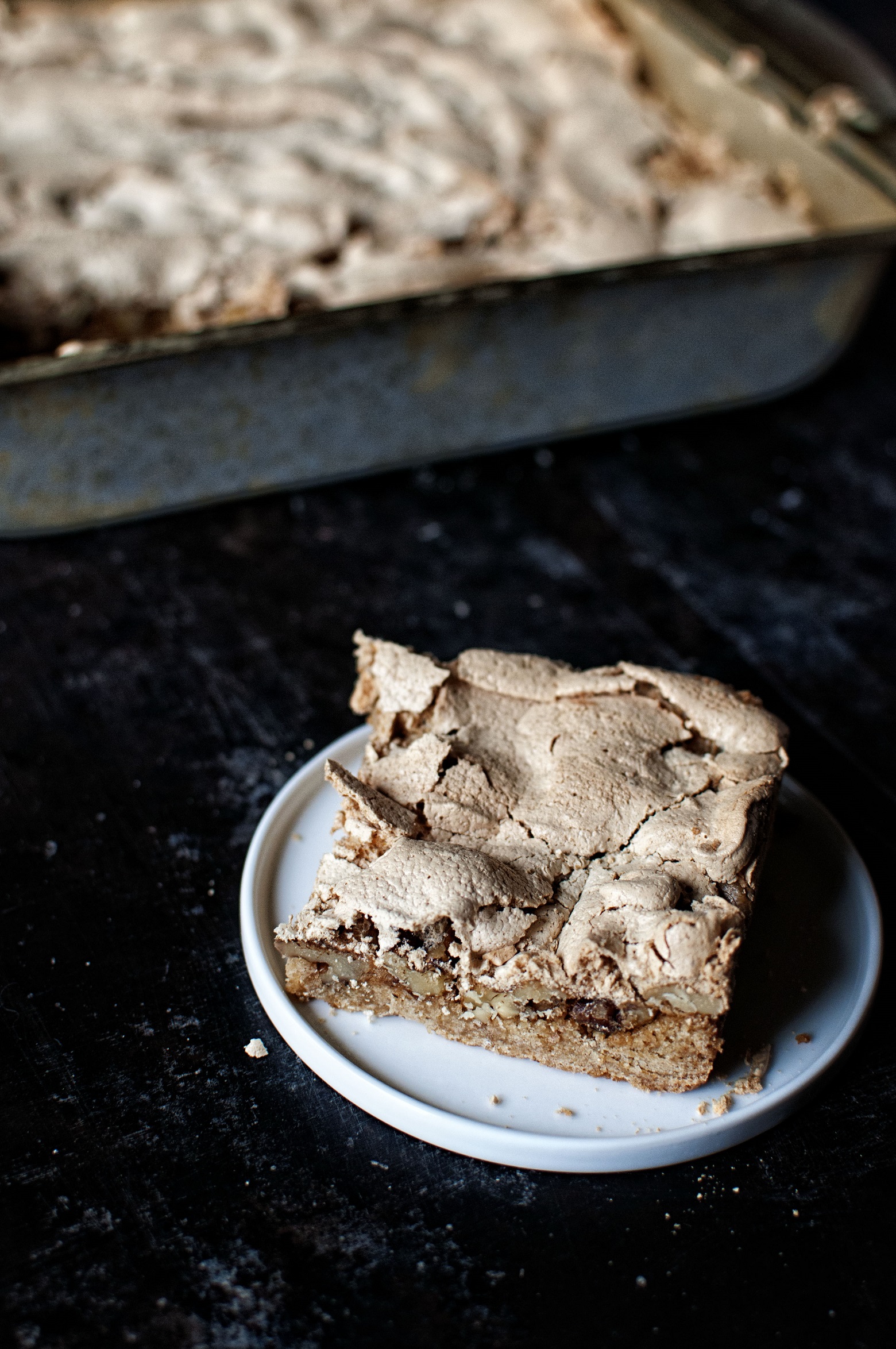 2017 means that this little blog of mine will turn 12 this year.
Very few who started with me are left.
Blogging 12 years ago and blogging these days is very different.
In some ways, it is better.
Some bloggers (not me) make their whole living off of blogging these days.
We get a lot of random free stuff.
Some things we want…some we don't.
Though the best thing about it is when something shows up at your door that you bought and your husband says when did you order that?
And you say…someone sent it to me. 😀
Which technically is not a lie…since someone did have to send it…I just ordered it is all.
There are perks like getting invited to restaurants to try out their new menu.
Or getting flown to LA to learn about products and get to hang with Tiffani Thiessen.
But to me, in a lot of ways, it's not nearly as fun.
Food bloggers used to sit in forums and talk about recipes.
You know food.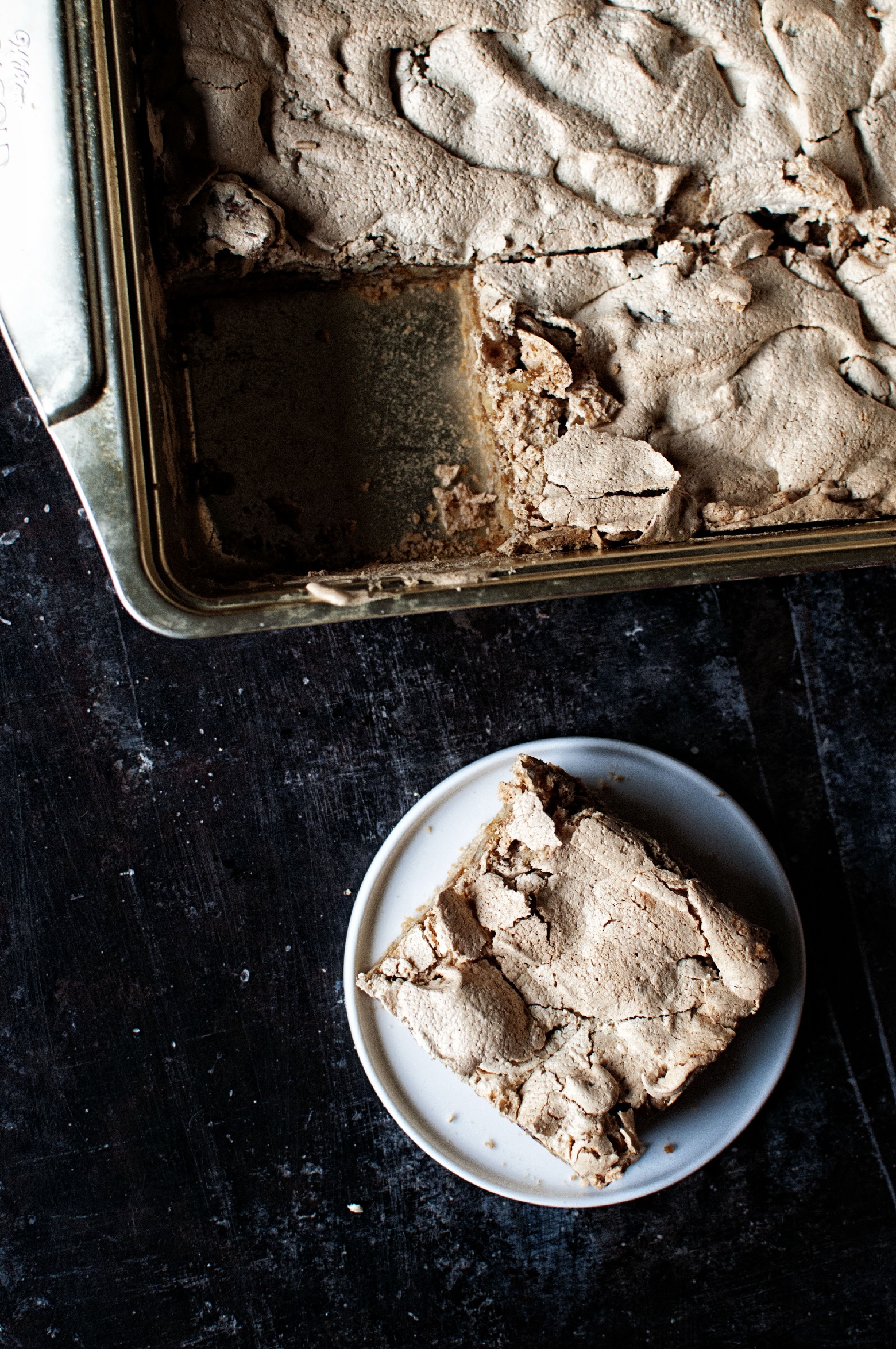 Nowadays they talk about VA's…which are virtual assistants (I do not have one) that do much of the social media for your favorite blogger.
Which means, you probably aren't talking to the blogger when they respond to you.
They talk about how to get more traffic and what is working to get more followers on Instagram and Facebook.
And while that is all well and good, it's not why I got into food blogging in the first place.
I got into blogging because I wanted to share recipes.
Back in the early day's readers used to send me recipes all the time.
Not necessarily to be featured on the blog but just for me to try because they loved it so.
This last week I ran across a folder of recipes I had printed out that came from readers to try.
This Butterscotch Walnut Meringue Bars recipe comes from a reader.
I don't even know if they read my blog anymore or not.
Hopefully, they do.
I kind of wondered if I would like the meringue top and I do.
Adds a nice texture dimension.
These are homely looking and the top will crumble.
But they are really quite tasty and I'm sorry I waited this long to make them.
Last but not least…it's a great time to order my cookbook. 😀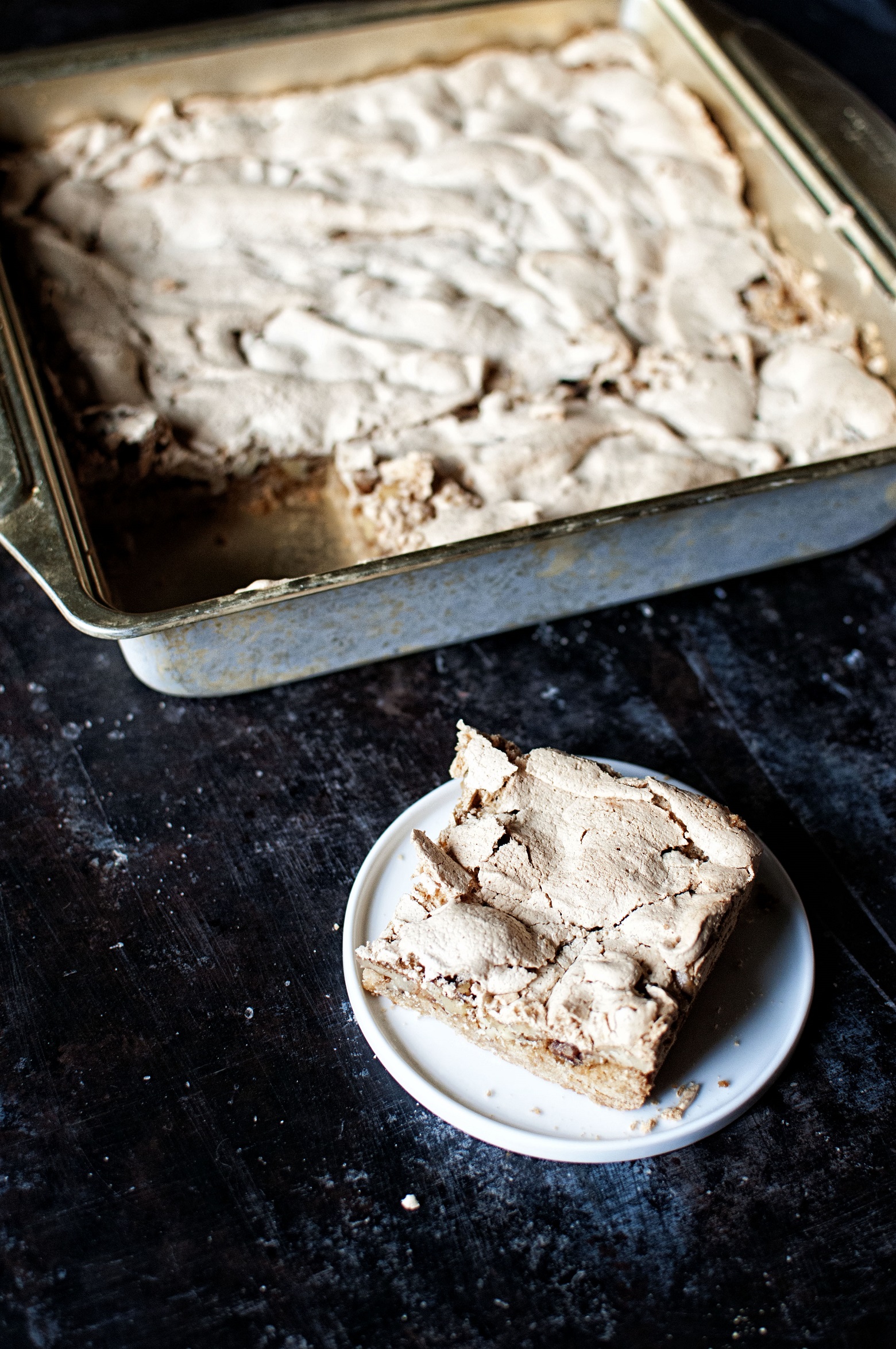 Want more Bar recipes?
Strawberry Lemonade Lemon Bars
Chocolate Chunk Churro Cookie Bars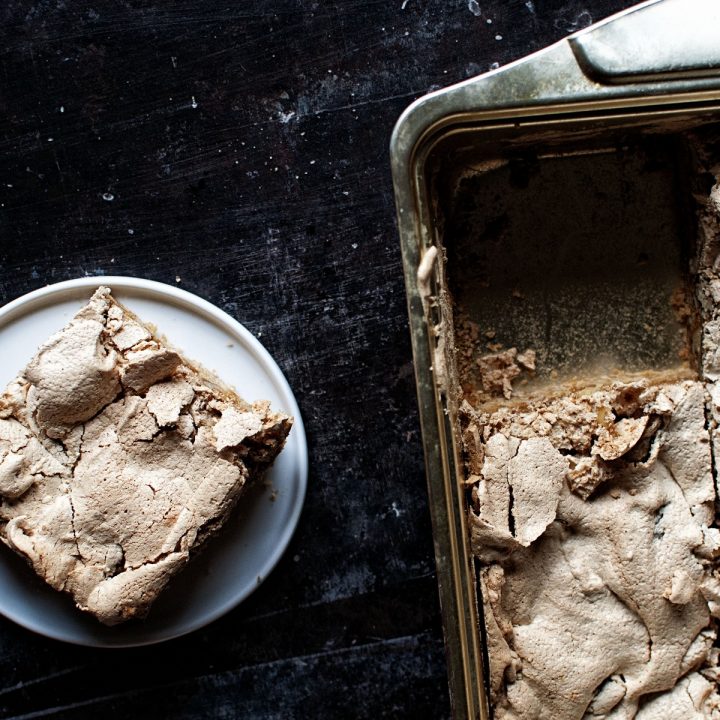 Butterscotch Walnut Meringue Bars
Ingredients
1 ½ cups all-purpose flour
1 ½ tsp. baking powder
Pinch of salt
1 cup light brown sugar, firmly packed
½ cup cold butter, cut into pieces
2 egg yolks
2 TBSP Bourbon (you can sub 1 tsp. vanilla)
For topping:
2 egg whites
1 cup brown sugar, firmly packed
1 TBSP Bourbon
1 1/2 cups walnuts (chopped or not...I didn't chop)
Instructions
Preheat oven to 350F.
Spray a 9-x-13-inch baking pan with baking spray. Set aside.
Add the flour, baking powder, salt & brown sugar in the bowl of a food processor fitted with a metal blade.
Pulse until the ingredients come together.
Add the butter and process until the butter is the size of small peas.
Add the egg yolk and bourbon and pulse until the mixture as the consistency of sandy clumps.
Pat mixture into the pan and level off by pressing with a small offset spatula or spoon.
Top with walnuts.
Push them into the dough. The dough is crumbly so it will need to be patted down again.
For the meringue:
Using a stand mixer fitted with a whisk attachment beat egg whites until they hold a peak when whisk is lifted.
Add the brown sugar and beat at the highest speed about 4 minutes.
Add the bourbon and beat for another minute.
Spread the meringue over the walnut layer.
This is going to be humorous as the meringue does stick to the dough…and well the dough is sandy…so it comes up…as do the nuts. Just do you best and laugh while doing it…that helps. 🙂
Bake 25 minutes or until tester inserted into pan comes out clean.
Let cool to room temperature and cut into squares.