These Shamrock Mint Cookies are stuffed full of Andes Mint Pieces and topped with big puffy Mint Marshmallows and Junior Mints.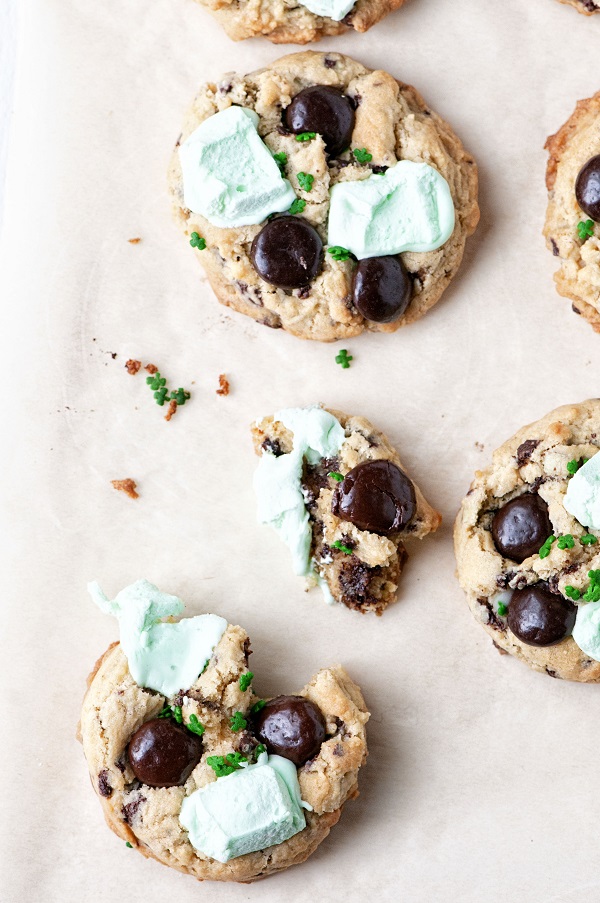 Can't believe we are already two months into this year!
Crazy.
The year will be over before you know it.
Okay, maybe that's an over exaggeration.
But it will go by fast.
They always do.
Remember those mint marshmallows I made?
These Shamrock Mint Cookies are why I made them.
I wanted a cookie that would have a gooey half melted marshmallow on it.
Not totally sure why but it just sounded really good.
And I wanted Junior Mints.
Also Andes Mints.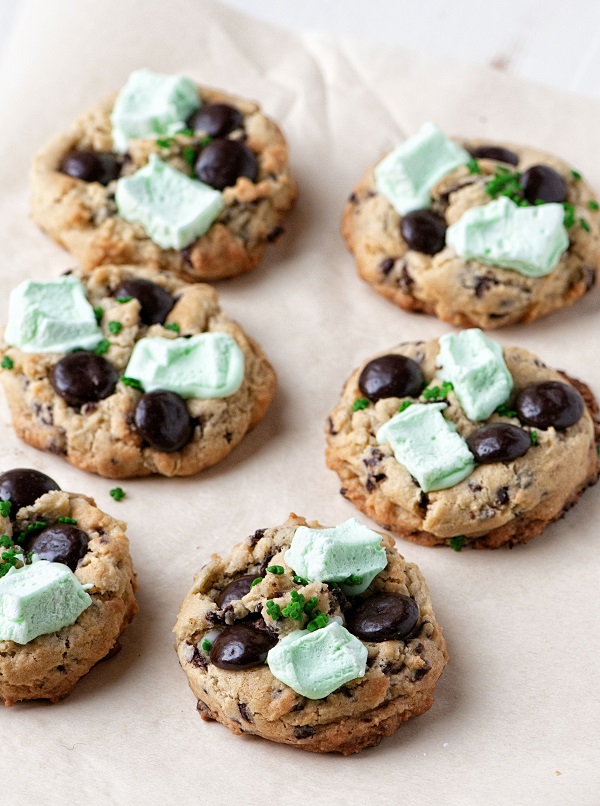 Yeah, I've kind of been on a mint kick lately.
Which is good since St. Patrick's day is just around the corner.
Hence the shamrock sprinkles.
You don't need them…but why not?
Sprinkles make everything more fun.
You can just use green sanding sugar if you want or no green at all.
Your choice.
All I know is if you like mint…make these.
And last but not least it's a great day to buy my cookbook.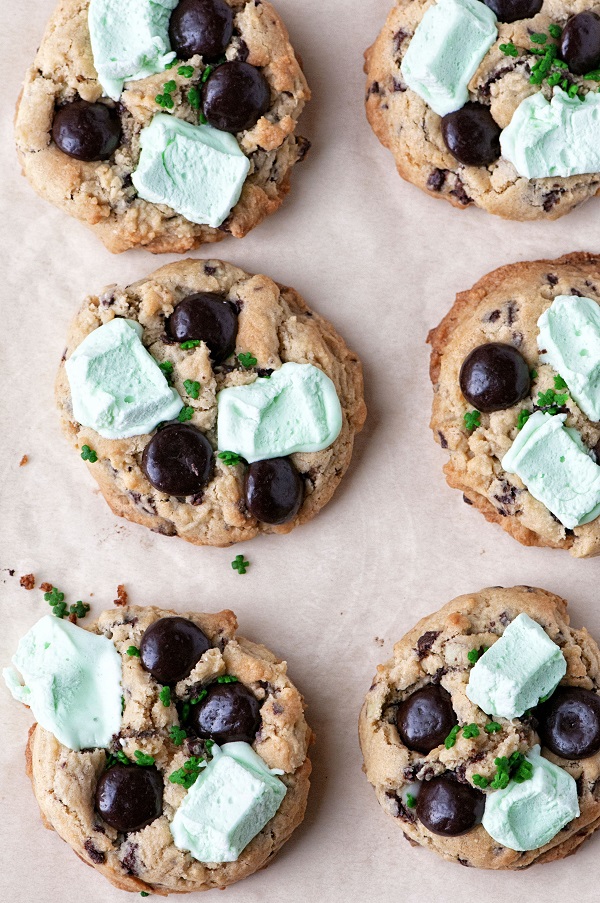 Want More Cookie Recipes?
Chocolate Mint Frappuccino Cookies
Roll Out Shortbread Sugar Cookies
White Chocolate Chip Creamsicle Cookies
Vanilla Bean Caramel Thumbprint Cookies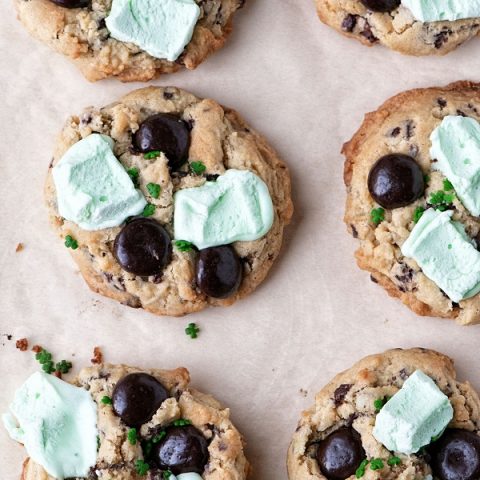 Shamrock Mint Cookies
Ingredients
2 1/2 cups all-purpose flour
1 tsp. baking soda
1 tsp. salt
1 cup (2 sticks)unsalted butter, at room temperature
3/4 cup granulated sugar
3/4 cup packed brown sugar
1 tsp. vanilla extract
2 large eggs
1 ½ cup Andes Mint Pieces
45 mini mint marshmallows (I just cut the big ones into small ones)
45 junior mints
shamrock sprinkles (optional)
Instructions
Preheat oven to 375° F.
Combine flour, baking soda and salt in small bowl and set aside.
Using a stand mixer with a paddle attachment beat butter, granulated sugar, brown sugar and vanilla extract in large mixer bowl until creamy.
Add eggs, one at a time, beating well after each addition.
Gradually beat in flour mixture.
Stir in Andes Mint Pieces.
Using a regular size ice cream scoop, scoop out 15 cookies.
Bake for 13 to 15 minutes or until golden brown.
Remove from oven and while hot place the marshmallows and Junior Mints onto the cookies.
Cool on baking sheets for 2 minutes; remove to wire racks to cool completely.