This BBQ Pulled Pork Quiche is filled with BBQ pulled pork and Dubliner cheese this quiche will have everyone asking for seconds.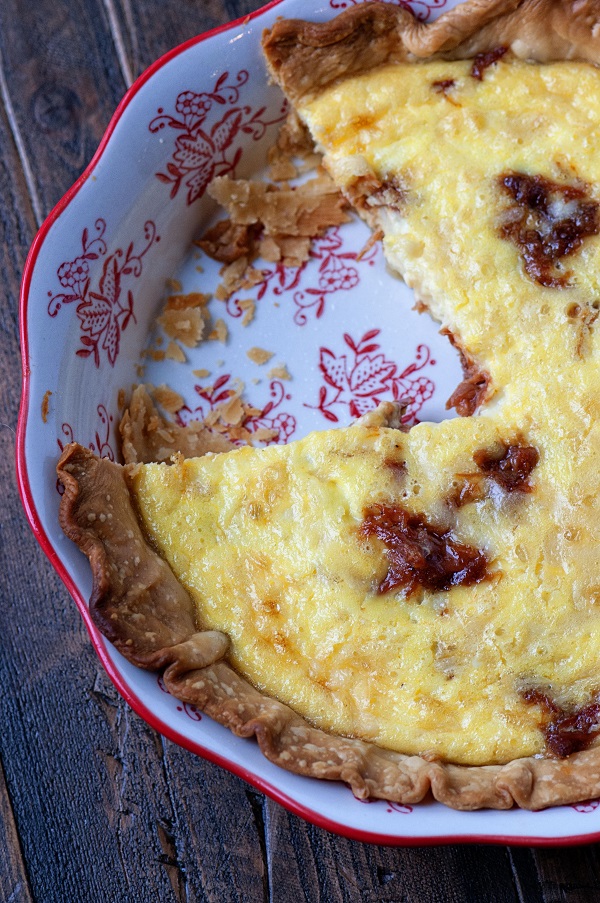 Some may remember that years ago I was a Weight Watcher leader.
Then I got divorced and my stress eating kicked in and the weight came back…especially since I was eating next to nothing.
Not to say that was WW fault that I was eating next to nothing they don't encourage that, I just get "sick" when I diet.
Before you are a leader you have to be a receptionist as well and this is where the real action is.
While people do come and talk to their leader, they really talk to the receptionist.
They come before the meeting and chat, during the meeting and confess their "sins", and linger after the meeting.
My point being you hear a lot of things and a lot of common themes.
One theme is that no one notices my weight loss and that makes me sad.
It makes them sad because they feel they are killing themselves and no one notices.
I would first tell people that they are right, no one notices…both ways.
Meaning no one really notices if you GAIN or lose 10 pounds.
We all have a myth that people are constantly judging how much we weigh and in reality, they are not.
Most people are too involved in their own lives to notice what is going on in yours.
And that's the truth.
Plus if it's people you see every day, it's really hard to notice weight differences.
So with that you may be thinking that I want to encourage you to tell people that you noticed they've lost weight…I do not.
Let me explain.
See the biggest theme in all of weight loss was the guilt felt by people when they gained the weight back.
That they let people down.
What did people think of them now when people were telling them they looked good with the weight loss?
The sad truth is that statistically people are going to gain weight the weight back.
I cringe every time I see someone write that they've reached X amount of pounds and are never going back.
Because each person I know that wrote that (or says that) has indeed seen that amount of weight again.
It's not to say it can't be done.
Our goalie on our team lost 80 pounds and has kept it off give or take a few pounds that he goes up and down.
He did low carb but also allows for treats (aka my snacks I bring to hockey and sandwiches from his favorite place to eat) a few times a week.
This has made it be sustainable for him.
It's made him now get to a weight where he can work out and really tone up.
He's my weight loss hero so to speak because I fully believe he is going to be able to be that weight for forever…because he has found balance.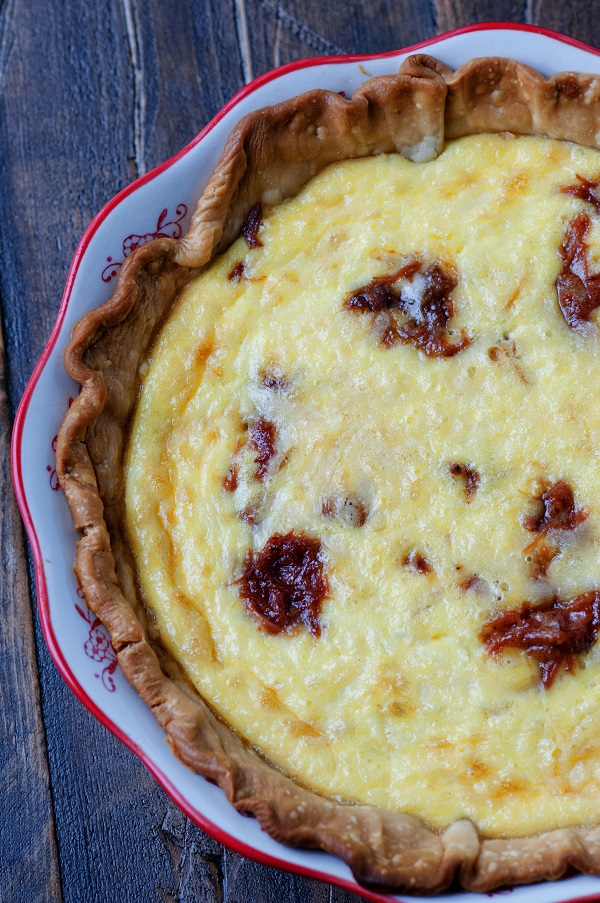 I think the best thing to do is to compliment people on something that isn't their weight loss.
Something that if they gained the 30 pounds back would still be there.
Their eyes, hair, scarf, shoes, etc.
Simply telling them "hey, your smile is infectious today, whatever you are doing keep it up".
Because that encourages them to keep up with their weight loss but also a smile is something they are going to have even if they gain it back.
When we tie people's compliments to their weight, while I know you think you are doing something nice, in reality you are eventually setting them up for sadness and guilt.
Just something to think about.
And now something to eat.
Quiche.
BBQ Pulled Pork Quiche to be exact.
I hate the phrase real men don't eat quiche.
Clearly those men have never had my quiche.
They clearly have not had this quiche.
This turned out way better than I could have imagined.
It truly was a oh, gee, we have leftover pulled pork let's see what we can do kind of thing.
I loved it with the Dubliner cheese but if you can't find that then use just sharp cheddar.
My husband says that extra BBQ sauce is a must with this as it pulls it all together according to him.
P.S. It's a great day to buy my cookbook Holy Sweet!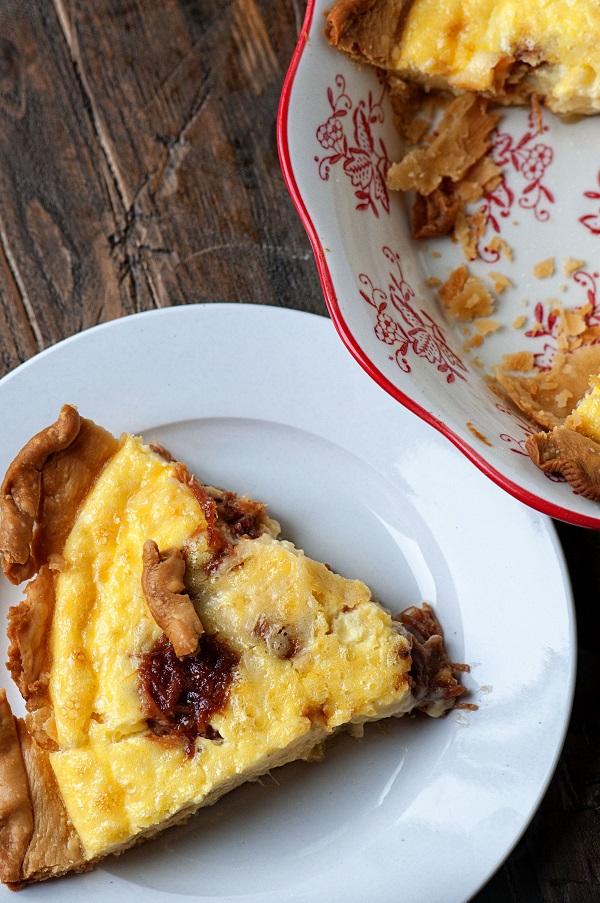 Want More Quiche Recipes?
Vegetarian Spinach Mushroom Quiche
Pimento Cheese and Cornbread Quiche
Vegetarian Roasted Broccoli Cheddar Quiche
Gruyere Aged Smoked Gouda Caramelized Onion Quiche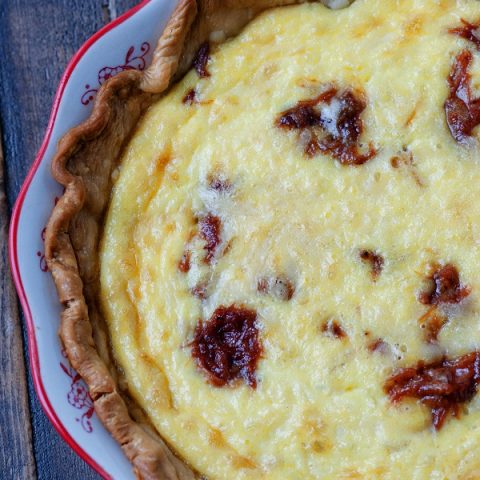 BBQ Pulled Pork Quiche
Ingredients
Pie crust for one 9-inch pie (use a recipe of your own or buy store bought)
8 oz. pulled pork tossed in BBQ sauce (we used Sweet Baby Rays)
3 large eggs
2 large egg yolks
1 1/2 cups cream (we used Darigold)
1/4 tsp. salt
Pinch freshly grated nutmeg
1 cup Dubliner cheese, shredded (or a sharp cheddar)
Instructions
Preheat the oven to 375 degrees F.
Line the pie crust with parchment paper and fill with pie weights or dried beans.
Bake until the crust is set, 12 to 14 minutes. Remove the paper and weights and bake until golden brown, 8 to 10 minutes. Remove from the oven and cool on a wire rack. Leave the oven on.
Disperse the BBQ pulled pork around the bottom of the baked pie crust. Sprinkle the cheese after that.
In a large bowl, beat the eggs, yolks, and cream.
Add the remaining ingredients and whisk to combine. Pour into the prepared crust and bake until the custard is golden, puffed, and set yet still slightly wiggly in the center, 30 to 35 minutes.
Serve with extra BBQ sauce.