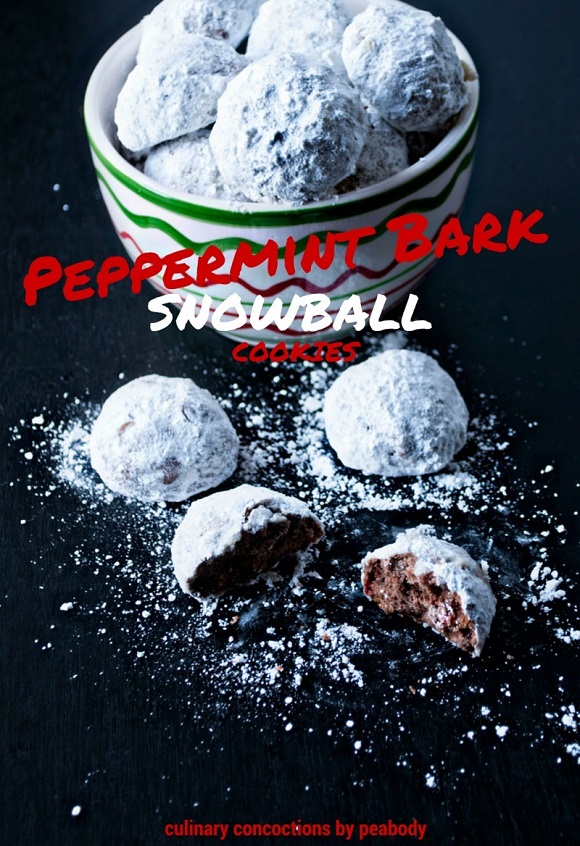 Probably my favorite cookie at Christmas time after a frosted sugar cookie is Russian Tea Cake (sometimes called Mexican Wedding Cookies or Snowballs). They are a yummy cookie with a lot of butter rolled in powdered sugar. You can't sneak a cookie in…everyone knows if you had one as there is a trail of powdered sugar on your shirt. So when Rodelle said we were doing the 10 Days of Cookies I knew I wanted to make a version of the snowball.
While many people know Rodelle makes vanilla they also make a very good cocoa powder. So I figured my recipe would feature both products. Enter Peppermint Bark Snowballs. They have the amazing texture of the Russian Tea Cakes, they have the mess :), but when you bite inside it's a nice surprise from the normal cookie with a mini burst of peppermint. My taste testers, aka my step kids, thought they were yummy. So yummy that my step daughter took the whole bag back with her when she left.
If you are looking for cookie ideas then make sure to visit all the Rodelle bakers for the next 10 days for ideas.
8 – Peppermint Bark Snowball Cookie – Peabody @ Culinary Concoctions by Peabody *hey that's me!
9 – Chocolate Peppermint Crunch Cookies – Kim @ LovintheOven
10 – Soft Cinnamon Cookies with Maple Pecan Frosting – Karen @ The Food Charlatan
11 – Vanilla Bean Shortbread – Aimee @ Shugary Sweets
12 – Chocolate Shortbread – Traci @ Vanilla and Bean
15 – Vanilla + orange cranberry blondies– Nicole @ Baking Bites
16 – Vanilla Bean & Chocolate Swirl Giant Skillet Cookie – Lyuba @ Will Cook for Smiles
17 – Triple Cocoa Coconut Chocolate Cookies – Heather @ The Soulful Spoon
18 – Peanut butter maple cookies – Becky @ Vintage Mixer
19 – Gluten-free Gingerbread Cookies – Sarah @ Snixy Kitchen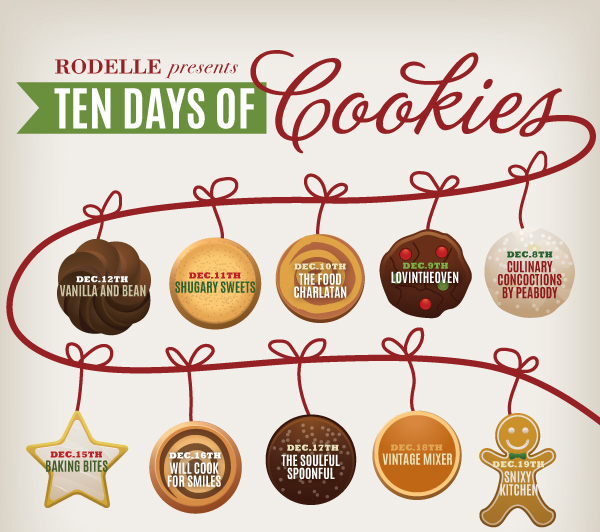 Peppermint Bark Snowball Cookies
1 cup unsalted butter, at room temperature
½ cup powdered sugar
1 tsp. vanilla (I used Rodelle)
2 cups all-purpose flour
¼ cup unsweetened cocoa powder (I used Rodelle)
½ cup Andes Peppermint Baking Chips (or you can use candy cane pieces)
¼ cup mini chocolate chips
¼ tsp. salt
Powdered sugar (for rolling cookies in)
Pre-heat oven to 400ºF.
Using a stand mixer with paddle attachment cream together the butter, 1/2 cup powdered sugar and the vanilla until fully incorporated about 2 minutes.
Add flour, cocoa powder, peppermint pieces, mini chocolate chips, and salt and mix on low until dough holds together.
Shape dough into 1-inch balls. Place about 1 inch apart on greased cookie sheet or better yet a cookie sheet lined with parchment (the peppermint pieces tend to stick).
Bake 10 to 12 minutes or until set but not brown. Remove from cookie sheet. Cool slightly on wire rack.
Roll warm cookies in powdered sugar; cool on wire rack. Roll in powdered sugar again once cooled.