This Butternut Squash Soup with Caramelized Apples and Maple Cider Cream is made with butternut squash and apple cider perfect for fall.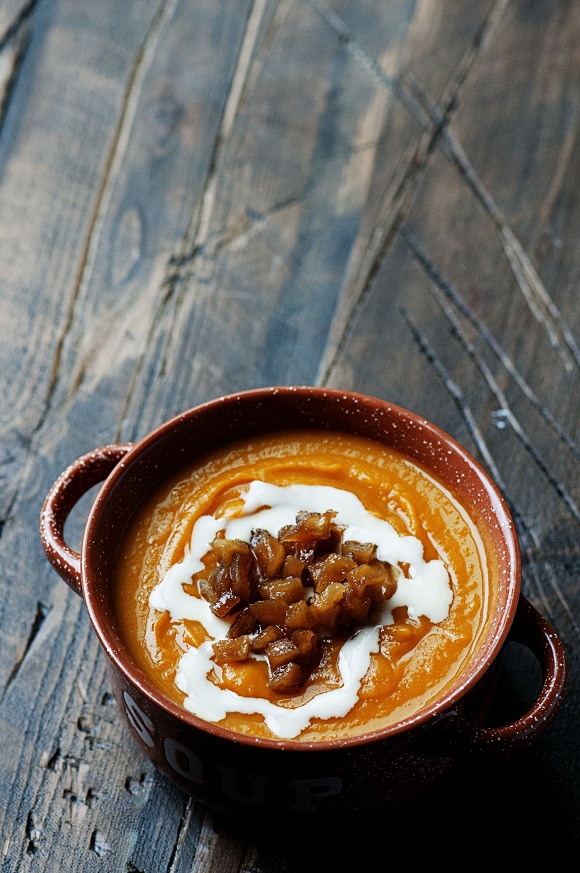 There are only a few of you who aren't getting soup weather (I'm looking at you Phoenix).
But where I'm at we are in full on chilly weather.
Which means spaniel snuggles, sweatshirts (and pants let's be honest), blankets, hot chocolate, and soup!
I love butternut squash soup but everywhere I go they seem to put curry in it…and I don't like curry.
Even this Butternut Squash Soup with Caramelized Apples that this is adapted from is a curried butternut squash soup.
So non-curry lovers who also like butternut squash soup unite! 🙂
I have made a soup for us.
This does run on the sweet side but you can throw in a dash of cayenne to cut that if you like.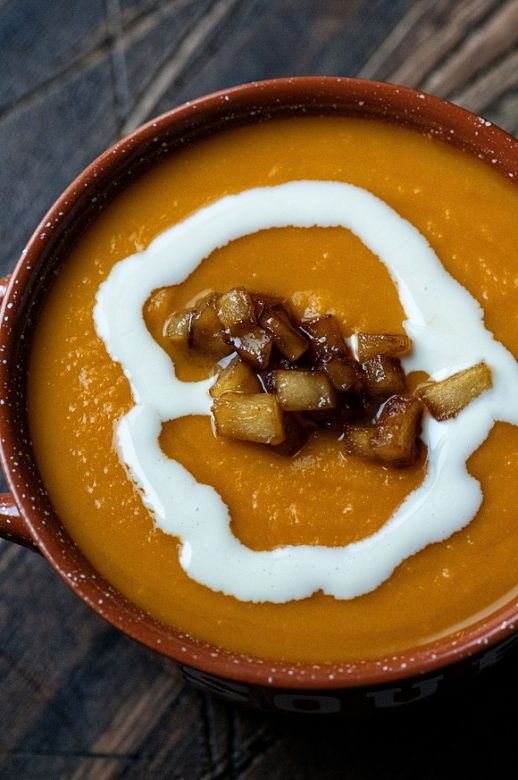 The winners for the Quaker Off You Go contest were contacted via email today (half have responded back already) so please check your emails (and spam) to see if you won.
I was going to list the winners but most people give just their first name and that confuses people.
So just check your email.
Just want to say thanks to the men, women, and dogs too of the US and Canadian Armed Forces for all the sacrifices you make day in and day out.
Just an FYI as we roll into the holiday season I want you to know that I'll be around on Facebook much more to answer your questions.
So feel free to head over there and "talk" with me.
P.S. It's a great day to buy my cookbook.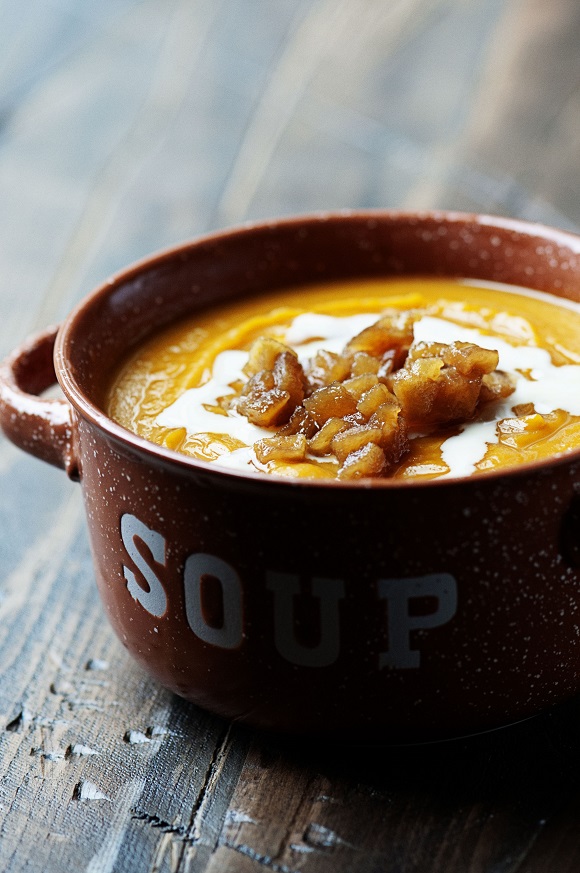 Want More Soup Recipes?
Roasted Garlic Chili White Bean Soup
Dill Pickle Cheddar Cheese Soup
Caramelized Onion Potato Ale Soup
Vegetarian Vegetable No-Beef Soup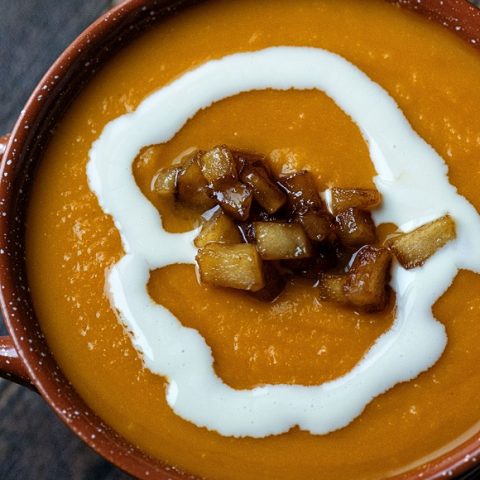 Butternut Squash Soup with Caramelized Apples and Maple Cider Cream
Ingredients
For the Butternut Squash Soup:
4 pounds butternut squash (about 2 medium), cubed…I bought mine pre-cut and weighed them out
1 TBSP olive oil
2 tsp. sea salt
2 TBSP unsalted butter
1 large sweet onion
1 TBSP minced fresh ginger
4 cups chicken broth
1 TBSP apple cider vinegar
1 cup apple cider
Salt and pepper to taste
For the Caramelized Apples:
1 large apple, I used Gala
1 TBSP unsalted butter
1 TBSP brown sugar
Pinch of salt
For the Maple Cider Cream:
1/3 cup sour cream
¼ cup maple syrup
1 TBSP apple cider
Pinch of cayenne if you like a touch of heat
Instructions
Preheat oven to 400F.
Place the cubed squash in a large bowl and coat with oil and then 2 tsp. salt.
Place on a baking sheet with parchment paper and roast until tender. I had larger pieces so it took about 50 minutes. Just watch it.
The last 20 minutes of the squash cooking start to prepare the soup.
Add the 2 TBSP butter, onions, and ginger to a large, heavy stockpot.
Cook over medium heat until the onion is translucent, about 5 minutes.When squash is cool, put into the stock pot and mash with a potato masher. If you don't get it all don't worry it's going to be blended later.
Add the broth and apple juice and stir well.
Continue to cook on medium to bring soup up to a simmer, then reduce the heat to maintain a simmer and cook for another 30 minutes.
While the soup is cooking make the cider cream and apples.
For the apples:
Peel, core, and dice the apple into uniform ¼ inch cubes (do your best).
Melt butter in a sauté pan over medium-high heat and add the apples, stirring often, until the apples start to caramelize, about 3 minutes.
Add the brown sugar and salt and cook until the sugar melts and coats the apples.
Remove from pan and set aside.
For the cream:
Whisk together in a small bowl the sour cream, maple syrup, cider vinegar, and cayenne (if using) until fully combined.Set aside in the fridge until ready to use. I out mine in a squeeze bottle for decoration purposes on the soup.
To finish the soup:
When the soup is done cooking, use an immersion blender to puree it smooth. If you don't own one like me then you can use a blender and very carefully puree in batches before returning to the pot. Just be careful because of it being so hot.
Stir in the apple cider vinegar and season with salt and pepper to your liking.If the soup is too thick you can thin with more stock or apple juice.
Ladle into bowls and garnish with maple cider cream and caramelized apples.