These Pumpkin Pecan Pie Gingerbread Bars are a combo of both pumpkin and pecan pies on gingery shortbread crust…two for one.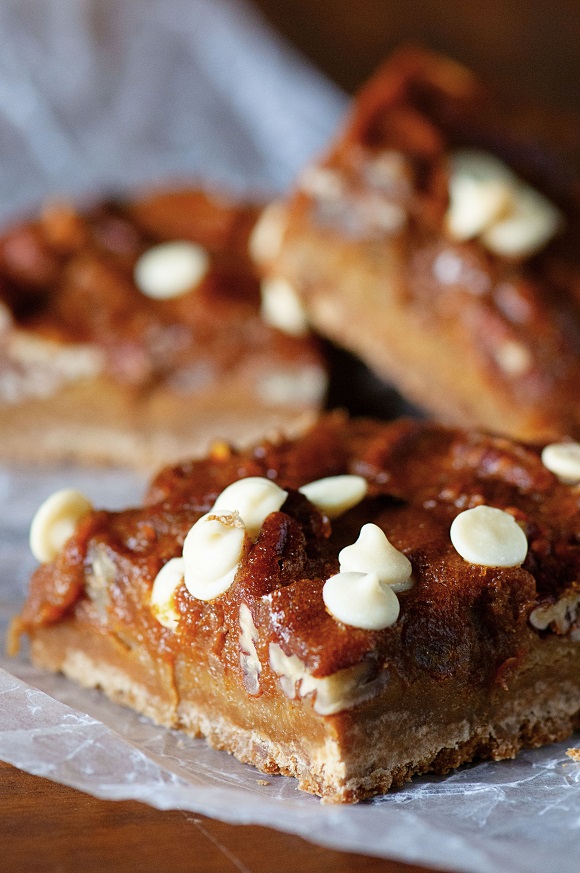 Thanks to Plugra European Style Butter for sponsoring this post.
You all know I love their butter soooo very much. Sooo much.
This holiday season you should definitely pick some up to take your baking up a notch!
As always the opinions, bad grammar, and overuse of smiley faces are all mine.
On my Facebook page last week one of my readers was excited because she finally found Plugra butter and was going to bake with it for the first time.
That prompted others to chime in and ask what is the difference between European style butter and regular?
One asked if it was creamier?
First and foremost…butterfat.
European butter has a higher butterfat content that American butter.
More butterfat and less moisture.
Which means it stays more solid when baking.
Why should that matter?
Well, when you are making pie crust and pastries that means it will form those little pockets of goodness that make for flaky crust and pastries.
It makes cookies crispier.
And makes cakes rise higher.
It's what you want to use when a recipe calls for a lot of butter.
Is it creamier?
I think that is subjective, but I will say for me, yes.
I notice that when I make buttercream frosting with it leaves that layer on the roof of your mouth and you just know there's butter in there kind of thing.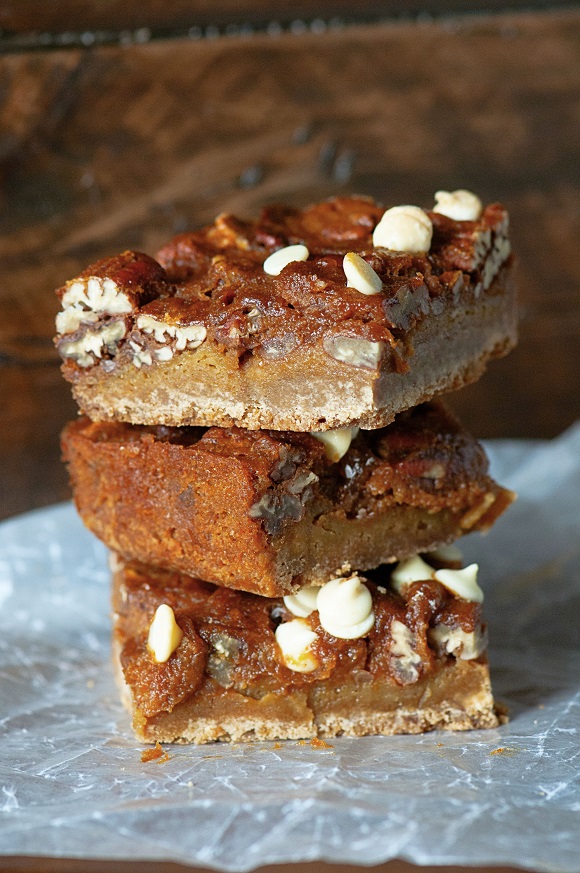 We were once sent a shipment of the Plugra Salted Butter Tubs on accident (I don't bake with salted) and my husband is addicted to it.
Won't allow any other butter on his bread now.
So that was a smart move on their part to "accidentally" send it to us and get us addicted to it. 😀
Not in the FB thread but someone asked me if I use Plugra on all baked goods?
No, I do not.
If I'm making boxed brownies then there really is not the point.
I like to look at a recipe and when it calls for lots of butter then I know it's important to use Plugra because obviously butter is a main component of the recipe.
I will say that I use Plugra in pretty much every holiday recipe.
On to these Pumpkin Pecan Pie Gingerbread Bars.
They are kind of pumpkin pie.
Kind of pecan pie.
And all on top of a gingery shortbread type crust.
So, yeah…awesome.
They are a little challenging to cut because of all the pecans.
These would be fantastic for a Thanksgiving potluck.
And as always it's a great day to order my cookbook.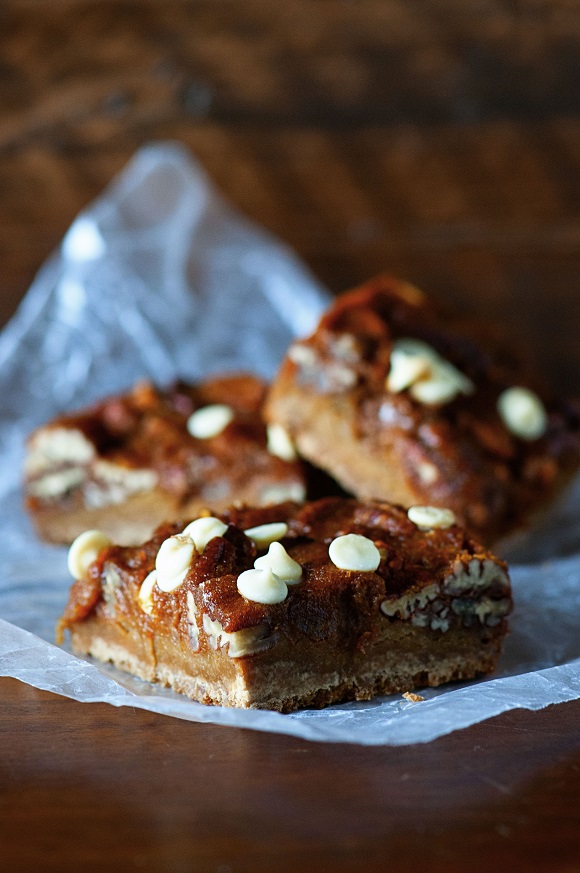 Want More Pumpkin Recipes? Try these:
Brown Butter Pumpkin Pie Layer Cake
Salted Caramel Frosted Pumpkin Cupcakes
Apple Cider Whiskey Glazed Pumpkin Pull Apart Bread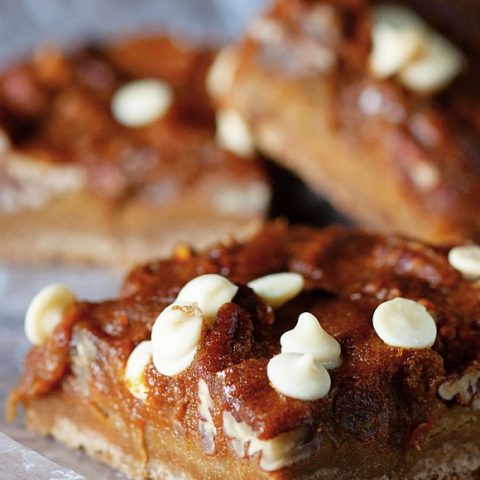 Pumpkin Pecan Pie Gingerbread Bars
Ingredients
For the crust:
1 cup unsalted butter, at room temperature (I used Plugra)
2/3 cup packed brown sugar
2 2/3 cups all-purpose flour
1/2 tsp. salt
1/3 cup molasses
1 tsp. ground ginger
For the filling:
6 large eggs
1 3/4 cup granulated sugar
3/4 cup packed brown sugar
1 15-ounce can pumpkin puree
1/2 cup light corn syrup
1 tsp. pumpkin pie spice
1/2 tsp. salt
3 cups pecan halves
1/3 cup white chocolate chips (as a garnish)
Instructions
Preheat oven to 350.
Line a 13×9-inch baking pan with foil.
For the crust:Using a stand mixer with a paddle attachment cream butter and brown sugar with a mixer on medium speed until light and fluffy, five minutes.
Add the molasses and ginger and beat until fully combined.
Add flour and salt and mix until combined but crumbly. Don't worry that it's crumbly it will come together when you press it into the pan and it bakes.
Press dough into the bottom of a prepared pan; bake until golden, 30 minutes.
Prepare the filling with about 5 minutes left to bake.
For the filling:
In a large bowl whisk together eggs, granulated sugar, and brown sugar until combined.
Mix in pumpkin, granulated sugar, corn syrup, pumpkin pie spice, and salt until combined.
Fold in pecans and pour over hot crust.
Bake bars until filling is just set, about 45 minutes.If using white chocolate chips, remove from oven at 40 minutes, sprinkle chips and put back in for another 5 minutes.
Cool bars to room temperature and remove foil before cutting.
They will have a pie consistency so the filling is a little soft.