These Malted Yeast Waffles with Apple Cranberry Compote are a perfect way to get your confidence using yeast. They are tasty too!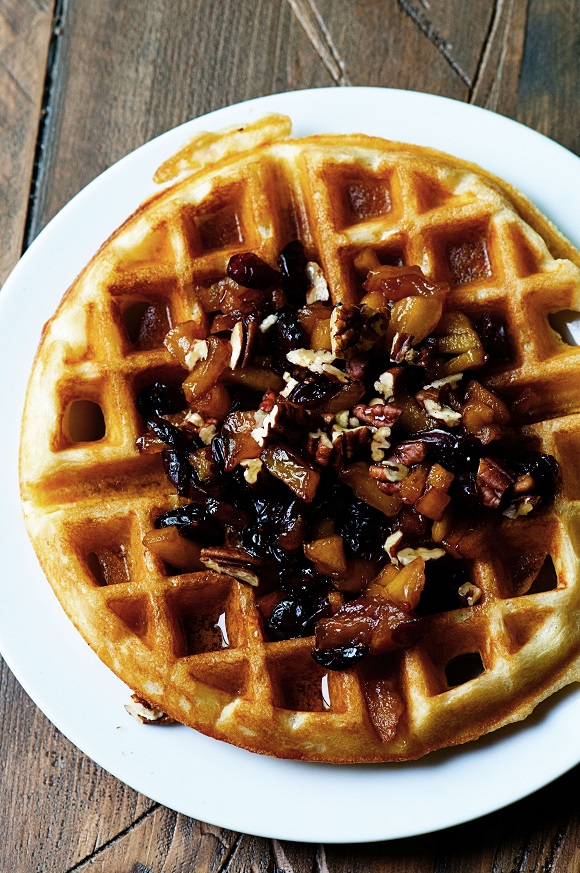 *This post was sponsored by Red Star Yeast, a product I already use. The opinions, bad grammar, and overuse of emoji smileys is all mine. You can follow Red Star Yeast on FB and Twitter.

Years ago I wanted to write a cookbook called Fear Factor where it was filled with recipes that helped people get over their fears of certain things in the kitchen.
I find people fear making caramel…I get that, it's hot and can burn you.
Heck, I didn't have full fingerprints for almost 10 years thanks to the pulled sugar class I took.
Which FYI when you teach school and have to be cleared by the FBI and they can't get clear fingerprints from you, they don't find it as humorous as you do. :
People fear flambé because well…fire.
And people fear yeast.
I've never fully understood this fear.
Towards the end of spring, my husband declared that he wanted to learn to bake with yeast and had wanted me to make an Italian loaf which we set out to do.
Only he didn't realize it was going to take so long…and went to bed.
So I stayed up dealing with the dough and he awoke to freshly baked bread for breakfast.
He didn't bring it up again until summer and I told him that when fall came along we would start baking with yeast and he was pretty excited about that (which is sexy btw).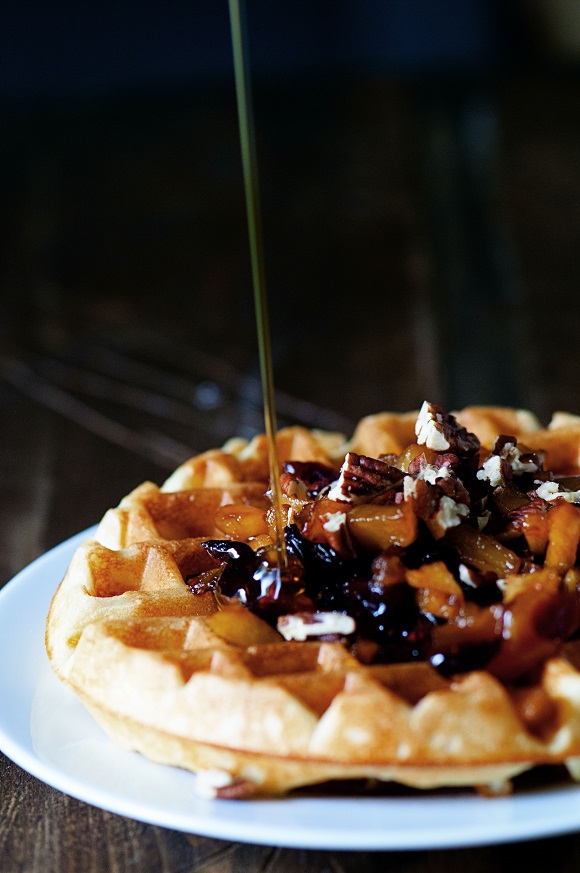 For me in order to be successful with baking with yeast you have to start with a product you trust.
Anyone who reads my blog knows that I use Red Star Yeast, it is my go to and always has been.
And when I started using their Platinum product I've never had a failed baked good again, I love it.
So when I got this idea to teach my husband to bake with yeast I went to them and said hey, this is what I'm thinking and would you be willing to sponsor it?
They liked that idea and so I am happy to announce that they will be supporting this blog while the hubby (and you too!) learn the joy of baking with yeast.
My husband was the waffle king for years.
Every weekend that we had the teens they wanted waffles since I had taught him how to make Belgian waffles and up to that point at their house they had only had the freezer kind.
Then my husband got into making home fries and we got away from the carb on carb action.
But I figured to get his feet wet and for him to realize that baking/cooking with yeast isn't always just making bread that we would make a yeast waffle.
He was intrigued to say the least.
And he really wanted to know how they would be different.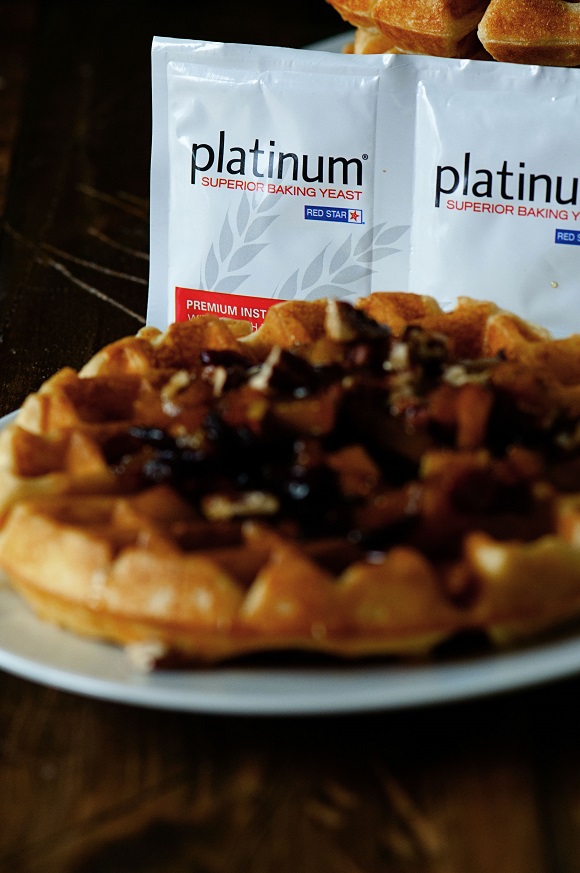 In order to bake/cook with yeast I had to let my husband in on my secret which caused him to look at me like I might be in need of a strait jacket.
I'll be honest in saying he probably thinks it was all the cough medicine talking but he will learn.
What's my big secret?
I talk to the yeast.
Yes, a tad crazy.
But it's a living thing.
We talk to plants to get them to grow so I like to let my yeast in on what we are doing that day.
I like to say hey yeast, today you are going to be making some overnight yeast waffles and it's my husband's first time with yeast so it would be really cool if you could cooperate.
Again, my husband asked me if I had a fever (which I probably did) and we moved on.
Our local brew pub makes a malted waffle and so we decided to try and recreate that.
Originally I was thinking a blueberry compote to go on top but it's fall weather around these parts so out came the apples and the dried cranberries.
My husband was very surprised at how easy these were (which is why we started with them).
Other than worrying about getting the temperature right so that the yeast doesn't get too hot that it dies or too cold that it doesn't bloom he realized it wasn't so bad after all.
Plus he liked getting to prepare most of it the night before and just waking up and adding eggs and baking soda and we were good to go.
His verdict?
Very good.
They were light and fluffy which he thought he could only get from egg whites.
And of course they did have a little tang since they are yeast which he also liked.
So grab your yeast and get your feet wet this weekend with some Malted Yeast Waffles with Apple Cranberry Compote!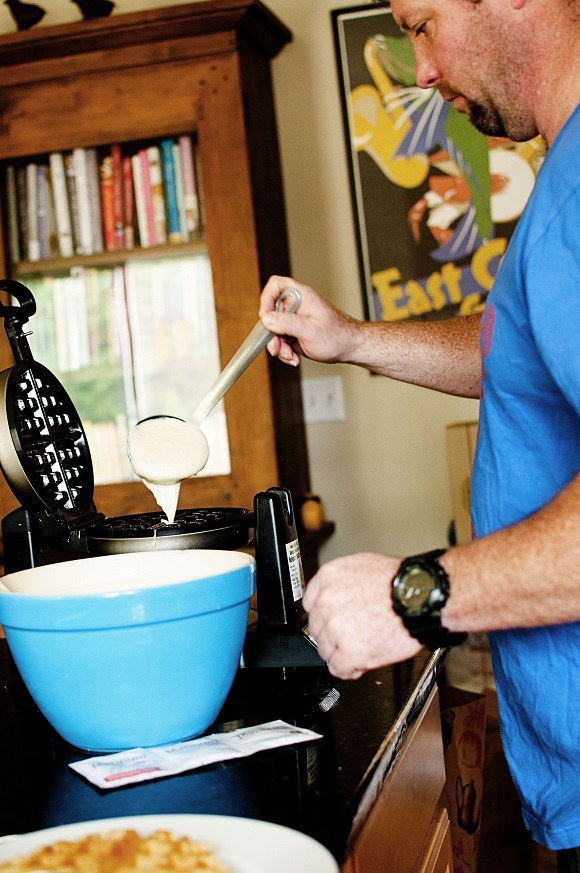 Last but not least…It's a great time to buy my cookbook.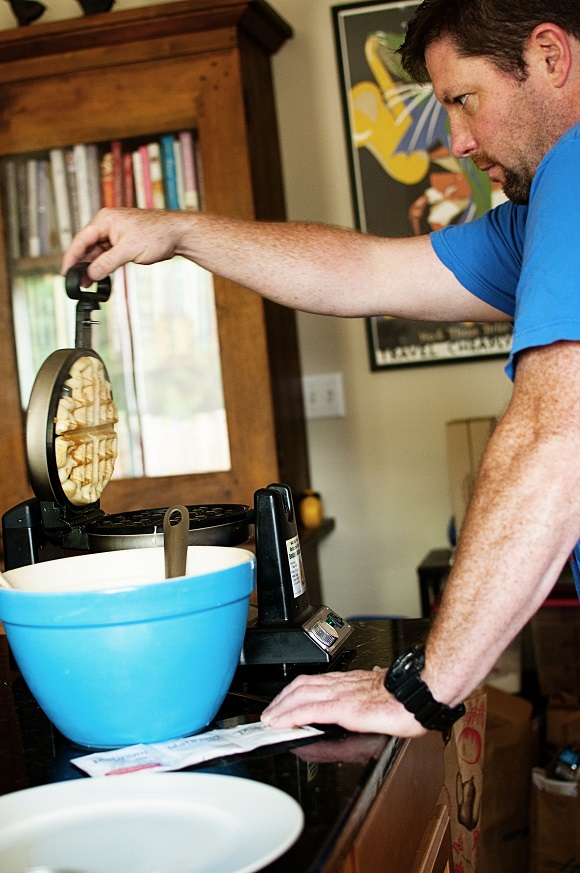 (Such seriousness…looking to see if they are done).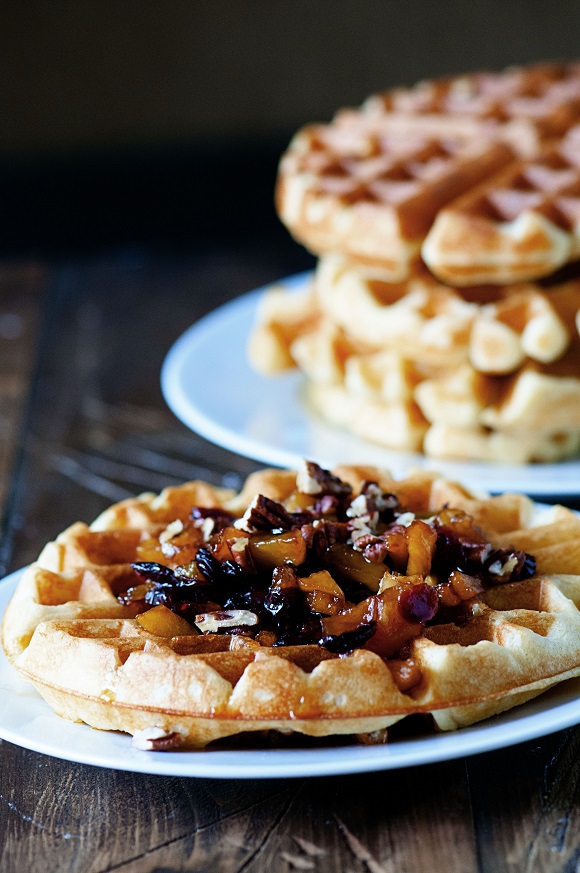 Want More Breakfast Ideas?
Cinnamon Toast Crunch Sticky Buns
Pineapple Upside Down Pound Cake French Toast
Bacon Breakfast Rolls with Maple Glaze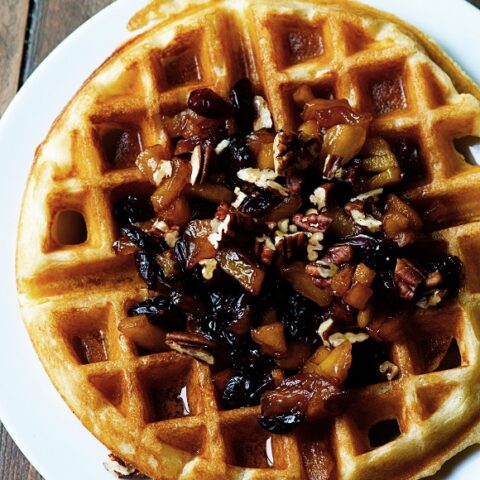 Malted Yeast Waffles with Apple Cranberry Compote
Ingredients
For the Apple Cranberry Compote:
2 large Honeycrisp Apples, peeled and diced
½ cup apple cider or juice
1/3 cup brown sugar
½ cup dried cranberries
Zest of 1 orange
For the Malted Yeast Waffle:
2 ¼ cups whole milk
4 oz. unsalted butter, sliced into 8 TBSP pieces
2 TBSP sugar
½ tsp. salt
1 package Red Star® Platinum Superior Baking Yeast® (not rapid rise) (or if using a jar 2 ¼ tsp.)
½ cup warm water (110-115F)
2 ½ cups all-purpose flour
½ cup malted milk powder
2 eggs
¼ tsp. baking soda
Chopped pecans (for garnish)
Butter for waffles
Maple syrup
Instructions
For the compote:In a saucepan on medium-high heat, add the apples, apple juice, dried cranberries, lemon zest, and brown sugar.
Simmer over medium heat until the apples are tender and the juices are thickened to a thin syrup, 10 to 12 minutes.
Season with a pinch of salt.
Set aside.
You can serve warm or room temperature.
For the waffles:In a small pot over medium heat whisk the milk, malted milk, and butter until melted and hot but not simmering.
Shoot for 110-115F.
Add the salt and sugar, whisk, and remove from heat.
While the milk/butter is heating up, in a small bowl combine the ½ cup warm water with the yeast.Let stand until it becomes cloudy and a few bubbles form, about 5 minutes.
In a large bowl add the yeast mixture and the milk/butter mixture together and whisk together.Add the flour and whisk until fully combined.
Cover with plastic wrap. If you want to make them that day, leave them at room temperature for 2-3 hours until it doubled in size.
If you want to go the overnight route then simply place it in the fridge overnight.
Remove from fridge and add the eggs and the baking soda.
Using baking spray or preferably melted butter, lightly coat the waffle maker.
You can make Belgium or regular size waffles.
Cook waffles until golden and crisp (you will need to watch it).
Serve immediately.
Top with compote, pecans, and maple syrup.