A twist on the Trader Joe's Cowboy Bark this Cowboy Fudge has dark chocolate fudge with toffee, almonds, Oreo's, pretzels, and peanuts.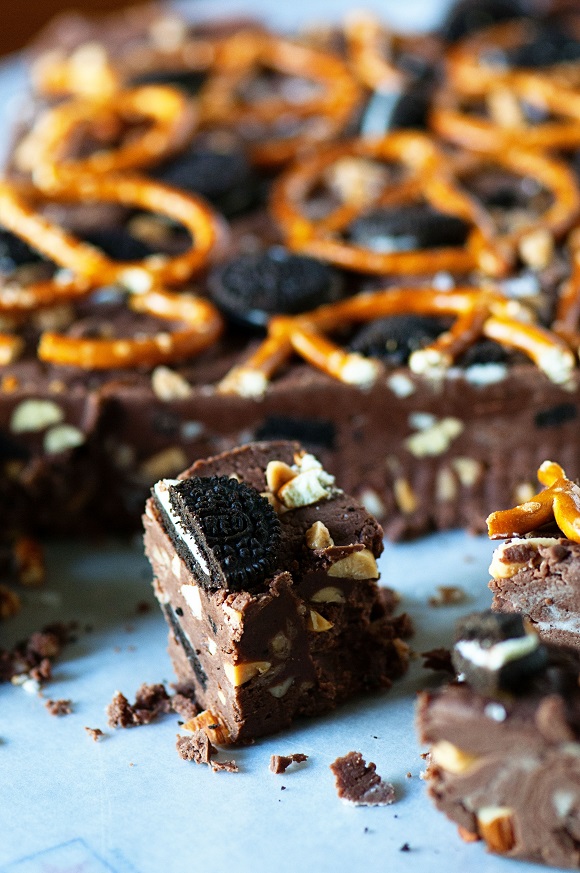 I felt like I've been in the Seinfeld episode where everyone is telling them "you have to see the baby".
Except this time around everyone was saying to me "you have to try the Cowboy Bark".
I always say I will and then never do.
Mostly because it's dark chocolate and I'm not the biggest dark chocolate fan.
If you are not familiar with it: Dark chocolate bark with toffee pieces, pretzels, Joe-Joe's (Trader Joe's version of the Oreo), almonds, peanuts, and sea salt.
At first I was thinking I'll just make a milk chocolate version of the bark, but I thought it would be more fun to make it as fudge and to give it away to all those people telling me that I had to try the bark.
The verdict from them…they wish Trader Joe's made fudge instead now.
If the bark is anything like the fudge I totally get why people get addicted to it!
And if you are saying do they make a Cowgirl Bark?
They do.
I will be making a fudge version of that as we get more into fall as the flavors are a little more spicy. 😉
I'm not totally sure why it's called Cowboy Bark, though.
I just can't see cowboy's sitting around a campfire saying thank goodness this is dark chocolate as I hear it has the most antioxidants…as they breathe in campfire smoke. 🙂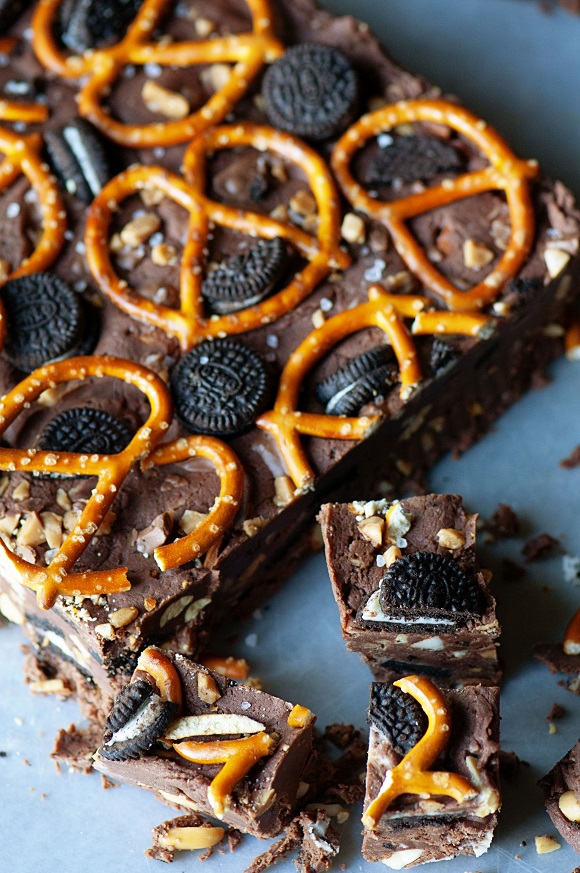 I can't picture them breaking this out with a glass of Pinot saying can you believe what happened last week on Real Housewives of the Prairie? 😀
You are going to want good chocolate, a good heavy cream, and, of course, a good butter.
We all know that good butter to me means Plugra European Style Butter.
My two-year partnership with them is winding down and will end this fall sadly.
Though I'm hoping they go for a year three, you just never know.
Even if they don't I will continue to use it since I love it so.
I fully admit that sometimes certain ingredients don't matter but I will NEVER say that about butter.
If for some reason you do not yet know the joy that is Plugra Butter go and read about it here. Follow them on Twitter and FB to see all sorts of butter filled creations.
Now throw on your cowboy boots, gather your ingredients and make this fudge.
Then come back and tell me why it's called Cowboy. 🙂
Thanks to Plugra European Style Butter for sponsoring this post and for making really awesome butter.
As always my opinions, bad grammar, and over usage of smiley faces are all mine.
P.S. It's a great day to buy my cookbook Holy Sweet!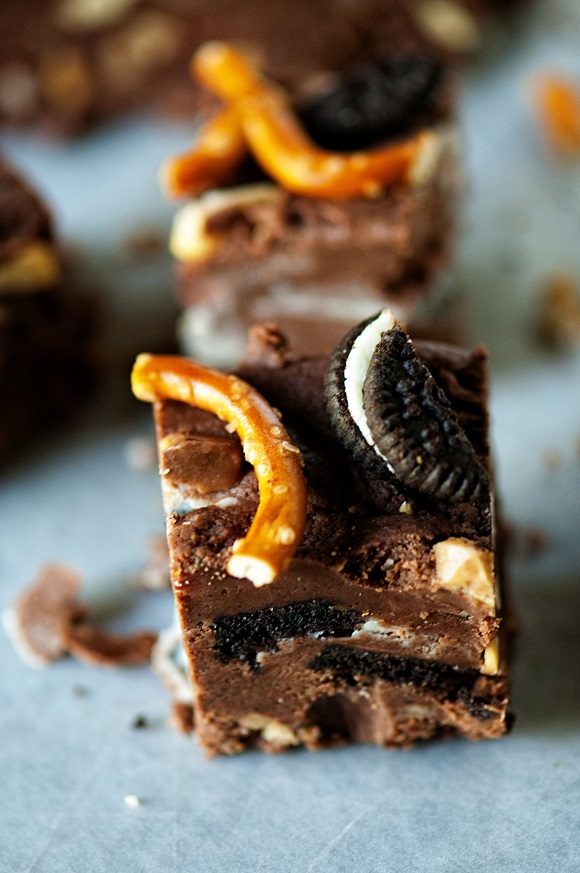 Want More Fudge Recipes?
Chocolate Butterscotch Salted Cashew Fudge
Pineapple Upside Down Cake Fudge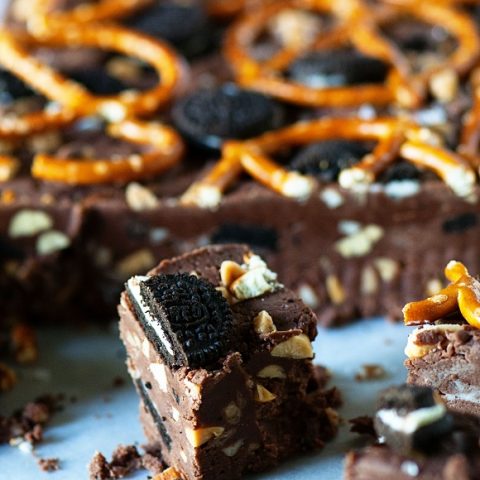 Cowboy Fudge
Ingredients
For the fudge:
2 cups granulated sugar
4 oz. unsalted butter (I used Plugra)
¾ cup heavy whipping cream
2 cups dark chocolate chips
7-ounce jar marshmallow crème
½ cup chopped chocolate crème sandwich cookies (I used Oreo's)
1/3 cup toffee pieces
¼ cup chopped almonds
¼ cup chopped peanuts (salted)
For the top:
12 large pretzel twists
Mini oreo's
4 TBSP toffee piece
Sea salt
Instructions
Line an 8×8 inch pan with parchment with an overhang so you can lift the fudge out later and coat with baking spray.
Combine sugar, butter, and heavy cream into a large heavy bottomed saucepan and bring to a boil over medium heat.
Once boiling, attach a candy thermometer and reduce the heat to a hair above medium low and cook for 7-10 minutes until your thermometer reads 234°F (soft-ball stage), stirring constantly.
Once you reach 234F remove from heat and add the dark chocolate chips, stirring vigorously with a wooden spoon until the chocolate has melted and the mixture is smooth.
Add the marshmallow creme and mix until well blended.
Fold in the cookies, toffee, almonds, and peanuts.
Pour into prepared pan and smooth with a spatula.
Add the pretzels (pressing down to help them stick), mini Oreo's (again pressing down), toffee pieces, and sea salt (how much depends on your preference).
Let cool to room temperature.
Then lift out of the pan and onto a cutting board. Cut into whatever amount you want. I got 24.