This amazing Pineapple Upside Down Cake French Toast is made with pound cake instead of bread and is cooked with a pineapple ring.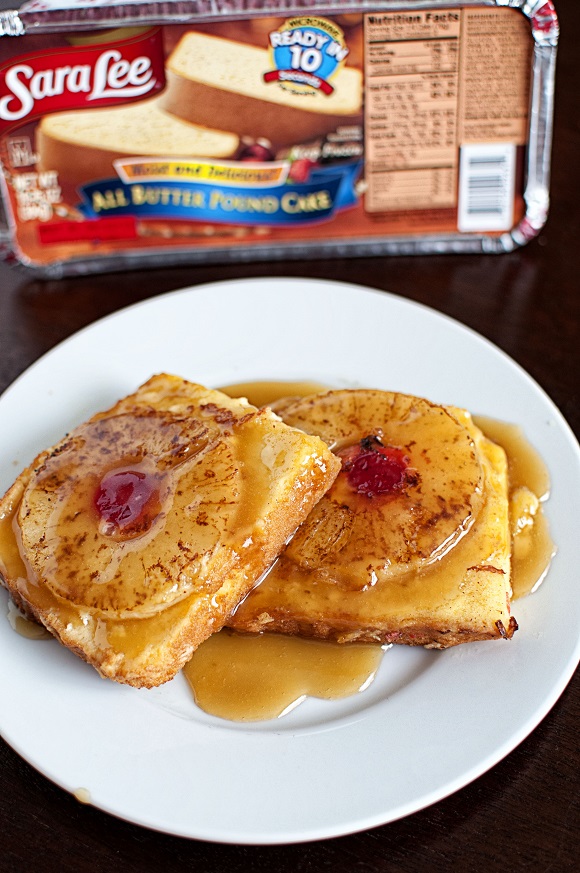 I'm required to disclose a relationship between our site and Sara Lee.
This could include the Sara Lee providing us w/content, product, access or other forms of payment.
Most of my childhood involved summers and Sara Lee Pound Cake covered in fresh sliced strawberries and Cool Whip (I couldn't have dairy).
I thought about doing some sort of strawberry shortcake as a tribute to those memories.
But since we are in the middle of moving and I am big on let's clear out the pantry and the can of pineapple rings and maraschino cherries in the cupboard said use me!
So glad I did.
Because holy yum this is the way to have French Toast.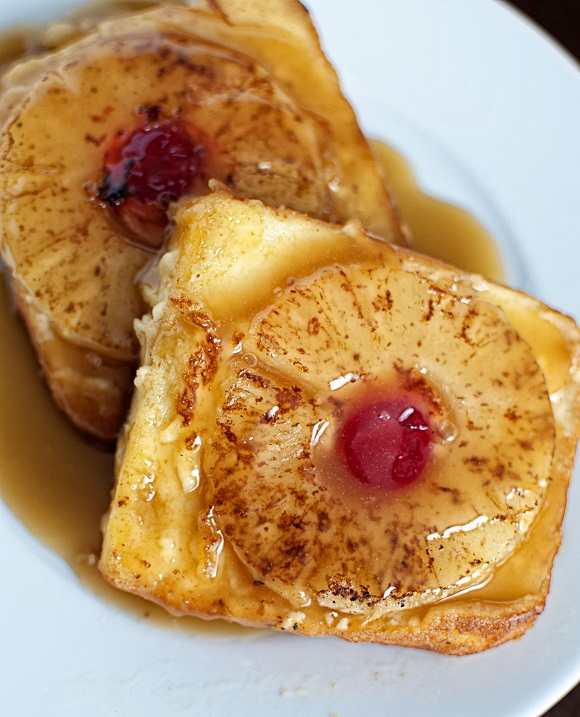 I've made French toast using Angel Food Cake in the past, not really sure why it never occurred to me to use pound cake!
Using pound cake as French toast is the new thing in our house though I can assure you.
You do have to slice the pound cake lengthwise as well as cut off the top to make for more even French toast.
Slicing it like you normally do does not produce a large enough slice to put a pineapple ring on.
To make this taste as much as possible like Pineapple Upside Down Cake I decided to make a Brown Sugar Sauce instead of doing just syrup.
It absolutely makes it taste like the cake.
Cake for breakfast is the way to go!
Just think of all the different possibilities you could make using Sara Lee All Butter Pound Cake!
What type of French toast would you make using Sara Lee All Butter Pound Cake?
It's a great day to order my cookbook.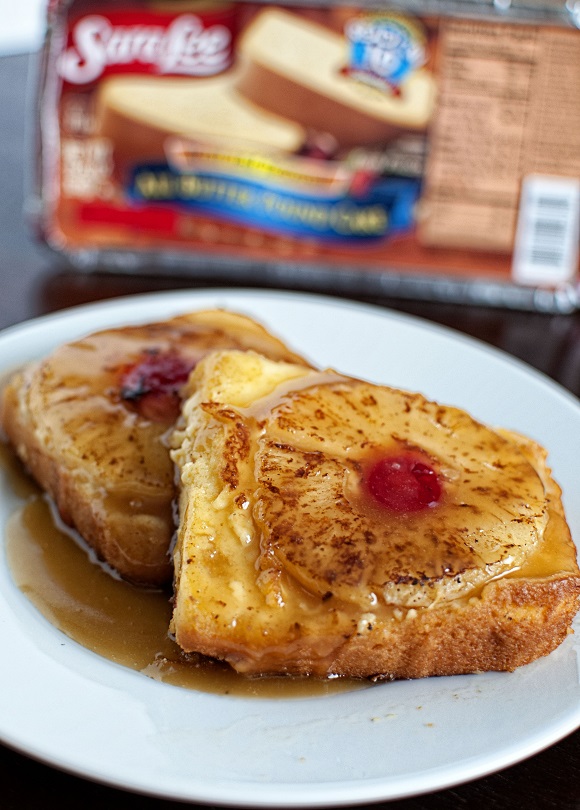 Want More Pound Cake Recipes?
Bourbon Brown Butter Chocolate Chip Cake
Strawberry Lemonade Bundt Cake
Whiskey Glazed Apple Buttermilk Pound Cake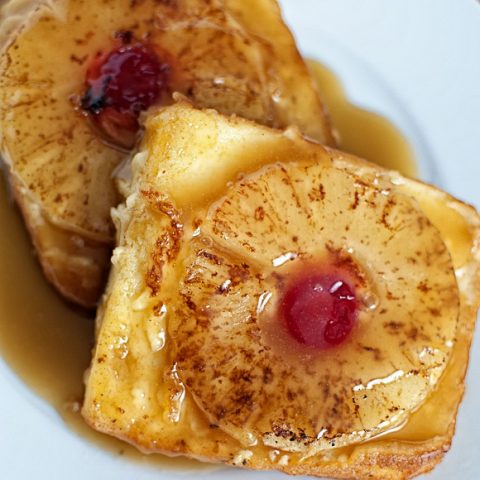 Pineapple Upside Down Cake French Toast
Ingredients
For the French Toast:
¾ cup heavy whipping cream
¼ cup pineapple juice (you can just use from the pineapple ring can)
3 large eggs
¼ tsp. salt
½ tsp. vanilla extract
2 TBSP brown sugar
2 Sara Lee Pound Cakes, cut long ways and then cut in half to get 4 pieces. You will want to cut off the top of the cake to make more even French toast
8 pineapple rings
8 maraschino cherries
4 TBSP butter
For the Brown Sugar Sauce:
2 TBSP pineapple juice
3/4 cup packed brown sugar
1/3 cup unsalted butter
1/3 cup whipping cream
Instructions
For the French Toast:
Whisk the cream, pineapple juice, eggs, salt, vanilla, and 2 TBSP brown sugar in a medium bowl. Pour into a shallow baking dish or pie pan for dipping.
Place a pineapple ring on top of a slice of pound cake. Carefully dip on one side for 30 seconds to let it soak up the egg mixture. Flip over and while soaking put the cherry in the middle of the pineapple ring.
Preheat oven to 375F.
Heat a 10-inch non-stick pan over medium low heat and melt 1 TBSP butter. Carefully put down the pound cake pineapple ring side down. Do two pieces of French toast at a time.
Cook until golden brown, about 2-3 minutes on each side. Place on a baking sheet that has been sprayed with baking spray pineapple side up. When all 8 pieces are done place in oven for 5 minutes to finish cooking.
While in oven prepare Brown Sugar Sauce. Once out of oven serve immediately.
For the Brown Sugar Sauce:
Stir brown sugar and butter in heavy medium saucepan over medium heat until melted and smooth, about 2 minutes.
Add cream and pineapple juice and bring to a simmer.
Simmer for about 5 minutes.
Pour over French toast.