This Sweet Tea and Lemon Fudge is a lemon fudge infused with sweet tea flavoring to make this Arnold Palmer flavored nod.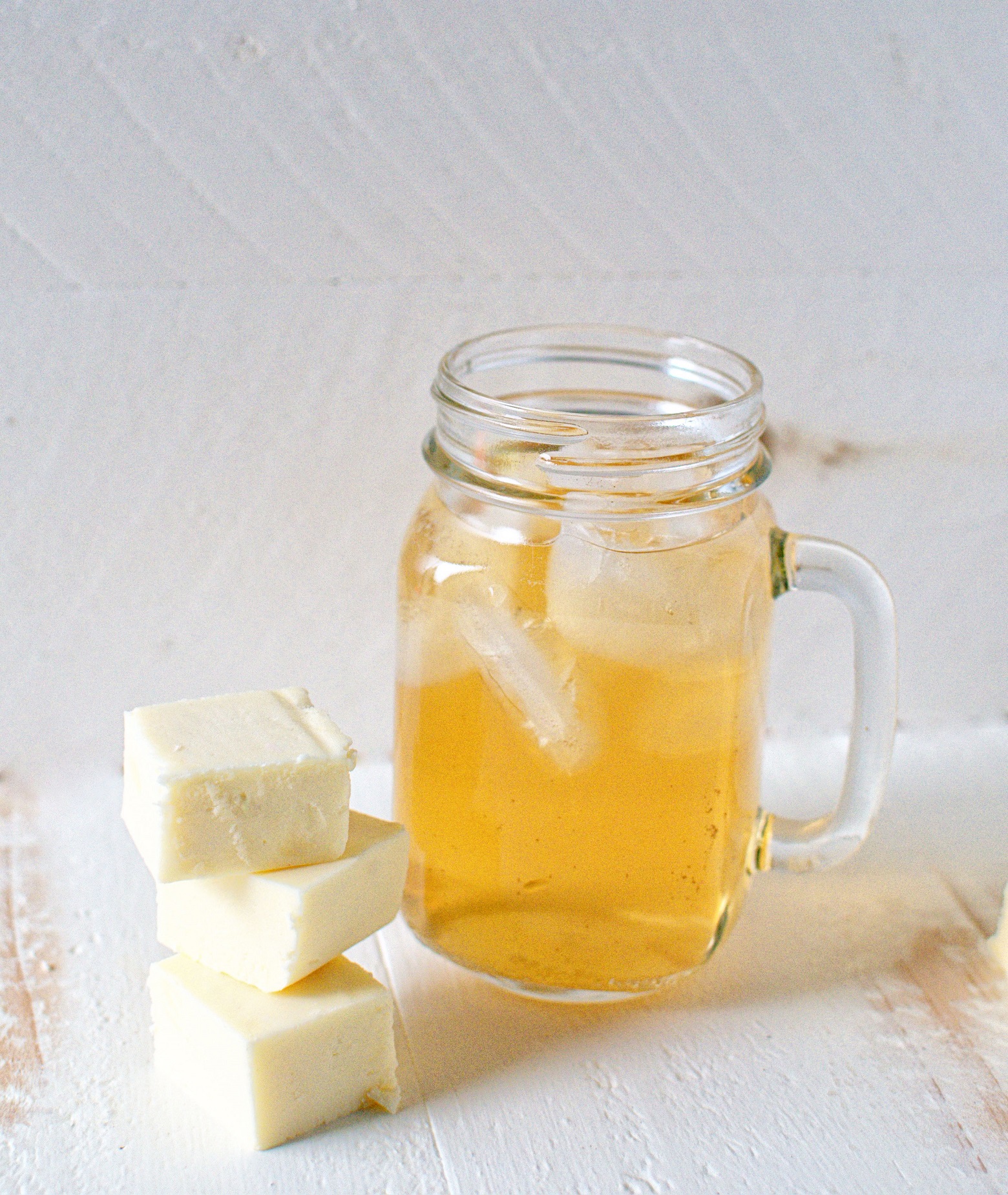 One of the things that I love about my husband is he is a little things guy.
There are women who love the grand gestures, the declarations of love of Facebook, PDA…I am not that girl.
Me, I love the little gifts.
The, I was out at the grocery store and saw this and figured you would like it, kind of gifts.
The, I saw Hello Kitty car mats and was manly enough to buy them for you, even though I got stares from people gifts. 🙂
Because of this, I much prefer little things throughout the year than a big Christmas gift.
I've always been one of those people who year round sees something, thinks of the person, buys it for that person…and then gives it to that person.
Right then and there…sometimes without wrapping paper (the horror).
Why?
Well, number one I forget things and if I buy it and save it for a birthday or holiday I will probably forget about it. 🙂
And also because I think it's nice to let the person know that you were thinking of them right then and there.
Not, oh, it's your birthday so I have to get you something.
Any time I see Sweet Tea anything I think of our part time goalie.
He loves all things Sweet Tea.
When I made the Sweet Tea and Lemonade IceBox Pie he made sure to come by and pick it up even though he was busy. 🙂
So when my husband commented to me that the people at his work were sad I had not made fudge in a while and mentioned they love my unusual flavors, I thought okay…let's make Sweet Tea fudge.
I had seen Lemon Wafers on King Arthur Flour's site and bought them on a whim.
So then it became Sweet Tea and Lemon Fudge.
Originally planned on making a lemon meringue pie fudge (still plan on it) but then it hit me to use them in the fudge.
I also used Sweet Tea flavoring that I got from my favorite place, Wizard Labs (more about them below in the gift guide).
If you don't want to buy the sweet tea flavoring, simply steep a tea bag in the cream that you are going to use for the fudge.
You can also just use all white chocolate chips and add lemon flavoring if you don't want to purchase the chips.
Some will say this is Arnold Palmer fudge, but it's not lemonade…just lemon, so it's more like a nod to the Arnold Palmer.
Speaking of gifts…most bloggers come out with a gift guide this time of year. Yes, some (not all) are affiliate links that cost you nothing and help support this blog.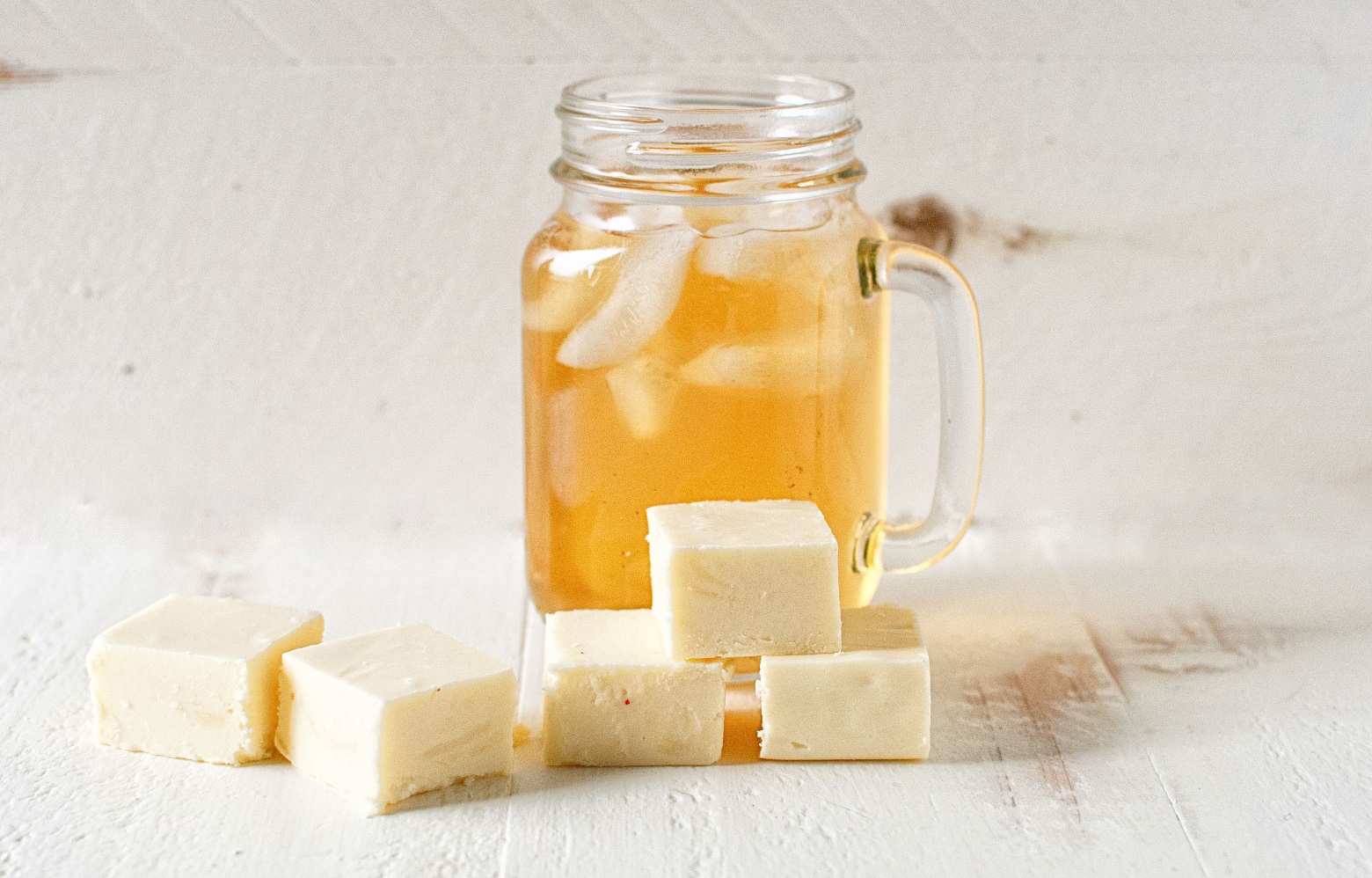 I chose to feature items that are used in my house often, sometimes daily.
Nespresso VertuoLine Coffee and Espresso Maker: This is the number one used appliance in our home.
I went to a Nespresso event a few years ago when they released the VertuoLine machine and they sent me one.
Never really made coffee at home (even though we had a nice coffee maker) until we got this machine.
I laugh that people make fun of the fact that a pod cost $1.20 (aka a cup of coffee) yet go and pay $5 to Starbucks for a drink each day….ummm.
Anyway, they have a banana bread flavor of coffee right now that the hubs and I are literally fighting over.
Add a little white chocolate flavoring and heavy cream to it and oh my, it's beyond delish!
Le Creuset Signature Enameled Cast-Iron 5-1/2-Quart Round French (Dutch) Oven:
The second most used item in our house. AKA used daily.
These ones make people faint at the price.
Luckily, because my husband does cook, he knows these are well worth the price.
We have a variety of sizes but the 5 1/2 quart is really the one to start with in my opinion.
Cannot stress how much I love my Le Creuset and how I wish I could own it all!
We have a variety of sizes but the 5 1/2 quart is really the one to start with in my opinion.
Cannot stress how much I love my Le Creuset and how I wish I could own it all!
KitchenAid KSM7586PCA 7-Quart Pro Line Stand Mixer :
This question comes up a lot.
Which mixer do I own?
Well, technically I have three. 😀
I have my original Artesian one that I never use anymore but is 20 years old and is nostalgic for me.
And I have a 6-quart mixer which is my back up.
Literally I have blown through three of the motor in a 6 quart…I bring this up as to why I bought the 7-quart.
I've owned my 7-quart now for 5 years. It's the only Kitchenaid I haven't killed the motor on…and I use it pretty much daily.
Cookie Scoop: Cookie scoops are great not only for cookies but for muffins and cupcakes as well. If I'm baking I probably have my cookie scoop out.
Marbled, Swirled, and Layered: 150 Recipes and Variations for Artful Bars, Cookies, Pies, Cakes, and More:
So this is a cookbook put out by a blogger friend of mine. I mentioned it in the newsletter.
What I love about Irvin is that like me he has stuck true to what he wants to do with his blog.
He makes what he wants when he wants.
And what he makes is pretty darn great. If you have a baker friend I highly suggest this.
I'm not the only one singing its praises…the New York Times is.
Small Victories: Recipes, Advice + Hundreds of Ideas for Home Cooking Triumphs:
So I almost passed this book up. It didn't seem like much.
But my BFF was raving about it and so I did the rare thing that I do (since so many books get sent to me to review), I bought it.
I would say we make something for dinner from it at least once a week since I bought it.
I love this book.
So when I really started getting into candy making my husband said why not use this…and he pulled out an infrared thermometer.
I thought he was crazy (back then they weren't used for cooking…now they are).
Once I switched to using it though it transformed my candy making and stuff actually started to turn out.
I never use the old fashioned thermometers that cling to the side of the pot anymore…I get far superior results using this kind of thermometer.
Any flavorings from Wizard Labs:
Oh how I wish this place had an affiliate program…I could buy a car with how much I recommend this place to everyone. 🙂
Actually, Irvin the author of the first cookbook I recommend in this post introduced me to this site when I was looking for Swedish Fish flavoring.
They carry so many flavorings (including the Sweet Tea one used in today's Sweet Tea and Lemon Fudge recipe) that I get carried away.
They have pretty cheap prices and so I just seem to buy and buy. 🙂 Especially since I now use the flavorings in fudge.
Nordic Ware Platinum Collection Heritage Bundt Pan and Nordic Ware Jubilee Bundt Pan:
It's not secret that I'm not the best at decorating cakes which is why the invention of the Bundt pan is my friend.
You get a pretty result without having to decorate a thing.
These are the two pans that people ask me about the most.
P.S. It's a great day to buy my cookbook Holy Sweet!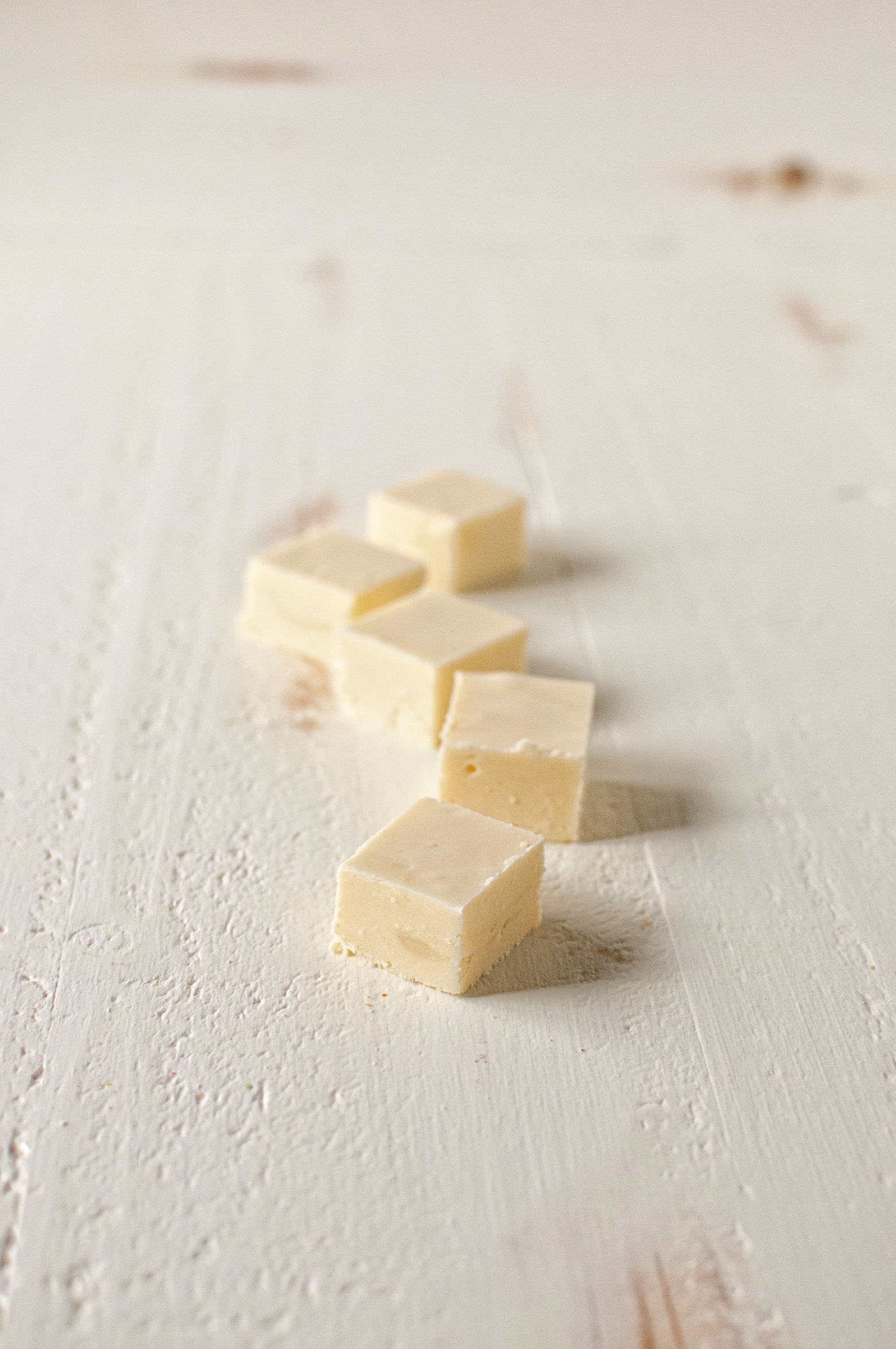 Want More Fudge Recipes?
Melted Chocolate Ice Cream Fudge
Lemon Blueberry Mascarpone Fudge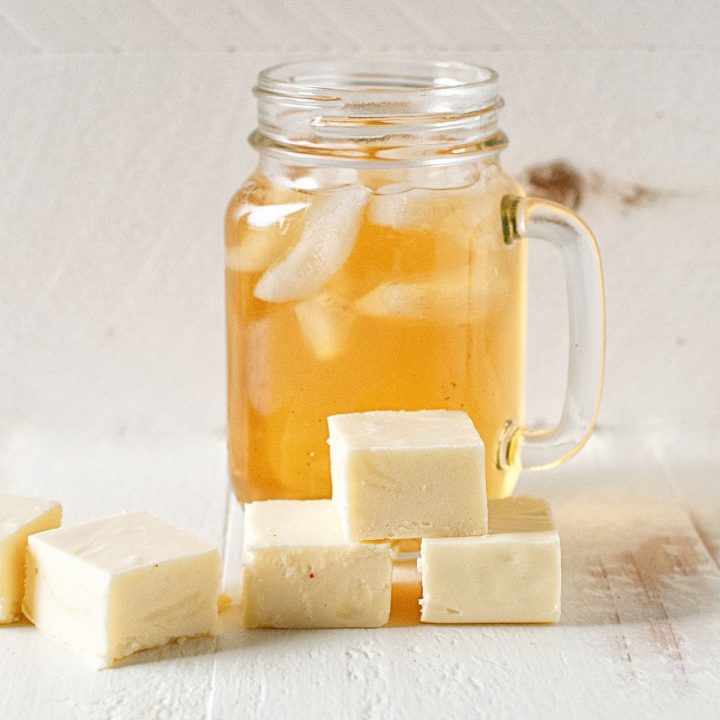 Sweet Tea and Lemon Fudge
Ingredients
2 cups granulated sugar (superfine is best)
4 oz. unsalted butter
½ cup heavy cream
1 1/2 cups white chocolate chips
½ cup lemon wafers (see where to buy in blog post)
4 drops of Sweet Tea Flavoring (see blog post on where to purchase)
7-ounce jar marshmallow crème
Instructions
Line an 8×8 inch pan with parchment with an overhang so you can lift the fudge out later and coat with baking spray.
Combine sugar, butter, and heavy cream into a large heavy bottomed sauce pan and bring to a boil over medium heat.
Once boiling, attach a candy thermometer and reduce the heat to a hair above medium low and cook for 7-10 minutes until your thermometer reads 234°F (soft ball stage) , stirring constantly.
Once you reach 234F remove from heat and add the white chocolate chips and lemon wafers, stirring vigorously with a wooden spoon until the chocolate has melted and the mixture is smooth.
Add the sweet tea flavoring and marshmallow crème and mix until well blended.
Pour into prepared pan.
Let cool to room temperature. Then lift out of the pan and onto a cutting board. Cut into whatever amount you want. I think I got about 32 pieces.