These Chocolate Donette S'mores are an amazing twist on the classic S'more. Chocolate Donettes replace the graham cracker to take these over the top.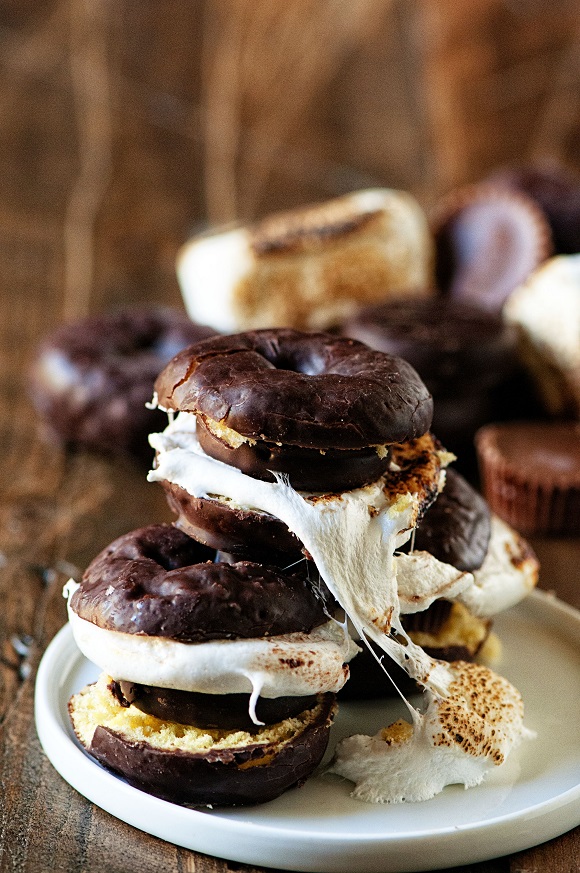 I've been thinking a lot about my blog as of late.
Ten years is a really long time.
In case you missed it my blog turned ten.
My blog has kind of been like life.
You start out and not really knowing what on Earth you are doing, then just when you get the hang of all the technology and feeling good about it…they change it all up.
The first years were much like childhood where I just sort of did whatever and never thought about what others thought of me.
That all changed the day I got a traffic tracker.
I was both excited and fully petrified when I first learned how many people were coming to my blog.
It was a few years into it and I still thought I was at about 10 people…the 10 people who were commenting.
But learning that number changed me and I entered the "junior high and high school" years of my blog.
All of a sudden I went from just doing my own thing to oh my gosh people are paying attention to me I should do more stuff that they like.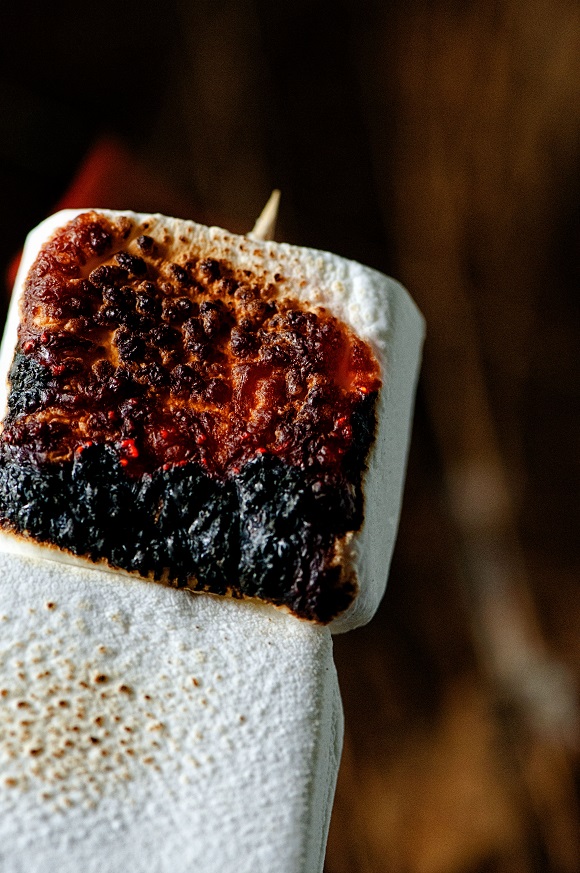 More and more I slowly (but never fully) tried to conform to more of the rest of the popular food bloggers.
And I hated it.
I thought about quitting a lot during that time…just like senioritis.
Then just like my college years and my 20's I started to get back into my own groove and discovering who I was.
Much like the awkward phase of your hair growing out from a bad cut it took a little while to get to where I wanted it to be again.
And now?
Now, in my blog, I am where I am in life.
I'm doing my own thing.
Not worrying about who is reading it (though I really do miss all the comments I used to get…I miss the interaction).
I'm not worried about how many posts I get up a week, I still shoot for three but sometimes don't make it.
And I'm making the food I want to make and if people like it then I am super happy.
If they don't, there are a million other food blogs to choose from…go tell them how their grammar sucks.
Where am I headed?
Good question.
I still plan on blogging I know that much.
Definitely still plan on doing my own thing and not worrying about it.
Planning on doing more positive body image and self-love…including a challenge coming up in July for my birthday month (it will be for men and women).
For the rest…I guess we'll just have to see where life takes me.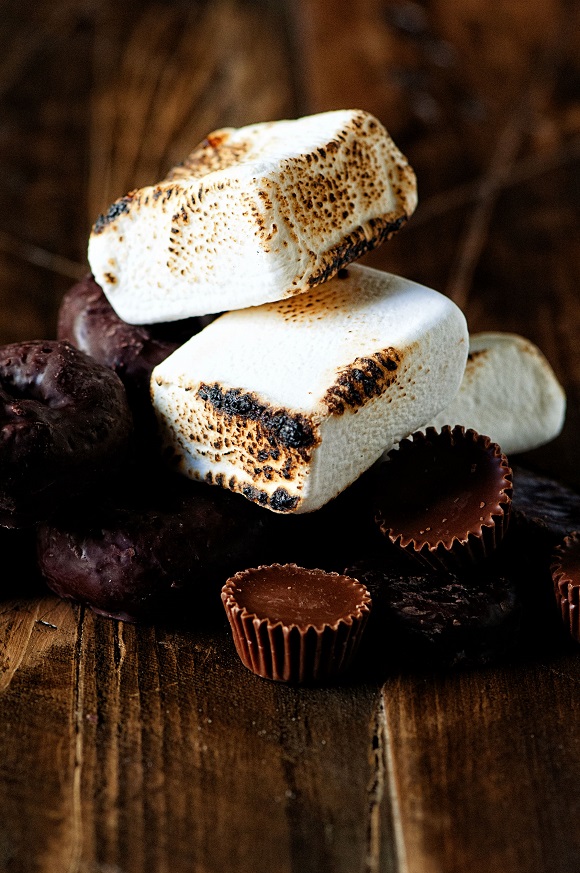 This isn't so much a recipe as it is an idea.
The question of why wasn't I making S'mores with chocolate Donette's just popped in my head one day.
It was a good question.
I text my BFF Laurie to ask her how evil would it be to make S'mores that way.
She agreed way evil but in a good evil way.
So off to the store I went and now you Chocolate Donette S'mores.
You're welcome.
They were as amazing as I figured.
I have an unnatural love for the Chocolate Donette…about as unnatural as the chocolate coating…yet I love it still.
Since I already had chocolate in the donut I decided I wanted either a peanut butter cup or a peppermint patty to break up all the chocolate.
But you feel free to use whatever chocolate candy you like.
I used square marshmallows because that is what we had, but the round would honestly be better.
Last but not least…it's a great time to order my cookbook. 😀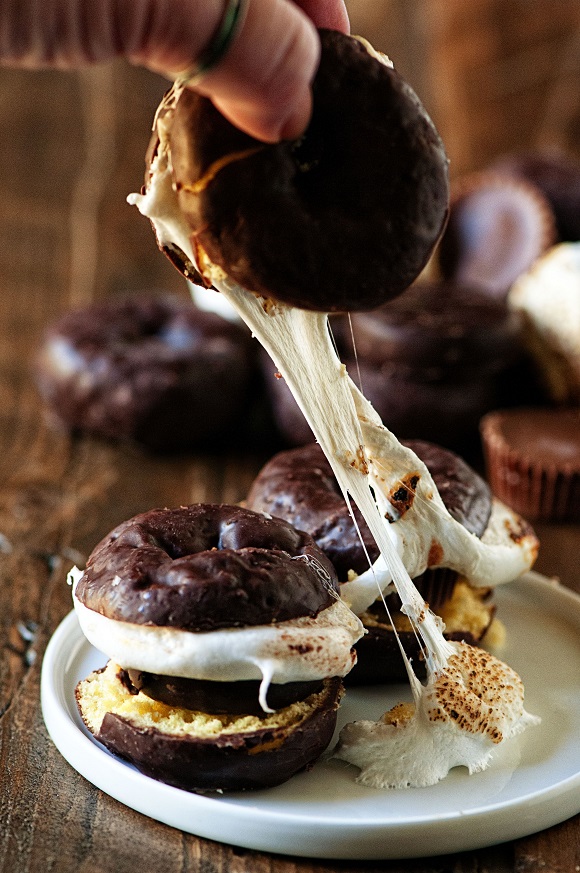 Want More S'mores Ideas?
Jolly Time S'mores Mix In Popcorn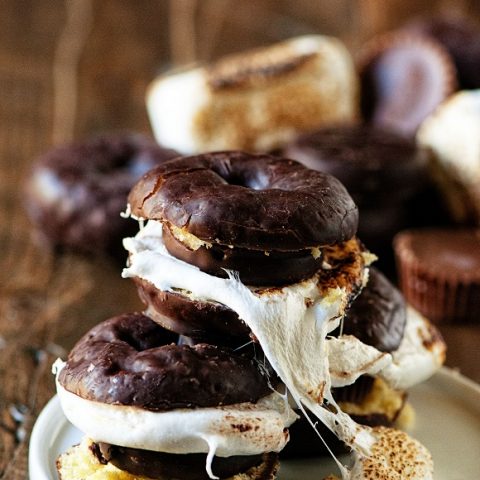 Chocolate Donette S'mores
Ingredients
20 chocolate Donettes, cut in half (hamburger style)
10 marshmallows
10 chocolate candy pieces of your choice (peanut butter cup, peppermint patty, chocolate square, chocolate square with caramel (dang that would be good))
Instructions
Toast the marshmallows with either a blow torch or roast on your gas stove top.
Don't have either, you can put them under the broiler or pop in the microwave for like 5 seconds. You won't get the toasted flavor, but you will get ooey gooey marshmallow action.
Place the marshmallow on the bottom layer of the cut Donette.
Place candy piece on top of the marshmallow.
Top with the remaining Donette piece.
Eat. Make nom, nom, nom noises. Fight off anyone who tries to take yours.