This S'mores Banana Bread is made with graham flour and filled with milk chocolate chips and mallow bits all coated in chocolate glaze.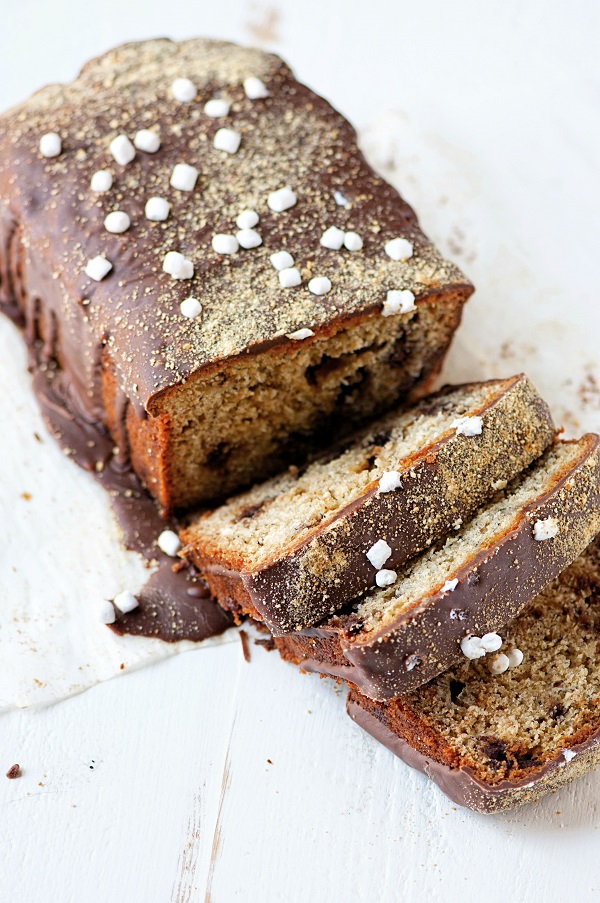 There is a girl I follow on Instagram.
She's lost 160 pounds.
I think she looks amazing.
She is sad because she used to weigh about 30 pounds less (though if I'm being honest I see hardly any difference in her photos of her now and her 30 pounds ago).
And she works out like crazy.
Working out is literally her life.
Her dedication to it is both amazing and sometimes sad because she does it even when injured and what not.
However, in the months that she gained those 30 pounds back she was like many of us who diet really great during the week but when the weekend comes and well we somehow end up eating enough for a small village.
I applaud her though with how honest she is with everyone about her struggle.
In the last months I have seen her switch up her diet left and right.
Hoping to find the one thing that will change her, that will get her eating in control.
Right now she is on the 21 Day Fix…but just the eating containers as she feels the workouts are too easy.
I feel for her.
And I know the grasp.
I've done the grasp.
Putting food into little colored containers won't stop you from overeating.
I know, I've used them.
For the record I love almost all of the BeachBody workouts…Cize is so my thing right now (hate PiYo though).
But I have never followed a food plan or had their shakes.
Well, technically had their shakes because it came with my orders since they never just let you buy the workout (though now they have on Demand and I love that).
But I had two shakes I think and gave the rest away.
For the heck of it for a few days I put my food in those containers.
Which all I did was get really good at cramming food into containers. 🙂
I also never just stopped at the containers.
And I suspect this will happen to her as well.
I don't want it to happen, it's just kind of her track record right now.
Finally I broke down this week and suggested that perhaps it was not her eating that was the issue.
It didn't matter if she was WW, low carb, BeachBody containers, you name it, that reality was I felt it was an internal issue.
So I did suggest to her to check out Sarah Jenks and her free Live More Weigh Less videos she was sharing right now.
No idea if she takes me up on it, I hope she does.
I hope she realizes this struggle isn't about her food choices.
I have done the program I think 5 times now (once you buy the program you can just keep repeating each time she does it, you don't keep rebuying).
The first time I did it I was really in a place of good focus and did it to a T and really, really benefitted from it.
Second time I totally half assed it and well got half of what I got out of it the first time.
Last year I joined the graduate program (which is no longer offered) that was basically just a phone call a month but was the kick in the pants I needed.
For that year not one of my phone calls was about losing weight, it was always about living more.
Over those years I have been doing the program it has changed, in my mind, for the better.
When she started it was still about losing weight.
I mean, it was still a message I believed in of live your life before you lose the weight but it still focused quite a bit on weight loss.
For the record I lost weight the first time I did it, the time I was laser focused.
Then Sarah had a kid.
Reality set in for some of the things she used to just say oh rearrange your schedule.
She now understood kids aren't all that helpful with that. 🙂
Then she had another kid.
Her focus to lose the baby weight went away and her focus to just live a good life and accept her size while treating her body as well as she could came along.
There is still a weight loss element to it. But there is no diet other than what is basically The Slow Down Diet (which if you haven't read that book…it's sooo good) in which you listen to your body when she wants to eat and feed her.
To me this is sometimes even stress eating. I pretty much stress ate for two months straight.
Though I did only eat within my way of eating (meaning low carb, high fat) but I ate a lot of calories.
So much so that I thought for sure I had easily gained 10 pounds.
Nope, lost a pound.
Ironically, the day after the stressful situation came to a closure, my body just released so to speak.
Within three days everything fit again and loosely.
I lost a couple more pounds because I was no longer stress eating.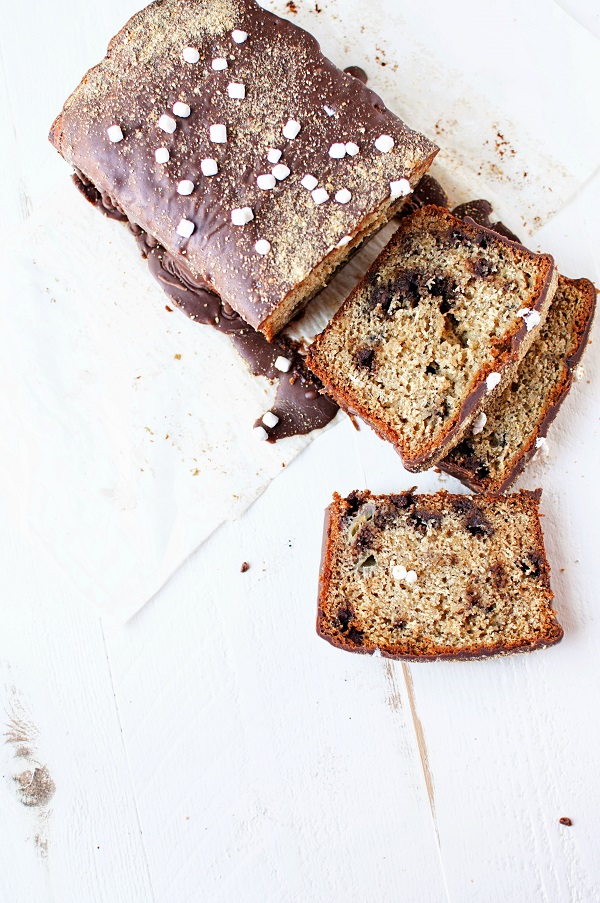 But today and yesterday I swear I have a tapeworm…and you know what, I'm just eating.
I'm not worrying.
I want ALL of you that struggle to get to this point.
That is what I want.
I know I talk about her and the program a lot but it really has changed my life for the better and so when that happens you want to tell people about it.
I mentioned that I had made S'mores Banana Bread for my MIL for Mother's Day.
And many, many of you asked for the recipe.
Well, here it is. It's an adaption of my mom's banana bread that she uses graham flour in.
That got me thinking about graham crackers (uses the same flour) and how I have never made S'mores Banana Bread.
This one lasted about 20 minutes at my husband's work so I'm guessing it was pretty fabulous. 🙂
You need to use the Mallow Bits (they will melt too) instead of mini marshmallows as regular marshmallows give a weird texture.
You could however using mini marshmallows on top with the glaze as those don't get baked.
P.S. It's a great day to buy my cookbook Holy Sweet!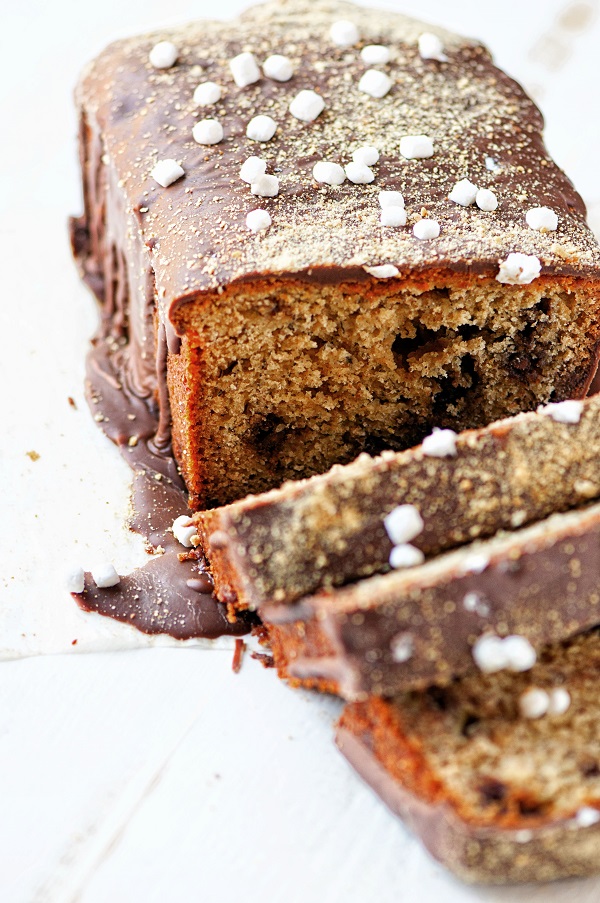 Want more Banana Bread Recipes?
Chocolate Chocolate Chip Sourdough Banana Bread
Dark Chocolate Sea Salt Caramel Banana Bread
Brown Sugar Spiral Banana Bread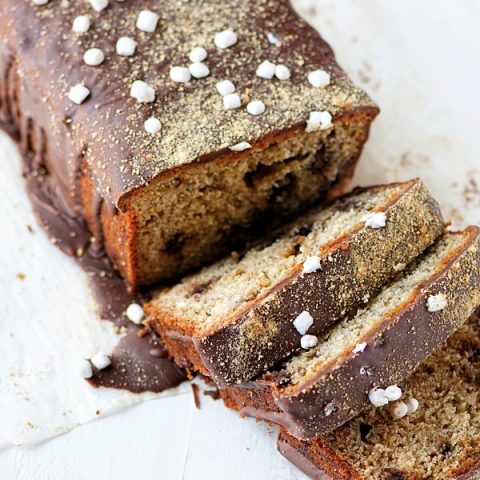 S'mores Banana Bread
Ingredients
1/3 cup unsalted butter, at room temperature
1/2 cup granulated sugar
1/4 cup brown sugar
2 eggs
1 cup graham flour
3/4 cup all-purpose flour
2 tsp. baking powder
1/2 tsp. salt
1/2 tsp. baking soda
1 cup mashed ripe bananas
1 cup milk chocolate chips
½ cup Vanilla Mallow Bits
Chocolate Glaze:
6 ounces milk chocolate, finely chopped
4 TBSP unsalted butter
Graham cracker crumbs for garnish
Mallow Bits for garnish
Instructions
Preheat oven to 350 F.
Using a stand mixer with a paddle attachment cream together the butter and sugars.
Add the eggs and beat well.
Sift together the flours, baking soda, salt, and baking powder and add to creamed mixture.
Mix until just comes together.
Stir in bananas, milk chocolate chips, and Mallow Bits.
Pour into well-greased(and lightly floured) 9X5X3″ pan.
Bake for about 50 minutes or until done.
Let sit for 5 minutes and remove from pan.
Let cool on a wire rack while you prepare glaze.
For the glaze:
Break chocolate into small pieces and place in a small stainless steel bowl over a pot of hot(not boiling)water.
Melt the 4 TBSP butter in a small saucepan, and skim off the white foam that rises to the top.
When chocolate is just melted, whisk in the clarified butter.
Pour over the banana bread and sprinkle with graham cracker crumbs and Mallow Bits (if using as garnish).
Let glaze set up, it will take about an hour depending on how warm it is in your house.
If you are impatient put it in the fridge for a while.