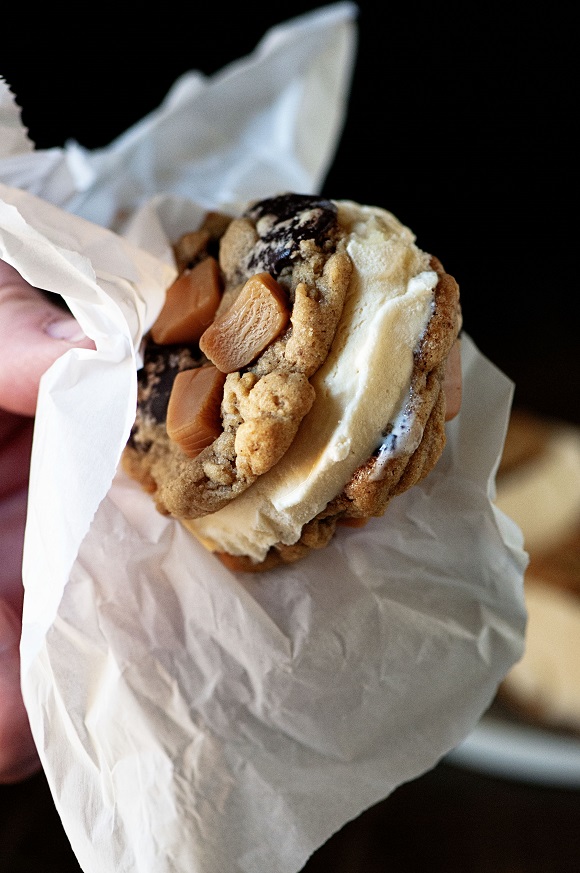 My friend Ashley of Not Without Salt contacted me a few weeks back and said that they were having a local Cookie Mix Throwdown using her Salted Chocolate Chip Cookie Mix (that the Marx Foods is now carrying) and would I be interested in helping her out. Ashely is the creator of my favorite chocolate chip cookie and I was super curious to see if the mix and the cookie that I make so much were the same. So I said yes.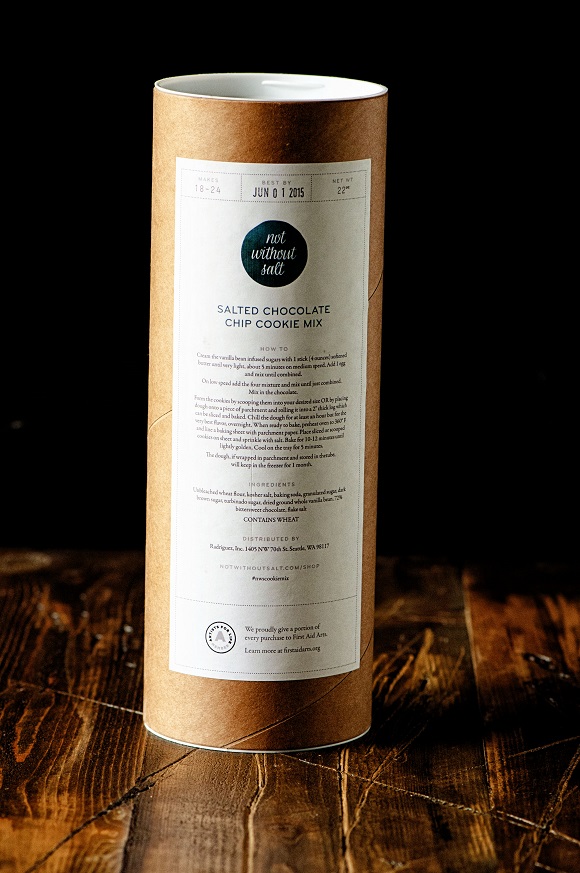 This isn't just a cookie mix. Your average cookie mix doesn't have Shepherd's Grain organic flour, three types of sugar (white, dark brown, and raw Turbinado), ground whole dried vanilla beans, Guittard 72% bittersweet chocolate, and Maldon flaky sea salt in it. Quality ingredients do drive the cost up but it's well worth it, they really do taste just like the ones I make of hers from scratch. It also gives part of the proceeds to First Aid Arts which trains counselors and trauma care providers how to use the arts in a healing capacity with survivors of trauma. Which as someone who is art therapy for pet loss, I can tell you that's an awesome thing.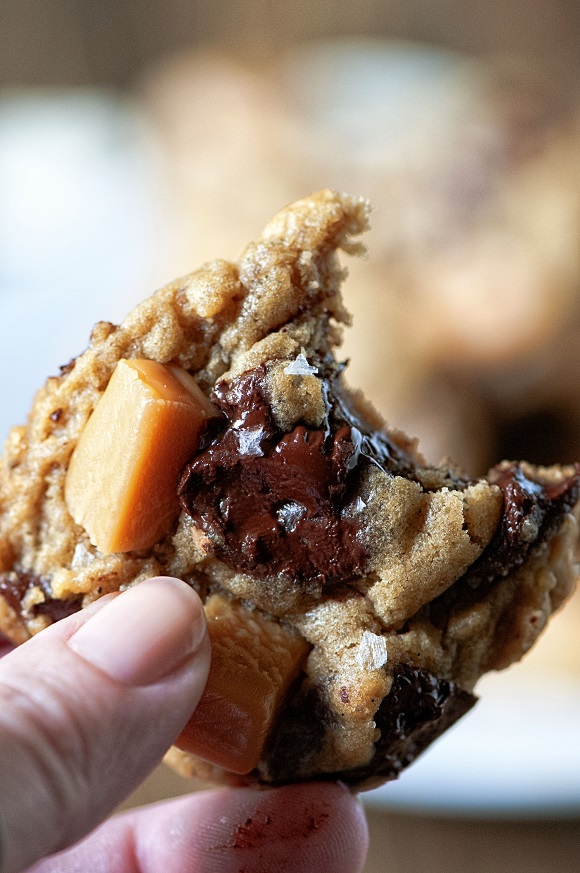 We were given the task of transforming the cookie mix into something. I will admit I went a more traditional route for two reasons. Reason number one being that I wanted to see if they cookie mix results were the one I make from scratch. While I did add powdered freeze-dried bananas I could still tell they were the same cookie. I used freeze dried because regular banana makes for a more cakey cookie and I don't like that texture in a chocolate chip cookie. And if you are thinking powered freeze dried bananas where on Earth do you find that? You don't. Well, you find freeze dried bananas (found mine at Trader Joes) and you put them in a food processor and turn them into powder. That's how you do that.
Reason two was that I love cake batter ice cream so I was curious as to what cookie batter ice cream would taste like. I was feeling particularly lazy and decided just to use already made vanilla ice cream (I used Lopez Island which is local), but if you want to make your own base you go for that. I must say….cookie batter ice cream is insanely good. Insanely good.
Then you go and sandwich them between the Salted Caramel Banana Chocolate Chip Cookie and OMG.
If you are local, are around on June 30th, and interested in going to the event all the details are here. If I'm one of the two finalist I will most likely be there in person and would love for you to stop by and support me and say hi! Though if you are a stalker and are going to kill me (one of my mother's fears when I tell her I am meeting readers) could you do something elaborate and different so that we make the national news? K, thanks. 🙂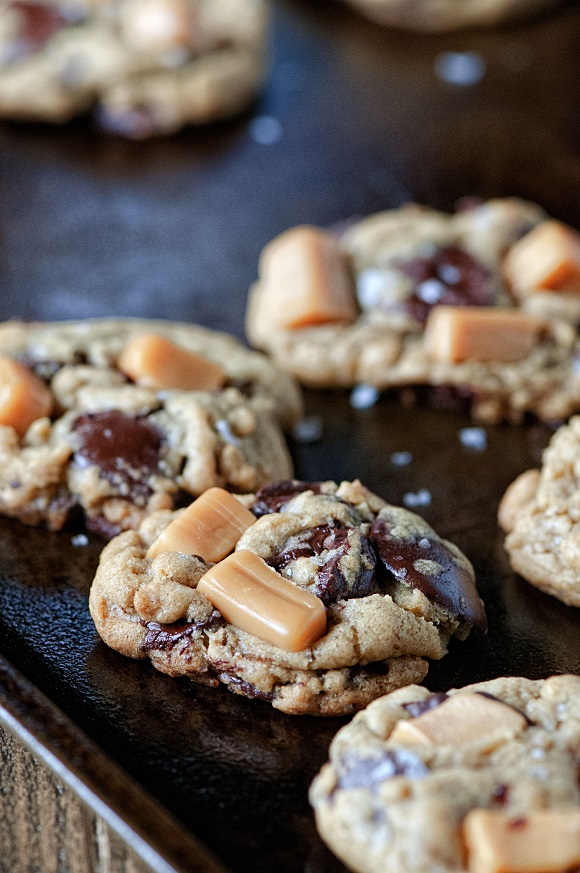 Cookie Batter Salted Caramel Banana Chocolate Chip Cookie Ice Cream Sandwiches
Makes 10-12 sandwiches
Salted Banana Caramel Chocolate Chip Cookie
1 canister Not Without Salt Salted Chocolate Chip Cookie Mix
4oz. unsalted butter
1 large egg
20 caramels, wrappers removed (in case for some reason you thought the other way was an option) and cut each caramel into 4 pieces
1/3 cup powdered freeze dried bananas
Cookie Batter Ice Cream
2 Pints Vanilla Ice Cream (softened)
1 canister Not Without Salt Salted Chocolate Chip Cookie Mix, minus the chocolate chips and salt
For the cookies:
Cream together the sugar, powdered freeze dried bananas, and butter on medium-high until it becomes light and fluffy, about 3 minutes.
Add the egg and beat for another minutes.
Add the dry ingredient packet and beat on low until just coming together.
Add the chocolate chips and mix on low until everything just comes together.
Place in fridge for at least 4 hours or better yet overnight.
Remove from fridge and preheat oven to 360F. Yes, 360…not 350.
Scoop the cookie batter using a cookie scoop onto a baking sheet that has been lined with parchment paper.
Slightly flatten the cookie batter with the top of your hand. Sprinkle sea salt on each one.
Bake 8 minutes. Remove from oven and place caramel pieces (about 3 per cookie) on top (pushing down slighting into the cookie when placing…be careful not to burn yourself).
Place back into the oven for another 3 minutes of baking.
Remove from oven and let stay on cookie sheet for 5 minutes.
Let cool to room temperature.
Then place in freezer for an hour.
For the ice cream:
Using a stand mixer with a paddle attachment, cream together the softened ice cream and the sugar and flour mixture of the cookie mix.
Beat until well combined.
Place in a freezer safe container and freeze until ready to use.
To assemble:
Using a kitchen scoop, take one scoop of ice cream and place it onto the flat side of a cookie, then top with second cookie, pressing to allow the ice cream to spread slightly.
Wrap individually in plastic wrap and freeze for at least 4 hours.