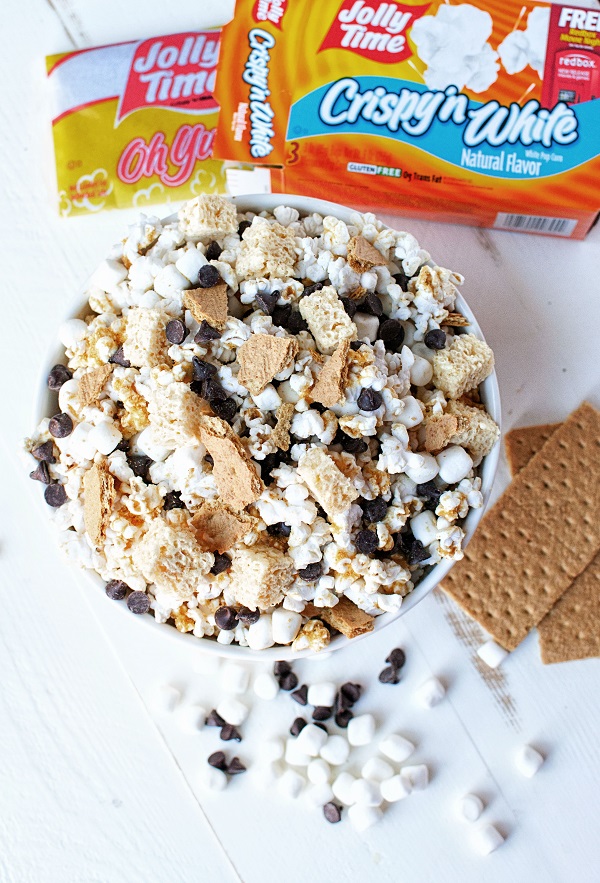 If you have kids (or don't) chances are you have popcorn in your house. Watching a movie at home? Popcorn. Mom, I'm hungry…popcorn. Mom, my friends are coming over…popcorn. Quick and easy snack? Popcorn. You see where I am going with this. So when JOLLY TIME Pop Corn challenged me to come up with a sweet mix in for their popcorn I was all over that. I mean not a week goes by in this household without popcorn being made.
JOLLY TIME celebrates its 100th birthday and is still family run! They have a variety of flavors with everything you would expect like Blast O Butter, X-tra Butter, and Crispy 'n White (plain) and flavors you so would not have thought of like Jalapeño Butter, Mallow Magic, Healthy Caramel Apple, and of course Kettle Mania.
While we didn't get the Mallow Magic flavor sent to us it did get the kids and I thinking, and we thought we want marshmallows as a mix in. Then we thought why not S'mores? So we did that. We crushed up some graham cracker crumbs and sprinkled them over the buttered popcorn. Then we threw in marshmallows, mallow bits, more graham crackers and, of course, chocolate. Easy peasy. But to make it extra yummy the kids decided they wanted marshmallow cereal squares as well. So we chopped some of those in there as well. Easy to make and sooo addictive!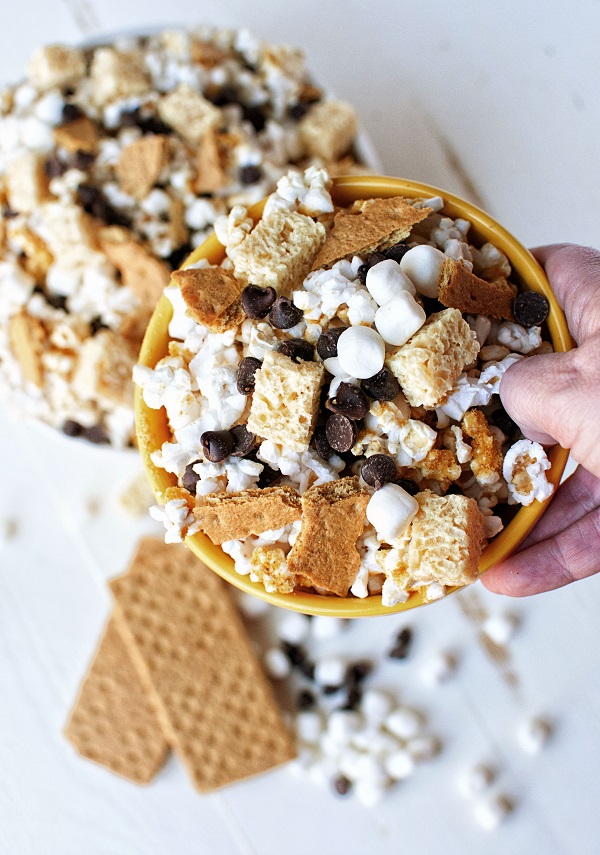 This post was sponsored by Kitchen PLAY on behalf of JOLLY TIME Pop Corn. All thoughts, views and opinions expressed are my own. To learn more about JOLLY TIME Pop Corn please visit their website. Follow them on Facebook. Follow them on Instagram. As always please support those brands that support this blog!
Be extra sure to follow JOLLY TIME on Facebook since you could have a chance to win your own JOLLY TIME mix-in prize pack (value $50) 4/4-4/18.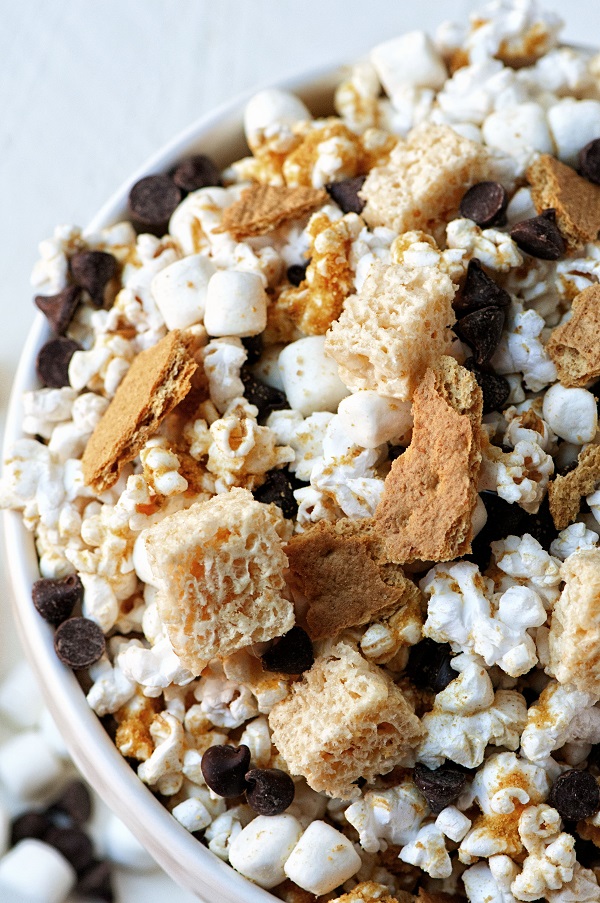 JOLLY TIME Pop Corn S'mores Mix-in
1 bag JOLLY TIME Crispy'n White Microwave Popcorn, popped
3 TBSP melted butter
1 cup finely crushed graham cracker crumbs
6 graham crackers, in bite size pieces
1 ½ cups semisweet chocolate chips
1 cup mini marshmallows
½ cup mallow bits, vanilla flavor
1 ½ cups chopped marshmallow cereal squares
Pop popcorn according to the package.
Pour ½ the bag of popcorn into a large bowl.
Pour over half the butter and toss with a spoon or just your hands to get the butter distributed evenly.
Pour the rest of the popcorn in and repeat.
Using a large spoon, turn the popcorn as you sprinkle the graham cracker crumbs over the popcorn.
Add the chocolate chips, mallow bits, marshmallows, and marshmallow cereal squares.