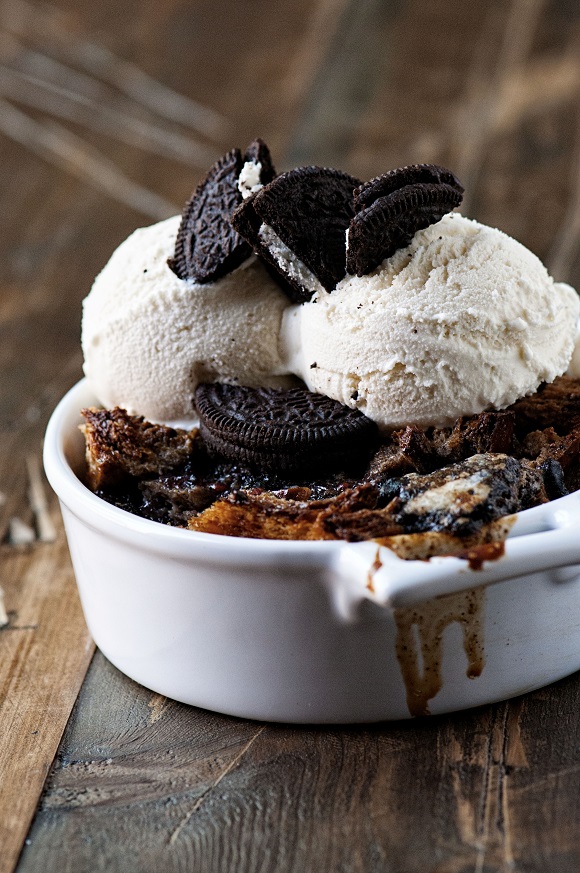 If you were thinking, I would really like to make a hideous looking dessert that taste really freaking good, then today's recipe is for you. 😀
When in Canada many, many summers ago we were waiting around for the ferry and decided to get some ice cream while we waited. They had your typical flavors and then there it was: Blackberry Jam Cookies and Cream Ice Cream. I was intrigued. It was a cookies and cream ice cream but with ribbons of blackberry jam throughout it. I went for it. Wow, was it surprisingly good.
I had made bread just because I do that a lot and couldn't decide if I should make French toast or bread pudding when I saw the jam in the fridge. I immediately remembered that I told myself after the trip to Canada that I would make something with those flavors from the ice cream. Just like always, I forgot about it when I got back from the trip since I didn't write it down.
It makes sense that I would like this so much, I love black raspberry and chocolate chip ice cream and this is very similar in taste. If you aren't digging the blackberry idea you could always just skip that jam and add an extra ½ cup of sugar to make just a cookies and cream bread pudding.
P.S. Happy Mother's Day to all the different types of mom's we have out there. Hopefully you got to sleep in (I did not) and get to spend your day how you want to!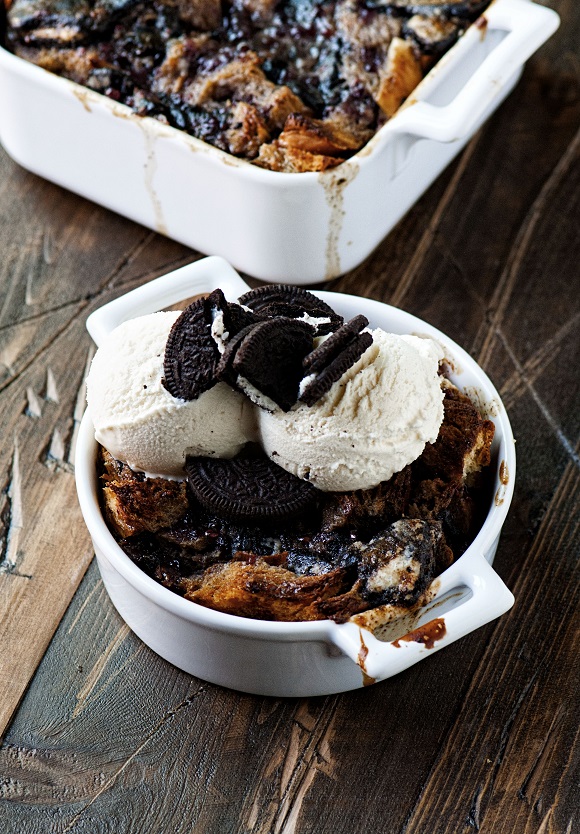 Blackberry Jam Cookies and Cream Bread Pudding
2 ½ cups heavy cream
1 egg yolk
4 eggs
½ cup blackberry jam (I used my mom's homemade)
1/4 cup of sugar
1 tsp. vanilla extract
Roughly 25 Oreo (or other sandwich cookie)…I say roughly as I got to eating a few and lost count (my bad)
One medium sized loaf of Challah, brioche bread or French bread (fresh), cut into cubes
Preheat oven to 350F.
Butter a 8-x-8-inch pan.
Pour cream into a large bowl. Add Oreos. Let them soak in refrigerator. A good soak. A long day at the office need time in the tub with wine soak. So about 20 minutes…or longer.
Add in eggs and yolk one at a time, whisk vigorously after each egg is added.
Repeat until all the eggs are gone.
Add vanilla extract, jam, and sugar and whisk vigorously again.
At this point the cookies should be pretty darn good and mushed up and easily mixable. If not, be less wimpy and whisk more vigorously than what you were doing.
Scatter bread pieces into the prepared pan.
Pour the custard over the bread. Press down the bread pieces until the bread is soaked with the custard. You will most likely have extra custard, because some bread is more absorbent that others, don't feel like you have to use all the custard.
Place pan into another pan that will hold a water bath.
Bake the bread pudding for 45 minutes until golden on top.
Remove from oven and let cool to room temperature.
Top with vanilla ice cream and more Oreo's.