These Popcorn and Milk Dud Cupcakes are chocolate cupcakes topped with caramel syrup, buttered popcorn whipped cream frosting, and Milk Duds.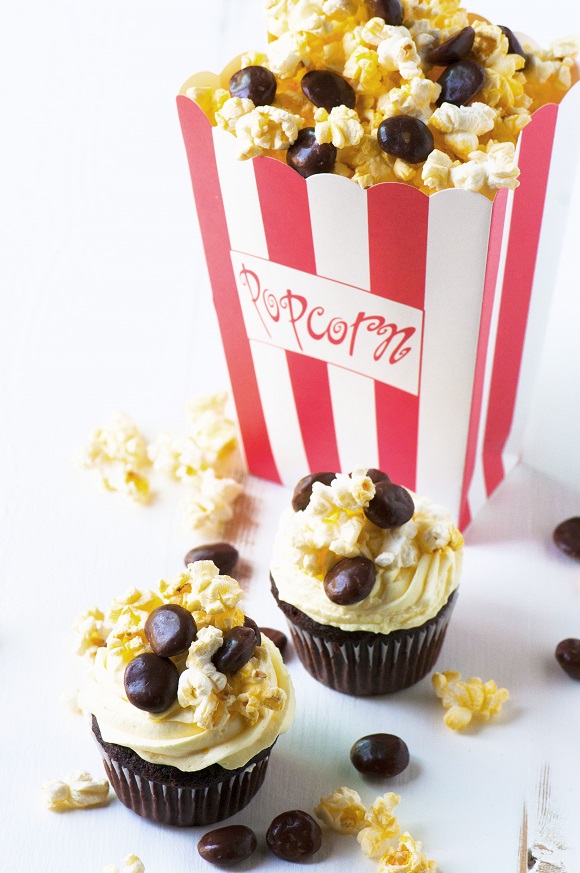 It's been just over a month now of having Mr. Squishy Face in our family now.
Getting used to each other takes some time but he definitely has stolen my heart.
Here are some ways he has changed our lives:
The good:
I am now a morning person (7:30am which is morning for me) thanks to his pill schedule.
Which is good in the fact for networking (when I wake up at 9:30-10am on PST it's already 1pm for most of the people I was talking to).
It's good because I get my workout done right away.
I fall asleep quicker than I ever had.
Since he gets his pills every 8 hours I get up at 7:30am and he gets his last set at 11:30pm.
The second he gets his pills I go to bed.
It used to take me up to two hours to fall asleep after I lay down.
Now, just like my husband, I fall asleep as my head is hitting the pillow.
Mr. Squishy Face gets a walk every day.
Usually 2-3 miles in order to get some weight off of him (extra weight is hard on his medical condition).
This takes 40-60 minutes on average.
My husband comes with me.
So that means that my husband and I get an hour to ourselves each day now to just talk and not be distracted which is really, really nice and it's my favorite part of the day.
It also helps that we get in an extra 15-18 miles (give or take) a week of extra exercise a week.
I have a super snuggly spaniel who wants to spend every waking moment with me.
The bad:
I am now a morning person.
Wasn't this in the good?
Yes, but I still don't like being a morning person. It's not my personality.
My coffee intake has increased tenfold.
Like I said…Mr. Squishy Face gets a walk every day.
How is that bad when it was just in the good?
It rains here.
He doesn't care if he has to walk in the rain (he has a cute raincoat).
I'm not a fan nor is the hubby of walking in the rain, but we do it, because he loves it and we love him.
I have a super snuggly spaniel who wants to spend every waking moment with me.
Again, a good and a bad thing.
Bad because he whines when he isn't with me.
If I'm trying to type (like now) since I only have a desktop computer (we are looking into me getting a laptop) he whines because I'm not on the couch with him.
So then I can't think clearly and it takes forever to get a blog post up.
The ugly:
My blogging has suffered big time.
Big time.
Mostly because I get my best ideas between midnight and 2am usually.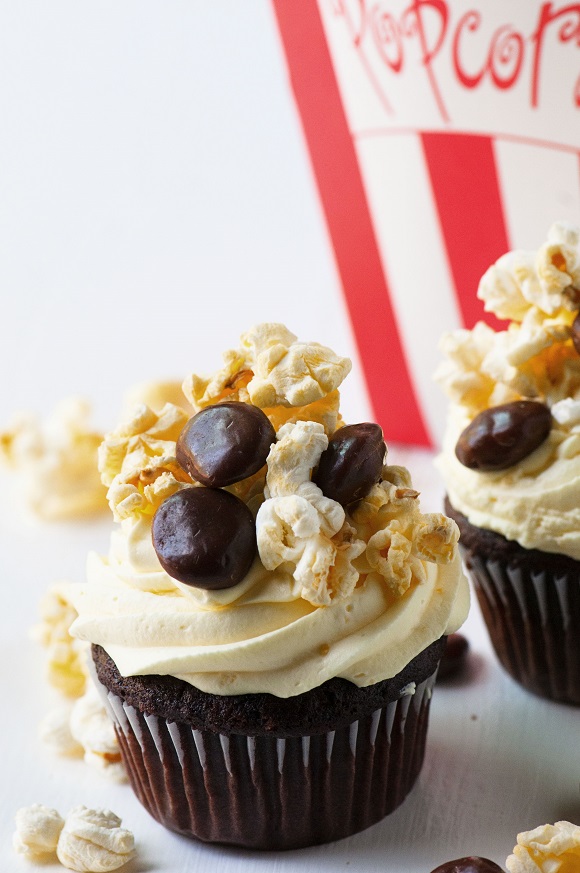 Except now I am asleep during that time since the second he gets his pills at 11:30pm I run to the bed.
While the food creativity keeps coming (these cupcakes are case in point) the writing part of blogging (which I really enjoy) simply isn't happening, at all.
So I'm trying to figure that out.
Because he does have to have medication at exactly the same time each day doing spontaneous things just doesn't happen.
Lots of planning happens now.
I leave next week to go to Fort Collins to visit Rodelle and I'm super excited but wow did it take some major planning.
Luckily we have super awesome friends who are helping us out.
So we are still figuring things out and we will get into a routine one of these days I am sure. πŸ™'
I have a whole other post about Mr. Squishy Face for Friday that is more about him as a dog not how our routine has changed because of him.
BUT if you can't get enough of him he does have his own Instagram account!
Luckily Mr. Squishy Face does like me in the kitchen cooking.
He really likes me photographing the food and that becomes a race…me vs. the Kong, as in I have to get all the photos done before he finishes what treats are in the Kong. πŸ™'
The chocolate malt and French fry donuts got me thinking about what other flavor combos that are similar to that and I immediately thought of my favorite treat at the movies: movie popcorn and Milk Duds.
Popcorn and Milk Dud Cupcakes.
The frosting is indeed butter popcorn flavored but it isn't an overpowering flavor, just enough hint of the popcorn so you know what it is.
If you are crunched for time you can always make these using a box cake (I won't tell anyone) but know that this Devil's Food recipe is super yummy so you should try it at some point.
P.S. It's a great day to buy my cookbook Holy Sweet!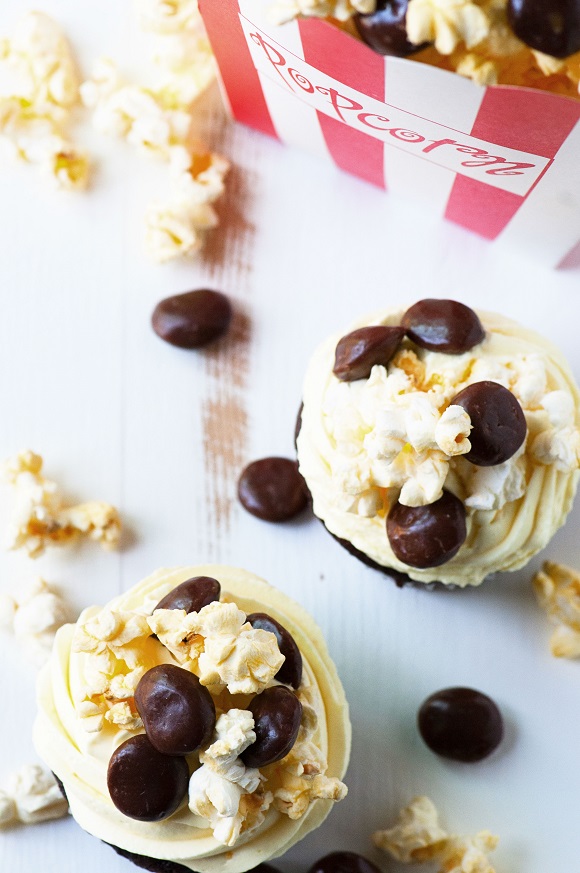 Want more Cupcake recipes?
Vanilla Bean Rice Krispie Treat Cupcakes
Strawberry Lemonade Glazed Cupcakes
Key Lime Toasted Coconut Cupcakes
Chocolate Glazed Rocky Road Cupcakes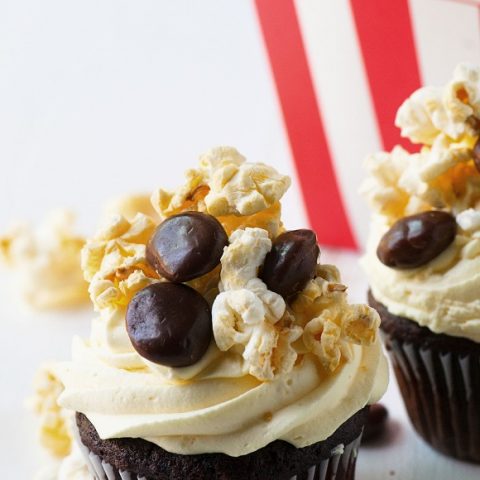 Popcorn and Milk Dud Cupcakes
Ingredients
1 batch Devil's Food Cupcakes
1 batch caramel syrup
1 batch buttered popcorn whipped cream frosting
1 cup movie popcorn (for garnish)
1 cup Milk Duds (probably more...let's be real)
For the Devil's Food Cupcakes:
1 2/3 cups cake flour
1/3 cup plus 1 TBSP unsweetened cocoa powder (I used Rodelle)
1 tsp. baking powder
1 tsp. baking soda
1 1/2 cups granulated sugar
1/2 tsp. salt
1 cup buttermilk
1 cup sour cream
3 large eggs, lightly beaten
6 TBSP (3 oz) unsalted butter, melted
For the Caramel Syrup:
1 cup sugar
3/4 cup water, divided
1/2 tsp. vanilla extract
For the Buttered Popcorn Whipped Cream Frosting:
2 Β½ cups heavy whipped cream
2 cups movie popcorn
1 cup powdered sugar
Yellow food coloring (optional)
Instructions
For the Cupcakes:
Preheat the oven to 350°F and prep cupcake pans with 24 paper liners.
Sift together the flour, cocoa, baking powder, baking soda and sugar into the bowl of your mixer.
Stir in the salt and equip the paddle attachment.In a separate bowl combine the buttermilk and sour cream, whisking until smooth.In yet another bowl, combine the eggs and melted butter.
Now turn your mixer onto medium low and add your buttermilk mixture to the bowl in thirds, alternating with the egg-butter mixture.
Scrape down the bowl, as needed to ensure everything is combined.
Divide the batter into your cupcake cups, filling each cup roughly half full.
Bake for 10 minutes and then rotate the pan(s) and bake for another 10 minutes, or until a cake tester comes out clean.
Remove the cupcakes from the oven and allow to cool completely on wire racks before continuing.
For the Syrup:
In a small, sturdy pot, combine the sugar and 1/4 cup of the water.
Stir over low heat until dissolved.
Once the sugar has dissolved completely, turn the heat up to medium high, cover the pot, and let boil for 2 to 3 minutes.
Remove the cover and stir vigorously as the caramel continues to cook.
Stir over heat until mixture is a light amber color.
Remove the caramel from heat.
Carefully pour in the remaining 1/2 cup of water. Be very careful when stirring the water into the caramel as it can splatter.
Stir in the vanilla.
For the Buttered Popcorn Whipped Cream Frosting:
Add the heavy cream and popcorn into a plastic container with a lid.
Place in fridge and every 2 hours shake vigorously.
After 8 hours (or overnight) strain out the popcorn from the cream. You will probably have to use a spatula to press down on the popcorn to get some of the cream out of it.
Discard the popcorn and measure out 2 cups of popcorn flavored cream.
If you do not have enough just add some regular whipped cream.
Beat the cream and food coloring in a stand mixer using the whisk attachment on high.
Beat until soft peaks form.
Add the powdered sugar ¼ cup at a time.
Beat until all the sugar is incorporated and whipped cream has formed stiff peaks.
To assemble the cupcakes:
Place cupcakes on a wire rack with a baking sheet below it.
Brush the tops of the cupcakes with the caramel syrup.
Pipe frosting onto the cupcakes, on top of the caramel syrup.
Add extra popcorn and Milk Duds. Best eaten day of.