Holiday lovers will love this Gingerbread House Bark which uses chocolate bark decorated with gingerbread men and candy.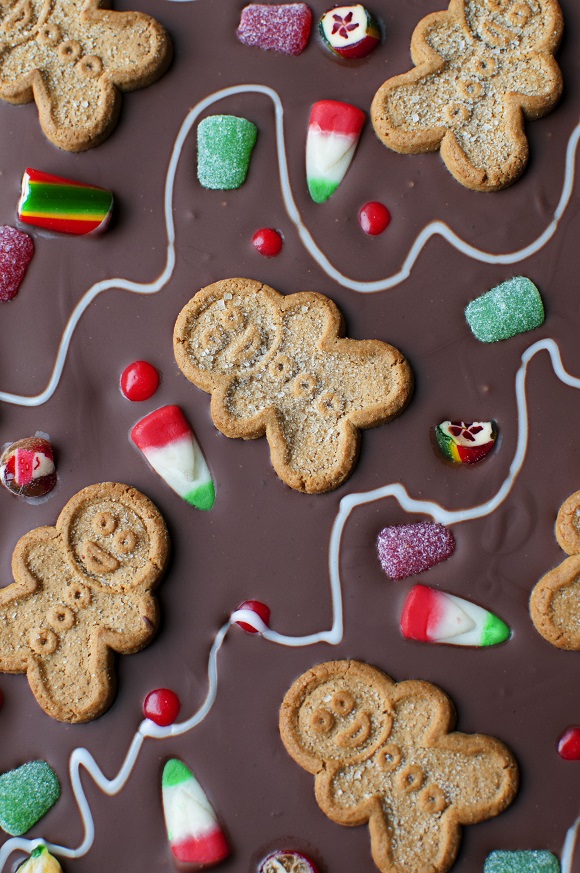 As I have said many a time on here my family has many a holiday tradition.
I was fortunate when I was married before that my ex-husband's family didn't really have any holiday traditions and so he just adapted to mine.
My husband's family doesn't really have traditions and my step-children did not either (other than seeing the same light display every year) and they have gladly accepted mine and I am very lucky in that aspect.
Of course some of those traditions simply cannot be done when you have a blended family simply due to the schedule.
And that's okay.
Over the years I have come to focus on 5 holiday traditions that are easy and important to me and if the other ones don't happen that's okay.
What are those five?
Open one gift Christmas Eve (always pajamas).
Lifesaver Book in the stocking.
Pizza on Christmas Eve.
A new ornament every year (which MDP and I usually get from our travels).
And frosted sugar cookies.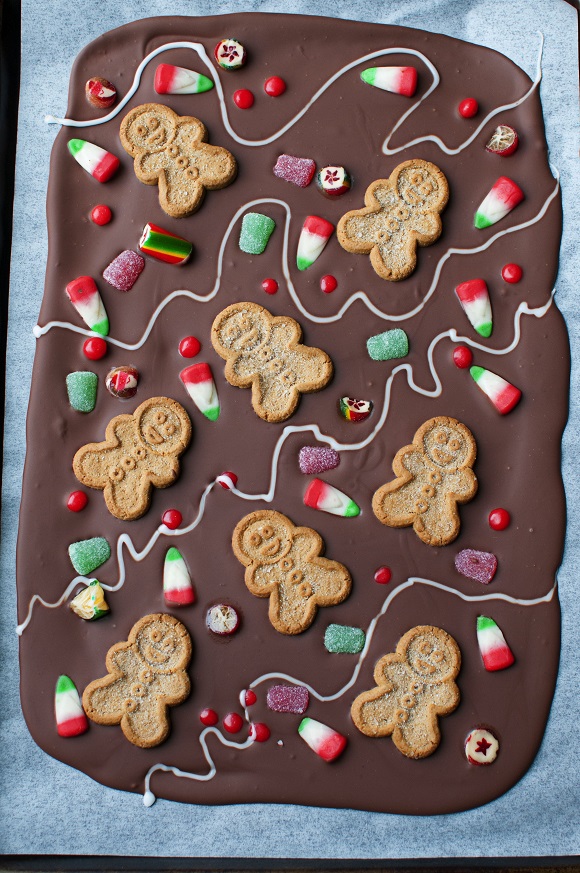 Do I want a gingerbread house?
Of course but this year it's not happening, just no time (I may do THIS again).
Did I want to make a tray full of a variety of cookies?
Sure but reality is that we don't have the kids for very long this time and so they would probably just go to waste, and again I don't really have the time.
I'll probably make some fudge for my dad.
I want to go look at lights but it's okay if it doesn't happen.
We will have Christmas dinner but this year due to the schedule we will also be having Christmas Eve Brunch as well since the teens go back to their mother's house at 9am on Christmas day…and no teen wants to wake up early. 🙂
Like I said I did want to make a gingerbread house but I lack time and motivation for that.
Enter Gingerbread House Bark which honestly was really fun.
Way easier than the house.
And way tastier than a gingerbread house.
I saw a version of this a few years ago in I think Good Housekeeping magazine using white chocolate and crushed up gingersnaps, I bookmarked it and forgot about it.
While I love ginger cookies with white chocolate I love the Gingerbread Chocolate Bar that Theo Chocolate puts out each year.
And decided it would be way more festive to use that.
If you can't find something like that then just use milk or white chocolate.
You can choose whatever candy you want on your house.
I was sadistic and used actual gingerbread men.
Which I will feel bad breaking them apart for the bark but hey you are going to eat them anyway, right?
P.S. Happy Hanukkah to my readers who are currently celebrating!
It's a great day to buy my cookbook.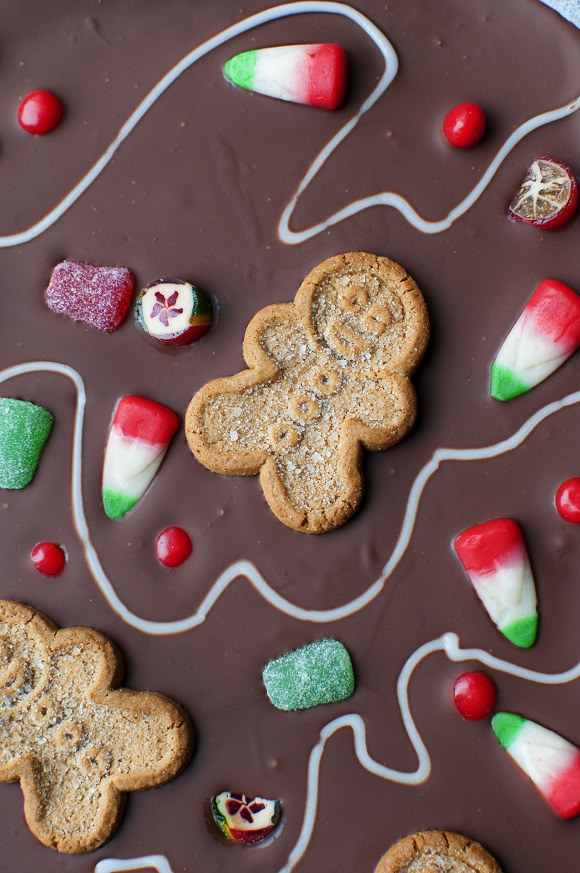 Want More Gingerbread Recipes?
Gingerbread Cheesecake Cheeseball
Clementine Upside Down Gingerbread Cake
Chocolate Gingerbread Layer Cake
Cream Cheese Frosted Gingerbread Sweet Rolls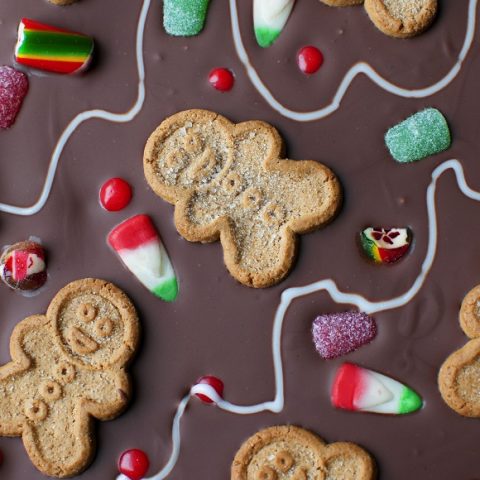 Gingerbread House Bark
Ingredients
16 ounces Theo Gingerbread Spice Chocolate (or any chocolate of your choice)
7-10 gingerbread men depending on how many you want
20 red hots
6-10 gum drops, cut in half
10 pieces Ribbon candy
20 Candy cane candy corn
Royal icing or any white frosting
Instructions
Using a microwave safe bowl, break the chocolate into pieces.
Microwave the chocolate in 30 second intervals, stirring in between, until smooth.
Pour the melted chocolate onto a sheet pan lined with wax paper an smooth out with a spatula.
Moving kind of quickly…especially if your kitchen is cold, add the gingerbread men first.
Then add candy of your choice.
If using frosting, pipe on after everything else is in place.
Place in fridge for about 30 minutes for it to set up.
Break into pieces and enjoy.