This Candy Cane White Chocolate Crème Brulee is a twist on the classic. that is a perfect and unique dessert for your holiday table.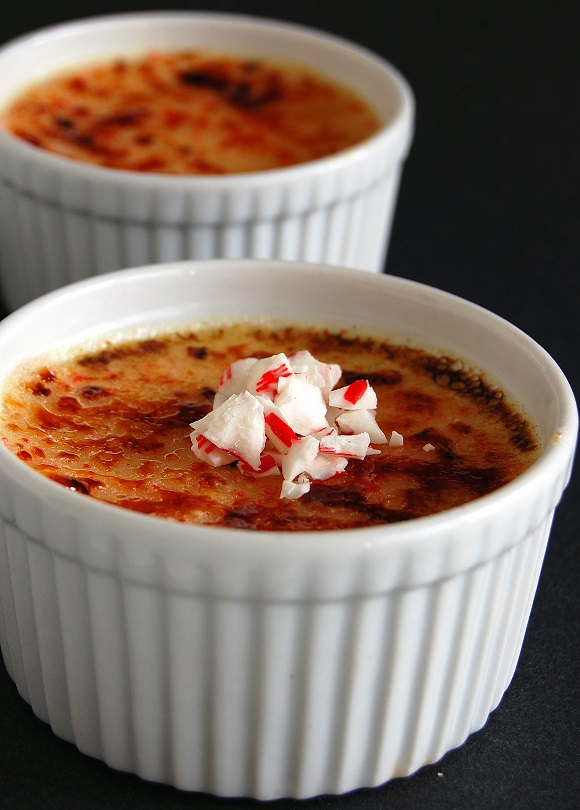 I think the holidays more than any other time of year put such pressure on us to be perfect.
You are seeing people who maybe haven't seen you in a year.
What if they notice you put on weight?
Or what if you lost weight and they don't notice and you are crushed because no one noticed that you have been starving yourself for months.
We want to get the perfect gift for everyone.
And we want our homes to look fresh out of Better Homes and Gardens with fresh garland and organic cranberries strung on the mantel.
We drag kids to look at Christmas lights and to sit on Santa's lap while the scream bloody murder (I love those photos by the way).
And of course fret about what to wear to our husband's Christmas party.
I'm lucky where my husband works everyone wears jeans and hoodies, even to the party. 🙂
We want to walk out with perfectly browned turkeys or stunningly glazed hams where people ooh and ahh with delight.
A perfectly rolled Peppermint Yule Log and a homemade name tags that double as a favor for your guest to remember this Christmas by.
Here's the thing.
First off about your weight…people are so involved in their selves that honestly most aren't even going to notice, I rarely notice someone's weight unless they've say gained or lost 100 pounds.
And anyone that does notice you gained or lost weight are those you are super worried about their weight as well.
I've found in my life that the people whom I hear make a snide remark under their breath about someone's weight or say the ever popular I'm concerned about their health line are the ones who put themselves down as well (often saying I'm fat…waiting for you to pump them up and say no you're not you are beautiful).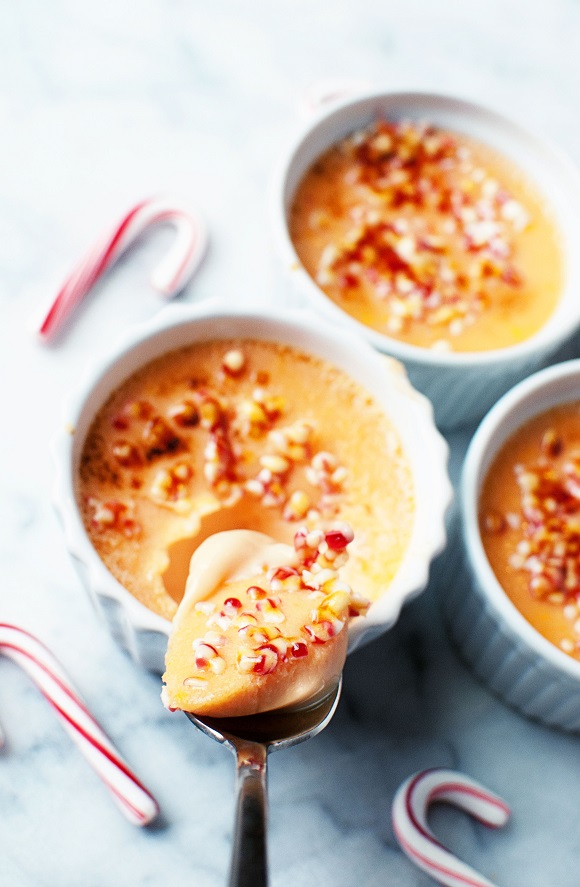 Fresh garland?
Bugs hang out in that. 🙂
Most older kids don't want to be dragged to anything, some kids are too little (so if you are taking them to these things know it's for you and not them), and there's really only that sweet age between like 4-9 years old where they are really into anything.
If you are in that age group than have at it.
If not then don't worry.
Christmas meals?
Something's going to burn. You will forget to take the rolls out of the oven (aka my mom every year).
Your cheesecake will crack (that's what whipped cream is for).
Don't worry.
Which leads me to these.
A friend of mine had given me some of the eggs her chickens laid.
They have a beautiful SUPER rich gold yolk.
Which are lovely however as I discovered when mixed with my pink colored candy cane heavy cream of course made orange.
There are many color combos at the holidays but NOWHERE is orange one of them.
My husband was like these are really good you should put them on anyway…because it's really more like a pinkish orange than orange.
He means well. I have made these in the past and not put on the blog…but the yolks were paler and they turned out pink!
So I just said screw it and sprinkled the candy cane pieces on top and set it on fire via my BonJour Brushed Aluminum Chef's Torch with Fuel Gauge.
So then I had candy cane topped ORANGE Candy Cane White Chocolate Crème Brulee…which is really freaking good.
But sooo doesn't look right. But life rarely goes right.
I mean I never really planned on putting these up.
I was going to just make them again next year and put them up then.
But on the off chance I ran out of things to photograph I decided I would shoot them.
Then I got a tooth infection and life kind of got put on hold and I realized gee I'm going to have to put this up.
Now I know what you are thinking…that first picture doesn't look orange, it's pretty good.
That's because it's from three years ago when I made it but only one picture turned out.
I mean this is a good dessert and we make it every year.
But since I want to show that I'm imperfect so I included the orange ones as well…and hope people use the pretty one for Pinterest. 🙂
So be kind to yourselves this week dear readers…we really are just imperfect messes with good intentions.
P.S. It's a great day to buy my cookbook Holy Sweet!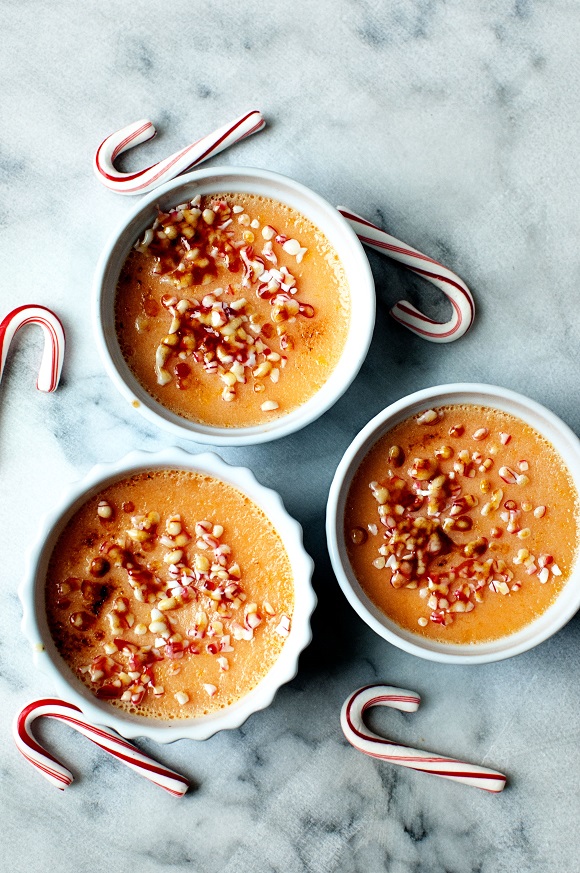 Want More Candy Cane Recipes?
White Chocolate Candy Cane Cracker Toffee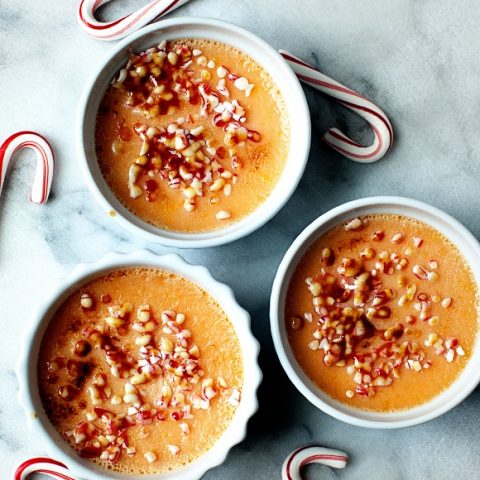 Candy Cane White Chocolate Crème Brulee
Ingredients
4 large egg yolk, at room temperature
¼ cup granulated sugar
2 cups peppermint cream (to learn how go here)
4 oz. white chocolate, finely chopped
Finely crushed candy canes (for the burnt sugar)
Instructions
Preheat the oven to 300 degrees F.
In a medium bowl, whisk egg yolks with 1/4 cup sugar until smooth.
In a medium saucepan, bring the peppermint cream to a simmer over medium-high heat.
Add the white chocolate.
Turn off the heat and whisk until the white chocolate is melted.
Add 2 TBSPs of the white chocolate mixture to the egg yolk mixture, whisking continually to prevent the eggs from scrambling.
Add the remaining white chocolate mixture to the egg yolk mixture.
Whisk until smooth.
Run the mixture through a fine mesh strainer just in case anything curdled a little.
Pour into four 6-inch ramekins or custard cups.
Place the cups in a 9 by 13-inch baking pan.
Add enough hot water so the cups sit in 1 to 1 1/2 inches of water.
Bake for about 45 minutes, until set.
Allow to cool, then refrigerate the custards until chilled.
Before serving, sprinkle the tops of each ramekin with 1 tsp. of candy cane pieces and using like sugar and torch using a culinary torch or place under the broiler until caramelized, 3 to 4 minutes.
Rechill in refrigerator for 5 minutes before serving.