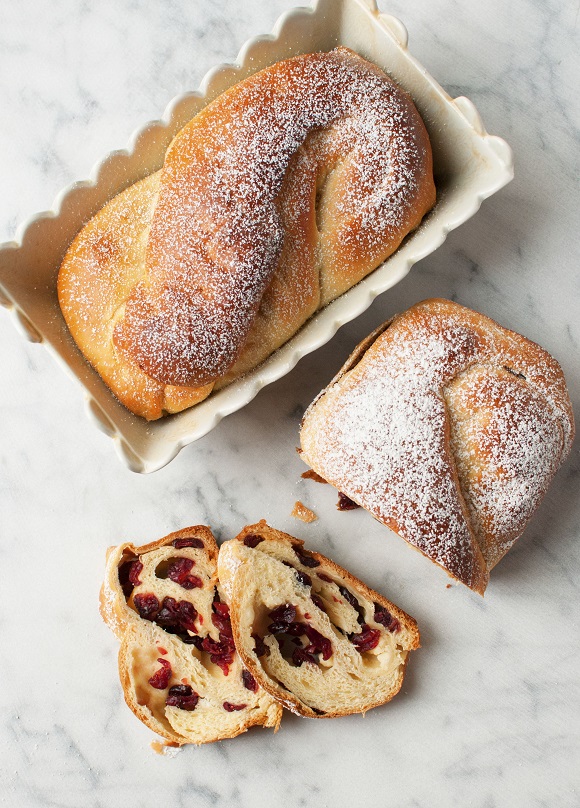 Each day I watch my dog's face turn a little bit whiter with age. It's been a hard health year for her and I and I can't help but wonder if this is our last Christmas together (and no not because I think I'm going to pass…Crazy Cocker Spaniel will be 15 in a few months).
I joke with the step-kids and MDP to make sure and pet the dog real well as that's their Christmas gift this year (since all the holiday money went to the vet :D). And while it's a joke, kind of, I'm doing my best to really soak in this time with her. I should have been making treats for the hockey team today but instead my old pup was lying on the couch with her head in my lap and I wasn't going to give that up for cookies (besides there is leftover candy cane fudge).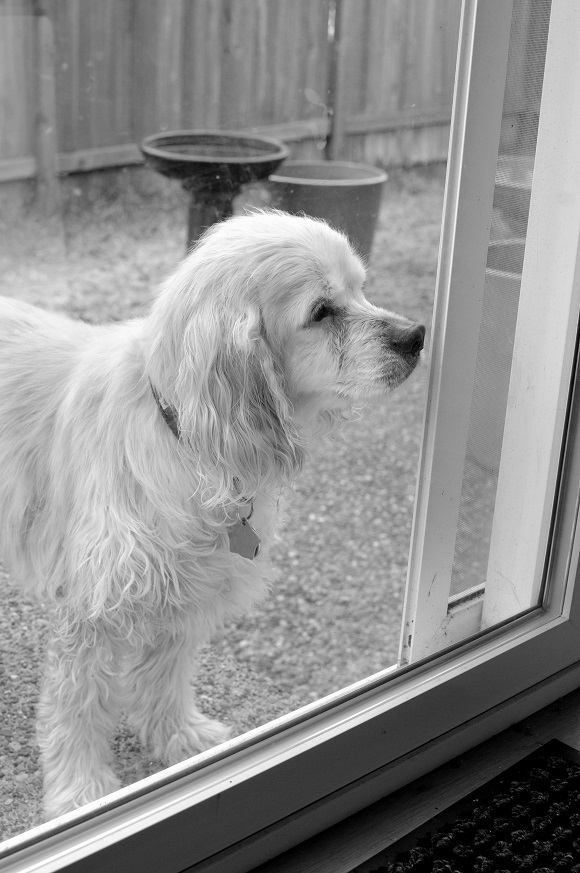 Not to say that CCS is on her last leg but her constant skin infections are not good. She's a giant walking scab (the groomer won't even groom her because she's afraid of hitting something), and while we got her inflammation down finally I feel bad that she is constantly itching and only family wants to pet her now as her once silky hair is gone in patches and she makes Christmas (aka dandruff) everywhere she goes. But her heart is the same and what a good heart it is. That's what I still see in her. Even if she loses all her hair and no one else wants to love her, I will, because all I see are her soulful eyes and her ever loyal heart.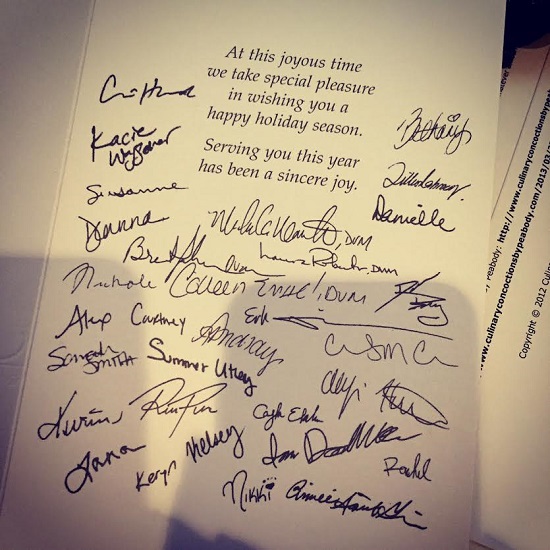 (When you spend as much as we do at the Vet the whole office signs the Christmas card 🙂 )
It's been tough to have talks with MDP (and the picky eater as well) about end of life for the dog. Like I said she is pretty good right now but having been involved with senior dog organizations I know that can change rather quickly and we want to be prepared. A few years ago I made my ex-husband promise to be the one to be with the dog to go down. Now I know I need to be the one to step up and be there as she has been there for me for a better part of my "adult" life.
Sometimes when I get overwhelmed with the idea that this may be our last Christmas with her I like to bake bread. It's so very calming to me, something about the smell of yeast and dough rising. Even better when you get to knead the bread but this recipes doesn't call for much kneading so I just used the mixer.  This time of year is pretty much the only time I make Babka though I don't really know why because it's always soooo good. Babka is a sweet yeast dough and people tend to make a chocolate Babka but I went with white chocolate and cranberry with a hint of orange. Love it. And what's really nice about this recipe is that it makes three loaves, which make for lovely gifts.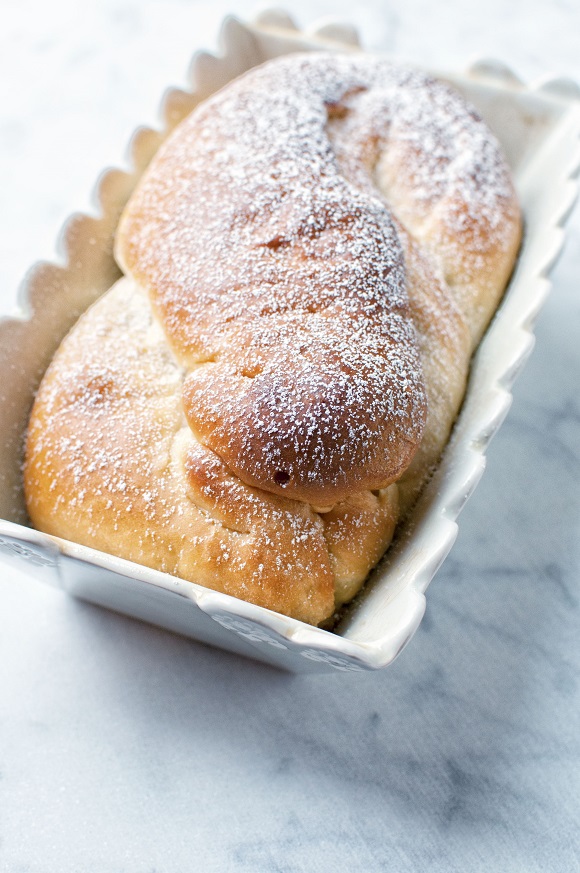 White Chocolate Cranberry Babka
For the dough:
4 ½ cups all-purpose flour
¾ cups whole milk, lukewarm
¾ cup granulated sugar, divided
1 TBSP dry active yeast (I used Red Star Yeast)
½ cup sour cream
3 eggs, divided
2 egg yolks
1 tsp. salt
8 TBSP (1 stick) unsalted butter (I used Plugra), at room temperature
1 TBSP water
For the filling:
1 TBSP minced orange zest
½ cup granulated sugar
1 ½ cups white chocolate chips
1 ½ cups sweetened dried cranberries
12 TBSP unsalted butter, at room temperature
For the dough:
Using the bowl of a stand mixer add the milk, yeast, 1 TBSP sugar, and ½ cup a flour to the bowl and whisk together.
Let sit for 30 minutes. It should be bubbly after 30.
Whisk together the sour cream, 2 whole eggs, 2 egg yolks, and salt. Then add to yeast mixture.
Add the remaining 4 cups of flour and remaining sugar.
Using the dough hook on medium speed let dough come together for about 3 minutes.
With mixer running add the butter, 1 TBSP at a time. Making sure it's fully incorporated before going to the next TBSP of butter.
Cover the bowl with plastic wrap (good and tight) and let it rise until it's doubled in volume, about 1 ½ hours. If you kitchen is cold it will take longer. If you are doing laundry that day, it's good to put it in the laundry room as it tends to be warmer when the dryer is running.
Punch down to release the air and divide the dough into three equal parts. If you have a scale that works best.
Shape into balls and put each ball into its own resalable plastic bag (I spray a little baking spray in them to prevent sticking).
Refrigerate for at least 4 hours and up to 2 days.
For the filling:
With your hands rub the orange zest into the half cup of granulated sugar to make an orange sugar.
Put the orange sugar, white chocolate chips,  and dried cranberries in a medium bowl and mix evenly. Set aside.
To make the bread:
Spray the inside of three 8 ½ -x-4 ½-inch loaf pans with baking spray.
Line each pan with parchment paper so that it hangs over the edges to create handles; coat parchment with baking spray.
One a lightly floured surface, roll one portion of the chilled dough into a 12×20 inch rectangle.
Spread the 4 TBSP of butter evenly over the dough.
Sprinkle 1/3 of the orange sugar/chocolate/cranberry mixture over the butter.
Starting at one long end, tightly roll dough into a rope (like you are making cinnamon rolls), sealing the edge when finished and gently stretching rope to 24 inches long.
Seal ends of rope together. If too much flour you need to use a little water to get them to stick.
Twist dough rope to form a figure eight.
Repeat rolling and twisting with remaining dough's.
Cover the loaves; let rise until nearly doubled about 1 ½ hours.
Preheat oven to 350F.
Whisk the remaining egg and water together and lightly brush the loaves.
Place all three pans on a baking sheet and place into oven together.
Bake until they reach an internal temperature of 200F (use a thermometer), 35-45 minutes depending. Mine took 45 minutes.
If they start to get too brown use a piece of foil to prevent from getting too brown (I had to do this).
Remove from oven. Let cool in pans.
Dust with powdered sugar before serving if desired. I recommend.
*The dough can be frozen for up to a month so you don't have to make all three loaves at once if you don't want to.
Adapted from Cuisine at Home Magazine