Simple and tasty Candy Cane Fudge that is infused with candy canes. Perfect for your holiday candy platter for parties.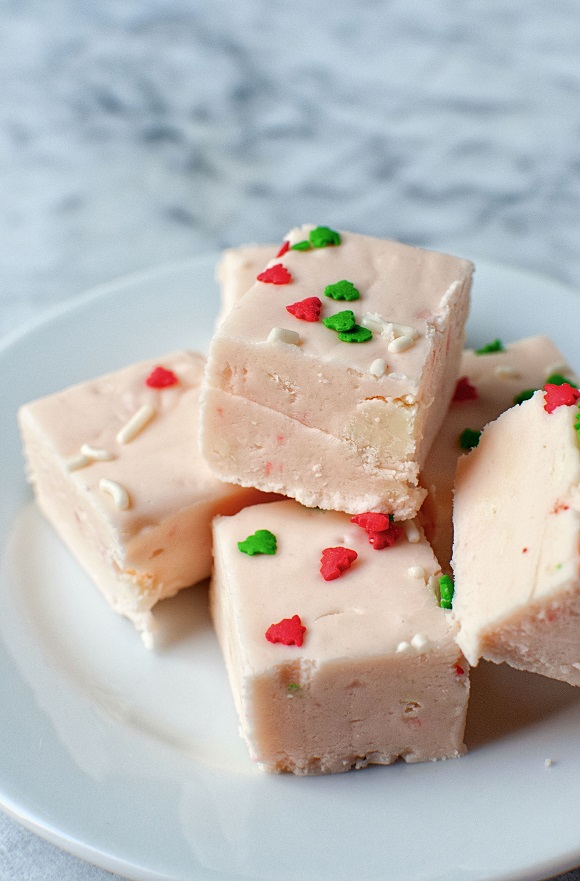 As much as I love Christmas I have reached the denial stage.
The it's here in a week and a half kind of denial.
While the majority of everything is bought…just a few stocking stuffers kind of thing, it still seems like it's coming really fast all of a sudden.
Here's what I have left:
1. Clean the house.
This is the one that will take the most time.
My parents are coming so you know I'd like to give the illusion that we don't live like clutter bugs plagued with dust bunnies.
2. Buy candy for stockings remember that I'm buying for them and not me.
Must stay away from the Peppermint Crunch Junior Mints #weakness.
3. Figure out what the heck I'm going to feed my parents when they come.
I don't think Kraft Dinner and sloppy Joe's are going to cut it.
4. Speaking of feeding people I need to figure out what to have for Christmas dessert.
5. Try not to buy more stuff for people just because there doesn't look like much under the tree.
It's a big gift year so there is like three things. 🙂
My bank account helps with this.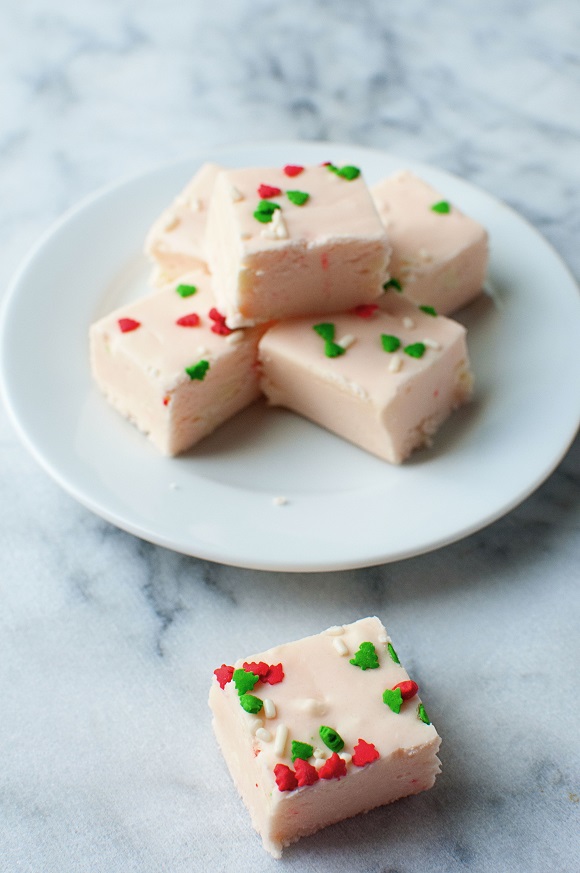 I made some candy cane milk chocolate fudge last year and while it was good it was sweetened condensed milk based.
One thing I have learned in my candy making is I much prefer the cream and marshmallow based fudges.
So I went back to the drawing board with the fudge.
This time infusing the heavy cream with candy canes for 24 hours.
I prefer this to just adding peppermint extract to the fudge, the infusing really helps give it a true candy cane flavor.
You can add chocolate chips to it if you would like but I wanted just straight candy cane flavor.
Sprinkles are optional but why wouldn't you want sprinkles?
Add this fudge to your last minute to do list.
It's pretty easy and super tasty.
Hopefully your list is not as long as mine.
If it is…what do you have left to do?
P.S. It's a great day to buy my cookbook Holy Sweet!
Want More Fudge Recipes?
Lemon Blueberry Mascarpone Fudge
Spiked Rum Raisin Chocolate Fudge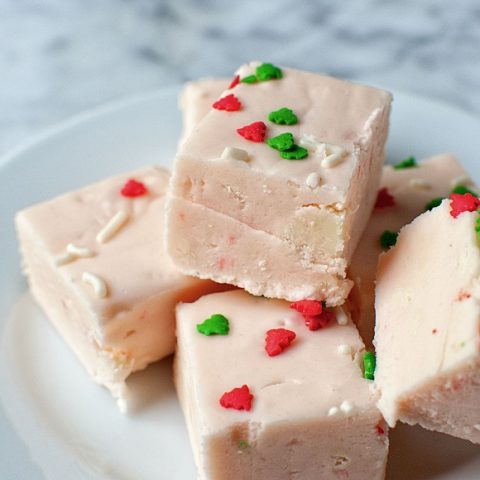 Candy Cane Fudge
Ingredients
2 cups heavy cream
15 mini candy canes
For the Fudge:
2 cups granulated sugar
4 oz. unsalted butter
¾ cup candy cane infused heavy whipping cream
2 cups white chocolate chips
7 ounce jar marshmallow crème
10 mini candy canes, crushed
Festive sprinkles for garnish
Instructions
Candy Cane Infused Cream:
For the infused cream:
Simple add 15 mini candy canes to 2 cups heavy whipping cream and place them in a container with a tight lid.
Place in fridge.
Let sit for at least 24 hours, randomly shaking it to help the candy canes dissolve.
You will have leftovers of this on purpose...it makes for great whipped cream (just whip it in your mixer) for hot chocolate.
Line an 8×8 inch pan with parchment with an overhang so you can lift the fudge out later and coat with baking spray.
Combine sugar, butter, and candy cane infused heavy cream into a large heavy bottomed sauce pan and bring to a boil over medium heat.
Once boiling, attach a candy thermometer and reduce the heat to a hair above medium low and cook for 7-10 minutes until your thermometer reads 234°F (soft ball stage) , stirring constantly.
Once you reach 234F remove from heat and add the white chocolate chips, stirring vigorously with a wooden spoon until the chocolate has melted and the mixture is smooth.
Add the marshmallow creme and mix until well blended.
Fold in the crushed candy cane pieces.
Pour into prepared pan. Throw so sprinkles on top to be festive if you like.
Let cool to room temperature. Then lift out of the pan and onto a cutting board. Cut into whatever amount you want. I got 24.