This Candy Cane Marshmallow Oreo Milk Chocolate Fudge has two layers and is jam packed with Oreos. Perfect for the holidays.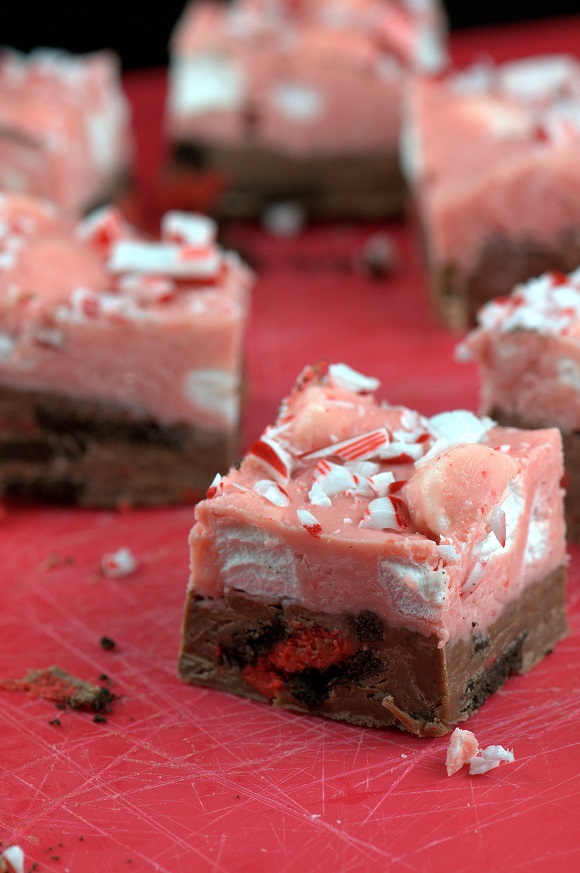 I remember when I was in my 20's and trying to buy my parents gifts for birthdays and Christmas they would say we don't really need anything and what they did need they just bought when the needed it.
I thought they were crazy.
And now I guess I'm at the age where I understand.
I tried to think of a Christmas list this year and can't really.
I mean don't get me wrong I love me a good gift but I really only have three requirements for Christmas every year.
#1 a pair of pj's or pj bottoms that I open on Christmas Eve (my family did this) to wear for Santa.
#2 A Lifesaver Storybook in my stocking.
#3 A surprise in my stocking (aka something I didn't put on a list)…doesn't need to be expensive just a surprise.
And though a gift card to Anthropologie, a new cookbook, fun girly makeup stuff, fun kitchen stuff would all be nice, reality is that I don't need anything.
Reality is I truly do have it all.
Reality is what I want for Christmas is for someone to pay the gas bill this month. 🙂
No. Really.
But that is practical and people seem to hate practical.
MDP and I are actually asking for our wedding just money towards us going on a honeymoon.
We already have everything we need for our home.
Well except towels.
Somehow my husband and I each brought the crappy towels into relationship.
But that is being covered in the bridal shower.
So yeah, we just want to go on a honeymoon that we would otherwise not be going on.
This also seems to bother some people.
They want to give you something.
Give the gift of us having a fun, romantic, and relaxing time.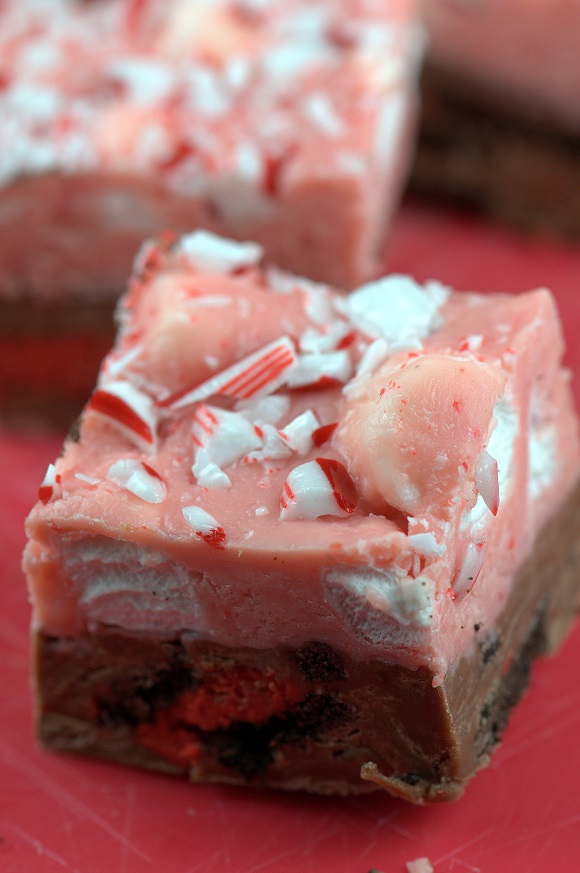 What about you?
Are you at that point yet?
The point where you just kind of have what you need and are good with that?
Though I always seem to find more things I need every time I step in to Target or Costco. 😛
Hope your holiday shopping goes well…I already had a package stolen off my doorstep so the Grinch's are out in full force be warned.
Enough about that…let's talk fudge.
This fudge prompted the question that I get asked a lot…how do you come up with this stuff?
Ummm, just do.
This recipe is adapted from my sister from another mother (our love of funfetti, bacon, bourbon, make up, etc bonds us) Jessica of How Sweet It Is.
Hers is coconut mocha fudge that looks yummy and really is not too much like this but the basic recipe idea was from her.
This Candy Cane Marshmallow Oreo Milk Chocolate Fudge is crazy simple other than having to do it in separate steps to get the two layers.
Because it is two layers, sometimes they like to argue and separate when you cut into them, though I did not have that this time at all!
Yes I added Oreo's, you don't need to…but why not?
Yes, I folded in marshmallows, you don't need to…but why not?
Anyway, make this, especially if you are a candy cane lover.
P.S. It's a great day to buy my cookbook Holy Sweet!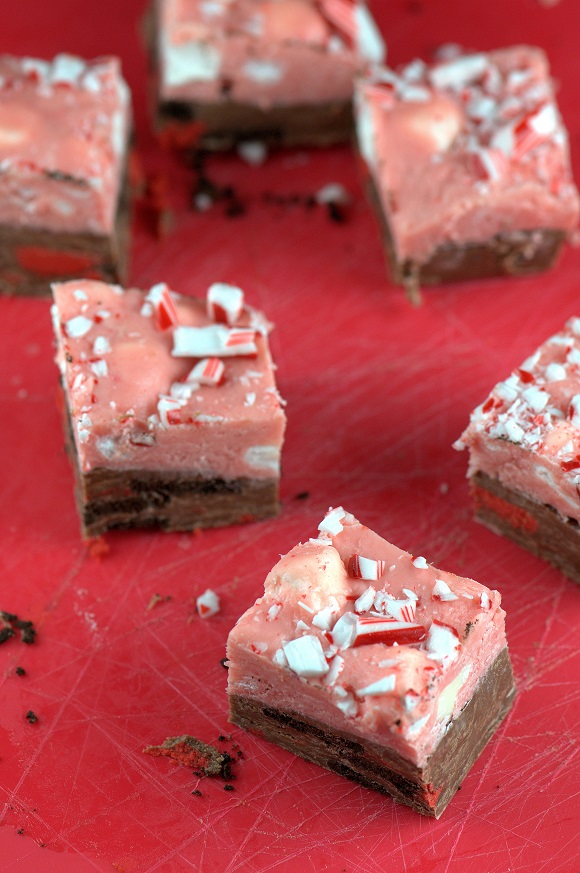 Want More Fudge Recipes?
Lemon Blueberry Mascarpone Fudge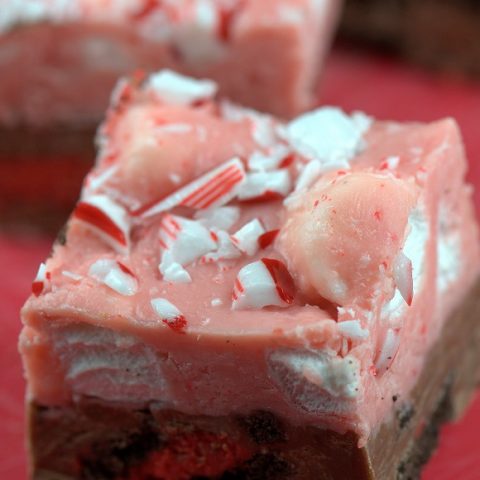 Candy Cane Marshmallow Oreo Milk Chocolate Fudge
Ingredients
12 oz. milk chocolate
8 oz. white chocolate
4 oz. Andes Peppermint Crunch Baking Chips
1 can (15oz) sweetened condensed milk
1 tsp. vanilla extract
1 TBSP unsalted butter, divided
1/2 cup mini marshmallows
1 cup crushed Holiday Oreos (use can use regular...these just have red in them), crushed into pieces
1/3 cup crushed candy cane pieces
Instructions
Spray an 8×8 pan with baking spray...and you may want to line it with foil or parchment for fudge to come out easier.
Add milk chocolate to a double boiler, and melt completely.
One melted, add in half of the sweetened condensed milk, the vanilla, and 1/2 TBSP of butter.
Stir with a spatula until combined and fairly smooth, then fold in Oreo pieces.
Spread evenly in the bottom of the pan.
Mixture will be thick. Place in the freezer for 30 minutes.
Add white chocolate and Andes Peppermint Crunch pieces to a double boiler and melt completely.
Add in remaining condensed milk and butter stirring until combined.
Fold in marshmallows.
Remove fudge from freezer and add white chocolate on top, spreading evenly to coat.
Top with candy cane pieces , then chill in the refrigerator for 60-90 minutes.
When ready to cut, fill a large cup with hot water. Dip a sharp knife into the water, then blot on a towel. Use knife to cut fudge into your desired size of squares.