This Honey Pear Ginger Bread Pudding is made with butter flake rolls, honey, fresh pears, warm ginger spice and topped with a honey caramel sauce.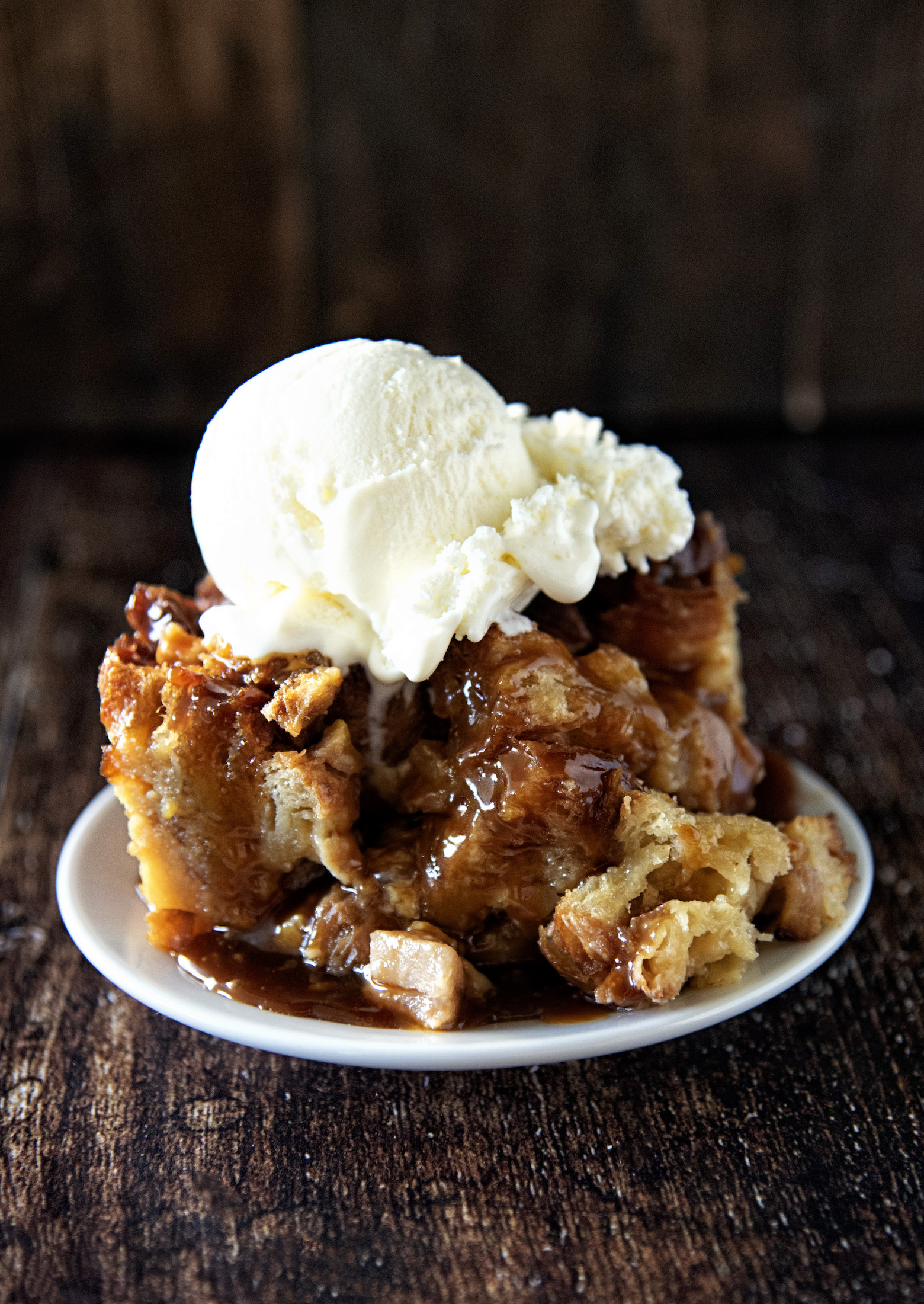 First off I want to say a big heartfelt thank you to all of you who have said encouraging things about me publishing my first cookbook.
It's funny because literally days before I said yes to doing a cookbook I was on the Red Star Yeast trip.
And cookbooks got brought up.
In which I claimed that I had no desire to write a cookbook.
Which at the time was the truth based on all the interactions I had had with publishers.
I'm sure those bloggers probably saw the news on Instagram and thought sure she didn't want a cookbook. 🙂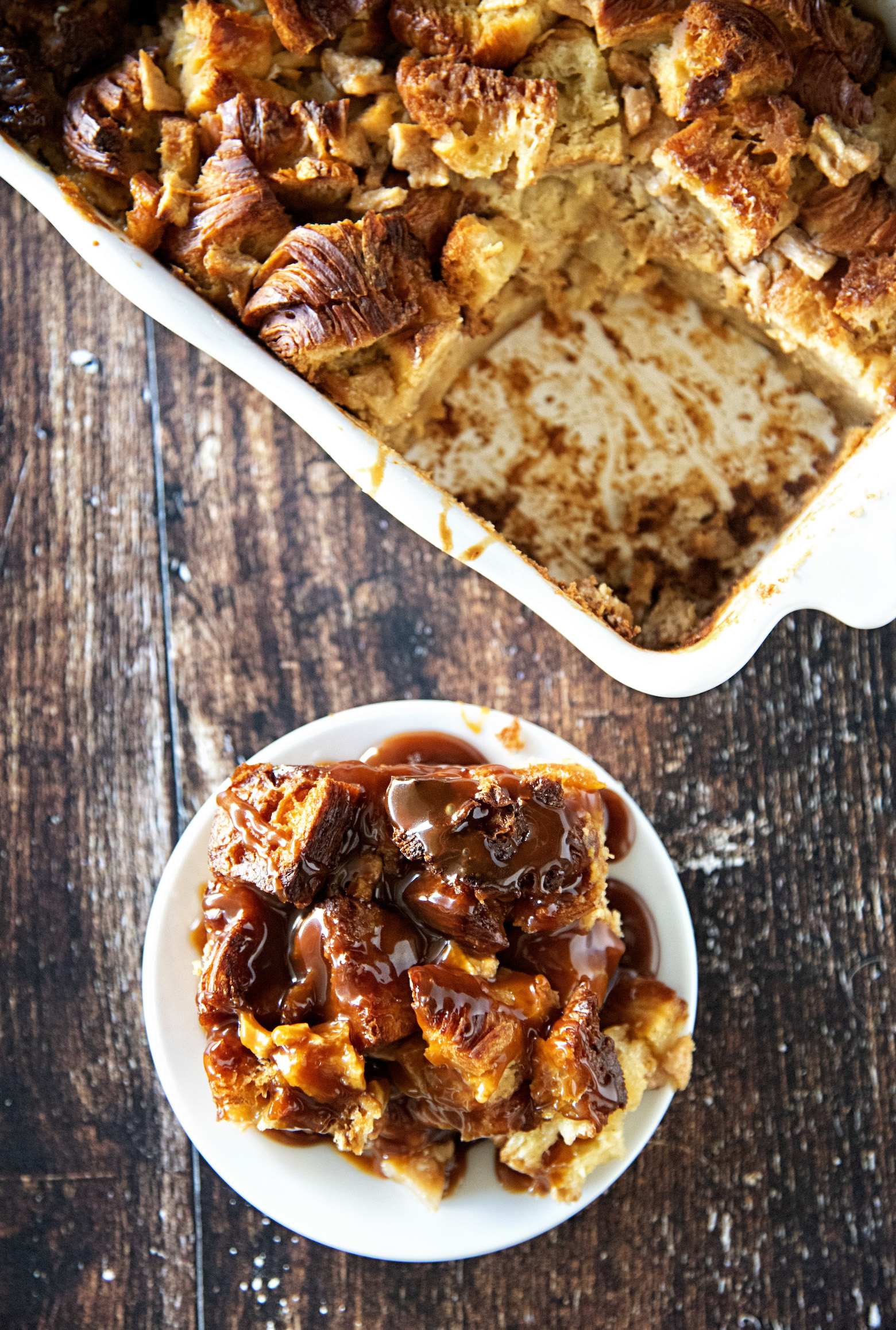 Like I said in the previous post it is desserts.
It is not a single subject book.
This may shock you but it doesn't have traditional chapters. 🙂
There is no cakes, cookies, brownies, cupcakes sections kind of things.
I mean those type of desserts are in the book…they are just categorized a little different.
You know I wouldn't have it any other way. 😛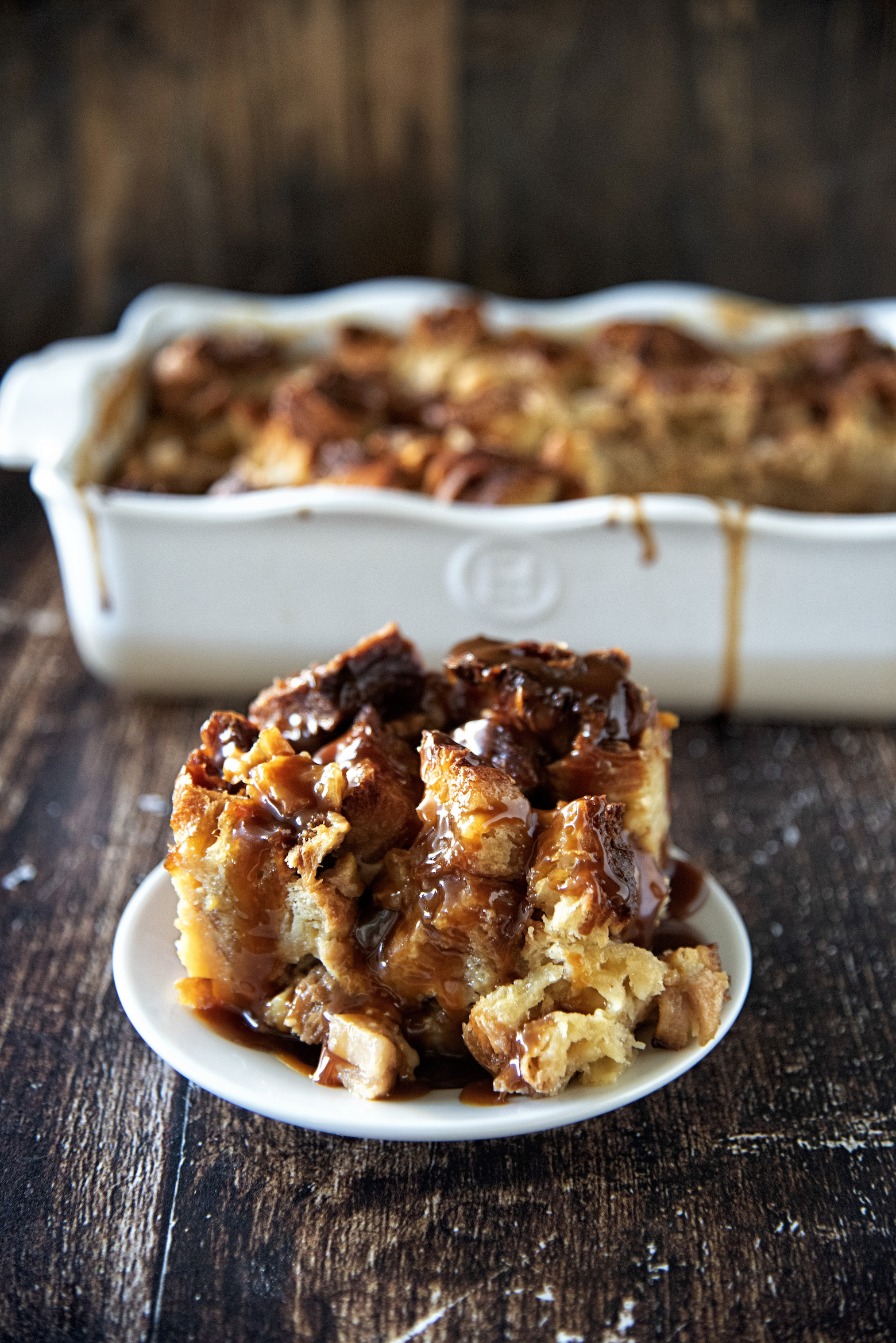 Are there some bread pudding recipes in the book?
But of course.
It's one of my most favorite desserts.
And the one I serve most at holiday meals.
In food blogging you make so many things ahead of time that by the time the actual holiday rolls around you aren't all the interested in having say pumpkin pie.
Or pumpkin anything.
Though really I will eat pumpkin pie basically anytime of year.
So this year for American Thanksgiving we had this Honey Pear Ginger Bread Pudding instead of the more traditional pies.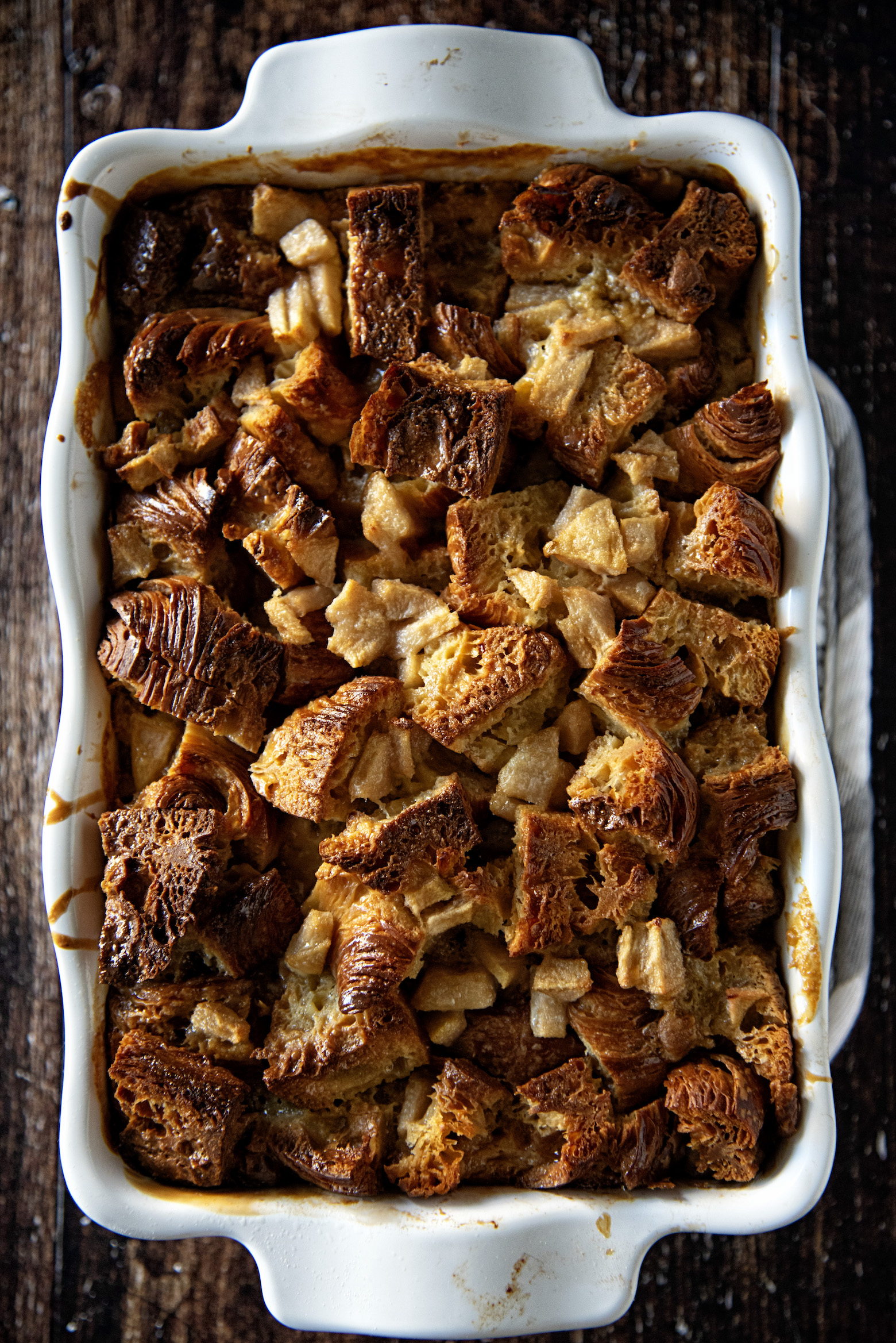 Pears are wildly overlooked in my opinion.
We focus so much on apples in the fall that the pear gets pushed to the side.
I love using them in salad, this one from How Sweet Eats looks amazing.
And of course they are great in desserts as well.
These Spiced Pear Breakfast Pastries look yummy.
They go very nicely in bread pudding.
I used butter flake rolls which are basically croissants but in a different shape.
They give a nice extra buttery taste to the already decadent bread pudding.
There is a touch of honey and ginger in the bread pudding and the caramel sauce is honey based.
If you are looking for a change of pace for your holiday meal…or a Tuesday night then this bread pudding if for you.
And as always it's a great day to order my cookbook.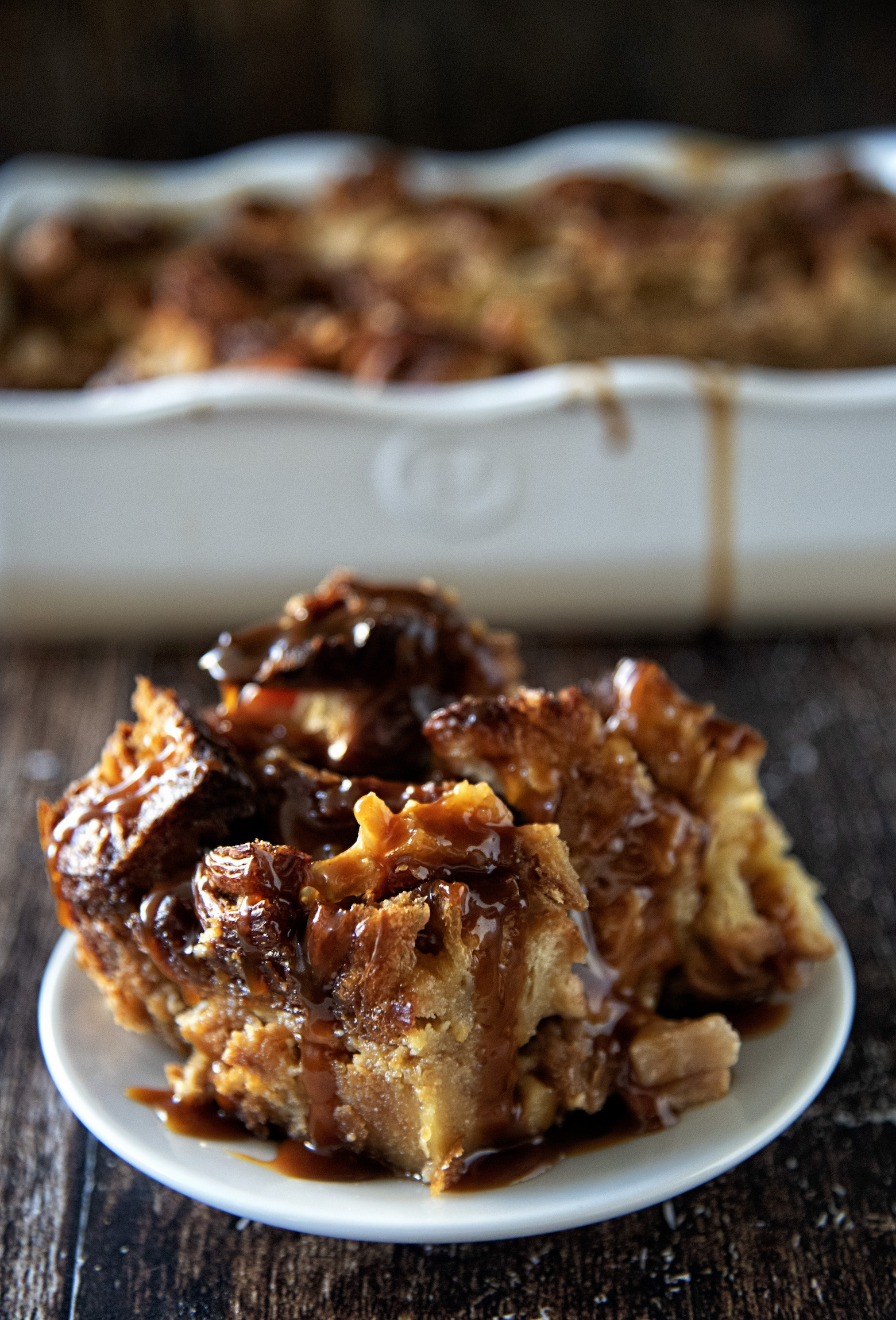 Want More Bread Pudding Recipes?
Molasses Spice Orange Bread Pudding
Pumpkin Cinnamon Roll Bread Pudding
Apple Cider Donut Bread Pudding
Sticky Toffee Pudding Bread Pudding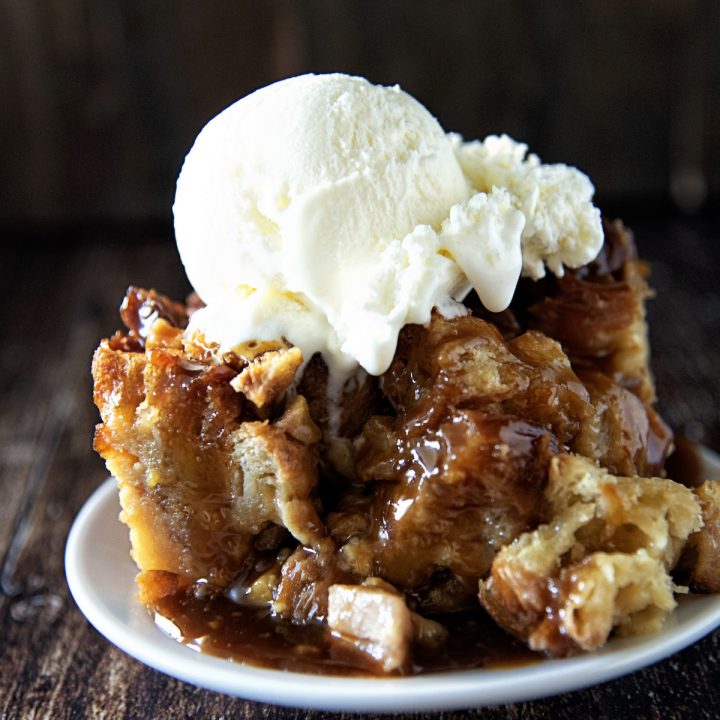 Honey Pear Ginger Bread Pudding
Ingredients
For the Bread Pudding:
12 large croissants or 16 butter flake rolls, preferably stale
3 cups heavy whipping cream
6 egg yolks
¾ cup granulated sugar
4 TBSP honey
1 tsp. nutmeg
2 tsp. ground ginger
1/8 tsp. salt
1 1/2 cups pears, peeled and diced (I used Bosc)
Honey Caramel Sauce:
1/2 cup honey
1 cup brown sugar, packed
1 cup heavy cream
4 TBSP unsalted butter
1/2 tsp salt
1 tsp. vanilla extract
Instructions
For the Bread Pudding:
Preheat oven to 350F.
For the bread pudding:
In a large bowl mix together the egg yolks, honey, sugar, ginger and nutmeg.
Then whisk in the heavy cream and salt and whisk until fully incorporated.
Tear or cut croissants into pieces and place half of the croissants into a 9-x-9-inch or 9-x-13-inch baking dish that has been sprayed with baking spray or lightly coated in butter.
Pour half the custard over the bread pieces in the pan.
Sprinkle half of the pears on top of the custard soaked
Press down the bread pieces with your hands until the bread is soaked with the custard.
Add the remaining croissant bread pieces and diced pears.
While you now have half the custard mixture left, the bread pudding may not require all of it. How much custard to use next will depend on how stale your croissants are. If they are super stale they will take all the custard. If they are soft they will most likely need less.
Place pan into a larger pan that will hold a water bath. Fill the larger pan with water until you reach the 1/2 way mark of the smaller pan. You do not have to bake this in a water bath however it is recommended to provide a constant, steady heat source and ensures even, slow cooking.
Bake the bread pudding for 45-55 minutes until golden on top. If baking in the 9-x-13 the bake time will be quicker due to the pan being more shallow.
Cool for 10 minutes and serve warm.
For the Honey Caramel Sauce:
Mix the honey, brown sugar, heavy cream, butter, and salt in a saucepan over medium-low heat.
Cook while whisking gently for 5 to 7 minutes until it gets thicker. Add the vanilla and cook another minute to thicken more.
Turn off the heat, cool slightly.
Drizzle over bread pudding.