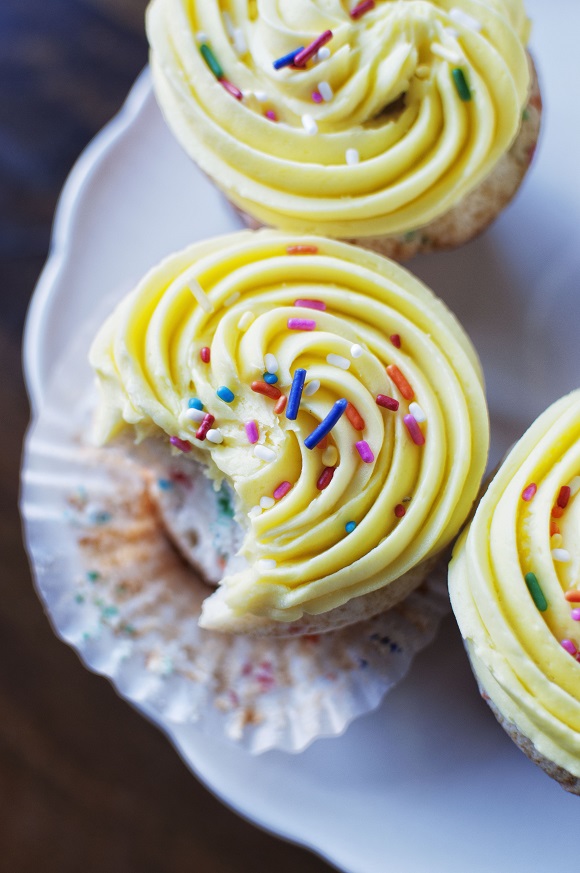 Going away this last weekend meant having to miss MDP's birthday last Saturday. Which I felt bad about but it was fully acknowledged before I left and the hockey team made sure that the day before and day after his birthday that he was having fun. His actual birthday was rather on the boring grown up adult kind of birthday side. Running errands and feeding his teens and former step son sloppy Joes and a store bought cake (which he didn't even eat it was for the kids) while sitting around watching TV…riveting. 🙂 Ah getting old.
So I still owed him birthday cake…in this case cupcakes (I needed portable to take to the hockey team). Both MDP and I prefer almost any flavor of cake over chocolate and he really enjoys citrus flavors. I had some Rodelle Lemon Extract that I hadn't ever tried. I smelled it and it smelled like real lemon (not how lemon extract normally smells to me). I combined that with lemon zest and it was just enough to scent the cupcakes nicely. The sprinkles were added because why not. 🙂
So happy birthday to my sweet MDP. Your last birthday as a single man. 😀 Speaking of that I am such a nerd. I feel like I am in high school but I have been practicing signing my new name. I mean I've had the same last name for 10 years now it's definitely going to take some getting used to….especially because it is way longer than my name now. So yeah, picture a note book with me signing my name over and over and some obnoxious little hearts by it.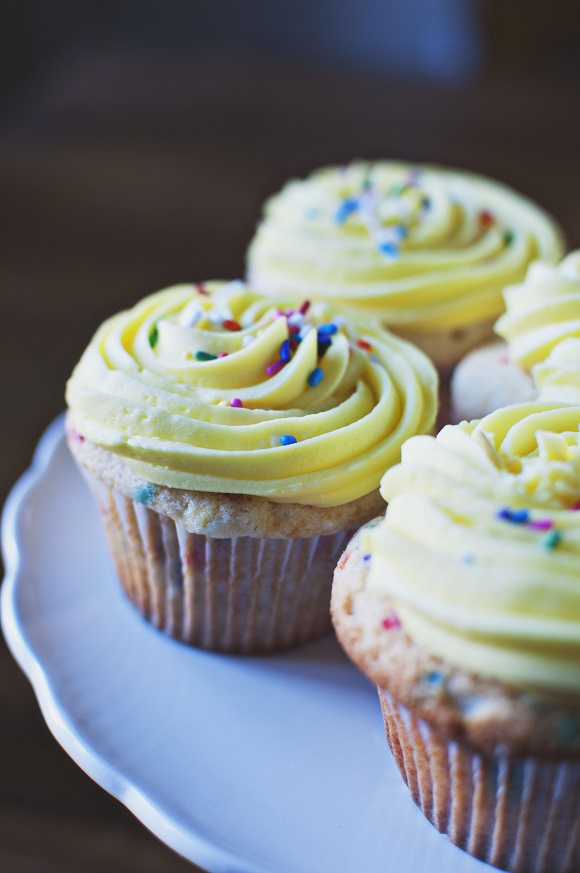 Ingredients
For the cake:
3/4 cup unsalted butter, at room temperature (I used Plugra)
1 ¾ cup granulated sugar
Zest of a lemon
1 tsp. lemon extract (I used Rodelle because they use lemon oil in theirs)
5 egg whites, room temperature
¾ cup whole milk
2 ½ cup all-purpose flour
1 TBSP baking powder
3 TBSP powdered buttermilk
1/2 tsp. salt
½ cup sprinkles (optional but why wouldn't you!)
For the frosting:
1 cup unsalted butter, at room temperature (I used Plugra)
3-4 cups powdered sugar
1 tsp. lemon extract (again I used Rodelle)
Milk to thin
Instructions
For the cake:
Preheat oven to 350F.
Add the sugar and lemon zest into a small bowl. Using your hands rub the lemon zest into the sugar, this will release the lemon oils into the sugar. Then sift the lemon zest out of the sugar.
Using a stand mixer with a paddle attachment cream together the sugar and butter until light and fluffy, about 3 minutes.
Scrape down the bottom and sides of the bowl.
Add egg whites and mix on medium speed for 3 minutes.
Add the lemon extract.
Add 1 cup of flour, baking powder, powdered buttermilk, and salt and mix on low.
Add the milk and mix until combined.
Add the remaining flour and mix until incorporated.
Add the sprinkles and mix until they are evenly distributed.
Using an ice cream scoop, scoop cupcake batter into liners. You will get 16 cupcakes.
Bake for 18-22 minutes depending on your oven. Mine is evil and likes to work randomly so my times vary greatly.
Remove from oven and cool on a wire rack.
While cupcakes are cooling, prepare frosting.
For the frosting:
Clean out the mixer bowl and add butter. Mix on medium high speed with the paddle attachment to get the butter soft.
Add lemon extract and beat for 30 seconds.
Add powdered sugar one cup at a time. Depending on the consistency you want.
You can add food coloring if desired.
Frost cupcakes. Add more sprinkles if you like.
https://www.sweetrecipeas.com/2014/02/07/lemon-sprinkles-cupcakes/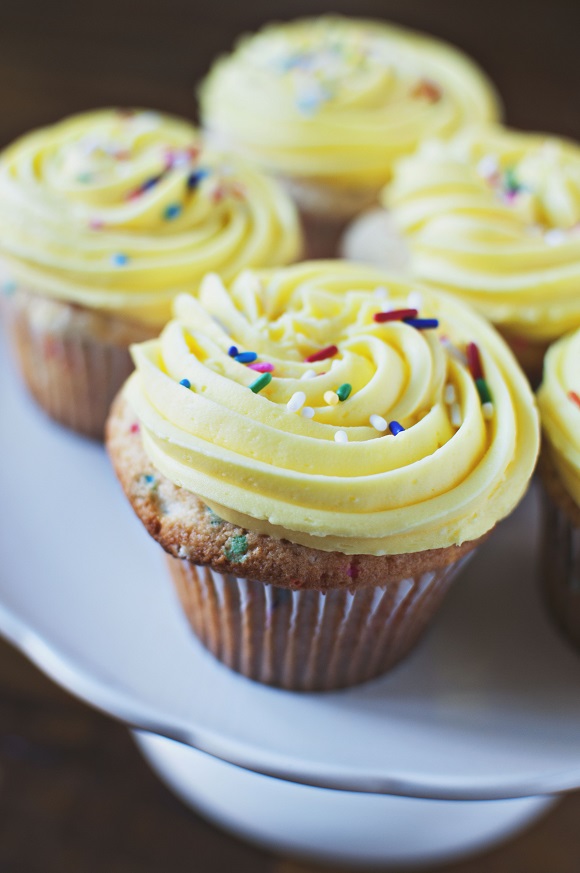 Disclaimer: I am part of the Plugra Butter Brigade and am compensated for this post. However the opinions and words are my own. As is my true love for this butter!