This Tomatillo Beurre Blanc Chicken is dry rubbed and served on peppers with goat cheese, pine nuts, and tomatillo beurre blanc sauce.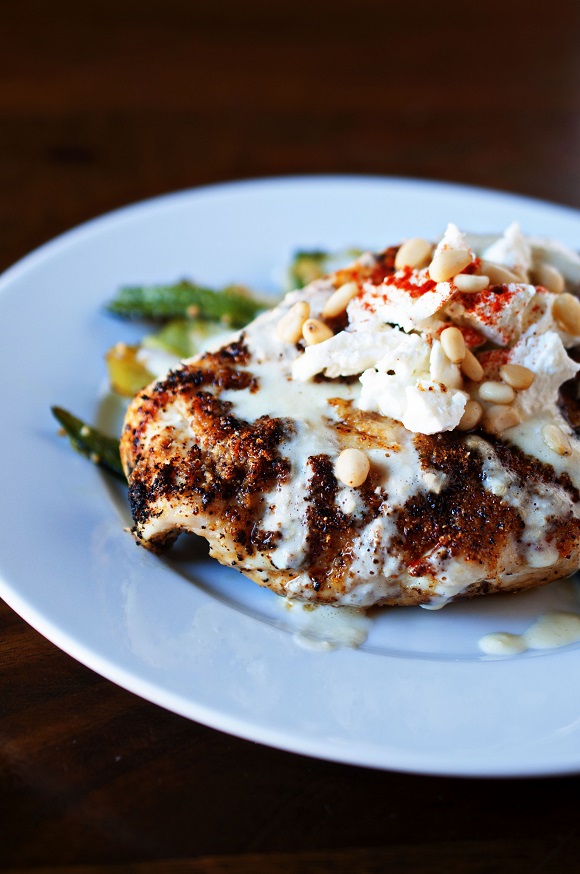 When I first started cooking for my husband he made it well known that he was not interested in chicken.
He said he was chickened to death by frozen overcooked chicken for quite some time and was over it.
So over it.
When I started to cook for my step-kids they said the same thing, we prefer almost anything to chicken.
I was fascinated by this as I grew up eating chicken in a weekly rotation of meals my mom prepared.
In fact, I can't think of a week growing up that we didn't have chicken.
So I decided that I would serve them chicken anyway, but fresh.
Fresh is what I grew up with.
And it's how I prefer my chicken and fresh is how I got my family to eat chicken again.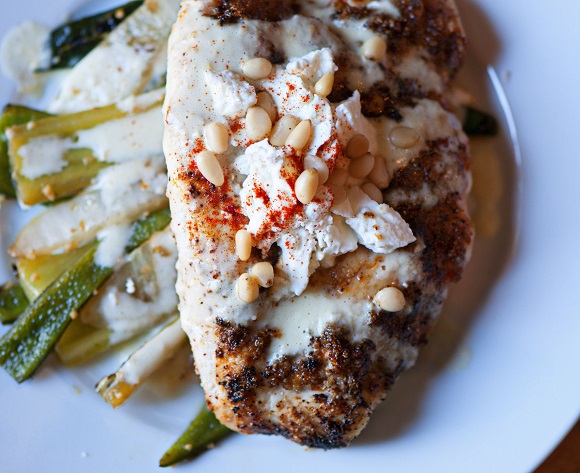 Lately, my step-kids have been exploring the world of spice more and more.
My step-son has been adding red pepper flakes (a lot of them) to his pizza and so I thought about exploring adding a little heat to our meals.
This Tomatillo Beurre Blanc Chicken recipe is a favorite for my husband and so we are adding it to our family mealtime rotation.
If your kids aren't quite ready for the added heat, simply skip adding the peppers to the bottom of the chicken.
Though know that the two peppers used are Poblano and Anaheim, both which are low on the Scoville scale (used to rate heat of peppers) and tomatillos are mild in flavor and so the sauce itself is tame.
Plus the beurre blanc sauce is not spicy.
And the goat cheese has a cooling effect as well.
Don't skip the pine nuts as they really do add to the dish.
P.S. It's a great day to buy my cookbook Holy Sweet!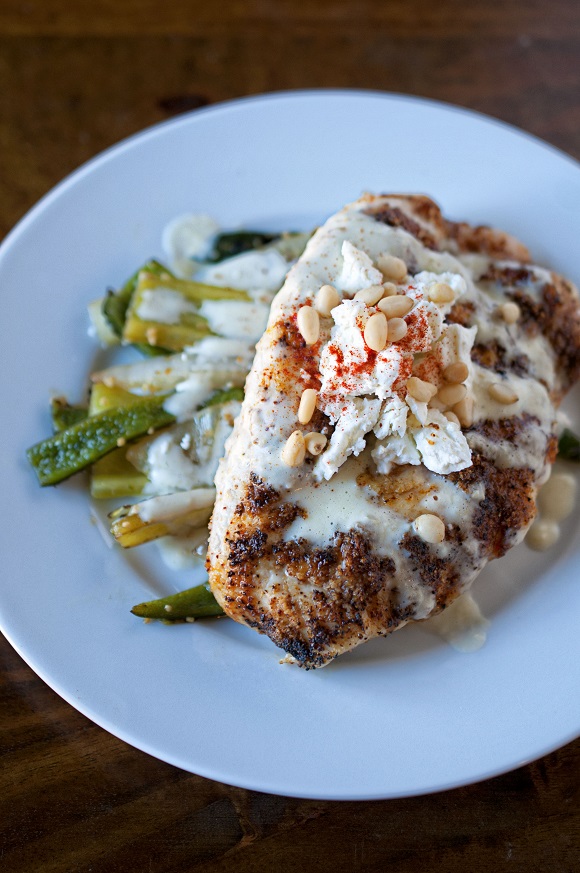 Want More Dinner Ideas?
Grilled Cheese Tomato Soup Casserole
Vegetable Biscuit Pot Pie Cobbler
Easy Baked Spaghetti Casserole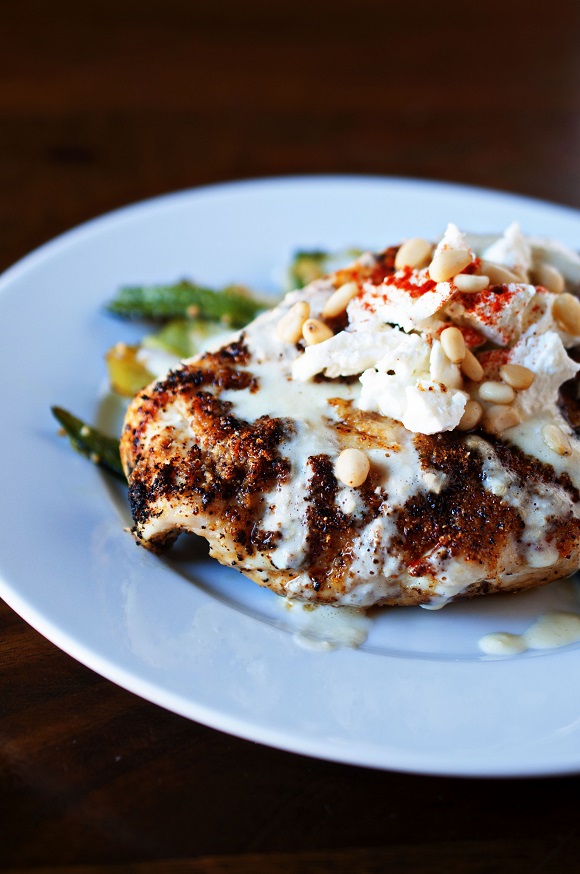 Tomatillo Beurre Blanc Chicken 
Ingredients
4 Chicken Boneless Skinless Chicken Breasts
2 Poblano peppers, roasted and cleaned
1 Anaheim pepper, roasted and cleaned
1 tsp. minced garlic
½ sweet onion, sliced
1 TBSP olive oil
4 TBSP goat cheese, divided
Pine nuts-garnish
Dry Rub:
1 TBSP cumin
1 TBSP granulated garlic
1 TBSP red chile powder (you can omit this if you don't want the heat)
Salt and pepper
Tomatillo Beurre Blanc:
1 pound tomatillos
1 TBSP olive oil
2 cups heavy cream
1 sprig fresh thyme
2 large shallots, diced
1 TBSP minced garlic
1 ½ cups white wine
3 TBSP unsalted butter
Salt and pepper to taste
Instructions
Using a meat mallet (or with a rolling pin), pound the chicken breast so that they will cook more evenly. In a small bowl add the ingredients for the dry rub.
Rub the dry rub onto the chicken.
Preheat oven to 375F.
Heat the olive oil in a sauté pan and sear the chicken breast on each side.
Place into oven for 30-35 minutes.
You will want to make sure there is no pink and thermometer reads 165F.
While chicken is in oven, prepare the sauce.
Peel the husk and clean the tomatillos.
Cut them into quarters.
In a large heavy bottomed pot add oil, shallots, thyme, and garlic and cook over medium high heat until shallots start to sweat.
Add tomatillos and the wine.
Reduce the wine until it is almost gone and the tomatillos should be very soft.
Remove the thyme sprig.
Add the heavy cream and reduce by ¼.
In batches carefully place sauce into the blender.
If you have an immersion blender then you can do it right in the pot.
Place the blended sauce back into the pot and bring back up to warm.
Add salt and pepper to your liking.
Turn off the heat and add the butter, 1 TBSP at a time, whisking the whole time.
To make the peppers:
Cut the peppers into long strips.
In a large sauce pan, sauté the garlic, peppers, and onions until onions become translucent in color.
Add salt and pepper to taste.
To plate the chicken:
Divide the onion-pepper mixture among four plates.
Place a chicken breast on top of each onion-pepper mixture.
Drizzle sauce over top of chicken.
Top with crumbled goat cheese and pine nuts.