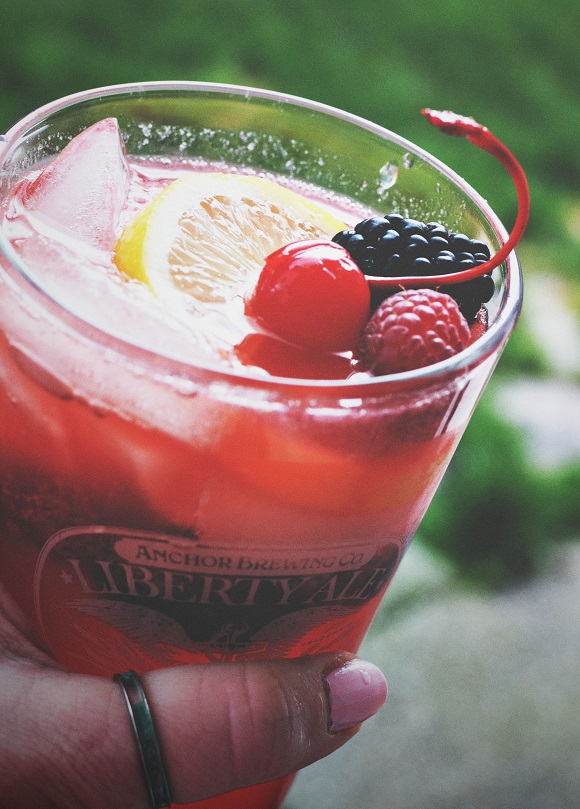 So other than playing find the Waffle House (seriously they are EVERYWHERE) the other game I played while in the Nashville area was spot the two chairs on the front porch. They are everywhere. Everywhere. If it's not two chairs it's a porch swing…for two. I am quite sure that when you go to sign your final papers to get a mortgage for your house you have to prove that you own two chairs. Same goes for if you rent. "Everything looks good, just bring by the chairs that will be on the front porch and we will give you the keys". 😛
I assumed you have those two chairs on the porch so you can sit out and greet people while downing a few cocktails. My favorite of the cocktails is good ol' Lynchburg Lemonade. I first had it at my brother's wedding years ago where it was held in an oh so romantic plastic large 15 gallon trash can in the back. I was old enough to drink in Canada so I had some and learned how dangerous it is. Dangerous because it goes down easy but packs quite a punch.
I imagine an afternoon of sitting on your required two chairs on the front porch throwing back Lynchburg Lemonades and then getting up to stand to quickly…and then falling. But at least you are at home.
It's hard to find black raspberries but if you can you can use all black raspberries instead of the combo of the two berries. They syrup by the way is excellent over vanilla ice cream if you get tired of drinking. It's a perfect and dangerous spring/summer (oh heck who are we kidding autumn and winter too) drink!
Also congrats to Vicki Tunell…she is the winner of the Loveless Cafe Dessert Cookbook. Vicki please contact me so I can get that out to you. Don't worry next post there is another cookbook giveaway!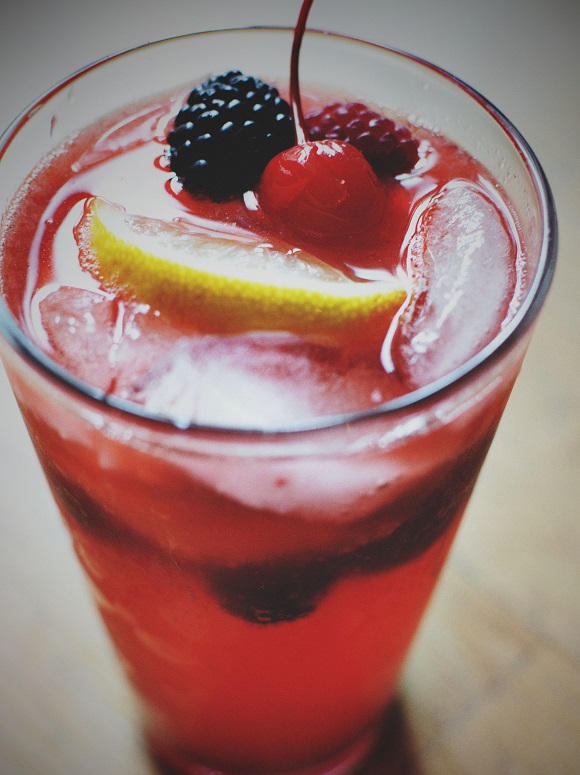 Black Raspberry Lynchburg Lemonade
Ingredients
1 part Jack Daniel's
1 part Triple Sec
Juice of one large lemon
Juice of one large lime
4 parts lemon-lime soda
Blackberries, raspberries, lemon slice, and maraschino cherry for garnish
1 part Black-Raspberry Whiskey Syrup (recipe follows)
3 oz. raspberries
3 oz. blackberries
1/3 cup granulated sugar
1/3 cup Jack Daniel's Whiskey
Instructions
To make the syrup:
In a small saucepan add the berries and sugar. Cook over medium heat while smashing the berries a little to get their juices going.
When fruit starts to release its juices let it cook down for about 3 minutes.
Add the whiskey and continue to cook for about 3-5 minutes.
Strain the syrup, pushing down on the fruit to make sure you get everything out of them.
Add the syrup back to the saucepan and let reduce until it become thicker.
Let cool completely before adding to drink.
To make the drink:
Mix all whiskey, triple sec, lemon and lime juice, soda, and syrup together.
Pour into an ice filled glass.
Add berries, lemon slice, and a maraschino cherry for garnish.
https://www.sweetrecipeas.com/2014/03/11/black-raspberry-lynchburg-lemonade/