These Maple Chocolate Butterscotch Chip Blondies are a simple maple blondie filled with chocolate chips and butterscotch chips.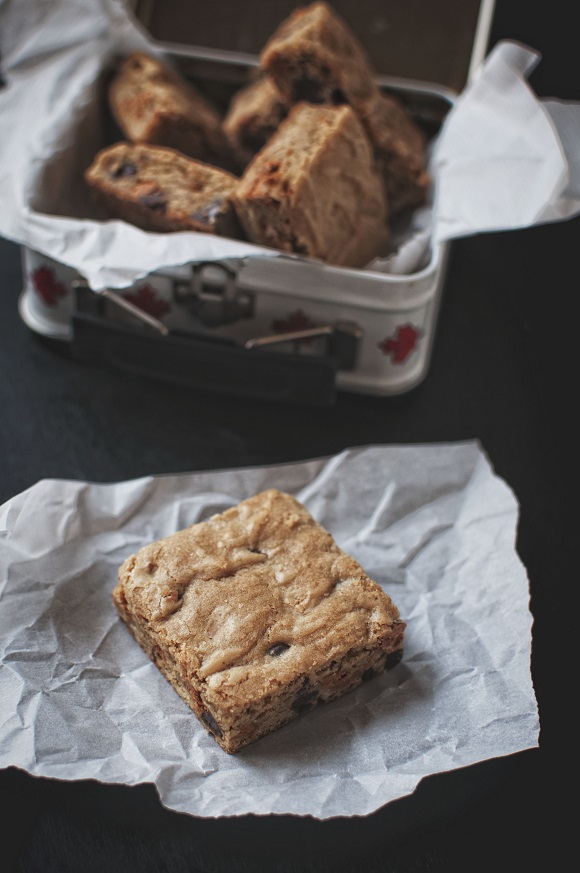 At 4am my time this morning Canada played Sweden for the Gold medal.
Canada won that gold medal.
Canada also won the gold medal in Women's Hockey as well…and that was a far more interesting game actually.
I've said it before and I'll say it again, winning the gold in hockey is what Canada cares the most about.
While proud of all the athletes in all the sports…hockey is truly what we worry about.
If you have never been or lived in Canada there is no way of conveying the importance of hockey to that nation.
Riding the public bus and looking over and seeing a goalie half-dressed out on his way to his game.
Getting your mini Zamboni in your happy meal.
It's skating in your backyard that you dad or uncle or cousin threw together so you can skate on it.
People gathered in churches, bars, community centers, you name it to watch the games.
No matter what time of day.
People just don't do that here in the states.
Which is why it won't matter in two weeks to the majority of the US that their team took home the silver and not the gold.
It will matter to Canada for the next 4 years.
I couldn't talk Canadian Olympic Hockey without making something with maple.
Enter these Maple Chocolate Butterscotch Chip Blondies.
Pretty simple but yummy all the same.
They are a maple blondie.
That I added chocolate chips and butterscotch chips to.
Because I had half a bag of each. 🙂
That's literally how we roll around here.
Be sure to use Grade B maple syrup…it has better flavor plus bonus it is cheaper than Grade A.
Have a good week, eh?
Last but not least…it's a great time to buy my cookbook.

Want More Blondie Recipes?
Fruity Pebbles Salted Caramel Blondies
Crumb Topped Cake Batter Blondies
Dried Cherry-Chocolate-Cashew Blondies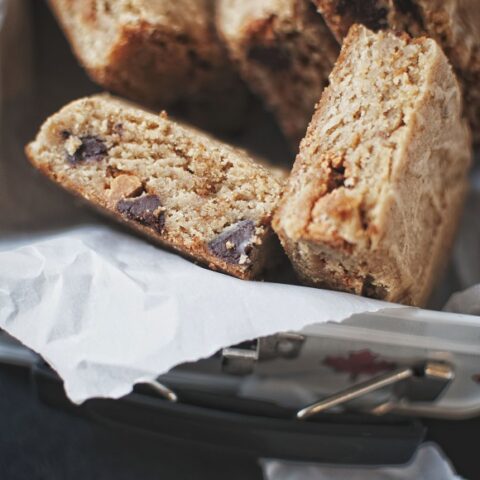 Maple Chocolate Butterscotch Chip Blondies
Ingredients
2⅓ cups all-purpose flour
1½ tsp. baking powder
¾ tsp. salt
14 TBSP unsalted butter, at room temperature
1 ¼ cups firmly packed dark brown sugar
½ cup maple syrup, Grade B
2 large eggs, room temperature
1 tsp. pure vanilla extract
¾ cup semisweet chocolate chips
¾ cup butterscotch chips
Instructions
Preheat your oven to 350 degrees F.
Spray a 9-x-13-inch baking pan with baking spray.
In a medium bowl, whisk together the flour, baking powder, and salt. Set aside.
Using a stand mixer fitted with the paddle attachment, beat the butter and brown sugar on medium speed until completely combined.
Add maple syrup and beat for another 30 seconds.
Scrape down the sides of the bowl and add in the eggs, one at a time, until combined.
Scrape down after each egg addition.
Add the vanilla extract and beat for another 30 seconds.
Add the flour mixture in three stages while the mixer is on low. When all the dry ingredients are in, fold in the chocolate and butterscotch chips.
Bake for 30-40 minutes, until a toothpick inserted into the center comes out clean.
Place the pan on a wire cooling rack, so that air can circulate underneath it, and allow to cool for at least 20-25 minutes before serving, or allow to cool completely and cut into squares.
Cover tightly with plastic wrap or place in an airtight container and keep at room temperature for up to 3 days.