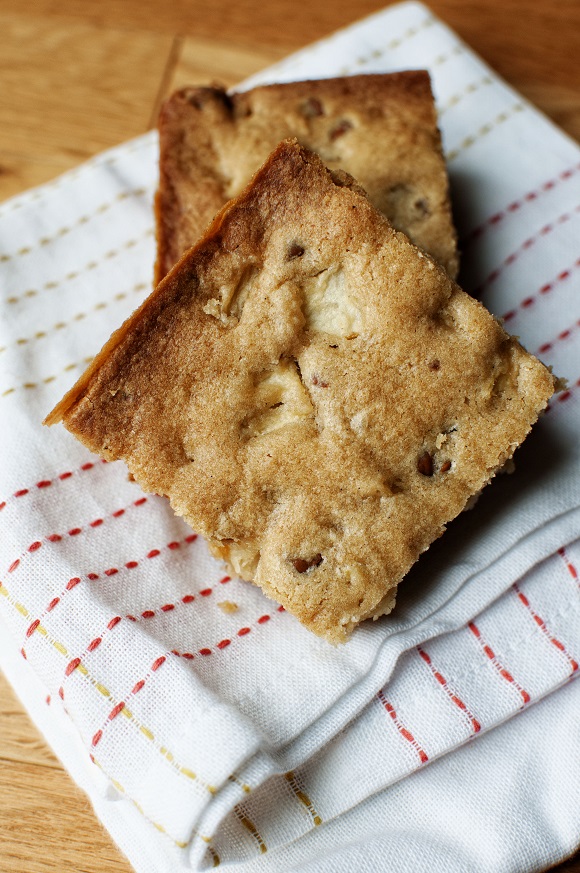 You know how you had a crush in high school and everyone tells you that it's best just to have the idea of how the relationship would have been because the actual one would never live up to what you had in your head? If, not play along and pretend will you? This is what I wondered about Jessica (How Sweet It Is).
I have often commented when I come back from a blogger conference or meeting a reader in person that my favorite compliment that I get often is that I am the same in person as I am on my blog. I learned early on that this is not the case. Mostly because Introverts on the Internet can be way more outgoing when a live person is not in front of them :D. I also think it's because I write how I talk…random and all over the place with no regard for grammar (lucky you). Jessica is the same way. She writes how she talks.
I wasn't feeling my best yesterday (naturally because I had something I wanted to do) so I gave MDP the sad puppy dog eyes and asked if he would come along (aka drive the hour round trip) as meeting Jessica was super important to me. He was apprehensive since he had never been to book signing or anything like it and well, he didn't want to be the only guy. But I told him hey you read her cookbook (aka skimmed for recipes) and liked her food so give it a shot. I also said she's kind of like me so you will probably be amused. I also promised to buy him a sandwich from Paseos (which is across from it) which sealed the deal as those sandwiches just sooo good.
We get to Book Larder (if you live in Seattle and have never been…go) and immediately were given an appetizer from her book, Spiced Autumn Crostini so right off the bat he was happy because well… yummy food. We arrived early (luckily as parking in Seattle is less than awesome) and so we sat there playing what cookbooks do we own as we drooled over the lovely collection they have.
She came out from the back and started talking. She looked exactly like she does on her blog (which thanks to Instagram filters is not always the case)…which for the record is adorable (and her hair…oh I love her hair). Seriously too cute and of course is one of those pregnant women that was just glowing. Then she started talking. I realize I was probably correct that she is indeed my way younger fraternal twin. And it was confirmed when after about 5 minutes of talking, MDP looked at me and said "she's you". I said no she's Jessica but yes we are similar. To which later on he joked that I should be more successful then I am since her blog is and we are alike. I told him she's better at it than me…way better. 😛
I waited in line semi patiently. I brought her some Apple Cider Cinnamon Chip Caramels and some Cake Batter Cracker Toffee (since I found her blog from a cake batter recipe). I brought a pink pen for her to sign my book. She got excited and hugged me super-duper tight and made me feel like she did indeed really want to meet me. As you can see in the first photo we were squeezing each other pretty tightly. Also I left all filters off the first one to show people this is us in real life since we both like to be authentic as possible. The second one we filtered and made MDP take on his tippy toes. 🙂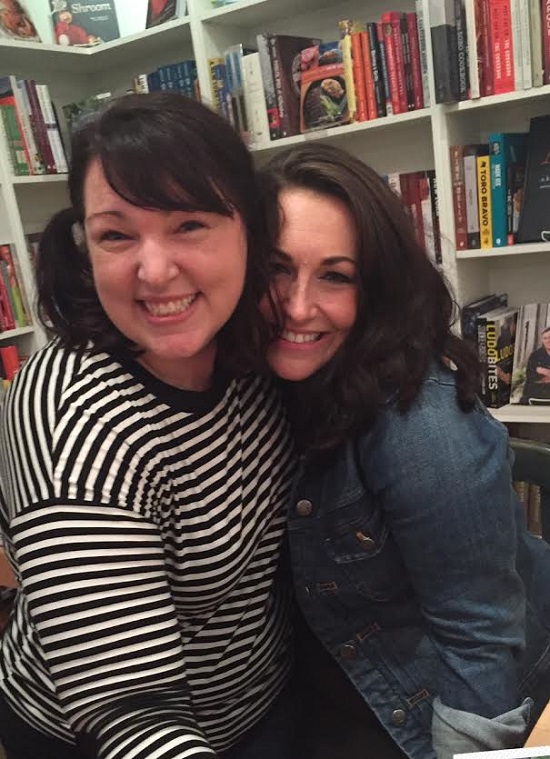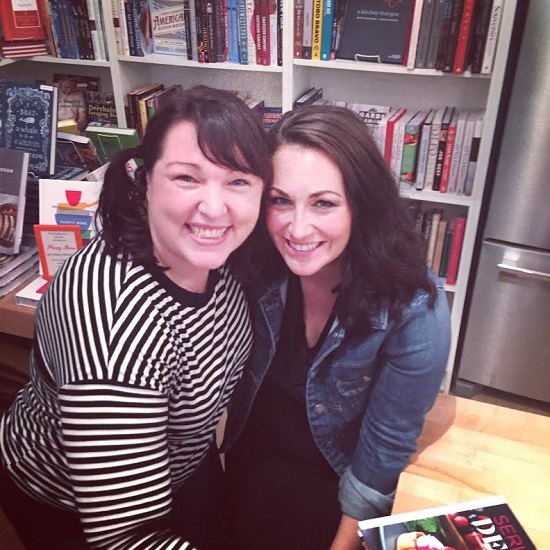 I should probably talk about these Apple Cinnamon Chip Blondies. I know you are saying to yourself…more cinnamon chips? Actually same bag since the caramels only used a few TBSP of them. That and they are good. These are simple. These are yummy. These are fall. The hockey team loved them. Oh and speaking of the caramels Jessica had this to say about them when she wrote this morning "omg my mom and I just ate the caramels. OMG OMG OMG" so see…you should make them.
One last reminder today is the LAST day to get a copy of Seriously Delish so go here to enter if you haven't already!!!!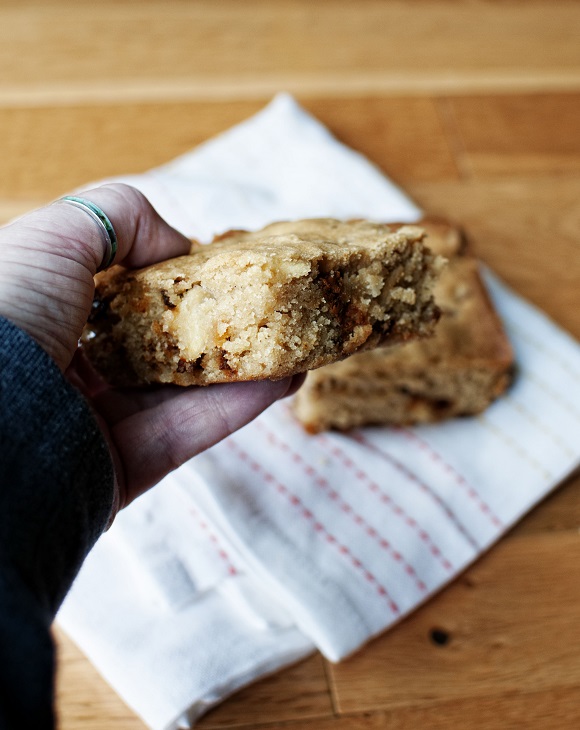 Apple Cinnamon Chip Blondies
12 oz. unsalted butter (I used Plugra), at room temperature
2 ¾ cups brown sugar (I used Imperial), packed
3 large eggs
1 tsp. vanilla extract (I used Rodelle)
3 ½ cups all-purpose flour
1 tsp. salt
2 tsp. baking powder
2 honey crisp apples, peeled, and diced
1 cup cinnamon chips
Preheat oven to 350F. Spray a 9×13-inch baking pan with baking spray.
Using a stand mixer with the paddle attachment, beat together the butter and brown sugar, until light and fluffy, about 3 minutes.
Add the eggs one at a time and scrape down the bowl and sides after each addition.
Add the vanilla and beat another 30 seconds.
Add the flour, baking powder, and salt and mix on low speed and mix until fully combined.
Add the apples and cinnamon chips and mix until just incorporated…or you can fold them in…your choice.
Scrape the batter into the prepared pan and spread evenly (as best you can).
Bake for 25 minutes at 350F. Then lower the oven to 325F and bake for another 15-18 minutes or until a toothpick or knife inserted comes out clean.
Cool on a wire rack for at least 15 minutes.
If you haven't guessed these are like the best with vanilla ice cream.