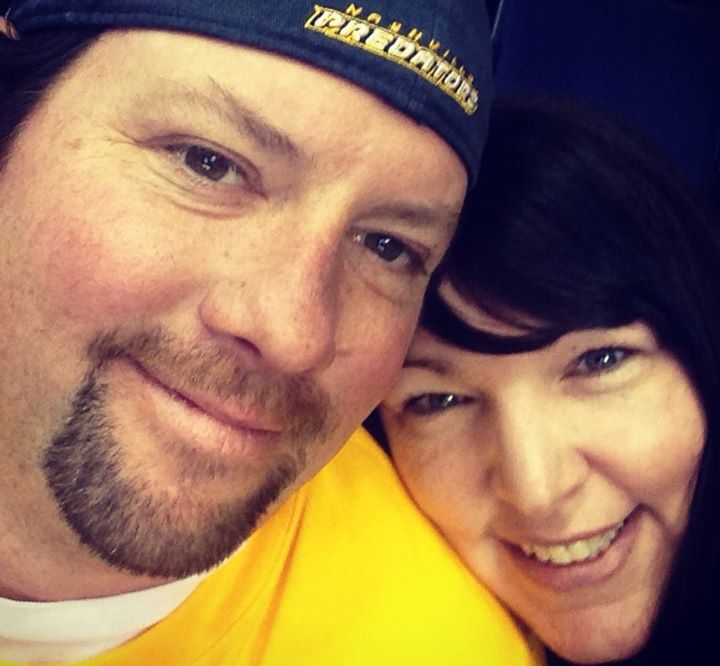 I've never been much of a traditionalist so when the opportunity to go on our honeymoon (before saying I do) came along we decided what the heck and went for it. I obnoxiously called it the Honey Bunny Moon instead. MDP and I wanted to go to an NHL city that we had never been to before…we chose Nashville (because it's way cheap in the winter…and so is their hockey team).
To say I love Nashville is putting it mildly, though the south is definitely different. Within an hour of being there I had heard "y'all" about 30 times, watched people pray in the restaurant (so much so I grabbed MDP's hand and bowed my head real quick so as not to stick out), and of course there really is country western music everywhere…heck even when the Nashville Predators score Tim McGraw comes onto the screen and the whole stadium sings "I like it, I love it, I want some more of it" along with him. It's kind of cool.
Things I learned while in Nashville (or at least my interpretations of):
I don't wear enough make up to live in Nashville. All women of every size, shape, age, and color wore make up…most of them wearing what I all evening make up during the day. I'm sure they kept thinking to themselves this woman is screaming make over.
While WA tends to be beer and wine drinkers…cocktails are where it is at in Nashville. I had wanted to try moonshine when we went to Loveless Café. But it was early in the day and the family next to us was praying hard and I thought hmmm. ..better not. But in what became the quote of our trip, I learned from the woman I struck up conversation with, I commented that I didn't have the moonshine due to all the families praying around us…her response: "We sure do love us some Jesus…but Jesus loves us drinking". So whenever I thought maybe I shouldn't be drinking I remembered that Jesus would want me to. 😛 Oh and I did end up having moonshine later on that weekend.
Hardly anyone wears cowboy hats and boots…but the women all seem to have rhinestones or studs on their jeans. When I asked about this I was told "when you have a nice ass, you like to let it sparkle". Another quality quote from the week.
Everyone is super nice. Like I want to tell them to have some distrust in people kind of nice. MDP and I kept thinking how many times they get taken advantage of for being so nice. In a way it was a tad like Canada with everyone saying sorry, please and thank you.
Large droves of women go to brunch (like groups of 10-15). All dressed up. When I asked if this was the norm to the waiter he smiled and said yes. I'm told most of the men our out hunting. Again, highly different than here.
Lots of things are fried. I support that. Lots of food had bacon. I fully support that.
While we had lots of suggestions on where to eat, MDP and I wanted to focus on Southern cooking only. We went for a variety of foods from truly traditional southern cuisine to reinterpreted southern cuisine. Oh and one little stop at Jeni's Ice Cream!!!! While not southern at all when I found out there was a Jeni's Ice Cream shop (actually 2) in Nashville I HAD to go there.
The month of March is dedicated to my "honeymoon" and I will be doing giveaways and recipes all based on my trip. So follow along!
Peabody