These Molasses Oatmeal White Chocolate Chip Cookies are the ultimate in comfort with warm molasses, oatmeal, and white chocolate chips.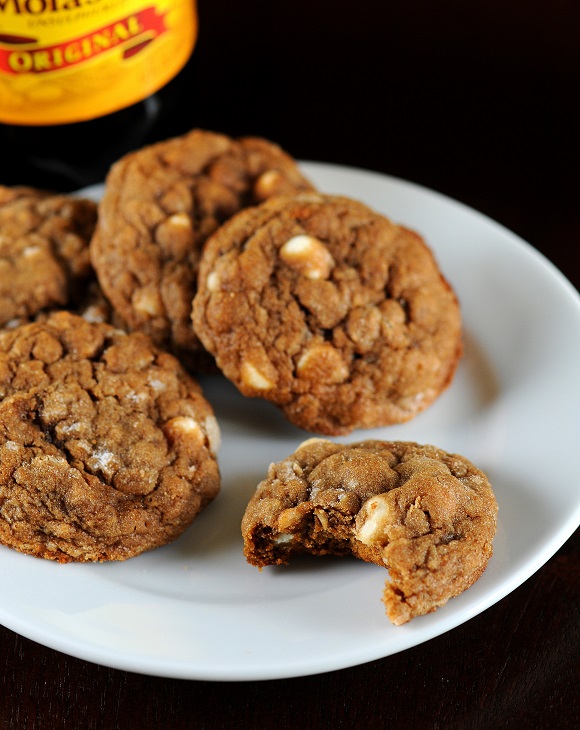 ***I was compensated for creating the recipe, the photos, and writing this post. But the opinions are all mine and it is the molasses that I already consistently use at home.
Every year my friends and I do a cookie/ornament exchange.
I usually attend two as I have two friends that like to host one (only down to one this year as the one friend who usually host one is tied up in the MS Xbox 1 release).
I'm always on the lookout for new cookies.
It's been 8 years of cookie exchanges and having to figure out what to bring.
I mean I am the baker so people always walk in and ask "which one are yours"?
Oh the pressure.
I used to worry greatly about having festive colored cookies or cookies in the shape of other things but as I get older I really just care about taste darn it all.
I LOVE me a soft molasses cookie.
Like love.
People never seem excited about when I bring a molasses cookie…until they actually taste it.
I think the brown hue just says boring or something.
But a soft molasses cookie is like a spicy warm hug.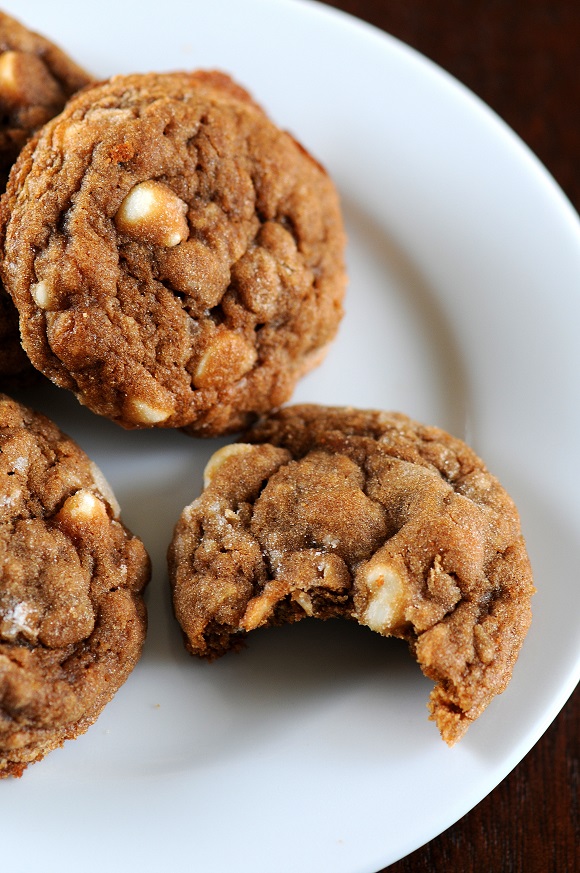 So when Grandma's Molasses asked me to create a cookie to help promote their Grandma's Molasses Cookie Exchange Recipe Submission Contest I was all over it.
Didn't hurt that I already use their product. 🙂
So into the kitchen I went.
And I came up with these Molasses Oatmeal White Chocolate Chip Cookies.
I love white chocolate and molasses together so I knew that would be in there and I decided on adding oatmeal as well.
What I got was a soft yet chewy, yummy, spice molasses cookie that people were surprised at how good they were.
"Wow, I don't normally go for a molasses cookie but this was awesome".
P.S. It's a great day to buy my cookbook Holy Sweet!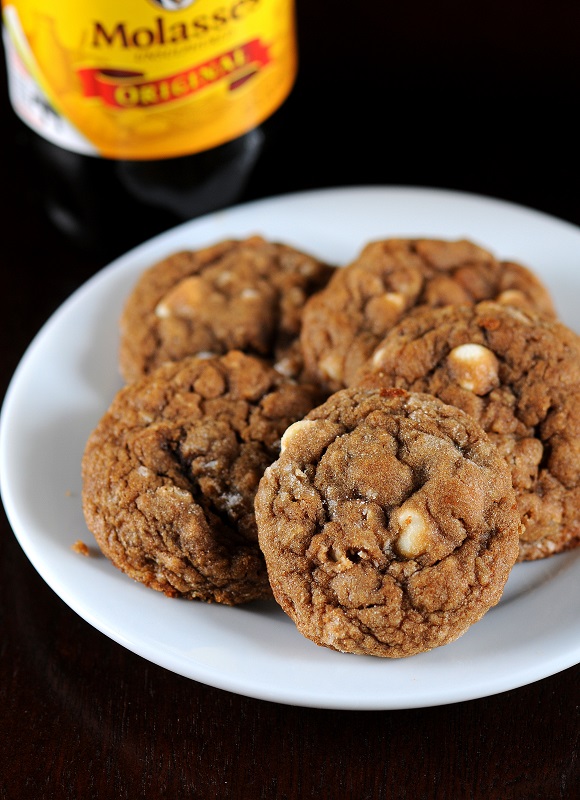 Want More Cookie Recipes?
Vanilla Bean Caramel Thumbprint Cookies
White Chocolate Dried Pineapple Salted Macadamia Nut Cookie
Caramel Cream Filled Snickerdoodles
Double Chocolate Rainbow Chip Cookies
Strawberry Cheesecake Chocolate Chip Cookies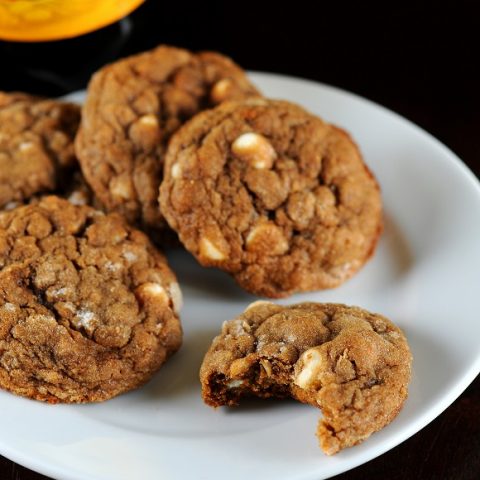 Molasses Oatmeal White Chocolate Chip Cookies
Ingredients
2 cups all-purpose flour
1 cup old fashion oats
2 tsp. ginger, ground
1 tsp. cinnamon, ground
1 tsp. baking soda
¼ tsp. nutmeg, ground (I used fresh)
¼ tsp. salt
¾ cup unsalted butter, at room temperature
¾ cup firmly packed brown sugar
½ cup Grandmother's molasses
1 egg
1 tsp. vanilla extract
1 cup white chocolate chips
¼ cup granulated sugar
Instructions
Mix flour, oats, ginger, cinnamon, baking soda, nutmeg and salt in large bowl.
Using a stand mixer with the paddle attachment (or a large bowl with electric mixer) cream together the butter and brown sugar in large bowl with electric mixer on medium speed until light and fluffy, about 3 minutes.
Add molasses, egg and vanilla and beat on medium speed until fully incorporated. Using a spatula, scrap down the sides to release some of the dough.
Gradually add flour mixture, one cup at a time, on low speed until well mixed.
Fold in the white chocolate chips and evenly distribute as best you can.
Press dough into a thick flat disk. Wrap in plastic wrap. Refrigerate 4 hours or overnight.
Preheat oven to 350°F. Shape dough into 1-inch balls. Roll in granulated sugar. Place 2 inches apart on baking sheets lined with parchment paper.
Bake 8 to 10 minutes or until edges of cookies just begin to brown. Remove to wire racks; cool completely.
Store cookies in airtight container up to 5 days.