This Eggnog Spiced Rum Layer Cake has eggnog and spiced rum mixture and is covered in White Chocolate Swiss Meringue Buttercream.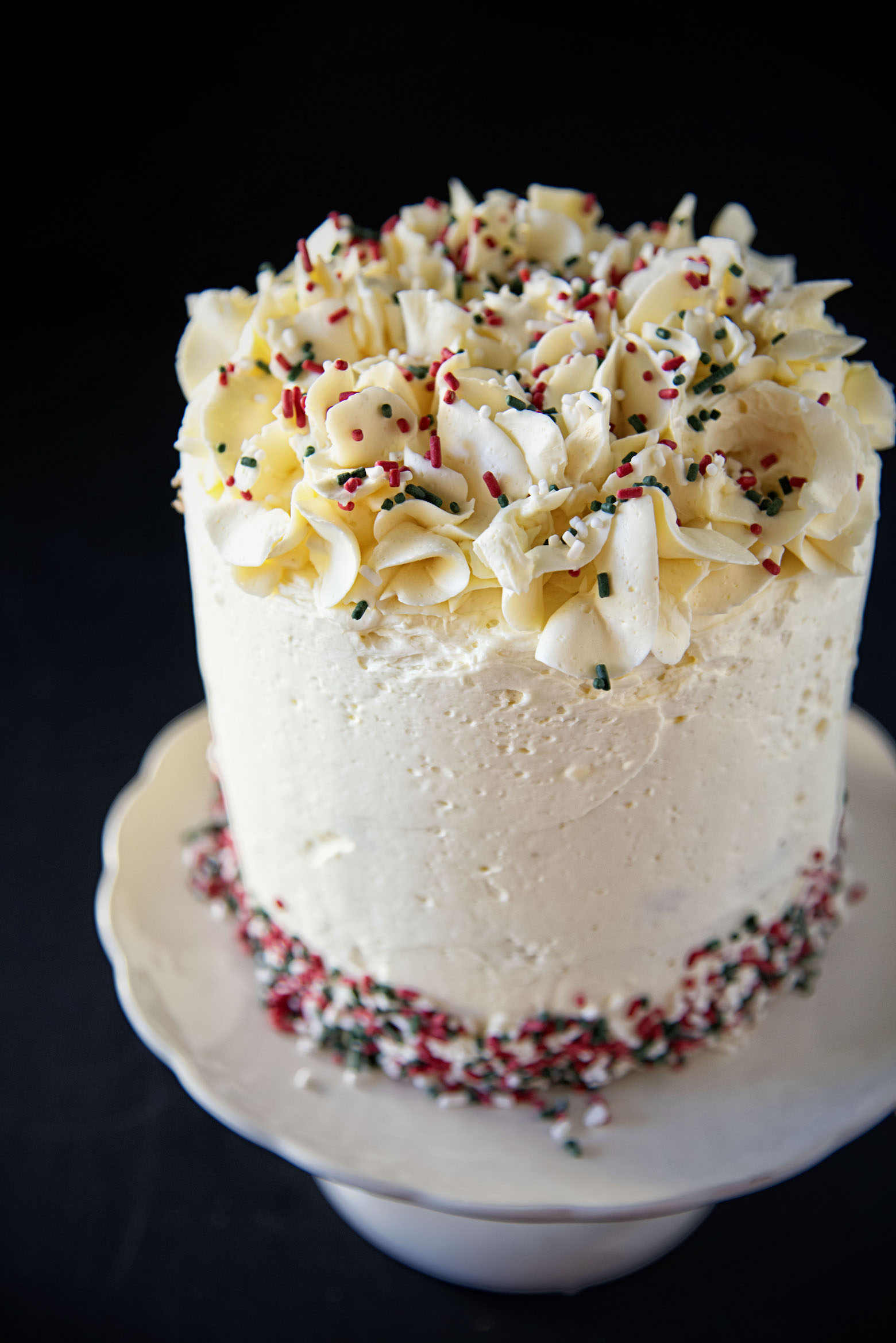 The tree is up.
Actually all indoor decor is up.
And already I am happier.
I'm not cooking Thanksgiving dinner this year so I don't need to spend my weekend planning it.
Instead I'm spending my weekend preparing holiday recipes for you to use to plan with. 🙂
Most bloggers love this time of year because of traffic.
While many of them like the traffic for increased income, I just love it because it means people are using my recipes.
Which is the whole reason I have a blog.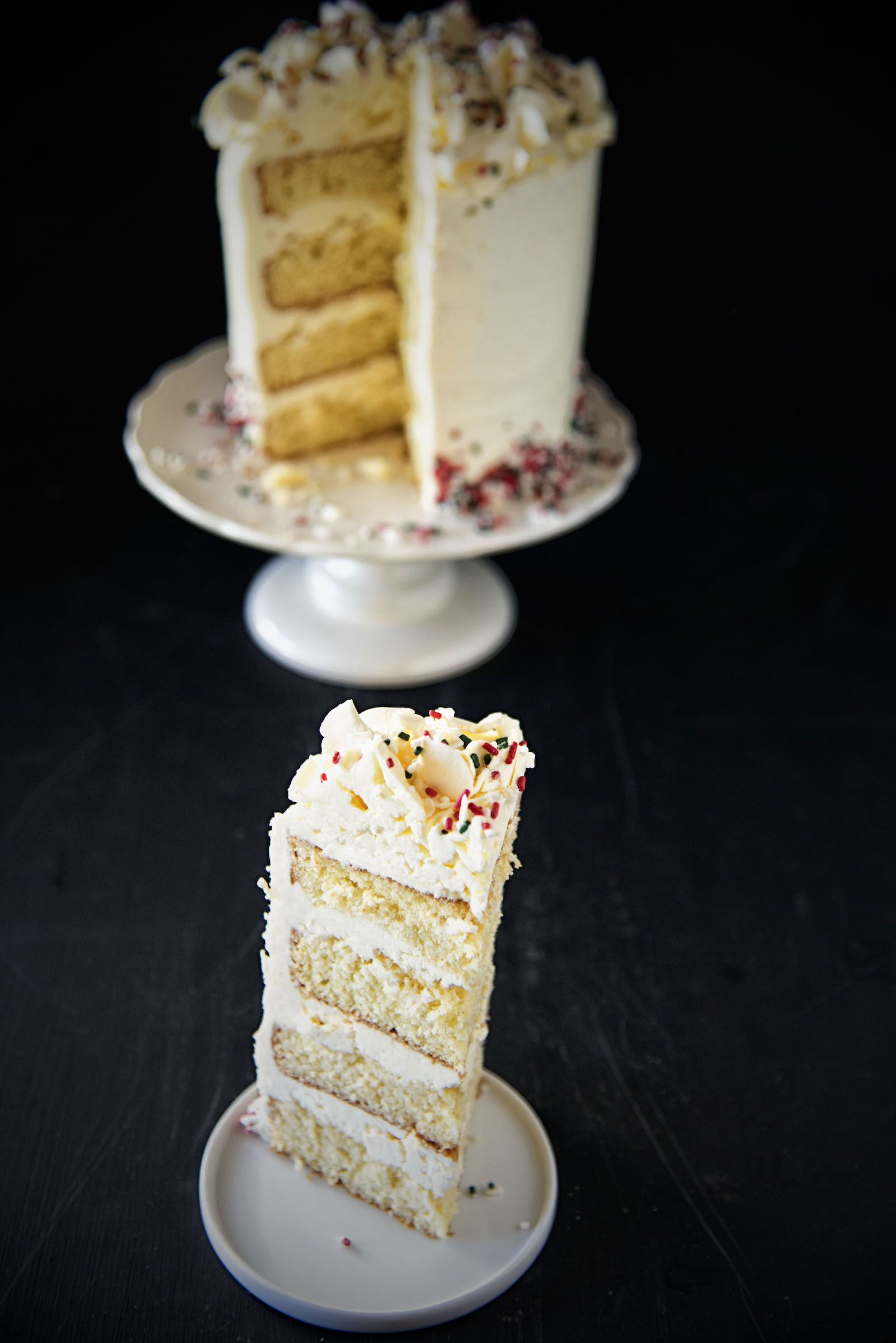 I never wanted it to be a business but rather a place for people to come and get inspired and hungry. 🙂
This Eggnog Spiced Rum Layer Cake may be an eggnog cake but it isn't super eggnog-y (that's a word now).
But you most definitely need fresh nutmeg in the cake.
I have a nutmeg grinder and it's awesome.
Though I'm considering upgrading to this one.
The one I have now is 24 years old but still works fantastic.
If you are not a fan of booze you can omit the rum and just brush the layers with eggnog instead.
I'm fortunate that I have two local places that make really good small batch eggnog.
You may use whatever eggnog you want…spiked or not but just make sure that it is FULL fat eggnog.
P.S. Yes, my cake leans a little…thanks for noticing. 😀
P.P.S. It's a great day to buy my cookbook Holy Sweet!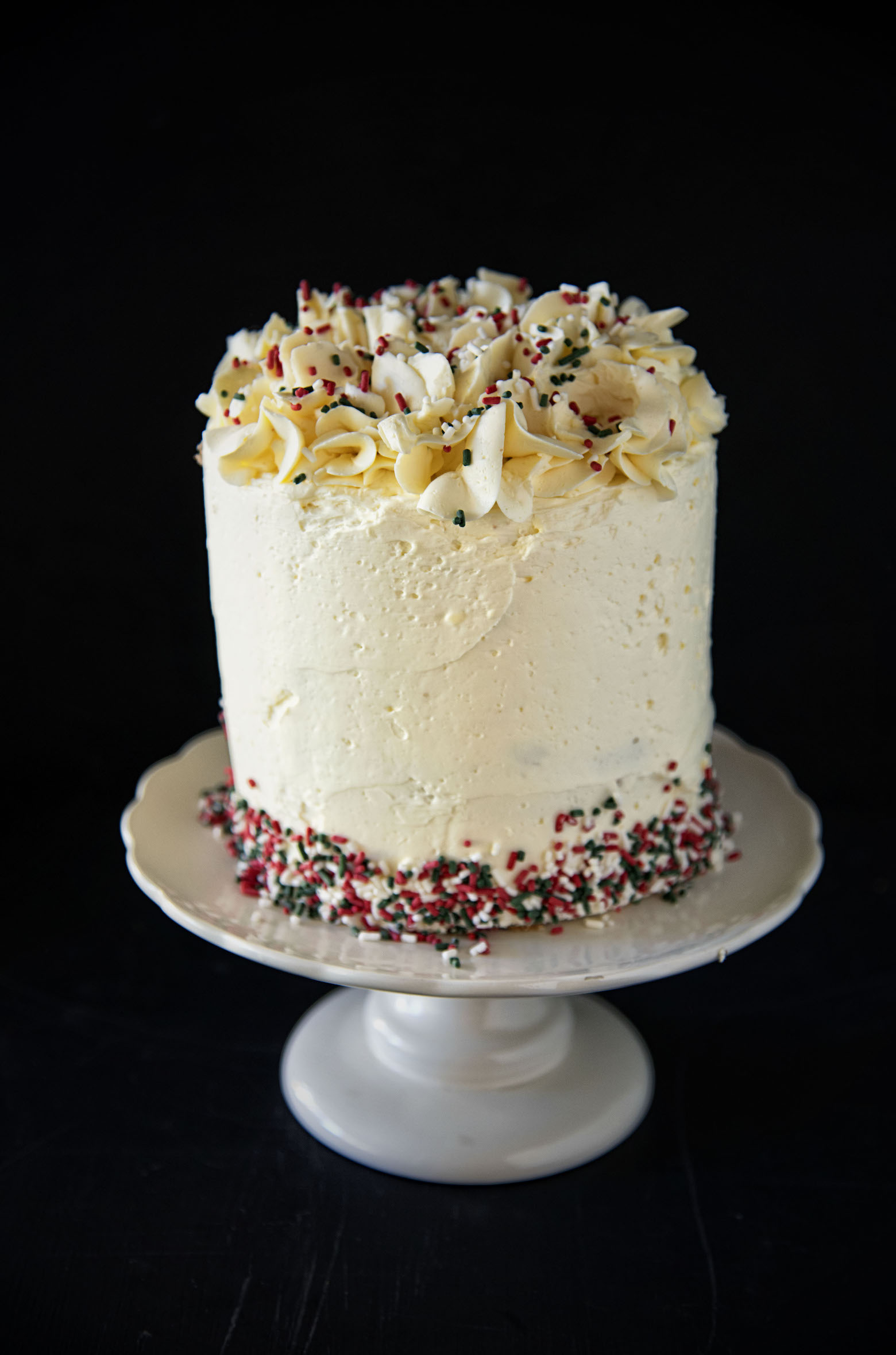 Want More Eggnog Recipes?
Chocolate Bourbon Eggnog Cupcakes
Gingerbread Oatmeal Eggnog Cream Pies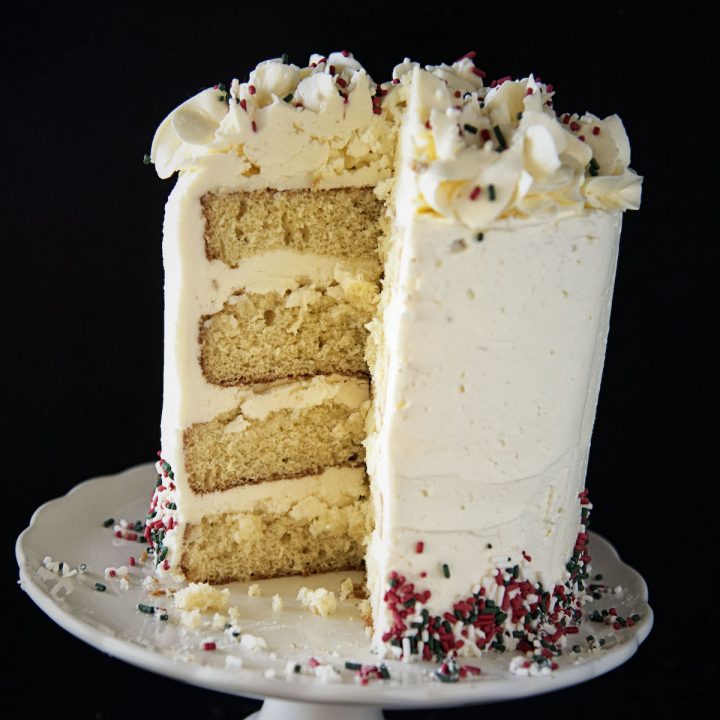 Eggnog Spiced Rum Layer Cake
Ingredients
For Brushing:
1/2 cup eggnog
1/4 cup spiced rum
For the cake:
3/4 cup unsalted butter, room temperature
3/4 cup granulated sugar
1/2 cup light or dark brown sugar, tightly packed
1 tsp. vanilla extract
2 large eggs
2 large egg yolks
2 1/4 cups cake flour
1 1/2 tsp. baking powder
3/4 tsp. baking soda
1 tsp. fresh ground nutmeg
1/2 tsp. salt
1 cup full fat eggnog
For the Frosting:
1 cup egg whites
2 cups granulated sugar
3 cups unsalted butter, cubed and at room temperature
2 tsp. spiced rum (or eggnog)
1/4 tsp. salt
10 oz. white chocolate melted and cooled slightly
Instructions
For Brushing:
In a small bowl whisk together the eggnog and spiced rum. Set aside.
For the Cake:
Preheat oven to 350F.
Grease three 9-inch or four 6-inch (which is what I used)round cake pans and line the bottoms with parchment paper.
In the bowl of a stand mixer fitted with a paddle attachment, beat butter and sugars on high speed until pale and creamy, about 3-4 minutes.
Scrape down the bowl as needed.
Add the vanilla and then the eggs and egg yolks one at a time, scraping down the bowl after each addition.
In a separate bowl, combine the cake flour, baking powder, baking soda, nutmeg, and salt.
Add to the mixer in 3 additions, alternating with the eggnog, scraping down the bowl as needed.
Mix until fully combined.
Divide the batter evenly between the prepared cake pans and bake until edges are golden, and the tops bounce back when gently pressed, about 20 minutes.
Let cool in the pans for 15 minutes, then carefully transfer to a wire rack.
Brush each layer with eggnog/spiced rum mixture.
Let cool to room temperature.
For the Frosting:
Place the egg whites and sugar in the metal bowl of a stand mixer and set over a small pot of simmering water (the bowl should not touch the water).
Heat, stirring occasionally, until mixture is 160F or hot to the touch.
Transfer bowl to stand mixer and beat on high speed with a whisk attachment to medium stiff peaks, about 8 minutes.
Reduce mixer speed to medium low and add butter a tablespoon at a time, letting it incorporate into the meringue for few moments before adding more.
Add 2 tsp. spiced rum, melted white chocolate, and salt and beat on high for 1-2 minutes until smooth and creamy.
To assemble cake:
Set one cake layer on turntable cake stand.
Cover with 1/2 cup buttercream.
Top with another cake layer.
Repeat till cake is assembled.
Use an offset spatula to frost cake with buttercream.
If desired, first make a thin coat to seal in crumbs and chill for 30 minutes.
Cover completely with another layer of frosting.
Pipe some decorative swirls on top of cake and top with sprinkles (optional).
Chill cake for 30 minutes.