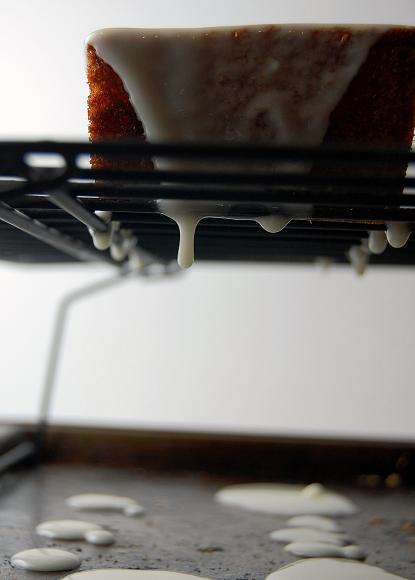 My friends on Facebook were all raving about a show called Orange in the New Black. Which I looked up and kind of raised my eyebrows. What I read was that there was a lot of lesbian action. Which hey whatever, but hmmm. We had just got Netflix (you can only get it through them…it's their series) because we have downgraded cable to save some money and I decided at midnight one night to just watch one episode. Big mistake.
It wasn't a mistake to watch it. It was a mistake to start to watch it at midnight. Because I became addicted to that show and watched the ENTIRE 13 episodes that night into the am into the afternoon, finally going to bed at 1pm the next day. Yep, it was that compelling to me.
Other than lesbian action (which there is be warned if that is something you can't hang with) the story is about a woman named Piper Chapman who goes to prison for 15 months for something she did 10 years ago when she was in love with a lesbian international drug smuggler. But now she is a Whole Foods shopping, J. Crew wearing, well educated, upper middle class, WASP who has a fiancé.
I don't want to spoil it but I want to talk about a part in the series. It happens in the first or second episode so don't get too mad at me. (if you really care stop reading now). She insults the cook on accident and ends up being starved out. During the time when her tummy is rumbling they flashback (they do flashbacks often) to when she was convincing her fiancé to do the Master Cleanse…you know the lemon, maple syrup, cayenne crap that Beyonce likes to do. Anyway the irony of course was her trying to starve herself back then to get leaner and now she didn't have a choice.
Of course me being on the torture diet (though it did get easier as time went on…I actually really like spelt it turns out) while watching this made me laugh a little too. I mean I wasn't doing this to lose weight (though eat the amount of fiber I did and gum you chewed in 3rd grade will come out…just saying) as it was to get my eczema under control (it is) but I still thought there thinking man, if I died tonight the last things I ate I did not enjoy at all.
Oh the things we take for granted. Roofs over our head. Real beds and pillows. Peeing with doors on the stalls. Getting a hug from someone you love when you need it not just during visiting hours. Home cooked meals. And fresh baked goods. I know I have certainly missed getting to eat baked goods the last 10 days…couldn't imagine for 15 months or longer!
If you are sitting there saying hey this cake looks familiar it's already been on here….about 3 years ago. But we will call it a flashback Friday of sorts. Because baking was too hard to do for me (sorry I'm a wimp) but I still wanted something up! It's a yogurt cake so it's super moist and the orange fondant glaze gives it a nice bright touch of citrus.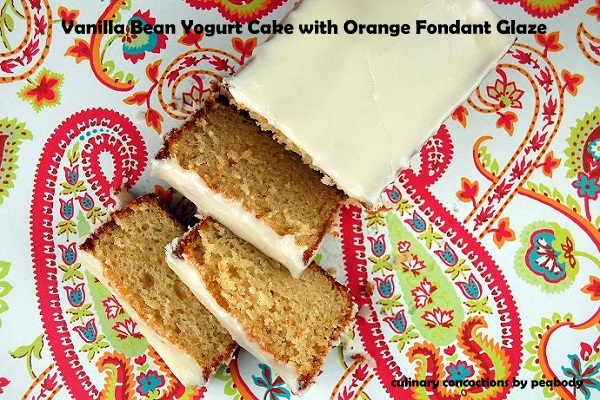 Vanilla Bean Yogurt Cake with Orange Fondant Glaze
Ingredients
For the Cake:
1 cup all-purpose flour
½ cup almond flour
2 tsp baking powder
Pinch of salt
1 cup granulated sugar
1 vanilla bean, insides scraped, pod discarded
½ cup vanilla yogurt
3 large eggs
2 TBSP pure vanilla extract
½ cup vegetable oil
For the Orange Fondant Glaze:
2 cups powdered sugar, sifted
4 TBSP freshly squeezed orange juice
Instructions
For the cake:
Center a rack in the oven and preheat the oven to 350°F.
Generously butter an 8 1/2-x-4 1/2-inch loaf pan, place the pan on a lined baking sheet and set aside. Whisk together the flours, baking powder and salt; set aside.
Whisk in the yogurt, eggs, sugar, vanilla beans, and vanilla. When the mixture is well blended, gently whisk in the dry ingredients. Switch to a spatula and fold in the oil. The batter will be thick and shiny. Scrape it into the pan and smooth the top.
Bake the cake for 50 to 55 minutes, or until it is golden and starts to come away from the sides of the pan; a knife inserted into the center of the cake will come out clean. Cool on a rack for 5 minutes, then run a knife between the cake and the sides of the pan. Unmold and cool to room temperature right-side up.
Adapted from Baking From My Home To Yours by Dorie Greenspan
For the glaze:
Combine the powdered sugar and the orange juice in a bowl, mixing with a wire whisk until smooth. Pour over the tops of the cakes and allow the glaze to drizzle down the sides.
https://www.sweetrecipeas.com/2013/08/02/vanilla-bean-yogurt-cake-with-orange-fondant-glaze/