These Baklava Muffins are stuffed full of baklava filling of walnuts, cinnamon, and sugar all topped with a drizzle of honey. Messy, but yummy.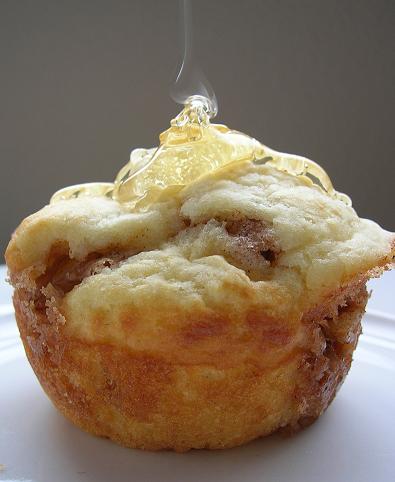 I am a horrific night owl, I mean it is currently 4:19am PST and I have yet to go to bed.
One of the downfalls of playing the late game…keeps you wired up way past your bedtime.
Anyway, it does give me a chance to catch up on all my shows.
We have DVR (which is like TIVO and if you don't know what that is you must be my parents).
I'm not sure what I did before DVR.
When my husband suggested it, I rolled my eyes and thought, oh good another gadget, but really I can't live without it.
I tape pretty much anything, because, do you know what is on at 3am? Yep, nothing.
So I taped a bunch of the Chefographys on Food Network.
I liked the ones they had before and I have to say that it converted my into liking Giada, though I still don't think she eats her food and if she does she throws it up afterwards.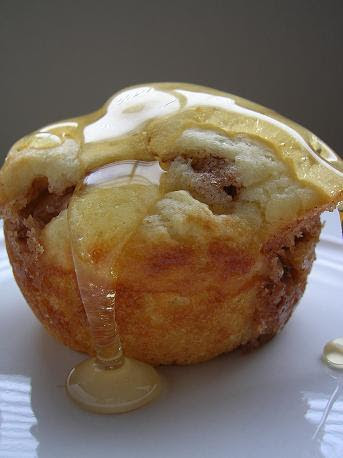 This week I watched Emeril (still don't like him any better, maybe even a little less).
I watched Rachel (she is fairly likable yet horribly annoying too…though I appreciate her bringing people back into the kitchen).
I watched Bobby Flay (pretty much what I expected…he is cocky but has good drive).
And today I watched Nigella. Wow.
Now I own her Domestic Goddess cookbook, a gift from a friend and will admit that I never really even cracked it open.
Even with a nudge from my blogging friend the Cream Puff I still didn't bake anything from it.
Until I watched that show.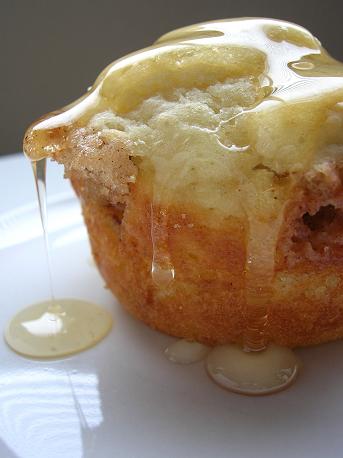 Can I just say I have a bit of a crush.
Here is the gorgeous woman(who obviously eats her food without throwing it back up), who was extremely bright, very articulate and just filled and consumed with a passion for life that I only wish I had 1/5 of.
Her attitude about everything was refreshing, especially with all the grief she has had in her life.
So of course I ran to the cookbook at 2am and though what can I make that won't keep me up all night…little did I know I would still be up.
I found muffins…muffins are always quick.
I found a recipe for Baklava Muffins…oh, those sounded good, and more importantly I had all the ingredients.
So I made those muffins, ate one hot out of the oven drizzled with honey and boy was it good.
Not pretty by any means, but good.
* Just a quick note: these are best eaten warm…so if they go cold pop them in the microwave.
I will most definitely go back and make more from this cookbook.
However life has been mowing me over lately and I am also being buried alive in cheesecake (not a bad thing I know), so baking has taken a backseat.
P.S. It's a great day to buy my cookbook Holy Sweet!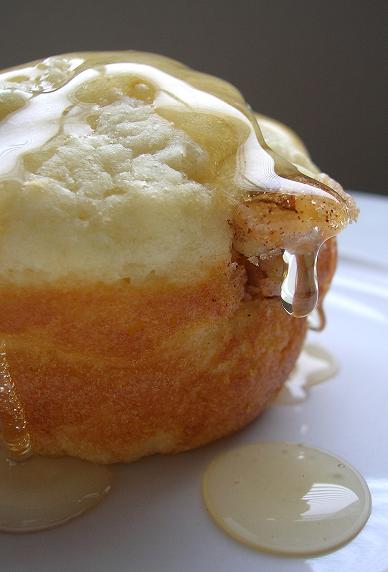 Want More Muffin Recipes?
Toffee White Chocolate Pumpkin Muffins
Cider Glazed Apple Fritter Muffins
Sweet Potato Pecan Crumb Muffins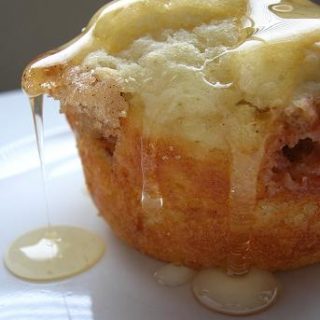 Baklava Muffins
Ingredients
For the filling:
1/2 cup chopped walnuts

1/3 cup sugar

1 1/2 tsp cinnamon
3 TBSP melted butter
For the muffins:
1 cup plus 7 TBSP all-purpose flour
2 tsp baking powder
1/2 tsp baking soda
1/4 cup sugar
1 large egg
3 TBSP unsalted butter, melted
1 cup plus 2 TBSP buttermilk
For the topping:
1/2 cup honey
Instructions
Preheat to 400F.
Mix all the filling ingredients together in a small bowl, and then get on with the muffins.
In a large bowl, mix together the flour, baking powder, baking soda, and sugar.
In a wide-mouthed measuring cup, whisk the egg, melted butter, and buttermilk.
Make a well in the dry ingredients, pour in the liquid, and mix lightly and gently, remembering to keep it bumpy rather then going all-out for smooth: anything more than the gentlest handling makes for a heavy muffin.
Fill the muffin cups 1/3 full, add scant TBSP of filling, then cover with more muffin mixture until 2/3 full.
Sprinkle any remaining filling on top of the muffin(I used all of mine for the filling).
Bake for 15 minutes. Put the muffins, still in their paper cups(I don't use cups usually), onto a rack and drizzle with honey.
Makes 12.