This Huckleberry BBQ Pulled Pork Sandwich is a pulled pork sandwich with a Pacific Northwest twist of huckleberry coleslaw and tangy huckleberry BBQ sauce.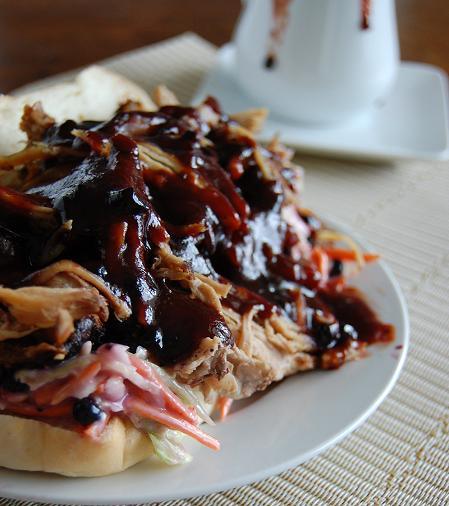 Sunday is Easter.
Wow.
Not prepared for that AT all.
Are you?
Some people asked how do people steal content.
Here is a great article by I Am Baker that talks more about the Facebook pages I was talking about.
We were talking cooking/baking fears on Facebook this weekend.
Most people said baking with yeast?
Do you agree or do you fear something else?
Ever notice that the people who tell you that the past is the past are the ones who do the crappiest things?
And you are to forgive them?
Would you say that to someone living next to a sex offender?
Oh he/she doesn't need to register…go let your kids play with them…the past is the past.
Yeah, right.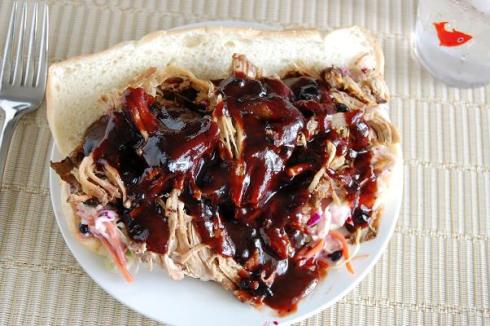 Here is an even better idea then telling people they have to forgive and forget the horrible crap you did…don't do it.
Stop being a crappy person that is impossible to respect due to your actions.
How about that?
Same thing goes for those who always complain they don't have money but then you see them check themselves in at the Cheesecake factory on Facebook and are standing there in new $300 Frye boots.
How about working more than a part time job?
Or how about getting a second job if money is so tight?
Or how about…living within your means?
Crazy talk I know.
I think if I had to pick a last meal it would be pulled pork sandwich (I think that is what we are serving at the wedding).
This one was originally from my Northwest Noshings site.
Ever since my parents moved to Idaho and I was introduced to it I have had a love affair with it.
They actually sell huckleberry bbq sauce where my parents live but it's kind of pricey and I had wanted to try my hand at it.
It's our go to sauce when I can find huckleberries.
If you can't find huckleberries in your area try this with blueberries or blackberries.
P.S. It's a great day to buy my cookbook Holy Sweet!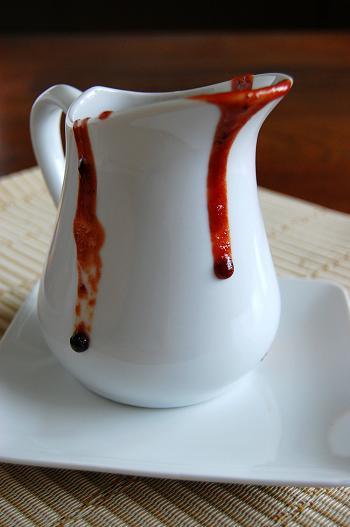 Want more recipes?
Pulled Pork Grilled Onion Gouda Burger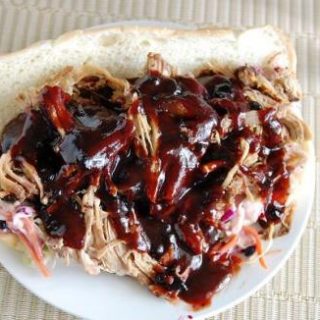 Huckleberry BBQ Pulled Pork Sandwich
Ingredients
6 buns (I like to use sandwich or hot dog buns)
Huckleberry Coleslaw (recipe follows)
Pulled Pork (4-6 pound pork butt prepared)
Huckleberry BBQ Sauce (recipe follows)
Huckleberry Coleslaw
1 (16 ounce) bag coleslaw mix
2/3 cup mayonnaise
1/3 cup fresh or frozen huckleberries
3 TBSP canola oil
½ cup granulated sugar
2 TBSP cider vinegar
¼ tsp salt
Huckleberry Barbecue Sauce:
3 cups tomato ketchup
1 ½ cups water
½ cup brown sugar
¼ cup sweet onion (I used Walla Walla), minced
1 TBSP red wine vinegar
1 cup huckleberries (fresh or frozen) or blackberries if you can't find huckleberries
2 TBSP hoisin sauce
2 garlic cloves, minced
1 TBSP molasses
¼ tsp ground cinnamon1 tsp ground dry mustard
Instructions
For the Huckleberry Coleslaw

Place coleslaw mix into a large bowl.

Whisk together the mayonnaise, canola oil, sugar, vinegar, salt, and huckleberries in a medium bowl; blend thoroughly.

Pour dressing mixture over coleslaw mix and toss to coat. Chill at least 2 hours before serving.

For the Huckleberry BBQ Sauce:

Combine all the ingredients (except the huckleberries) into a large sauce pan.
Bring to a boil.
Reduce to a simmer for 30 minutes on medium low heat.
Add the huckleberries and bring back to a boil.
Reduce back to a simmer and cook for another 15-30 minutes depending on how thick you want it. The longer you cook it the thicker it will get.
To make the sandwich:
Place bun on plate. Spread a good amount of coleslaw. Top with pulled pork. Top with BBQ sauce.