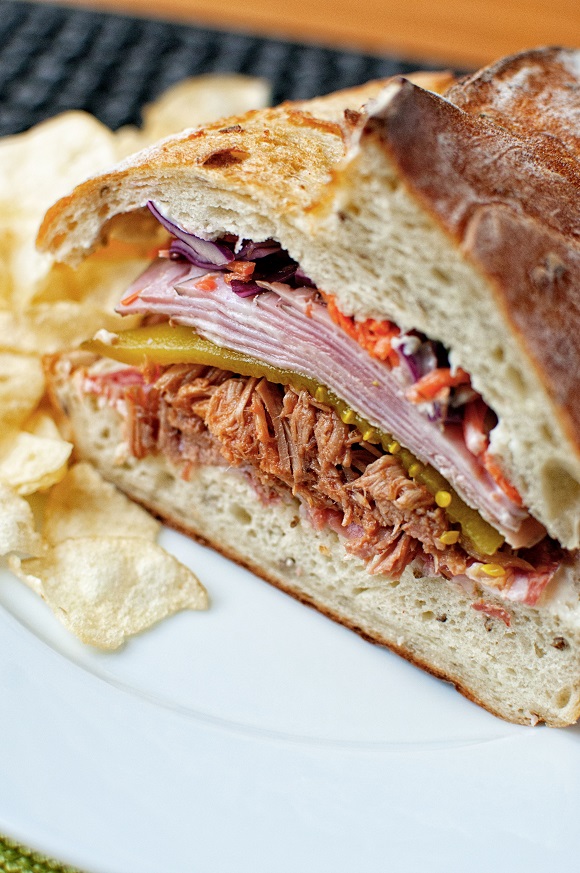 I felt a little pressure since this was the first Date Night In for us…I wanted to set the tone that these were going to be something for my husband to look forward to. Because MDP is a guy and so when I said I wanted to do this he pointed out that we already do date nights. I said yes, but those are date nights out…I want date night in. He followed up with is this important to you? And I said yes, and he said he was in (because he's good like that).
I wanted something pretty casual for the first one and when I ran across a recipe for an American Banh Mi I was super excited. MDP loves Banh Mi's and I'm allergic to most of the ingredients so we don't go and eat them together, ever. I read through everything and thought yay I can eat this (minus the evil cilantro). Plus it had pulled pork in the recipe which I could have easily made but decided to be a tad romantic and pick up pulled pork from the BBQ place that catered our wedding. Ahhh. Now of course this isn't really anything like a regular Banh Mi which is why it worked so well for us, a good compromise. I'm pretty sure if I made this every week for MDP he would eat it every week. We even made another one the next day when we had his kids and they enjoyed it as well!
This makes for a big sandwich as it came out of a Potluck magazine but MDP actually ended up eating all his half…though throughout the night not in one sitting. 🙂 We also of course had our Key Lime Sorbet Tequila Cocktail and a Key Lime Pound Cake (recipe coming) to round out the meal. It only lasted an hour but it was nice to sit and talk (and yes watch a little hockey) with our phones put away. While I personally don't feel disconnected from my husband it's nice to put this in place for the times that it does arise.
If you aren't having a Date Night In anytime soon this sandwich does serve about 8 people so it would be perfect for say a Seahawks party or the first ever college football playoffs.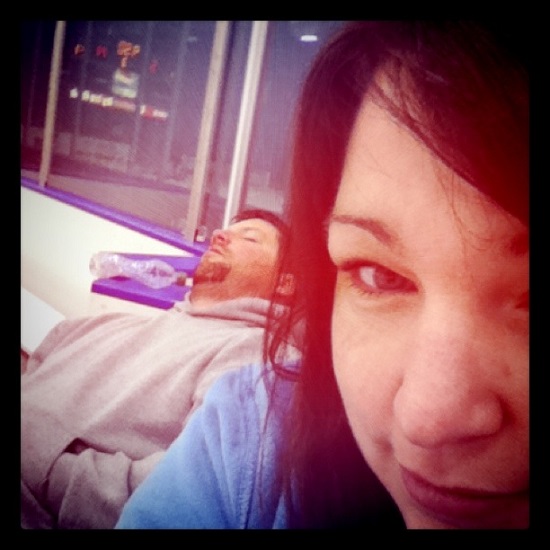 Here's MDP and I spending quality time together. 😀
American Banh Mi
For the slaw:
¼ cup distilled white vinegar
2 TBSP. granulated sugar
½ tsp. salt
1 cup shredded carrots
¼ cup shredded red cabbage
For the Aioli:
½ cup mayonnaise
2 TBSP. fresh lemon juice
1 TBSP. minced garlic
For the Pork:
8 oz. prepared pulled pork
¼ cup BBQ sauce (Sweet Baby Rays is good)
To Assemble:
1 loaf French or Potato Bread (we used potato)
2 oz. Soppressata or Salami, thinly sliced
8 oz. Black Forest Ham, thinly sliced
8 sandwich sliced dill pickles
½ bunch fresh cilantro
For the slaw:
Whisk together the vinegar, sugar, and salt.
Add carrots and cabbage and toss to coat.
Let sit for 15 minutes.
For the aioli:
Combine all the ingredients together.
For the pork:
Heat pork in a medium saucepan over medium heat.
Add BBQ sauce and heat until sauce becomes thick, about 3 minutes.
To assemble the sandwich:
Slice the bread in half horizontally.
Remove excess bread from the inside top half (you will need the room!).
Spread ½ aioli on cut side of bottom half and the other half on the hollowed out top.
On top of aioli add the Soppressata out so that it covers the bread in a single layer.
Top with the pork.
Then add the pickles.
Then add the ham.
Top ham with the carrot slaw.
Add cilantro (unless you are allergic like me…then only put that on your husband's side).
Top sandwich with the hollowed out bread top and slice into servings.
This makes a big sandwich about 8 servings when you slice it…but I will say my husband polished off his side that night…he kept going back to it.
Slightly adapted from Cuisine Parties, Picnics, and Potlucks