This Three Cheese Hazelnut Pasta is a simple dish that highlights some of the best ingredients found in the Pacific Northwest.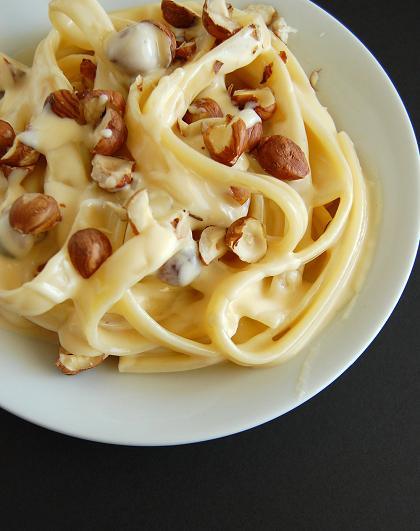 So 2012 is coming to an end and going into 2013 I am saying goodbye to my other blog Northwest Noshings.
I'm not quite sure what I was thinking when I decided "hey I need another blog".
Well I was thinking that I would do more savory on that site and leave just the baking to this site.
But after 7 ½ years of blogging I started putting all sorts of recipes on here.
Not a ton of people followed that blog but the people that did read it did enjoy the recipes and they still get comments years later.
Because there are some quality recipes on there that I want to make sure stay out in the blog universe.
So I will be bringing them over in the coming months.
If you have never seen that site hopefully you will enjoy the recipes.
Many of the recipes are Pacific Northwest inspired.
And if you have seen it maybe it will remind you of a recipe you wanted to try and forgot about. 🙂
The first recipe I am bringing over highlights much of what is awesome about the Pacific Northwest.
Tillamook Cheese, hazelnuts, and Oregon Pinot Gris.
Oh and some heavy cream and butter. 😛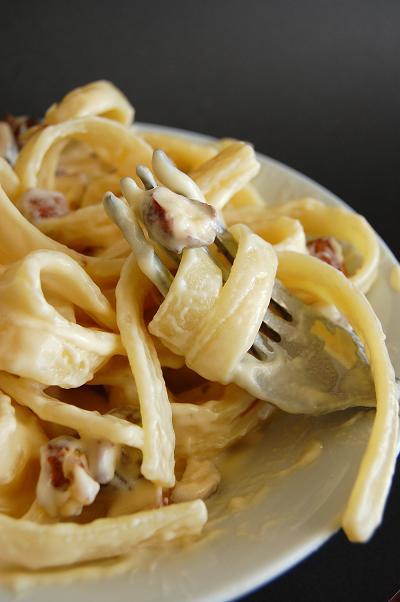 This Three Cheese Hazelnut Pasta is a simple pasta dish with a creamy cheese sauce topped with crunchy hazelnuts for a little texture contrast.
If you are a meat eater the sauce is also nice for making what I call heart attack lasagna.
You take lasagna noodles and over them with a 1/3 of the sauce (spread out).
Sprinkle ½ cup of cooked bacon followed by ½ cup more Tillamook cheddar.
Repeat the layers two other times.
Bake for 30 minutes (350F) until nice and bubbly.
Be sure and do some extra exercise that day if you do make the lasagna version.
Your heart will thank you for it.
This is an easy pasta to throw together and makes it perfect for the holiday season.
Who has time to cook when you are trying to find the perfect gift for Aunt Sue and chopping down your own Christmas tree?
Not me.
P.S. It's a great day to buy my cookbook Holy Sweet!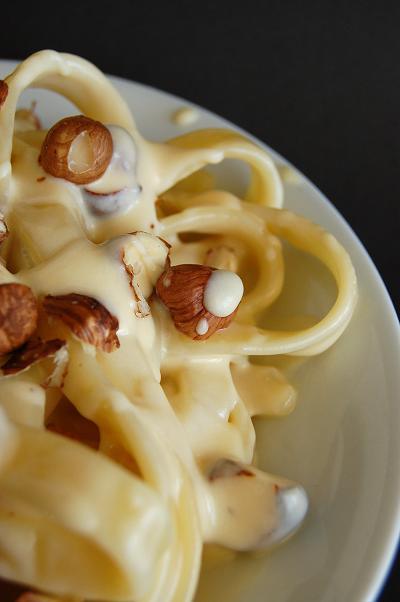 Want more Pasta recipes?
BBQ Pulled Pork Mac and Cheese
Alpine Dijon Macaroni and Cheese
Gouda and Lobster Mac and Cheese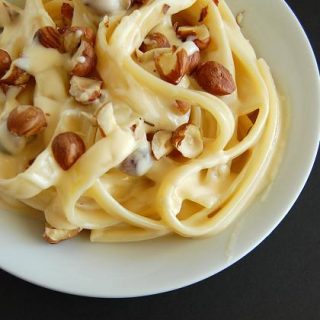 Three Cheese Hazelnut Pasta
Yield:
Makes about 4 meal servings or 8 appetizer servings.
Ingredients
1 lb fettuccine pasta
½ cup white wine(I used A to Z Pinot Gris(Oregon)
2 cups heavy cream
1 TBSP unsalted butter
1 tsp minced shallot
1 ½ cups chicken stock
¼ cup Parmesan cheese, grated
¾ cup Tillamook cheddar cheese, grated
1/3 cup Fontina cheese, grated
½ cup hazelnuts, toasted, skinned or not depending on your preference
salt and pepper to taste
Instructions
Bring a large pot of salted water to a boil.
Add pasta and cook until al dente.In a saute pan add butter and let melt.
Add shallot to pan and saute for two minutes.In a medium saucepan combine cream, wine, and chicken stock, add shallots and any leftover butter.
Reduce until it has slightly thickened but not to sauce consistency (you still have cheese to add!).
Add cheeses to cream mixture and whisk until you have a smooth sauce.
Season with salt and pepper.
Drain the pasta.
Place the pasta back into its original pan.
Pour the sauce over the pasta and toss to coat.
Fold in half of the hazelnuts.
Pile pasta onto a serving platter and top with remaining hazelnuts.