This Gingerbread Oreo Fudge is made with white chocolate and filled with gingerbread Oreos. Perfect for the holidays.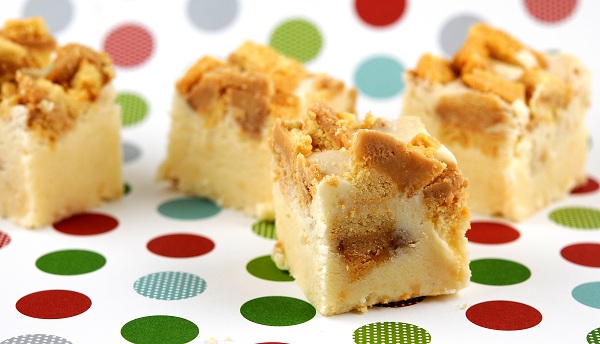 I feel like I am in a race.
And one I am losing at. 🙂
Today I went around to my 4 different advent calendars (yes I love those things!) and while marking the Day 8 I felt the heart rate peak just a bit.
16 days.
It's not going to happen.
What I need to get done in that time isn't going to happen.
I'm an online shopper.
I like the convenience of it.
And I like that if I am watching Big Bang Theory and MDP says "oh I like that one" in reference to one of Sheldon's shirts that I can just go on the iPad, look it up on where to buy.
And with a click it will be at my door in 5-7 business days.
BUT at holiday time it's a bit different.
You order it says it's in stock and then you get the dreaded email that it's on back order or they just outright cancel your order.
Well crap on toast and poop on a stick.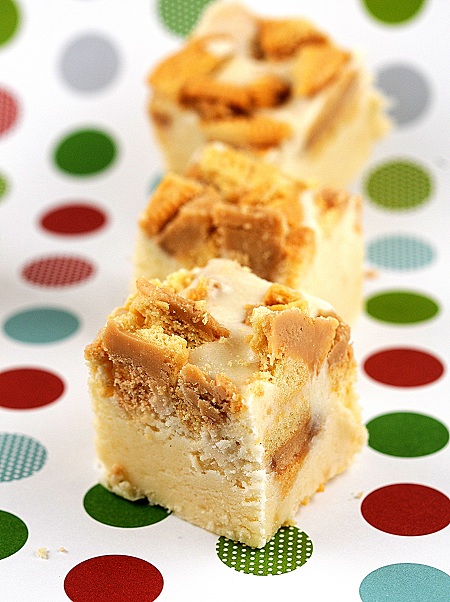 So this year I am giving I Owe You's.
Not exciting I know but they will get the gift eventually.
So I wrapped it up in a box.
I printed out what you are GOING to get and I'm hoping for the best. 🙂
And I wasn't kidding when I said I went on a fudge making rampage the other day.
Originally, I was just going to make Cookies and Cream Fudge but I still had quite a few packages of Gingerbread Oreos that I hoarded when I went to Walmart oh so many weeks ago.
So I decided to make Gingerbread Oreo Fudge.
I think that gingerbread and white chocolate go really well together and these turned out quite lovely.
Though I panicked at first because I thought it was too soft.
But they do firm up in the fridge.
So what about you?
Are you ready?
Can you get it all done in 16 days???
P.S. It's a great day to buy my cookbook Holy Sweet!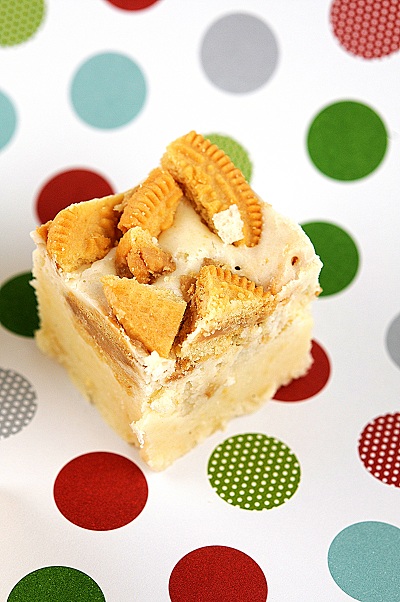 Want More Fudge Recipes?
Lemon Blueberry Mascarpone Fudge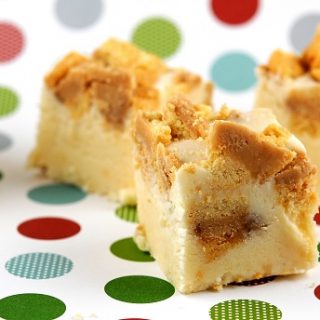 Gingerbread Oreo Fudge
Ingredients
3 cups granulated sugar
3/4 cup unsalted butter
2/3 cup Evaporated Milk
2 cups white chocolate chips
1 jar (7 oz.) marshmallow crème
1/2 cup finely crushed Oreos Gingerbread Flavor Creme Sandwich Cookies - Limited Edition - 3 Packs (if you can't find you can use any Oreo flavor the peppermint ones would be great as well)
1 teaspoon vanilla extract
1 cup crumbled Gingerbread Oreos
Instructions
Line 9-inch-square baking pan with foil.
Combine sugar, butter and evaporated milk in medium, heavy-duty saucepan.
Bring to a full rolling boil, stirring constantly. Boil, stirring constantly, for 3 minutes. Remove from heat.
Stir in white chocolate chips, marshmallow crème, finely crushed cookies and vanilla extract.
Pour into prepared pan. Sprinkle crumbled cookies on top.
Gently swirl cookies into fudge using a knife without touching bottom of pan.
Refrigerate for 1 hour or until firm.
Lift from pan; remove foil. Cut into 48 pieces. Store in airtight container in refrigerator. I got 12 pieces…it says you get 48…must be the smallest pieces of fudge EVER.
Adapted from Nestle Toll House