This Peanut Butter and Chocolate Fudge has a layer of chocolate fudge and a layer of cream peanut butter fudge.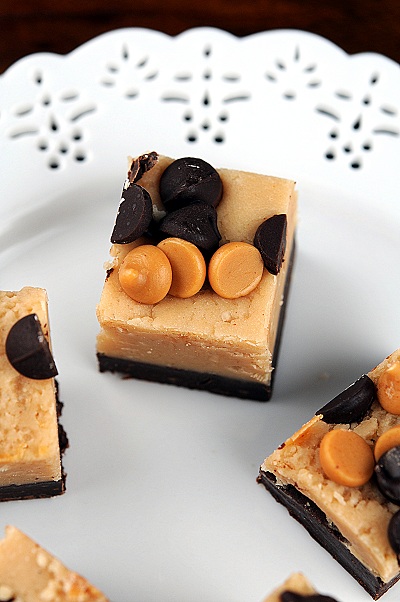 The first time I made fudge I used my mom's no fail fudge recipe…only to fail.
Second time.
Fail.
And so I went in search of easier fudge recipes.
One of the fudge recipes I love to make is peanut butter fudge…very simple and super yummy.
It almost reminds me of no-bake cookies which are also yummy.
I was sitting around thinking my pants were feeling far too comfortable for the holiday season.
I mean I haven't even broken out my holiday eating sweatpants yet. 🙂
So why not make some fudge.
And boy did I.
I made three different batches that day.
I knew I wanted the peanut butter fudge but really wanted chocolate with it.
This worked nicely with the exception that sometimes the bottom half likes to detach from top…which if fine I just stick it back together.
It only happened on a couple of them.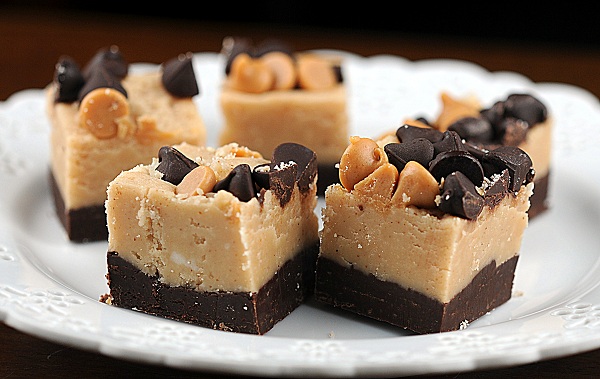 Keys to Successful Fudge:
Have a thermometer. I don't like the old fashioned ones that you clip to the side.
Those never work for me. I like digital and use this one.
Use Baker's sugar. Also known as caster or superfine sugar.
I don't always follow my own rule because I don't always have it on hand but it makes for a less gritty fudge.
If you don't have it you can run the sugar through a dry blender or food processor to make it superfine.
Use good butter. Preferably European.
They higher the butterfat content the better. Cheaper butter often has too much water in it and will cause your fudge to separate.
Same goes for your chocolate.
The cheaper the chocolate the more likely it is to separate. If using chips I tend to use Guittard.
And when making extra special fudge I used TCHO.
P.S. It's a great day to buy my cookbook Holy Sweet!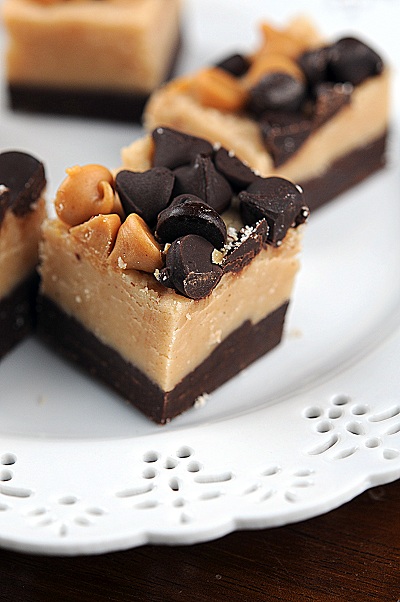 Want More Fudge Recipes?
Monster Cookie Chocolate Fudge
Pineapple Upside Down Cake Fudge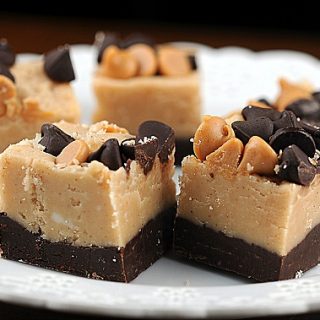 Peanut Butter and Chocolate Fudge
Ingredients
For the Chocolate Layer:
1 can (14oz) condensed milk
3 cups chocolate chips (of your choice I went semi-sweet)
For the Peanut Butter Layer:
8 ounces unsalted butter, plus more for greasing pan
1 cup smooth peanut butter
1 teaspoon vanilla extract
1 pound powdered sugar
chocolate chips and peanut butter chips to sprinkle on top about a 1/2 cup each
Instructions
For the Chocolate Layer:
In a medium saucepan heat up condensed milk over low.

Add chocolate chips and melt. Stirring often.

Mixture will start to get hard and lose its sheen.
Spread into a buttered 10 by 10-inch pan lined with parchment paper.

For the Peanut Butter Layer:
Combine the butter and peanut butter in a 4-quart microwave-safe bowl and cover with plastic wrap.
Microwave for 2 minutes on high.
Stir and microwave on high for 2 more minutes. (Use caution when removing this mixture from the microwave, it will be very hot.)
Add the vanilla and powdered sugar to the peanut butter mixture and stir to combine with a wooden spoon.
The mixture will become hard to stir and lose its sheen.
Pour the peanut butter layer on top of the chocolate layer.
Sprinkle chocolate and peanut butter chips and press down to help them stick to fudge.
Refrigerate until cool, about 2 hours.
Cut into 1-inch pieces and store in an airtight container at room temperature for up to a week.