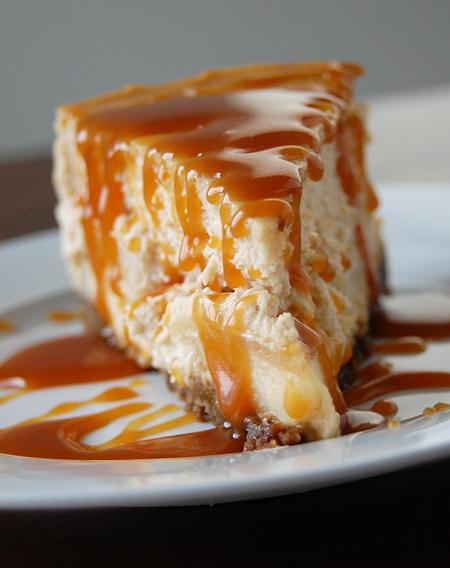 Well, it is official, food blogging has ruined me.
When I first learned that we were making the Brown Sugar Apple Cheesecake, I was overjoyed. You by now all know my love of cheesecake and so I wasted no time in making it. The very next morning after I learned of what we would be making this week, I awoke early to get started as I wanted cheesecake for breakfast! Cheesecake is after all, the breakfast of champions.
I took the cheesecake out of the oven and placed it on the rack to cool. Still at this point excited about the cheesecake. Then I released it from the spring form. Crap, crap, crap was all I thought. Now you may be thinking at this point that there was a large crack or it sunk, etc.
Nope. Not the case.
Hearing my rather loud "crap" comments coming from my mouth, my husband(who was working from home that day) came down to see what the fuss was about. I pointed to the cheesecake and said, "look at it!" He did. "Looks like cheesecake." "It's beige. Beige, beige and more beige." A confused look formed on his face and I informed him very loudly…"beige food doesn't photograph well!!!" Giving me the thanks for sharing crazy lady stare, my husband got a soda and went back upstairs.
Dorie doesn't have a picture of this cheesecake in her cookbook…you know why? Because the whole thing is beige…and beige doesn't photograph well! To make matters worse, when I cut into the cheesecake to plate it, the apples were, you guessed it….beige. Crap. I looked at the gray Pacific Northwest sky and thought yay, gray sky with beige food.
And this is how I knew food blogging had ruined me. No longer was I thinking hurry up and photograph this cheesecake so I can eat it, I was now thinking, how on earth am I going to photograph this cheesecake. Oh how owning a camera has changed me. Determined to give a little color contrast to pump it up, I sat and thought of things I could do to add punch to the cheesecake. I decided to go with one of my two standard back ups…when all else fails, throw either caramel or toffee sauce on it. I went with caramel. The recipe doesn't call for it. I don't care. Besides, caramel and apples were pretty much made for each other so I don't know why Dorie didn't think of it in the first place. 🙂
When all was said and done the beige cheesecake covered in caramel stepped up and decided to photograph nicely for me. And even more importantly….it tasted great(okay…maybe I am not totally ruined).
To see all of the Tuesday With Dorie's entries go here.
Brown Sugar-Apple Cheesecake
Ingredients
For the Crust
30 gingersnaps
2 TBSP light brown sugar
1/2 TBSP ground cinnamon (optional)
1/2 stick (4 TSBP) unsalted butter, melted
For the Apples
1/2 stick (4 TBSP) unsalted butter
3 large Golden Delicious or Fuji apples, peeled, cored and cut into eighths(I used Honeycrisps)
2 TBSP (packed) light brown sugar
For the Filling
1 1/2 pounds (three 8-ounce packages) cream cheese, at room temperature
3/4 cup (packed) light brown sugar
6 TBSP sugar
3 TBSP apple cider
2 tsp. pure vanilla extract
2 tsp. ground cinnamon
3 large eggs
3/4 cup sour cream
1/3 cup heavy cream
Caramel Sauce for Drizzling
Instructions
To Make the Crust: Butter the bottom and sides of a 10-inch springform pan.
Put the gingersnaps in a food processor and whir until you have crumbs; you should have a scant 2 cups. (If you are using graham cracker crumbs, just put them in the food processor.)
Pulse in the sugar and cinnamon, if you're using it, then pour over the melted butter and pulse until the crumbs are moistened.
Turn the crumbs into the springform pan and, using your fingertips, firmly press them evenly over the bottom and up the sides of the pan as far as they'll go. Put the pan in the freezer while you preheat the oven. (The crust can be covered and frozen for up to 2 months.)
Center a rack in the oven and preheat the oven to 350 degrees F.
Remove the pan from the freezer and wrap the bottom tightly in aluminum foil, going up the sides. Place the pan on a baking sheet and bake for 10 minutes, or until the crust is set and lightly browned. Transfer to a rack to cool while you make the apples and the filling. Leave the oven at 350 degrees F.
To Make the Apples: Melt 2 tablespoons of the butter in a large nonstick skillet over medium-high heat. When the foam subsides, toss in half of the apple slices and cook, turning once, until they are golden brown, about 3 minutes.
Sprinkle the apples with 1 tablespoon of the sugar and cook them, turning, just until coated, another minute or so. Scrape the apples onto a plate, wipe out the skillet and repeat with the remaining apples. Let the apples cool while you make the filling.
Getting Ready to Bake: Have a roasting pan large enough to hold the springform pan at hand. Put a kettle of water on to boil.
To Make the Filling: Working with a stand mixer, preferably fitted with a paddle attachment, or with a hand mixer in a large bowl, beat the cream cheese on medium speed, scraping down the bowl often, for about 4 minutes, or until it is velvety smooth.
Add the sugars and beat for another 2 minutes. Beat in the cider, vanilla, and cinnamon.
Reduce the speed to low and beat in the eggs one by one, beating for 1 minute after each egg goes in.
Finally, beat in the sour cream and heavy cream, beating just until the batter is smooth.
Pour about one third of the batter into the baked crust. Drain the apples by lifting them off the plate with a slotted spoon or spatula, and spoon them into the pan.
Cover with the remaining batter and, if needed, jiggle the pan to even the top. Place the springform pan in the roasting pan and pour in enough boiling water to come halfway up the sides of the springform pan.
Bake the cheesecake for 1 hour and 30 to 45 minutes, covering the cake loosely with a foil tent at the 45-minute mark.
The cake will rise evenly and crack around the edges, and it should be fully set except, possibly, in the very center it sometimes shimmies, that's just fine.
Gently transfer the cake, still in the pan, to a cooling rack and let it cool to room temperature, then refrigerate it for at least 6 hours; overnight would be better.
Run a blunt knife around the edges of the pan to loosen the crust, open the pan's latch and release and remove the sides.
Source: Adapted from Baking: From My Home to Yours by Dorie Greenspan, Houghton Mifflin Company, November 2006
https://www.sweetrecipeas.com/2008/02/12/brown-sugar-apple-cheesecake-2/