These Peeps Easter Chocolate Cupcakes are chocolate cupcakes with chocolate marshmallow filling, and topped with white chocolate frosting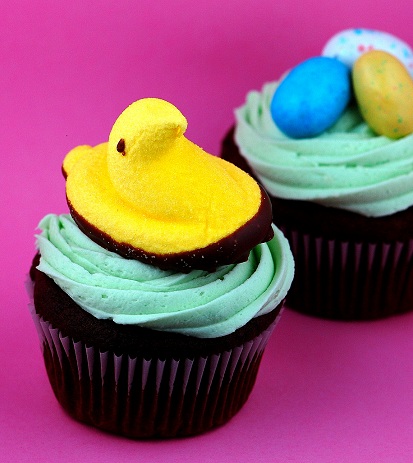 My Facebook was lit up today with what could probably be called Easter Basket Confessions.
Lists of all the candies that people had eaten and how horrible they were for eating them…blaming the Easter Bunny for bringing it.
Reese's Peanut Butter Eggs apparently being the devil.
After reading the morning confessions and people's pledges to hit the gym hard to be punished for their Peep eating I turned on the TV.
Not much was on and I left it on Eat, Pray, Love.
I will confess that I read and disliked the book and I watched and disliked the movie (which is why it got turned off).
Pretty much everyone (female…men thought it was crap) I know loved the LOVE section.
For me the only tolerable part of it was Eat.
If you have never traveled outside of the US then you probably think that other women constantly punish themselves for what they eat.
And in my experiences most of the other countries (Canada excluded) have a much better relationship with food than that of people (especially women) from the states.
I ate three Red Vines, two marshmallow chick things and about 10 jelly beans yesterday.
I probably eat that half the time on a regular day…well at least the jelly beans (I have a jelly bean problem).
Because I don't exclude it from my life there was no need to try and eat an entire Easter Basket in my belly because starting the next day it was back to being off limits.
Instead, 99% of my Easter Basket (well really Tupperware…I couldn't find my Easter basket to save my life this year) is still there.
I will be eaten throughout the month and then some…or in my Peeps and Robins Eggs case, made into cupcakes. 🙂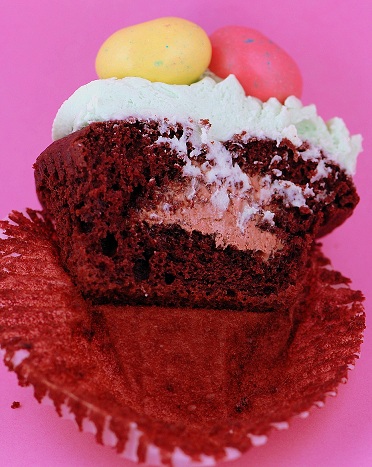 So stop blaming the Easter Bunny for bringing you an Easter Basket.
If you truly don't want it then throw it or give it away.
Problem is you do want it.
So figure out how to make it work….without punishing yourself for enjoying it.
In fact make these Peeps Easter Chocolate Cupcakes with your Easter candy.
You obviously don't need it to be Easter to make these as they can be made without the Peeps and Robins Eggs on top, but I figured what the heck.
I made my own marshmallow fluff for the recipe, but I fully realize that the average person doesn't do that and so I listed the jar kind.
If you have the time and want to then by all means make your own fluff.
You can make your own Devil's Food or go the box route if you like.
Hope you had a lovely Easter…I had a great one.
My parents were here and so I got to be spoiled by being cooked for.
Even MDP did the breakfast cooking for my parents. And the best Easter gift of all?
My mom cleaned out my fridge from head to toe!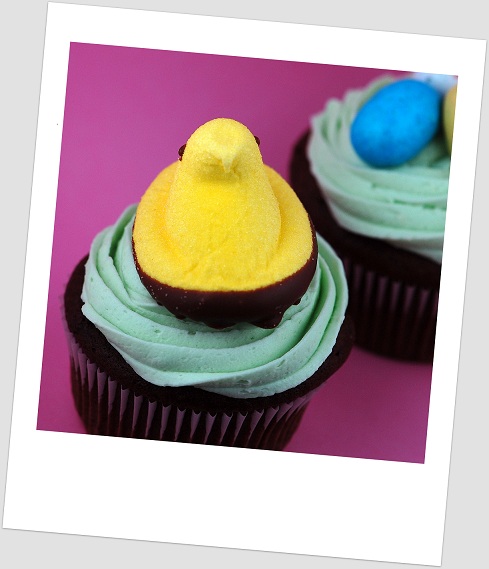 Want More Easter Treats?
It's Not Swimsuit Season Yet Mini Cadbury Caramel Egg Fritters
Deep Fried Cadbury Caramel Egg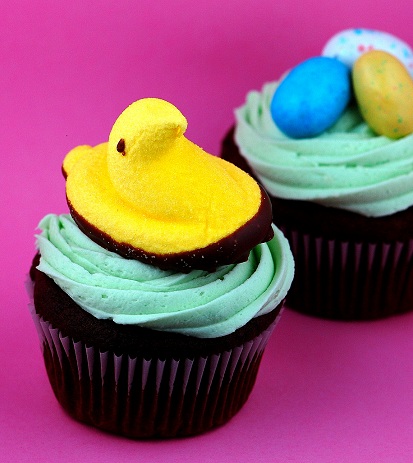 Easter Peeps Chocolate Cupcakes
Ingredients
1 jar (7 ounces) Marshmallow Crème (or Fluff)
6 ounces melted milk chocolate
¾ cup unsalted butter
3-4 cups powdered sugar
2 TBSP Godiva White Chocolate Liqueur (optional…but take the option)
6 ounces melted white chocolate
Instructions
Prepare cupcakes according to box directions.
After cupcakes are fully cooled off, make the chocolate marshmallow fluff.
In a small saucepan melt the marshmallow crème on low heat, once melted add the milk chocolate and mix until fully combined.
Place into a piping bag with a large tip and poke into middle of cupcake.
Squeeze until if fills up cupcake and starts to come out of top. You want to do this while the marshmallow is still warm, it will make it much easier to pipe out.
In a stand mixer fitted with a paddle attachment, cream together the butter, melted white chocolate and 1 cup powdered sugar.
Continue adding the powdered sugar 1 cup at a time.
Add the liqueur to thin out the frosting. If you want it thinner add some milk.
Since it is white chocolate it can be colored any color you like. I obviously went with green for Easter grass but you can do whatever.
Top with Peeps or other Easter candy.