Cadbury Creme Egg Cupcakes are Devil Food's Cupcakes filled with Creme Egg Ganache and topped with Creme Egg Filling Buttercream.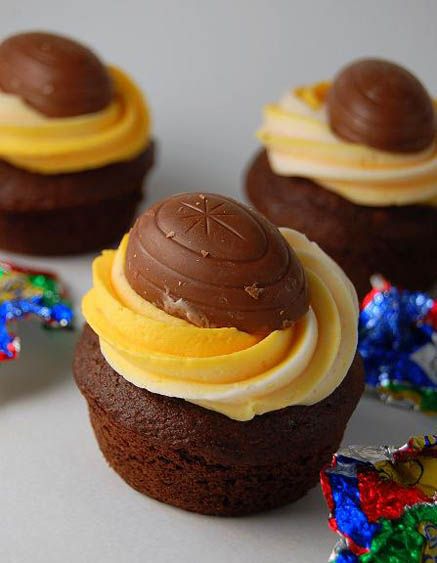 I will admit that if I were to start my food blog today, I would not have started it.
Five years ago (well, almost 5) when I set out to do my blog there was hardly anyone blogging about food, especially baking.
People gave me weird looks when I told them that I ran a food blog, which followed with me having to explain what the heck it was.
Now a days when I tell someone I run a food blog I usually get the "oh my mothers brothers second cousin has one of those"…and so does the mother and the brother and so on.
They are out there.
Lots of them.
And it's great.
It's just so oversaturated that you have to do your best to stick out.
So I do my best to stick out.
Kind of like how I do in life. 🙂
I'm a little loud, a little out there, kind of sweet (depends on who you ask 😉 ) with a whole lot of sarcasm on the side.
Which I think is how it comes across in the blog as well.
My friend A sent me a link about these Cadbury Creme Egg Cupcakes that she had seen on a website.
The cupcake shop is in Ireland, and so I wont be getting around to picking them up anytime soon.
And so I took it as a challenge to make them myself. "Devil's Food cake with lightly flavoured vanilla Cadbury's Creme Egg buttercream and topped with cracked chocolate shell" is how it was described on the website.
I could make that I thought.
So I did.
But I added a Chocolate Shell Ganache to the middle to make it even more disgustingly sweet and bad for you.
It's my job to make baked goods worse for you. 😀
Apparently that's my thing and that's how I stick out.
I'm the Paula Deen of the food blogging world.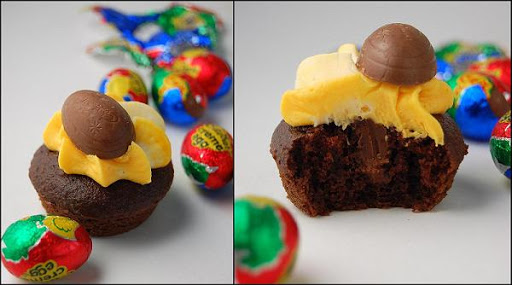 Let my start off by saying these Cadbury Creme Egg Cupcakes are not cost effective.
To buy 20 Cadbury Crème Eggs will cost you quite a bit.
Even buying the big packs of them at Target like I did.
Then there is the annoying (read swearing inducing) part where you actually have to break them in half.
The swearing comes in while trying to get them to break evenly.
Which some chose not to do.
I have to respect their right for individuality, but f-off creme eggs.
Then you get to scoop out the middle of them and collect it in a little bowl.
As a semi funny side note, I am after years of begging, getting a house cleaner twice a month.
Being allergic to molds, dust mites, and most cleaning products makes cleaning things less than awesome.
And well, husband is not the best housekeeper (nor am I even if I wasn't allergic).
So the poor woman came today.
Mid-cupcake baking.
With me in my pea pod apron.
And my uber-sexy purple bandanna on.
Covered in flour, chocolate and the oozy part of the creme egg.
With all of that on the floor and counters as well.
Throw in a spackle or two of buttercream frosting and I thought she was going to have a small heart attack.
She said "my what a big kitchen you have, and you seem to use it a lot".
I do. I do.
Though that is the cleanest place in the whole house.
I'm sure she left there thinking, what have I gotten myself into.
I would just like to remind her though…she will get treats to go home with each time she cleans. 🙂
So back to the Cadbury Creme Egg Cupcakes.
Yeah, they are a little sweet.
How could they not be.
The devil's food is what cuts it and keeps it not too sweet.
I ended up making 12 regular sized cupcakes and 20 mini.
When I make them again, I am going all mini.
They really are just the right bite and they don't make it overpowering in the sweet department.
As someone who is not super crazy about creme eggs I didn't expect much of these.
But I got to say, darn it, these are good….and they most definitely stand out.
And as always it's a great day to order my cookbook.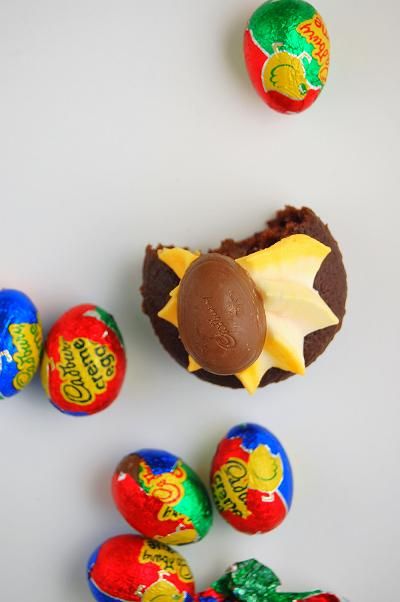 Want More Easter Treats?
Deep Fried Cadbury Caramel Egg
It's Not Swimsuit Season Yet Mini Cadbury Caramel Egg Fritters
Peeps Easter Chocolate Cupcakes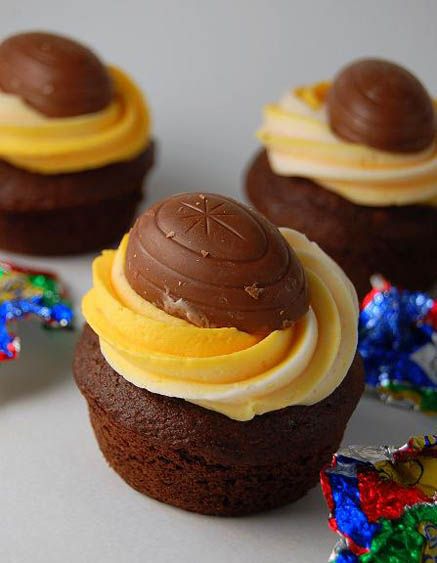 Cadbury Creme Egg Cupcakes
Ingredients
For the Devil's Food Cake:
9 TBSP unsweetened cocoa powder
1½ cups cake flour (not self-rising)
½ tsp salt
1 tsp baking soda
¼ tsp baking powder
4 ounces unsalted butter, at room temperature
1½ cups granulated sugar
2 large eggs, at room temperature
½ cup water
½ cup whole milk
For the Crème Egg Filling Buttercream Frosting:
the centers of 20 Cadbury Crème Egg scooped out (save the chocolate shells for décor and filling)
1 cup unsalted butter, at room temperature
6 to 8 cups powdered sugar
1 TBSP vanilla extract
milk to thin frosting
For the Chocolate Shell Ganache:
10 ounces of chopped up Cadbury Crème Egg Shell, if you don't have enough to make 10 ounces, then add some milk chocolate chips to it
1 cup heavy cream
Instructions
For the Cupcakes: Adjust the oven rack to the center of the oven and preheat the oven to 350 degrees.
Butter (or use the baking spray) two regular size cupcake/muffin pans or two mini. I personally made 12 large cupcakes and 20 mini cupcakes.
Sift together the cocoa powder, cake flour, salt, baking soda, and baking powder in a bowl.
In the bowl of a standing electric mixer, or by hand, beat together the butter and sugar about 5 minutes until smooth and creamy.
Add the eggs one at a time until fully incorporated. (If using a standing electric mixer, stop the mixer as necessary to scrape down the sides to be sure everything is getting mixed in.)
Mix together the water and milk. Stir half of the dry ingredients into the butter mixture, the add the water and milk. Finally stir in the other half of the dry ingredients.
Fill cupcake pans 2/3 of the way full with cake batter. For regular size bake 20-22 minutes. Mini bake 13-15 minutes.
For the Buttercream Frosting:
Place the butter in a large mixing bowl.
Add 4 cups of the sugar and vanilla extract.
On the medium speed of an electric mixer, beat until smooth and creamy, about 3-5 minutes.
Gradually add the remaining sugar, 1 cup at a time, beating well after each addition (about 2 minutes), until the icing is thick enough to be of good spreading consistency.
If too thick, thin out with milk.
You can take half of the icing and color it yellow for effect.
You will also probably have little bits of chocolate that stayed with the crème filling, no worries, it's tasty.
For the Ganache:
Put chocolate in a medium bowl.
Bring cream to a simmer in a saucepan and remove from heat. Pour over chocolate. Let sit 5 minutes.
Whisk in chocolate until smooth. Let set up at room temperature.
To assemble the cupcakes:
Take chocolate shell filling and place into a pastry bag fitted with a small tip.
Take tip and place into cupcake squeeze filling into cupcake using the cone method (or just poke into center and fill if making mini).
Frost cupcake and top with chocolate shell piece. If making the mini, they do make mini eggs. Cut those in half and use as décor.