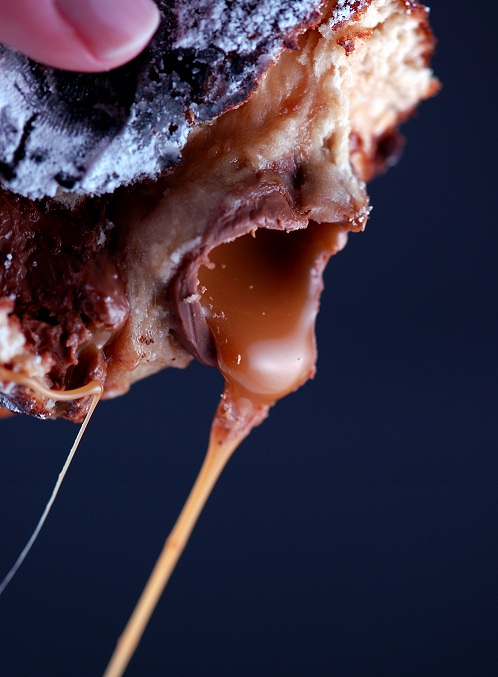 I've said it many times before Food Bloggers are awesome people (some non-food bloggers are as well…so you could still be awesome). Monday proved that to me again. I got an email from a local Food Blogger (I won't out her because I don't know if she wants to be outed) who I know but don't really hang out with but chat with from time to time usually on Twitter. Like me she is busy and even her most favorite blogs (not that I am saying I'm one of her favorites) she doesn't always get around to reading. That day she read my blog. Seeing all that was going on and realizing that I had got divorced she donated to my blog as she had been there done that as well in her earlier days (not that she isn't young now!) and knows that especially the first year after a divorce is not easy and she said she couldn't imagine adding being sick and having medical bills on top of that.
And if that wasn't sweet enough, she had said she was going to Costco and read I was low on baking supplies, did I want her to pick me up some (I was low on supplies because in case you don't know, when you get carpet beetles you have to get rid of your grain sources. And I had a lot of grain sources, many of which were bought right before they all had to be tossed. Sigh). Talk about making this girl misty eyed. My first reaction in my head was oh no, the donation was more than enough. But then I took a good hard look at my bank account and counted the days until the first of the month (and this is a darn 31 day month) and thought, well, if I am going to bake anything on this blog I should probably take her up on it. If you know this blogger, she isn't the type of person to offer it up if she didn't really mean it. So I said sure, that I could really use it. And sure enough, true to her word I met her at the Starbucks by the Costco and there we chatted for a bit. Her making sure I was doing alright. Then we went to her car and there was all that a baker needs: flour, sugar, eggs, and butter with my name on it. Plus a couple other things that she had in her pantry. It really does restore your faith in people, especially after I met super mom the other day. I just want to say HUGE thanks again for that. I was appreciated from the bottom, sides, and top of my heart.
What to make, what to make, what to make? I decided to resurrect and change around a treat that was a big hit, the deep fried Cadbury caramel egg. Except this time I would make them kind of like apple fritters and use the mini ones instead. Thighs meet your enemy…enemy meet my thighs.
I will warn you that like a fritter, where it is a little moist around the fruit, it is a little moist around the egg, but it did not take away from any of the yummy goodness. How many you get depends on how large you make them. Ironically they took on an egg shape, which was not the plan at all, but works for me. Make sure that you freeze the caramel eggs first to help prevent them from oozing into the grease. Since I can't literally pay it forward like it was done for me today, this is the best you get. 😀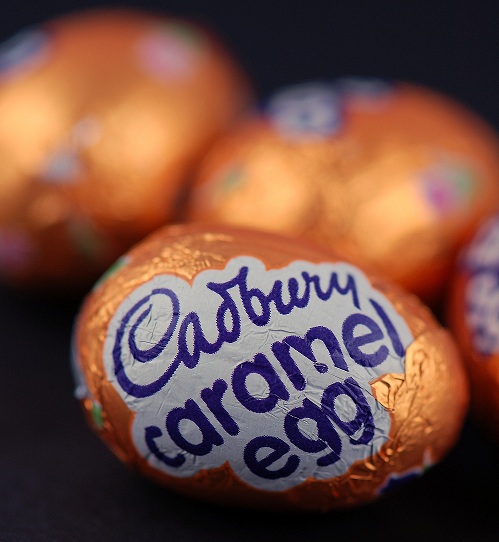 It's Not Swimsuit Season Yet Mini Cadbury Caramel Egg Fritters
To get the party started :
1 ¼ tsp. active dry yeast
1/3 cup whole milk, warm to touch, but not hot (the yeast no like the hot)
2 cups all-purpose flour
1 TBSP brown sugar
Place yeast in a bowl of an electric mixer with the dough hook. Then add the warm milk and sugar. Let sit for 5 minutes.
Add the flour and just lightly fold the flour in. Cover in wrap and let sit for 30 minutes.
The rest of the batter:
1 egg
1/3 cup whole milk
1 ounce unsalted butter, melted
½ cup brown sugar, lightly packed
¾ cup all-purpose flour
Dash of salt
1 tsp. vanilla extract
1 tsp. baking powder
24 mini Cadbury caramel eggs (frozen)
Canola oil for frying
In a small bowl combine the eggs, sugar, milk, butter, vanilla. Add to the mix.
Then add the flour, baking powder, and salt. Using the dough hook mix on speed 2 until if forms a sticky ball. It's a sticky dough. Go with it.
Place dough in an large oiled bowl and cover with plastic wrap. Let rise until double in size, about 1 ½ hours.
Heat the oil to 375F. You want enough in there so that the fritter will float.
Throw in the frozen mini eggs and try to evenly distribute them throughout the dough. Shape them and then fry until golden brown about 2-3 minutes depending on the size. Remove from oil and place on paper towel to try and get some oil off and make it slightly less fattening.
Sprinkle with powdered sugar and serve.