I like watching the Voice. I personally can't sing to save my life and on three occasions have had people offer me money to stop singing….possibly a new career for me? Anyway we always laugh at Cee-Lo for the fact that most of the time he is in his pajamas and petting his white cat. He's definitely out there, but he's got his thing and that's fine by me. But then I realized I sit around in my pajamas…often all day if there is nothing to do but bake and blog…and while I don't have a white cat I certainly pet my dog from time to time. And then it hit me…I must be a Rock Star as well*.
*Cue Hey Now You're A Rock Star by Smashmouth
For the first time ever a man told me that I had a sexy shopping cart. Contents: London broil, bacon, beer, and strawberries. And followed up with "clearly you're not single" and I of course said clearly. ; )
MDP keeps messing with me by singing "Me Party" from the Muppet Movie. If you have seen the movie you now hate me as that song is now in your head. Sorry…kind of.
For some bizarre reason the Geico juice commercial with the old people cracks me up. "Was this your first car insurance taste test?" Normally I hate their commercials but this one was a good choice…just like juice A. 🙂
I had seen cake in a jar in a lot of places. TWD founder and all around awesome person L and I were discussing on Twitter about flavors she would do. She said Strawberry Shortcake and right away I told her I was stealing her idea. She said go for it. Yes, I did make this with box cake this time. I will make it with actually cake next time. But since I didn't know how this would work and Peabody is on extreme budget right now it seemed safer to go with the $.89 box of cake in case this was a disaster. It was not.
This cake is baked in a water bath so it lends itself in my opinion to be more like a pudding cake. Mine was very moist. I ended up putting foil on the top as that part browns up and bakes quicker than the bottom. Just because this is in a smaller jar, it will take just as long if not longer to bake than a full size cake. Mine has strawberries in the middle and that also made the baking time a little longer. All in all a success that I plan on trying in different ways now that I have jam jars to bake with!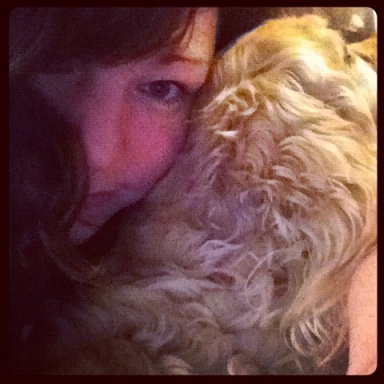 (You can't see it but I'm wearing pajama bottoms and a baggy sweatshirt…CCS was choosing not to cooperate)
Strawberry Shortcake in a Jar
1 box white cake mix (prepare how it says)
1 cup diced strawberries, pat dry
1 ½ cups heavy cream
4 TBSP strawberry jam
4 pint canning jars
Preheat oven to 350 degrees.
Thoroughly wash and dry the inside of each canning jar. Spray the inside of each jar thoroughly with nonstick cooking spray. Set aside.
Scoop a generous 1/3 cup of cake mix and let is settle. Put in about ¼ cup strawberries. Then another 1/3 of cake. Top with foil.
Place the jars in a shallow baking dish, add about 1/4″ in water in the baking dish at 375F. Place the baking dish in the oven and bake for 55-60 minutes. This will vary. I did experiments. I took one out at the 30 minute mark like one of the recipes said and the outer was baked but not middle. At the 40 minute mark, more cooked but not all the way until I got to  60 minute mark. And that was more pudding like. One was baked all the way to 70 minutes and that seemed to have the same results as the 60 minute. It will depend on what you like your cake to be like. If you want less baking time is suggest just topping these with strawberries and not adding them to the batter. I think that would have helped with the baking.
Remove from oven and let cool completely.
Add whipping cream to a mixing bowl and whip on high until you make whipped cream. Add jam and continue to beat until fully incorporated.
Top with more berries and strawberry jam whipped cream.