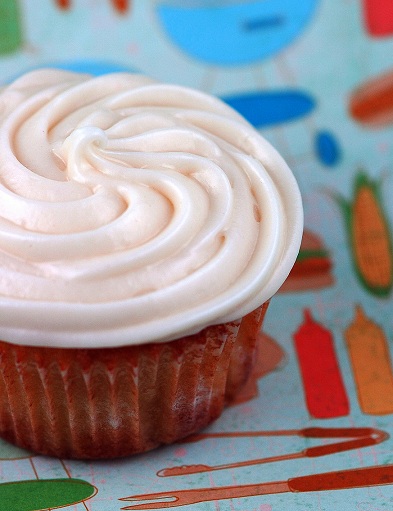 A couple of weeks ago on the way home from work MDP called and asked if I need anything and I told him yes that I needed honey. He got to the store and text me what size. I wrote back "bear sized".
"Bear sized" he questioned.
"Yep, bear sized"
"That's not a size"
"It is for honey"
Didn't hear from him for a few. He called and said I am staring and four different sizes of bears. What size? I being annoying said "bear size". I told him it was his choice. He brought back a gigantic bear filled with honey. I only needed 3 TBSP. 😛
He now randomly buys me small bear sized bottles of honey for no reason other than the thinks he is being funny, which in a way he is. But I now have a lot of honey. I decided to do a take on cornbread. I love sweet corn in desserts…sweet corn ice cream is pretty much my favorite flavor of all time. So I went searching for a cupcake version. I found one and messed with it a little and came up with something I liked. Topped it with some very honey flavored buttercream. If you love cornbread and honey you will LOVE these.
So is bear size an actual size for honey?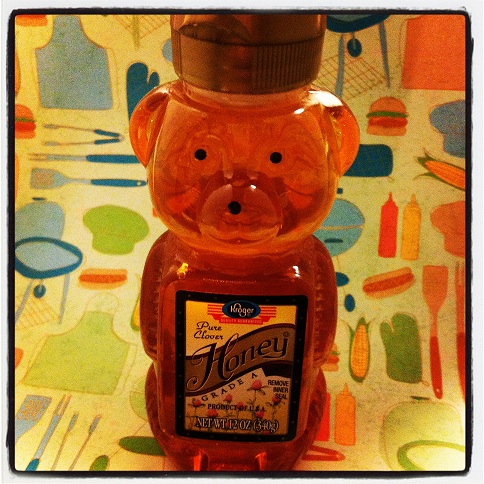 Sweet Corn Cupcakes with Honey Buttercream
Sweet Corn Cupcakes
1 1/3 cups cake flour
½ TBSP baking powder
½ tsp. salt
¼ cup sour cream
¾ cup fresh corn kernels
½ cup unsalted butter, at room temperature
1 cup granulated sugar
¼ cup honey
3 large eggs
1 tsp. vanilla extract
Preheat oven to 350°. Line a cupcake tin with paper liners.
Sift the flour, baking powder and salt together; set aside.
In a blender, puree the sour cream and corn kernels until as smooth as possible (it will still have bits of corn). Set aside.
Using a mixer, preferably a stand mixer fitted with a paddle attachment, cream the butter, honey, and sugar together until light and fluffy, about 2-3 minutes. Scrape down the bowl to make sure not butter at the bottom of bowl.
Add the eggs, one at a time, scraping down the bowl after each addition.
Add the vanilla and the sour cream/corn mixture and mix until fully combined.
With the mixer on low speed, add the flour mixture in three additions, scraping down the sides between each addition. Take care not to over mix.
Scoop batter using an ice cream scoop into the cupcake holders until they are about three-quarters full. Bake in the center of the oven for about 20-22 minutes, until the tops spring back and a toothpick inserted into the center comes out clean. Cool completely.
Makes 12 cupcakes.
Cake recipe adapted from the San Fransico Chronicles
Honey Buttercream
¾ cup honey
½ cup unsalted butter, at room temperature
1 tsp. vanilla extract
Pinch of salt
3 cups powdered sugar
Using a stand mixer, cream together butter and honey until fully combined.
Add vanilla and salt and cup of sugar, and cream on medium low until combined.
Add remaining sugar, one cup at a time.
Frosting will be sticky, if you want it more solid and less sticky you can add more powdered sugar but you will have less of a honey flavor.